Abstract
Ecological models predict that the effects of mammalian herbivore exclusion on plant diversity depend on resource availability and plant exposure to ungulate grazing over evolutionary time. Using an experiment replicated in 57 grasslands on six continents, with contrasting evolutionary history of grazing, we tested how resources (mean annual precipitation and soil nutrients) determine herbivore exclusion effects on plant diversity, richness and evenness. Here we show that at sites with a long history of ungulate grazing, herbivore exclusion reduced plant diversity by reducing both richness and evenness and the responses of richness and diversity to herbivore exclusion decreased with mean annual precipitation. At sites with a short history of grazing, the effects of herbivore exclusion were not related to precipitation but differed for native and exotic plant richness. Thus, plant species' evolutionary history of grazing continues to shape the response of the world's grasslands to changing mammalian herbivory.
Access options
Subscribe to Nature+
Get immediate online access to Nature and 55 other Nature journal
Subscribe to Journal
Get full journal access for 1 year
$119.00
only $9.92 per issue
All prices are NET prices.
VAT will be added later in the checkout.
Tax calculation will be finalised during checkout.
Buy article
Get time limited or full article access on ReadCube.
$32.00
All prices are NET prices.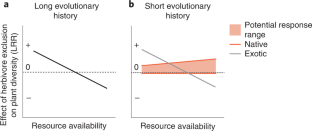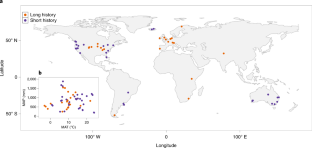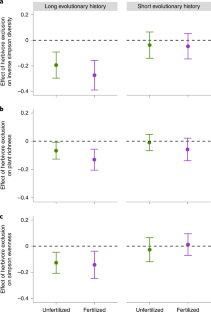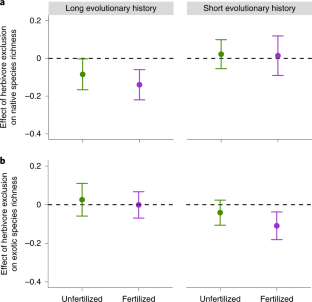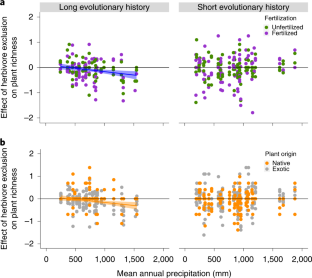 References
White, R., Murray, S. & Rohweder, M. Pilot Analysis of Global Ecosystems: Grassland Ecosystems Technical Report (World Resources Institute, 2000).

Thornton, P. K. Livestock production: recent trends, future prospects. Philos. Trans. R. Soc. B 365, 2853–2867 (2010).

Estes, J. A. et al. Trophic downgrading of planet Earth. Science 333, 301–306 (2011).

Peñuelas, J. et al. Human-induced nitrogen–phosphorus imbalances alter natural and managed ecosystems across the globe. Nat. Commun. 4, 2934 (2013).

Asner, G. P. et al. Physical and biogeochemical controls over terrestrial ecosystem responses to nitrogen deposition. Biogeochemistry 54, 1–39 (2001).

Galloway, J. N. et al. Nitrogen cycles: past, present, and future. Biogeochemistry 70, 153–226 (2004).

Ripple, W. J. et al. Collapse of the world's largest herbivores. Sci. Adv. 1, e1400103 (2015).

Borer, E. T., Grace, J. B., Harpole, W. S., MacDougall, A. S. & Seabloom, E. W. A decade of insights into grassland ecosystem responses to global environmental change. Nat. Ecol. Evol. 1, 0118 (2017).

Díaz, S. et al. Plant trait responses to grazing—a global synthesis. Glob. Change Biol. 13, 313–341 (2007).

Cingolani, A. M., Noy-Meir, I. & Díaz, S. Grazing effects on rangeland diversity: a synthesis of contemporary models. Ecol. Appl. 15, 757–773 (2005).

Milchunas, D. G., Sala, O. E. & Lauenroth, W. K. A generalized model of the effects of grazing by large herbivores on grassland community structure. Am. Nat. 132, 87–106 (1988).

Osem, Y., Perevolotsky, A. & Kigel, J. Site productivity and plant size explain the response of annual species to grazing exclusion in a Mediterranean semi-arid rangeland. J. Ecol. 92, 297–309 (2004).

Gao, J. & Carmel, Y. Can the intermediate disturbance hypothesis explain grazing–diversity relations at a global scale? Oikos 129, 493–502 (2020).

Bakker, E. S., Ritchie, M. E., Olff, H., Milchunas, D. G. & Knops, J. M. Herbivore impact on grassland plant diversity depends on habitat productivity and herbivore size. Ecol. Lett. 9, 780–788 (2006).

Mack, R. N. & Thompson, J. N. Evolution in steppe with few large, hooved mammals. Am. Nat. 119, 757–773 (1982).

Axelrod, D. I. Rise of the grassland biome, central North America. Bot. Rev. 51, 163–201 (1985).

Noy-Meir, I., Gutman, M. & Kaplan, Y. Responses of Mediterranean grassland plants to grazing and protection. J. Ecol. 77, 290–310 (1989).

Olff, H. & Ritchie, M. E. Effects of herbivores on grassland plant diversity. Trends Ecol. Evol. 13, 261–265 (1998).

Proulx, M. & Mazumder, A. Reversal of grazing impact on plant species richness in nutrient-poor vs. nutrient-rich ecosystems. Ecology 79, 2581–2592 (1998).

Westoby, M., Walker, B. & Noy-Meir, I. Opportunistic management for rangelands not at equilibrium. J. Range Manag. 42, 266–274 (1989).

Prober, S. M., Standish, R. J. & Wiehl, G. After the fence: vegetation and topsoil condition in grazed, fenced and benchmark eucalypt woodlands of fragmented agricultural landscapes. Aust. J. Bot. 59, 369–381 (2011).

Seabloom, E. W., Harpole, W. S., Reichman, O. J. & Tilman, D. Invasion, competitive dominance, and resource use by exotic and native California grassland species. Proc. Natl Acad. Sci. USA 100, 13384–13389 (2003).

Price, J. N., Schultz, N. L., Hodges, J. A., Cleland, M. A. & Morgan, J. W. Land-use legacies limit the effectiveness of switches in disturbance type to restore endangered grasslands. Restor. Ecol. 29, e13271 (2021).

Hobbs, R. J. & Huenneke, L. F. Disturbance, diversity, and invasion: implications for conservation. Conserv. Biol. 6, 324–337 (1992).

MacDougall, A. S. et al. The Neolithic plant invasion hypothesis: the role of preadaptation and disturbance in grassland invasion. New Phytol. 220, 94–103 (2018).

Mörsdorf, M. A., Ravolainen, V. T., Yoccoz, N. G., Thórhallsdóttir, T. E. & Jónsdóttir, I. S. Decades of recovery from sheep grazing reveal no effects on plant diversity patterns within Icelandic tundra landscapes. Front. Ecol. Evol. 8, 602538 (2021).

Mack, R. N. in Biological Invasions: A Global Perspective (eds Drake, J. A. et al.) 155–180 (John Wiley, 1989).

Sinkins, P. A. & Otfinowski, R. Invasion or retreat? The fate of exotic invaders on the northern prairies, 40 years after cattle grazing. Plant Ecol. 213, 1251–1262 (2012).

Stahlheber, K. A., D'Antonio, C. M. & Tyler, C. M. Livestock exclusion impacts on oak savanna habitats—differential responses of understory and open habitats. Rangel. Ecol. Manag. 70, 316–323 (2017).

Koerner, S. E. et al. Change in dominance determines herbivore effects on plant biodiversity. Nat. Ecol. Evol. 2, 1925–1932 (2018).

Gao, J. & Carmel, Y. A global meta-analysis of grazing effects on plant richness. Agric. Ecosyst. Environ. 302, 107072 (2020).

Borer, E. T. et al. Finding generality in ecology: a model for globally distributed experiments. Methods Ecol. Evol. 5, 65–73 (2014).

Borer, E. T. et al. Herbivores and nutrients control grassland plant diversity via light limitation. Nature 508, 517–520 (2014).

Milchunas, D. G. & Lauenroth, W. K. Quantitative effects of grazing on vegetation and soils over a global range of environments. Ecol. Monogr. 63, 327–366 (1993).

Mortensen, B. et al. Herbivores safeguard plant diversity by reducing variability in dominance. J. Ecol. 106, 101–112 (2018).

Chen, Q. et al. Small herbivores slow down species loss up to 22 years but only at early successional stage. J. Ecol. 107, 2688–2696 (2019).

Lunt, I. D., Eldridge, D. J., Morgan, J. W. & Witt, G. B. A framework to predict the effects of livestock grazing and grazing exclusion on conservation values in natural ecosystems in Australia. Aust. J. Bot. 55, 401–415 (2007).

Anderson, T. M. et al. Herbivory and eutrophication mediate grassland plant nutrient responses across a global climatic gradient. Ecology 99, 822–831 (2018).

Seabloom, E. W. et al. Plant species' origin predicts dominance and response to nutrient enrichment and herbivores in global grasslands. Nat. Commun. 6, 7710 (2015).

Barrio, I. C. et al. The sheep in wolf's clothing? Recognizing threats for land degradation in Iceland using state-and-transition models. Land Degrad. Dev. 29, 1714–1725 (2018).

Eldridge, D. J., Poore, A. G. B., Ruiz-Colmenero, M., Letnic, M. & Soliveres, S. Ecosystem structure, function, and composition in rangelands are negatively affected by livestock grazing. Ecol. Appl. 26, 1273–1283 (2016).

Seabloom, E. W. et al. Increasing effects of chronic nutrient enrichment on plant diversity loss and ecosystem productivity over time. Ecology 102, e03218 (2021).

Fay, P. A. et al. Grassland productivity limited by multiple nutrients. Nat. Plants 1, 15080 (2015).

Yuan, Z. Y., Jiao, F., Li, Y. H. & Kallenbach, R. L. Anthropogenic disturbances are key to maintaining the biodiversity of grasslands. Sci. Rep. 6, 22132 (2016).

Borer, E. T. et al. Nutrients cause grassland biomass to outpace herbivory. Nat. Commun. 11, 6036 (2020).

Seabloom, E. W. et al. Species loss due to nutrient addition increases with spatial scale in global grasslands. Ecol. Lett. 24, 2100–2112 (2021).

Hijmans, R. J., Cameron, S. E., Parra, J. L., Jones, P. G. & Jarvis, A. Very high resolution interpolated climate surfaces for global land areas. Int. J. Climatol. 25, 1965–1978 (2005).

R Core Team. R: A Language and Environment for Statistical Computing (R Foundation for Statistical Computing, 2020).
Acknowledgements
This work was generated using data from the Nutrient Network (http://www.nutnet.org) experiment, funded at the site scale by individual researchers. Author contributions are detailed in the 'Author contributions' section and Supplementary Table 9; Supplementary Table 10 lists all data contributors who are not authors. Coordination and data management have been supported by funding to E.T.B and E.W.S. from the National Science Foundation Research Coordination Network (NSF-DEB-1042132) and Long-Term Ecological Research (NSF-DEB-1234162 and NSF-DEB-1831944 to Cedar Creek LTER) programmes and the Institute on the Environment (DG-0001-13). Soil analyses were supported, in part, by USDA-ARS grant no. 58-3098-7-007 to E.T.B. We also thank the Minnesota Supercomputer Institute for hosting project data and the Institute on the Environment for hosting Network meetings. J.S. was supported by The Research Foundation Flanders (FWO), grant no. 12N2618N. I.C.B. and I.S.J. were supported by University of Iceland Research Fund (2015), Soil Conservation Service of Iceland and Orkurannsóknasjóður Landsvirkjunnar (NÝR-09-2017, NÝR-14-2018, NÝR-12-2019). P.T. acknowledges C. Silvoso, C. Molina and S. Campana for field assistance, the familia Bordeu for allowing long-term research on their property and Agro Servicios Pampeanos A.S. for providing the fertilizers. S.M.P. thanks G. Wiehl for assistance with data collection, D. and M. French for supporting the Mt Caroline NutNet site on their property and support through the Terrestrial Ecosystems Research Network (TERN) Great Western Woodlands Supersite. C.A.A. thanks A. Rivero, K. Brinsko, J. Garrett, H. Lee and Agroecology Research Interns for field and laboratory support. L.S.L. thanks F. and S. Papel e Celulose for field support. R.L.M. thanks J. Nelson and E. Carlisle for field support. M.C.C. acknowledges Companhia das Lezirias for hosting the site and Fundação para a Ciência e Tecnologia (FCT) funding for the Forest Research Centre (CEF) (UID/00239/2020). G.M.W. thanks B. Tamayo for technical assistance and Bush Heritage Australia for hosting the site on their property. This is publication no. 7387 of the Netherlands Institute of Ecology (NIOO-KNAW) and KBS contribution 2315.
Ethics declarations
Competing interests
The authors declare no competing interests.
Peer review
Peer review information
Nature Ecology & Evolution thanks Yohay Carmel, William Lauenroth and the other, anonymous, reviewer(s) for their contribution to the peer review of this work.
Additional information
Publisher's note Springer Nature remains neutral with regard to jurisdictional claims in published maps and institutional affiliations.
Supplementary information
Supplementary Note 1 and Tables 1–10.
About this article
Cite this article
Price, J.N., Sitters, J., Ohlert, T. et al. Evolutionary history of grazing and resources determine herbivore exclusion effects on plant diversity. Nat Ecol Evol 6, 1290–1298 (2022). https://doi.org/10.1038/s41559-022-01809-9
Received:

Accepted:

Published:

Issue Date:

DOI: https://doi.org/10.1038/s41559-022-01809-9