Abstract
Meiotic drivers are a class of selfish genetic elements whose existence is frequently hidden due to concomitant suppressor systems. Accordingly, we know little of their evolutionary breadth and molecular mechanisms. Here, we trace the evolution of the Dox meiotic drive system in Drosophila simulans, which affects male–female balance (sex ratio). Dox emerged via stepwise mobilization and acquisition of multiple D. melanogaster gene segments including from protamine, which mediates compaction of sperm chromatin. Moreover, we reveal novel Dox homologs and massive amplification of Dox superfamily genes on X chromosomes of its closest sisters D. mauritiana and D. sechellia. Emergence of Dox loci is tightly associated with 359-class satellite repeats that flank de novo genomic copies. In concert, we find coordinated diversification of autosomal hairpin RNA-class siRNA loci that target subsets of Dox superfamily genes. Overall, we reveal fierce genetic arms races between meiotic drive factors and siRNA suppressors associated with recent speciation.
Access options
Subscribe to Nature+
Get immediate online access to Nature and 55 other Nature journal
Subscribe to Journal
Get full journal access for 1 year
$119.00
only $9.92 per issue
All prices are NET prices.
VAT will be added later in the checkout.
Tax calculation will be finalised during checkout.
Buy article
Get time limited or full article access on ReadCube.
$32.00
All prices are NET prices.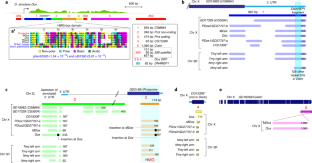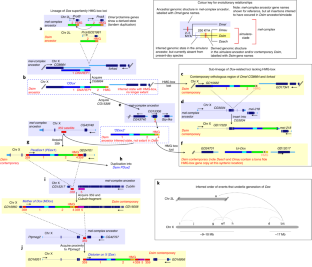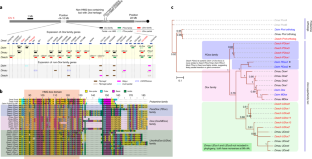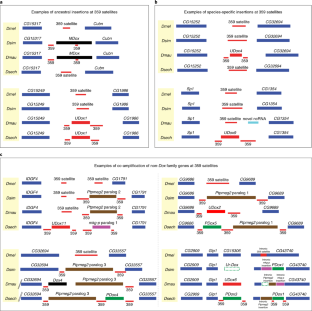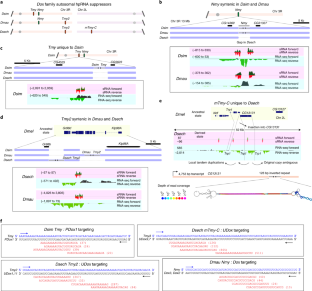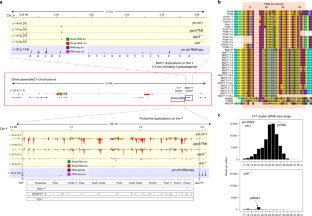 Data availability
Paired-end RNA-seq reads from Dmau, Dsim and Dsech testis, and small RNA data from Dmau and Dsech are available from the GEO database: GSE185361.
References
Zanders, S. E. & Unckless, R. L. Fertility costs of meiotic drivers. Curr. Biol. 29, R512–R520 (2019).

Agren, J. A. & Clark, A. G. Selfish genetic elements. PLoS Genet. 14, e1007700 (2018).

Lindholm, A. K. et al. The ecology and evolutionary dynamics of meiotic drive. Trends Ecol. Evol. 31, 315–326 (2016).

Jaenike, J. Sex chromosome meiotic drive. Annu Rev. Ecol. Syst. 32, 25–49 (2001).

Helleu, Q. et al. Rapid evolution of a Y-chromosome heterochromatin protein underlies sex chromosome meiotic drive. Proc. Natl Acad. Sci. USA 113, 4110–4115 (2016).

Tao, Y., Hartl, D. L. & Laurie, C. C. Sex-ratio segregation distortion associated with reproductive isolation in Drosophila. Proc. Natl Acad. Sci. USA 98, 13183–13188 (2001).

Tao, Y. et al. A sex-ratio meiotic drive system in Drosophila simulans. II: an X-linked distorter. PLoS Biol. 5, e293 (2007).

Tao, Y., Masly, J. P., Araripe, L., Ke, Y. & Hartl, D. L. A sex-ratio meiotic drive system in Drosophila simulans. I: an autosomal suppressor. PLoS Biol. 5, e292 (2007).

Garrigan, D. et al. Genome sequencing reveals complex speciation in the Drosophila simulans clade. Genome Res 22, 1499–1511 (2012).

Masly, J. P. & Presgraves, D. C. High-resolution genome-wide dissection of the two rules of speciation in Drosophila. PLoS Biol. 5, e243 (2007).

Presgraves, D. C., Gerard, P. R., Cherukuri, A. & Lyttle, T. W. Large-scale selective sweep among segregation distorter chromosomes in African populations of Drosophila melanogaster. PLoS Genet. 5, e1000463 (2009).

Meiklejohn, C. D. & Tao, Y. Genetic conflict and sex chromosome evolution. Trends Ecol. Evol. 25, 215–223 (2010).

Kingan, S. B., Garrigan, D. & Hartl, D. L. Recurrent selection on the Winters sex-ratio genes in Drosophila simulans. Genetics 184, 253–265 (2010).

Chakraborty, M. et al. Evolution of genome structure in the Drosophila simulans species complex. Genome Res 31, 380–396 (2021).

Lin, C.-J. et al. The hpRNA/RNAi pathway is essential to resolve intragenomic conflict in the Drosophila male germline. Dev. Cell 46, 316–326.e5 (2018).

Wen, J. et al. Adaptive regulation of testis gene expression and control of male fertility by the Drosophila hairpin RNA pathway. Mol. Cell 57, 165–178 (2015).

Usakin, L. et al. Transcription of the 1.688 satellite DNA family is under the control of RNA interference machinery in Drosophila melanogaster ovaries. Genetics 176, 1343–1349 (2007).

Garrigan, D., Kingan, S. B., Geneva, A. J., Vedanayagam, J. P. & Presgraves, D. C. Genome diversity and divergence in Drosophila mauritiana: multiple signatures of faster X evolution. Genome Biol. Evol. 6, 2444–2458 (2014).

Rathke, C. et al. Transition from a nucleosome-based to a protamine-based chromatin configuration during spermiogenesis in Drosophila. J. Cell Sci. 120, 1689–1700 (2007).

Doyen, C. M. et al. A testis-specific chaperone and the chromatin Rremodeler ISWI mediate repackaging of the paternal genome. Cell Rep. 13, 1310–1318 (2015).

Dorus, S., Freeman, Z. N., Parker, E. R., Heath, B. D. & Karr, T. L. Recent origins of sperm genes in Drosophila. Mol. Biol. Evol. 25, 2157–2166 (2008).

Wang, W., Yu, H. & Long, M. Duplication-degeneration as a mechanism of gene fission and the origin of new genes in Drosophila species. Nat. Genet. 36, 523–527 (2004).

Khost, D. E., Eickbush, D. G. & Larracuente, A. M. Single-molecule sequencing resolves the detailed structure of complex satellite DNA loci in Drosophila melanogaster. Genome Res 27, 709–721 (2017).

Sproul, J. S. et al. Dynamic evolution of euchromatic satellites on the X chromosome in Drosophila melanogaster and the simulans clade. Mol. Biol. Evol. 37, 2241–2256 (2020).

Travaglini, E. C., Petrovic, J. & Schultz, J. Satellite DNAs in the embryos of various species of the genus Drosophila. Genetics 72, 431–439 (1972).

de Lima, L. G., Hanlon, S. L. & Gerton, J. L. Origins and evolutionary patterns of the 1.688 satellite DNA family in Drosophila phylogeny. G3 (Bethesda) 10, 4129–4146 (2020).

Haudry, A., Laurent, S. & Kapun, M. Population genomics on the fly: recent advances in Drosophila. Methods Mol. Biol. 2090, 357–396 (2020).

Thomas, J., Phillips, C. D., Baker, R. J. & Pritham, E. J. Rolling-circle transposons catalyze genomic innovation in a mammalian lineage. Genome Biol. Evol. 6, 2595–2610 (2014).

Chang, C. H. et al. Islands of retroelements are major components of Drosophila centromeres. PLoS Biol. 17, e3000241 (2019).

Krsticevic, F. J., Schrago, C. G. & Carvalho, A. B. Long-read single molecule sequencing to resolve tandem gene copies: the Mst77Y region on the Drosophila melanogaster Y chromosome. G3 (Bethesda) 5, 1145–1150 (2015).

Jayaramaiah Raja, S. & Renkawitz-Pohl, R. Replacement by Drosophila melanogaster protamines and Mst77F of histones during chromatin condensation in late spermatids and role of sesame in the removal of these proteins from the male pronucleus. Mol. Cell. Biol. 25, 6165–6177 (2005).

Nagao, A. et al. Biogenesis pathways of piRNAs loaded onto AGO3 in the Drosophila testis. RNA 16, 2503–2515 (2010).

Chen, P. et al. piRNA-mediated gene regulation and adaptation to sex-specific transposon expression in D. melanogaster male germline. Genes Dev. 35, 914–935 (2021).

Malone, C. D. et al. Specialized piRNA pathways act in germline and somatic tissues of the Drosophila ovary. Cell 137, 522–535 (2009).

Lau, N. et al. Abundant primary piRNAs, endo-siRNAs and microRNAs in a Drosophila ovary cell line. Genome Res 19, 1776–1785 (2009).

Muirhead, C. A. & Presgraves, D. C. Satellite DNA-mediated diversification of a sex-ratio meiotic drive gene family in Drosophila. Nat. Ecol. Evol. (in the press).

Rathke, C., Baarends, W. M., Awe, S. & Renkawitz-Pohl, R. Chromatin dynamics during spermiogenesis. Biochim. Biophys. Acta 1839, 155–168 (2014).

Wang, T., Gao, H., Li, W. & Liu, C. Essential role of histone replacement and modifications in male fertility. Front Genet 10, 962 (2019).

Meiklejohn, C. D. et al. Gene flow mediates the role of sex chromosome meiotic drive during complex speciation. eLife 7, e35468 (2018).

Lee, J. E. & Yi, R. Highly efficient ligation of small RNA molecules for microRNA quantitation by high-throughput sequencing. J. Vis. Exp. 93, e52095 (2014).

Clark, A. G. et al. Evolution of genes and genomes on the Drosophila phylogeny. Nature 450, 203–218 (2007).

Li, H. et al. The Sequence Alignment/Map format and SAMtools. Bioinformatics 25, 2078–2079 (2009).

Wang, L., Wang, S. & Li, W. RSeQC: quality control of RNA-seq experiments. Bioinformatics 28, 2184–2185 (2012).

Altschul, S. F., Gish, W., Miller, W., Myers, E. W. & Lipman, D. J. Basic local alignment search tool. J. Mol. Biol. 215, 403–410 (1990).

Huelsenbeck, J. & Ronquist, F. MRBAYES: Bayesian inference of phylogenetic trees. Bioinformatics 17, 754–755 (2001).
Acknowledgements
The authors thank J. Wen for initial investigations into the domain structure of Dox, P. Smibert for the first recognition that Dox/MDox bear homology to protamine, A. Geneva for his inputs on phylogenetic analysis, D. Presgraves for communications on this topic prior to publication and the referees for critical comments that improved this work. This work was supported by a Pathway to Independence award from the National Institute of General Medical Sciences (K99-GM137077, J.V.), US–Israel Binational Science Foundation (BSF-2015398, E.C.L.), National Institute of General Medical Sciences (R01-GM083300, E.C.L.) and National Institutes of Health MSK Core Grant (P30-CA008748).
Ethics declarations
Competing interests
The authors declare no competing interests.
Additional information
Peer review information Nature Ecology & Evolution thanks Aaron Vogan and the other, anonymous, reviewer(s) for their contribution to the peer review of this work.
Publisher's note Springer Nature remains neutral with regard to jurisdictional claims in published maps and institutional affiliations.
Supplementary information
Supplementary Table 1. Genomic coordinates for Dox superfamily genes and their hpRNA suppressors in Dsim, Dmau and Dsech. Genomic coordinates correspond to PacBio assemblies of the simulans clade genomes. Supplementary Table 2. Nomenclature comparison between Muirhead and Presgraves (2021) and our study for the amplified Dox superfamily genes in the three simulans clade species. Supplementary Table 3. Genomic coordinates and sequences of 359 satellite repeats that flank Dox superfamily loci in Dsim, Dmau and Dsech.
About this article
Cite this article
Vedanayagam, J., Lin, CJ. & Lai, E.C. Rapid evolutionary dynamics of an expanding family of meiotic drive factors and their hpRNA suppressors. Nat Ecol Evol 5, 1613–1623 (2021). https://doi.org/10.1038/s41559-021-01592-z
Received:

Accepted:

Published:

Issue Date:

DOI: https://doi.org/10.1038/s41559-021-01592-z
This article is cited by
Uma P. Arora
Beth L. Dumont

Chromosome Research (2022)

Nature Ecology & Evolution (2021)