Abstract
Vegetation dynamics are affected not only by the concurrent climate but also by memory-induced lagged responses. For example, favourable climate in the past could stimulate vegetation growth to surpass the ecosystem carrying capacity, leaving an ecosystem vulnerable to climate stresses. This phenomenon, known as structural overshoot, could potentially contribute to worldwide drought stress and forest mortality but the magnitude of the impact is poorly known due to the dynamic nature of overshoot and complex influencing timescales. Here, we use a dynamic statistical learning approach to identify and characterize ecosystem structural overshoot globally and quantify the associated drought impacts. We find that structural overshoot contributed to around 11% of drought events during 1981–2015 and is often associated with compound extreme drought and heat, causing faster vegetation declines and greater drought impacts compared to non-overshoot related droughts. The fraction of droughts related to overshoot is strongly related to mean annual temperature, with biodiversity, aridity and land cover as secondary factors. These results highlight the large role vegetation dynamics play in drought development and suggest that soil water depletion due to warming-induced future increases in vegetation could cause more frequent and stronger overshoot droughts.
Access options
Subscribe to Journal
Get full journal access for 1 year
$119.00
only $9.92 per issue
All prices are NET prices.
VAT will be added later in the checkout.
Tax calculation will be finalised during checkout.
Rent or Buy article
Get time limited or full article access on ReadCube.
from$8.99
All prices are NET prices.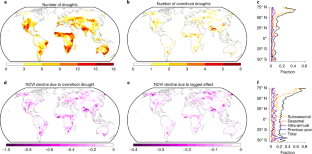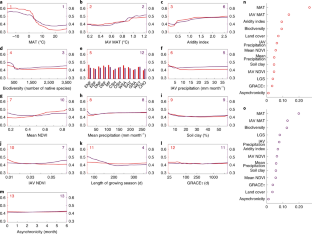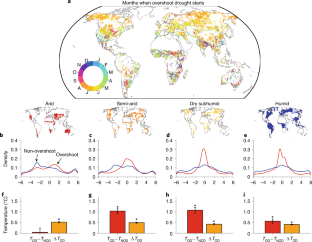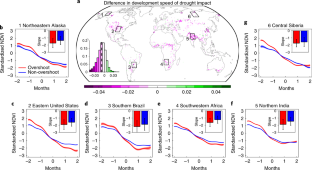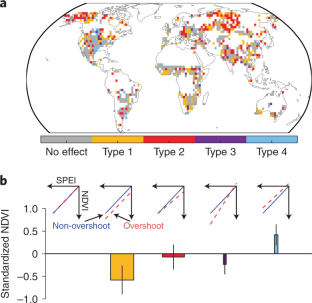 References
1.

Allen, C. D. et al. A global overview of drought and heat-induced tree mortality reveals emerging climate change risks for forests. For. Ecol. Manag. 259, 660–684 (2010).

2.

Ciais, P. et al. Europe-wide reduction in primary productivity caused by the heat and drought in 2003. Nature 437, 529–533 (2005).

3.

Zhao, M. & Running, S. W. Drought-induced reduction in global terrestrial net primary production from 2000 through 2009. Science 329, 940–943 (2010).

4.

Orth, R. & Destouni, G. Drought reduces blue-water fluxes more strongly than green-water fluxes in Europe. Nat. Commun. 9, 3602 (2018).

5.

Doughty, C. E. et al. Drought impact on forest carbon dynamics and fluxes in Amazonia. Nature 519, 78–82 (2015).

6.

Schwalm, C. R. et al. Reduction in carbon uptake during turn of the century drought in western North America. Nat. Geosci. 5, 551–556 (2012).

7.

Bastos, A. et al. Direct and seasonal legacy effects of the 2018 heat wave and drought on European ecosystem productivity. Sci. Adv. 6, eaba2724 (2020).

8.

Wolf, S. et al. Warm spring reduced carbon cycle impact of the 2012 US summer drought. Proc. Natl Acad. Sci. USA 113, 5880–5885 (2016).

9.

Jump, A. S. et al. Structural overshoot of tree growth with climate variability and the global spectrum of drought‐induced forest dieback. Glob. Change Biol. 23, 3742–3757 (2017).

10.

Buermann, W. et al. Widespread seasonal compensation effects of spring warming on northern plant productivity. Nature 562, 110–114 (2018).

11.

Goulden, M. L. & Bales, R. C. California forest die-off linked to multi-year deep soil drying in 2012–2015 drought. Nat. Geosci. 12, 632–637 (2019).

12.

West, M. & Harrison, J. Bayesian Forecasting and Dynamic Models (Springer, 1997).

13.

Pinzon, J. E. & Tucker, C. J. A non-stationary 1981–2012 AVHRR NDVI3g time series. Remote Sens. 6, 6929–6960 (2014).

14.

Nemani, R. R. Climate-driven increases in global terrestrial net primary production from 1982 to 1999. Science 300, 1560–1563 (2003).

15.

Zhang, X., Friedl, M. A., Schaaf, C. B. & Strahler, A. H. Climate controls on vegetation phenological patterns in northern mid and high latitudes inferred from MODIS data. Glob. Change Biol. 10, 1133–1145 (2004).

16.

Zeng, Z. et al. Impact of earth greening on the terrestrial water cycle. J. Clim. 31, 2633–2650 (2018).

17.

Vicente-Serrano, S. M. et al. Response of vegetation to drought time-scales across global land biomes. Proc. Natl Acad. Sci. USA 110, 52–57 (2013).

18.

Anderegg, W. R. L. et al. Hydraulic diversity of forests regulates ecosystem resilience during drought. Nature 561, 538–541 (2018).

19.

Isbell, F. et al. Biodiversity increases the resistance of ecosystem productivity to climate extremes. Nature 526, 574–577 (2015).

20.

Lian, X. et al. Partitioning global land evapotranspiration using CMIP5 models constrained by observations. Nat. Clim. Change 8, 640–646 (2018).

21.

Zscheischler, J. et al. Future climate risk from compound events. Nat. Clim. Change 8, 469–477 (2018).

22.

Zscheischler, J. et al. A typology of compound weather and climate events. Nat. Rev. Earth Environ. 1, 333–347 (2020).

23.

Zhou, S., Zhang, Y., Williams, A. P. & Gentine, P. Projected increases in intensity, frequency, and terrestrial carbon costs of compound drought and aridity events. Sci. Adv. 5, eaau5740 (2019).

24.

Hersbach, H. et al. The ERA5 global reanalysis. Q. J. R. Meteorol. Soc. 146, 1999–2049 (2020).

25.

Sungmin, O. & Orth, R. Global soil moisture data derived through machine learning trained with in-situ measurements. Sci. Data 8, 170 (2021).

26.

Pendergrass, A. G. et al. Flash droughts present a new challenge for subseasonal-to-seasonal prediction. Nat. Clim. Change 10, 191–199 (2020).

27.

Otkin, J. A. et al. Flash droughts: a review and assessment of the challenges imposed by rapid-onset droughts in the United States. Bull. Am. Meteorol. Soc. 99, 911–919 (2018).

28.

Lian, X. et al. Summer soil drying exacerbated by earlier spring greening of northern vegetation. Sci. Adv. 6, eaax0255 (2020).

29.

Green, J. K. et al. Regionally strong feedbacks between the atmosphere and terrestrial biosphere. Nat. Geosci. 10, 410–414 (2017).

30.

Keenan, T. F. & Richardson, A. D. The timing of autumn senescence is affected by the timing of spring phenology: implications for predictive models. Glob. Change Biol. 21, 2634–2641 (2015).

31.

Zani, D., Crowther, T. W., Mo, L., Renner, S. S. & Zohner, C. M. Increased growing-season productivity drives earlier autumn leaf senescence in temperate trees. Science 370, 1066–1071 (2020).

32.

Buitenwerf, R., Rose, L. & Higgins, S. I. Three decades of multi-dimensional change in global leaf phenology. Nat. Clim. Change 5, 364–368 (2015).

33.

Douville, H., Ribes, A., Decharme, B., Alkama, R. & Sheffield, J. Anthropogenic influence on multidecadal changes in reconstructed global evapotranspiration. Nat. Clim. Change 3, 59–62 (2013).

34.

Asrar, G., Fuchs, M., Kanemasu, E. T. & Hatfield, J. L. Estimating absorbed photosynthetic radiation and leaf area index from spectral reflectance in wheat. Agron. J. 76, 300–306 (1984).

35.

Chen, J. M. & Cihlar, J. Retrieving leaf area index of boreal conifer forests using Landsat TM images. Remote Sens. Environ. 55, 153–162 (1996).

36.

Piao, S. et al. Characteristics, drivers and feedbacks of global greening. Nat. Rev. Earth Environ. 1, 14–27 (2020).

37.

Becker, A. et al. A description of the global land-surface precipitation data products of the Global Precipitation Climatology Centre with sample applications including centennial (trend) analysis from 1901–present. Earth Syst. Sci. Data 5, 71–99 (2013).

38.

Sun, Q. et al. A review of global precipitation data sets: data sources, estimation, and intercomparisons. Rev. Geophys. 56, 79–107 (2018).

39.

Harris, I., Osborn, T. J., Jones, P. & Lister, D. Version 4 of the CRU TS monthly high-resolution gridded multivariate climate dataset. Sci. Data 7, 109 (2020).

40.

Vicente-Serrano, S. M., Beguería, S. & López-Moreno, J. I. A multiscalar drought index sensitive to global warming: the standardized precipitation evapotranspiration index. J. Clim. 23, 1696–1718 (2010).

41.

Harrison, P. J. & Stevens, C. F. Bayesian forecasting. J. R. Stat. Soc. B 38, 205–247 (1976).

42.

Liu, Y., Kumar, M., Katul, G. G. & Porporato, A. Reduced resilience as an early warning signal of forest mortality. Nat. Clim. Change 9, 880–885 (2019).

43.

Humphrey, V., Gudmundsson, L. & Seneviratne, S. I. Assessing global water storage variability from grace: trends, seasonal cycle, subseasonal anomalies and extremes. Surv. Geophys. 37, 357–395 (2016).

44.

Schwalm, C. R. et al. Global patterns of drought recovery. Nature 548, 202–205 (2017).
Acknowledgements
Y.Z. and T.F.K. acknowledge support from the NASA IDS Award NNH17AE861. T.F.K. acknowledges additional support from the US Department of Energy (DOE) under contract DE-AC02-05CH11231 as part of the RuBiSCo SFA, a DOE Early Career Research Program award no. DE-SC0021023 and an NSF PREEVENTS award no. 1854945. We thank R. Orth for providing the SoMo.ml soil moisture data and V. Humphrey for providing the GRACEτ data. We thank Y. Liu for discussion on DLM.
Ethics declarations
Competing interests
The authors declare no competing interests.
Additional information
Peer review information Nature Ecology & Evolution thanks Jesús Julio Camarero, Rene Orth and Miguel Zavala for their contribution to the peer review of this work. Peer reviewer reports are available.
Publisher's note Springer Nature remains neutral with regard to jurisdictional claims in published maps and institutional affiliations.
Supplementary information
Supplementary Text 1–5, Table 1 and Figs. 1–19.
About this article
Cite this article
Zhang, Y., Keenan, T.F. & Zhou, S. Exacerbated drought impacts on global ecosystems due to structural overshoot. Nat Ecol Evol (2021). https://doi.org/10.1038/s41559-021-01551-8
Received:

Accepted:

Published: