Abstract
Collective behaviour is common in bacteria, plants and animals, and therefore occurs across ecosystems, from biofilms to cities. With collective behaviour, social interactions among individuals propagate to affect the behaviour of groups, whereas group-level responses in turn affect individual behaviour. These cross-scale feedback loops between individuals, populations and their environments can provide fitness benefits, such as the efficient exploitation of uncertain resources, as well as costs, such as increased resource competition. Although the social mechanics of collective behaviour are increasingly well-studied, its role in ecosystems remains poorly understood. Here we introduce collective movement into a model of consumer–resource dynamics to demonstrate that collective behaviour can attenuate consumer–resource cycles and promote species coexistence. We focus on collective movement as a particularly well-understood example of collective behaviour. Adding collective movement to canonical unstable ecological scenarios causes emergent social–ecological feedback, which mitigates conditions that would otherwise result in extinction. Collective behaviour could play a key part in the maintenance of biodiversity.
Access options
Access Nature and 54 other Nature Portfolio journals
Get Nature+, our best-value online-access subscription
$29.99 / 30 days
cancel any time
Subscribe to this journal
Receive 12 digital issues and online access to articles
$119.00 per year
only $9.92 per issue
Rent or buy this article
Prices vary by article type
from$1.95
to$39.95
Prices may be subject to local taxes which are calculated during checkout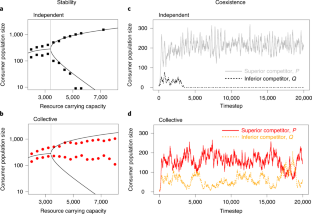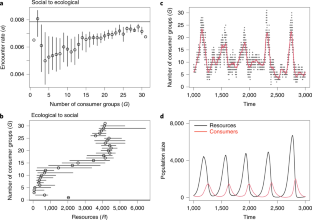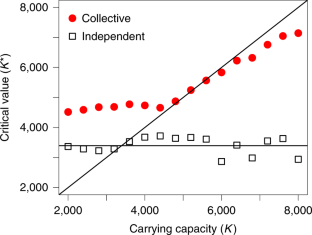 References
Chesson, P. General theory of competitive coexistence in spatially-varying environments. Theor. Popul. Biol. 58, 211–237 (2000).

Hubbell, S. P. The Unified Neutral Theory of Biodiversity and Biogeography (Princeton Univ. Press, 2001).

Ellner, S. P., Snyder, R. E., Adler, P. B. & Hooker, G. An expanded modern coexistence theory for empirical applications. Ecol. Lett. 22, 3–18 (2019).

Rosenzweig, M. L. Paradox of enrichment: destabilization of exploitation ecosystems in ecological time. Science 171, 385–387 (1971).

Costantino, R. F., Cushing, J. M., Dennis, B. & Desharnais, R. A. Experimentally induced transitions in the dynamic behaviour of insect populations. Nature 375, 227–230 (1995).

Fussmann, G. F., Ellner, S. P., Shertzer, K. W. & Hairston, N. G. Jr. Crossing the Hopf bifurcation in a live predator-prey system. Science 290, 1358–1360 (2000).

Dalziel, B. D. et al. Persistent chaos of measles epidemics in the prevaccination United States caused by a small change in seasonal transmission patterns. PLoS Comput. Biol. 12, e1004655 (2016).

Darwin, C. On the Origin of Species by Means of Natural Selection, or The Preservation of Favoured Races in the Struggle for Life (John Murray, 1859).

Gause, G. F. Experimental analysis of Vito Volterra's mathematical theory of the struggle for existence. Science 79, 16–17 (1934).

Hutchinson, G. E. The paradox of the plankton. Am. Nat. 95, 137–145 (1961).

Chesson, P. Multispecies competition in variable environments. Theor. Popul. Biol. 45, 227–276 (1994).

McCann, K., Hastings, A. & Huxel, G. R. Weak trophic interactions and the balance of nature. Nature 395, 794–798 (1998).

Rooney, N., McCann, K., Gellner, G. & Moore, J. C. Structural asymmetry and the stability of diverse food webs. Nature 442, 265–269 (2006).

Coyte, K. Z., Schluter, J. & Foster, K. R. The ecology of the microbiome: networks, competition, and stability. Science 350, 663–666 (2015).

May, R. M. Host-parasitoid systems in patchy environments: a phenomenological model. J. Anim. Ecol. 47, 833–844 (1978).

Briggs, C. J. & Hoopes, M. F. Stabilizing effects in spatial parasitoid–host and predator–prey models: a review. Theor. Popul. Biol. 65, 299–315 (2004).

Vicsek, T. & Zafeiris, A. Collective motion. Phys. Rep. 517, 71–140 (2012).

Berdahl, A., Torney, C. J., Ioannou, C. C., Faria, J. J. & Couzin, I. D. Emergent sensing of complex environments by mobile animal groups. Science 339, 574–576 (2013).

Nagy, M., Akos, Z., Biro, D. & Vicsek, T. Hierarchical group dynamics in pigeon flocks. Nature 464, 890–893 (2010).

Dalziel, B. D., Corre, M. L., Côté, S. D. & Ellner, S. P. Detecting collective behaviour in animal relocation data, with application to migrating caribou. Methods Ecol. Evol. 7, 30–41 (2015).

Torney, C. J. et al. Inferring the rules of social interaction in migrating caribou. Phil. Trans. R. Soc. B 373, 20170385 (2018).

Fryxell, J. M., Mosser, A., Sinclair, A. R. E. & Packer, C. Group formation stabilizes predator–prey dynamics. Nature 449, 1041–1043 (2007).

Vicsek, T., Czirók, A., Ben-Jacob, E., Cohen, I. & Shochet, O. Novel type of phase transition in a system of self-driven particles. Phys. Rev. Lett. 75, 1226 (1995).

Buhl, J. et al. From disorder to order in marching locusts. Science 312, 1402–1406 (2006).

King, A. J., Fehlmann, G., Biro, D., Ward, A. J. & Fürtbauer, I. Re-wilding collective behaviour: an ecological perspective. Trends Ecol. Evol. 33, 347–357 (2018).

Sumpter, D. J. T. Collective Animal Behavior (Princeton Univ. Press, 2010).

Guttal, V. & Couzin, I. D. Social interactions, information use, and the evolution of collective migration. Proc. Natl Acad. Sci. USA 107, 16172–16177 (2010).

Barbier, M. & Watson, J. R. The spatial dynamics of predators and the benefits and costs of sharing information. PLoS Comput. Biol. 12, e1005147 (2016).

Lotka, A. J. Analytical note on certain rhythmic relations in organic systems. Proc. Natl Acad. Sci. USA 6, 410–415 (1920).

Rosenzweig, M. L. & MacArthur, R. H. Graphical representation and stability conditions of predator-prey interactions. Am. Nat. 97, 209–223 (1963).

Couzin, I. D., Krause, J., James, R., Ruxton, G. D. & Franks, N. R. Collective memory and spatial sorting in animal groups. J. Theor. Biol. 218, 1–11 (2002).

Couzin, I. D., Krause, J., Franks, N. R. & Levin, S. A. Effective leadership and decision-making in animal groups on the move. Nature 433, 513–516 (2005).

MacArthur, R. H. Population ecology of some warblers of northeastern coniferous forests. Ecology 39, 599–619 (1958).

Dalziel, B. D., Thomann, E., Medlock, J. & De Leenheer, P. Global analysis of a predator-prey model with variable predator search rate. J. Math. Biol. 81, 159–183 (2020).

Lukas, D. & Clutton-Brock, T. Social complexity and kinship in animal societies. Ecol. Lett. 21, 1129–1134 (2018).

Purves, D. W., Lichstein, J. W., Strigul, N. & Pacala, S. W. Predicting and understanding forest dynamics using a simple tractable model. Proc. Natl Acad. Sci. USA 105, 17018–17022 (2008).

Dalziel, B. D. et al. Urbanization and humidity shape the intensity of influenza epidemics in U.S. cities. Science 362, 75–79 (2018).

Monk, C. T. et al. How ecology shapes exploitation: a framework to predict the behavioural response of human and animal foragers along exploration-exploitation trade-offs. Ecol. Lett. 21, 779–793 (2018).

Hutchins, D. A. & Fu, F. Microorganisms and ocean global change. Nat. Microbiol. 2, 17058 (2017).

Zakem, E. J. et al. Ecological control of nitrite in the upper ocean. Nat. Commun. 9, 1206 (2018).

Axtell, R. L. Zipf distribution of U.S. firm sizes. Science 293, 1818–1820 (2001).

Turchin, P. et al. Quantitative historical analysis uncovers a single dimension of complexity that structures global variation in human social organization. Proc. Natl Acad. Sci. USA 115, E144–E151 (2018).

Press, W. H. Numerical Recipes in C (Cambridge Univ. Press, 1986).
Acknowledgements
B.D.D. is supported by US National Science Foundation award EEID-1911994 and by grants from the David and Lucile Packard Foundation. J.R.W. is supported by the DARPA Young Faculty Award YFA N66001-17-1-4038 and the NASA A.8 project 80NSSC19K0203SPE. S.P.E. is supported by US National Institute of General Medical Sciences of the National Institutes of Health, award number R01 GM122062 and by US National Science Foundation award DEB-1933497. The authors thank P. Adler, S. Hacker, N. Hairston Jr, J. Lubchenco, J. Morales, B. Menge and their research groups for feedback on earlier versions of this manuscript.
Ethics declarations
Competing interests
The authors declare no competing interests.
Additional information
Peer review information Nature Ecology & Evolution thanks Vishwesha Guttal and the other, anonymous, reviewer(s) for their contribution to the peer review of this work. Peer reviewer reports are available.
Publisher's note Springer Nature remains neutral with regard to jurisdictional claims in published maps and institutional affiliations.
Supplementary information
About this article
Cite this article
Dalziel, B.D., Novak, M., Watson, J.R. et al. Collective behaviour can stabilize ecosystems. Nat Ecol Evol 5, 1435–1440 (2021). https://doi.org/10.1038/s41559-021-01517-w
Received:

Accepted:

Published:

Issue Date:

DOI: https://doi.org/10.1038/s41559-021-01517-w
This article is cited by
Sho Furuichi
Yasuhiro Kamimura
Ryuji Yukami

The Science of Nature (2022)