A clever experimental design in bacteria with engineered obligate mutualisms shows that interdependency can allow pairs of bacteria to survive in environments that are uninhabitable by the individual strains.
Access options
Subscribe to Journal
Get full journal access for 1 year
$99.00
only $8.25 per issue
All prices are NET prices.
VAT will be added later in the checkout.
Tax calculation will be finalised during checkout.
Rent or Buy article
Get time limited or full article access on ReadCube.
from$8.99
All prices are NET prices.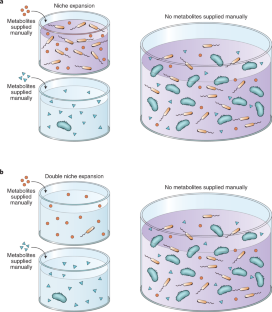 Ethics declarations
Competing interests
The authors declare no competing interests.
About this article
Cite this article
Abreu, C.I., Datta, M.S. When two are better than one. Nat Ecol Evol (2021). https://doi.org/10.1038/s41559-021-01499-9