Abstract
The hominin fossil record of Island Southeast Asia (ISEA) indicates that at least two endemic 'super-archaic' species—Homo luzonensis and H. floresiensis—were present around the time anatomically modern humans arrived in the region >50,000 years ago. Intriguingly, contemporary human populations across ISEA carry distinct genomic traces of ancient interbreeding events with Denisovans—a separate hominin lineage that currently lacks a fossil record in ISEA. To query this apparent disparity between fossil and genetic evidence, we performed a comprehensive search for super-archaic introgression in >400 modern human genomes, including >200 from ISEA. Our results corroborate widespread Denisovan ancestry in ISEA populations, but fail to detect any substantial super-archaic admixture signals compatible with the endemic fossil record of ISEA. We discuss the implications of our findings for the understanding of hominin history in ISEA, including future research directions that might help to unlock more details about the prehistory of the enigmatic Denisovans.
Relevant articles
Open Access articles citing this article.
Dora Koller

,

Frank R. Wendt

…

Renato Polimanti

BMC Biology Open Access 07 November 2022

Fabrice Demeter

,

Clément Zanolli

…

Laura Shackelford

Nature Communications Open Access 17 May 2022

Selina Carlhoff

,

Akin Duli

…

Adam Brumm

Nature Open Access 25 August 2021
Access options
Access Nature and 54 other Nature Portfolio journals
Get Nature+, our best-value online-access subscription
$29.99 / 30 days
cancel any time
Subscribe to this journal
Receive 12 digital issues and online access to articles
$119.00 per year
only $9.92 per issue
Rent or buy this article
Prices vary by article type
from$1.95
to$39.95
Prices may be subject to local taxes which are calculated during checkout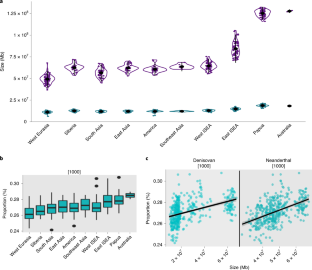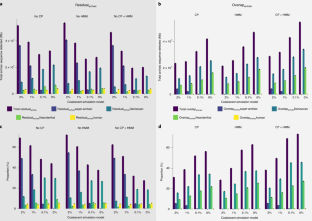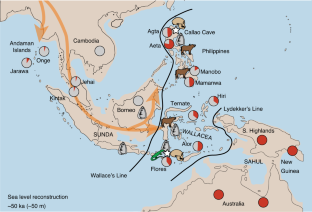 References
Kaifu, Y. Archaic hominin populations in Asia before the arrival of modern humans: their phylogeny and implications for the 'southern Denisovans'. Curr. Anthropol. 58, S418–S433 (2017).

Morwood, M. J., O'Sullivan, P., Susanto, E. E. & Aziz, F. Revised age for Mojokerto 1, an early Homo erectus cranium from east Java, Indonesia. Aust. Archaeol. 57, 1–4 (2003).

Rizal, Y. et al. Last appearance of Homo erectus at Ngandong, Java, 117,000–108,000 years ago. Nature 577, 381–385 (2020).

Matsu'ura, S. et al. Age control of the first appearance datum for Javanese in the Sangiran area. Science 367, 210–214 (2020).

Westaway, K. E. et al. An early modern human presence in Sumatra 73,000–63,000 years ago. Nature 548, 322–325 (2017).

Clarkson, C. et al. Human occupation of northern Australia by 65,000 years ago. Nature 547, 306–310 (2017).

Bowdler, S. 'Human occupation of northern Australia by 65,000 years ago' (Clarkson et al. 2017): a discussion. Aust. Archaeol. 83, 162–163 (2017).

O'Connell, J. F. et al. When did Homo sapiens first reach Southeast Asia and Sahul? Proc. Natl Acad. Sci. USA 115, 8482–8490 (2018).

Brown, P. et al. A new small-bodied hominin from the Late Pleistocene of Flores, Indonesia. Nature 431, 1055–1061 (2004).

Sutikna, T. et al. Revised stratigraphy and chronology for Homo floresiensis at Liang Bua in Indonesia. Nature 532, 366–369 (2016).

Détroit, F. et al. A new species of Homo from the Late Pleistocene of the Philippines. Nature 568, 181–186 (2019).

Brown, P. & Maeda, T. Liang Bua Homo floresiensis mandibles and mandibular teeth: a contribution to the comparative morphology of a new hominin species. J. Hum. Evol. 57, 571–596 (2009).

Argue, D., Groves, C. P., Lee, M. S. Y. & Jungers, W. L. The affinities of Homo floresiensis based on phylogenetic analyses of cranial, dental, and postcranial characters. J. Hum. Evol. 107, 107–133 (2017).

Reich, D. et al. Genetic history of an archaic hominin group from Denisova Cave in Siberia. Nature 468, 1053–1060 (2010).

Meyer, M. et al. A high-coverage genome sequence from an archaic Denisovan individual. Science 338, 222–226 (2012).

Chen, F. et al. A late Middle Pleistocene Denisovan mandible from the Tibetan Plateau. Nature 569, 409–412 (2019).

Zhang, D. et al. Denisovan DNA in Late Pleistocene sediments from Baishiya Karst Cave on the Tibetan Plateau. Science 370, 584–587 (2020).

Reich, D. et al. Denisova admixture and the first modern human dispersals into Southeast Asia and Oceania. Am. J. Hum. Genet. 89, 516–528 (2011).

Jinam, T. A. et al. Discerning the origins of the Negritos, First Sundaland People: deep divergence and archaic admixture. Genome Biol. Evol. 9, 2013–2022 (2017).

Browning, S. R., Browning, B. L., Zhou, Y., Tucci, S. & Akey, J. M. Analysis of human sequence data reveals two pulses of archaic Denisovan admixture. Cell 173, 53–61.e9 (2018).

Mondal, M., Bertranpetit, J. & Lao, O. Approximate Bayesian computation with deep learning supports a third archaic introgression in Asia and Oceania. Nat. Commun. 10, 246 (2019).

Jacobs, G. S. et al. Multiple deeply divergent Denisovan ancestries in Papuans. Cell 177, 1010–1021.e32 (2019).

Teixeira, J. C. & Cooper, A. Using hominin introgression to trace modern human dispersals. Proc. Natl Acad. Sci. USA 116, 15327–15332 (2019).

Bergström, A. et al. Insights into human genetic variation and population history from 929 diverse genomes. Science 367, eaay5012 (2020).

van den Bergh, G. D. et al. Earliest hominin occupation of Sulawesi, Indonesia. Nature 529, 208–211 (2016).

Wallace, A. R. On the physical geography of the Malay Archipelago. Proc. R. Geographical Soc. Lond. 33, 217–234 (1863).

Kaifu, Y. et al. Craniofacial morphology of Homo floresiensis: description, taxonomic affinities, and evolutionary implication. J. Hum. Evol. 61, 644–682 (2011).

Kaifu, Y. et al. Unique dental morphology of Homo floresiensis and its evolutionary implications. PLoS ONE 10, e0141614 (2015).

van den Bergh, G. D. et al. Homo floresiensis-like fossils from the early Middle Pleistocene of Flores. Nature 534, 245–248 (2016).

Prüfer, K. et al. The complete genome sequence of a Neanderthal from the Altai Mountains. Nature 505, 43–49 (2014).

Mondal, M. et al. Genomic analysis of Andamanese provides insights into ancient human migration into Asia and adaptation. Nat. Genet. 48, 1066–1070 (2016).

Skoglund, P., Mallick, S., Patterson, N. & Reich, D. No evidence for unknown archaic ancestry in South Asia. Nat. Genet. 50, 632–633 (2018).

Mondal, M., Casals, F., Majumder, P. P. & Bertranpetit, J. Reply to 'No evidence for unknown archaic ancestry in South Asia'. Nat. Genet. 50, 1637–1639 (2018).

Skov, L. et al. Detecting archaic introgression using an unadmixed outgroup. PLoS Genet. 14, e1007641 (2018).

Lawson, D. J., Hellenthal, G., Myers, S. & Falush, D. Inference of population structure using dense haplotype data. PLoS Genet. 8, e1002453 (2012).

Seguin-Orlando, A. et al. Genomic structure in Europeans dating back at least 36,200 years. Science 346, 1113–1118 (2014).

Racimo, F. et al. Archaic adaptive introgression in TBX15/WARS2. Mol. Biol. Evol. 34, 509–524 (2017).

Berger, L. R. et al. Homo naledi, a new species of the genus Homo from the Dinaledi Chamber, South Africa. eLife 4, e09560 (2015).

Key, F. M., Teixeira, J. C., de Filippo, C. & Andrés, A. M. Advantageous diversity maintained by balancing selection in humans. Curr. Opin. Genet. Dev. 29, 45–51 (2014).

Hubisz, M. J., Williams, A. L. & Siepel, A. Mapping gene flow between ancient hominins through demography-aware inference of the ancestral recombination graph. PLoS Genet. 16, e1008895 (2020).

Kelleher, J., Barton, N. H. & Etheridge, A. M. Coalescent simulation in continuous space. Bioinformatics 29, 955–956 (2013).

Malaspinas, A.-S. et al. A genomic history of Aboriginal Australia. Nature 538, 207–214 (2016).

Tucci, S. et al. Evolutionary history and adaptation of a human pygmy population of Flores Island, Indonesia. Science 361, 511–516 (2018).

Vernot, B. et al. Excavating Neandertal and Denisovan DNA from the genomes of Melanesian individuals. Science 352, 235–239 (2016).

Brumm, A. et al. Age and context of the oldest known hominin fossils from Flores. Nature 534, 249–253 (2016).

Ingicco, T. et al. Earliest known hominin activity in the Philippines by 709 thousand years ago. Nature 557, 233–237 (2018).

O'Connell, J. F. & Allen, J. The restaurant at the end of the universe: modelling the colonisation of Sahul. Aust. Archaeol. 74, 5–31 (2012).

Kealy, S., Louys, J. & O'Connor, S. Islands under the sea: a review of early modern human dispersal routes and migration hypotheses through Wallacea. J. Isl. Coast. Archaeol. 11, 364–384 (2016).

Kealy, S., Louys, J. & O'Connor, S. Reconstructing palaeogeography and inter-island visibility in the Wallacean Archipelago during the likely period of Sahul colonization, 65–45000 years ago. Archaeol. Prospect. 24, 259–272 (2017).

Kealy, S., Louys, J. & O'Connor, S. Least-cost pathway models indicate northern human dispersal from Sunda to Sahul. J. Hum. Evol. 125, 59–70 (2018).

Bird, M. I. et al. Palaeogeography and voyage modeling indicates early human colonization of Australia was likely from Timor-Roti. Quat. Sci. Rev. 191, 431–439 (2018).

Bird, M. I. et al. Early human settlement of Sahul was not an accident. Sci. Rep. 9, 8220 (2019).
Acknowledgements
We thank C. Huber and J. Schmidt for useful discussions on the genetic analyses, and K. Mitchell and F. Racimo for comments on the manuscript. This work was supported by ARC Indigenous Discovery Grant IN180100017 (J.C.T. and R.T.) and ARC Laureate Fellowships FL100100195 (C.S.M.T.) and FL140100260 (A.C.). C.S. acknowledges funding from the Calleva Foundation and The Human Origins Research Fund. G.S.J. acknowledges support from a Presidential Postdoctoral Fellowship from Nanyang Technological University.
Ethics declarations
Competing interests
The authors declare no competing interests.
Additional information
Peer review information Nature Ecology & Evolution thanks Laurits Skov and the other, anonymous, reviewer(s) for their contribution to the peer review of this work.
Publisher's note Springer Nature remains neutral with regard to jurisdictional claims in published maps and institutional affiliations.
Supplementary information
Supplementary Figs. 1–15.
Supplementary Tables 1–5.
About this article
Cite this article
Teixeira, J.C., Jacobs, G.S., Stringer, C. et al. Widespread Denisovan ancestry in Island Southeast Asia but no evidence of substantial super-archaic hominin admixture. Nat Ecol Evol 5, 616–624 (2021). https://doi.org/10.1038/s41559-021-01408-0
Received:

Accepted:

Published:

Issue Date:

DOI: https://doi.org/10.1038/s41559-021-01408-0