Abstract
The ability of DNA to produce a functional protein even after transfer to a foreign host is of fundamental importance in both evolutionary biology and biotechnology, enabling horizontal gene transfer in the wild and heterologous expression in the lab. However, the influence of genetic particulars on DNA functionality in a new host is poorly understood, as are the evolutionary mechanisms of assimilation and refinement. Here, we describe an automation-enabled large-scale experiment wherein Escherichia coli strains were evolved in parallel after replacement of the genes pgi or tpiA with orthologous DNA from donor species spanning all domains of life, from humans to hyperthermophilic archaea. Via analysis of hundreds of clones evolved for 50,000+ cumulative generations across dozens of independent lineages, we show that orthogene-upregulating mutations can completely mitigate fitness defects that result from initial non-functionality, with coding sequence changes unnecessary. Gene target, donor species and genomic location of the swap all influenced outcomes—both the nature of adaptive mutations (often synonymous) and the frequency with which strains successfully evolved to assimilate the foreign DNA. Additionally, time series DNA sequencing and replay evolution experiments revealed transient copy number expansions, the contingency of lineage outcome on first-step mutations and the ability for strains to escape from suboptimal local fitness maxima. Overall, this study establishes the influence of various DNA and protein features on cross-species genetic interchangeability and evolutionary outcomes, with implications for both horizontal gene transfer and rational strain design.
Access options
Subscribe to Journal
Get full journal access for 1 year
$99.00
only $8.25 per issue
All prices are NET prices.
VAT will be added later in the checkout.
Tax calculation will be finalised during checkout.
Rent or Buy article
Get time limited or full article access on ReadCube.
from$8.99
All prices are NET prices.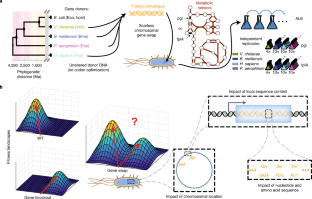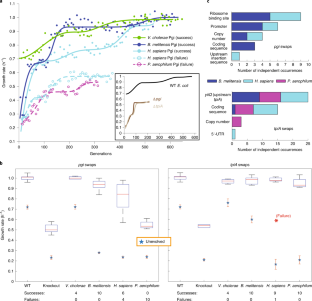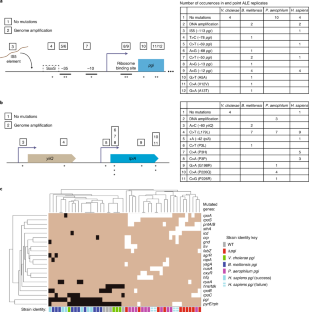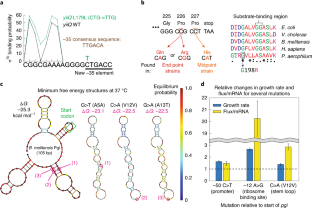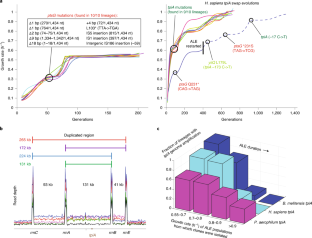 Data availability
The genome sequence data that support the findings of this study are available from ALEdb (https://aledb.org) under project name 'SvNS'.
References
1.

Soucy, S. M., Huang, J. & Gogarten, J. P. Horizontal gene transfer: building the web of life. Nat. Rev. Genet. 16, 472–482 (2015).

2.

Palmer, K. L., Kos, V. N. & Gilmore, M. S. Horizontal gene transfer and the genomics of enterococcal antibiotic resistance. Curr. Opin. Microbiol. 13, 632–639 (2010).

3.

Potvin, G., Ahmad, A. & Zhang, Z. Bioprocess engineering aspects of heterologous protein production in Pichia pastoris: a review. Biochem. Eng. J. 64, 91–105 (2012).

4.

Chen, J. et al. Genome hypermobility by lateral transduction. Science 362, 207–212 (2018).

5.

Kachroo, A. H. et al. Evolution. Systematic humanization of yeast genes reveals conserved functions and genetic modularity. Science 348, 921–925 (2015).

6.

Kachroo, A. H. et al. Systematic bacterialization of yeast genes identifies a near-universally swappable pathway. eLife 6, e25093 (2017).

7.

Kacar, B., Garmendia, E., Tuncbag, N., Andersson, D. I. & Hughes, D. Functional constraints on replacing an essential gene with its ancient and modern homologs. mBio 8, e01276-17 (2017).

8.

Lind, P. A., Tobin, C., Berg, O. G., Kurland, C. G. & Andersson, D. I. Compensatory gene amplification restores fitness after inter-species gene replacements. Mol. Microbiol. 75, 1078–1089 (2010).

9.

Kacar, B., Ge, X., Sanyal, S. & Gaucher, E. A. Experimental evolution of Escherichia coli harboring an ancient translation protein. J. Mol. Evol. 84, 69–84 (2017).

10.

Bershtein, S. et al. Protein homeostasis imposes a barrier on functional integration of horizontally transferred genes in bacteria. PLoS Genet. 11, e1005612 (2015).

11.

Sandberg, T. E., Salazar, M. J., Weng, L. L., Palsson, B. O. & Feist, A. M. The emergence of adaptive laboratory evolution as an efficient tool for biological discovery and industrial biotechnology. Metab. Eng. 56, 1–16 (2019).

12.

Charusanti, P. et al. Genetic basis of growth adaptation of Escherichia coli after deletion of pgi, a major metabolic gene. PLoS Genet. 6, e1001186 (2010).

13.

McCloskey, D. et al. Adaptation to the coupling of glycolysis to toxic methylglyoxal production in tpiA deletion strains of Escherichia coli requires synchronized and counterintuitive genetic changes. Metab. Eng. 48, 82–93 (2018).

14.

McCloskey, D. et al. Multiple optimal phenotypes overcome redox and glycolytic intermediate metabolite imbalances in Escherichia coli pgi knockout evolutions. Appl. Environ. Microbiol. 84, e00823-18 (2018).

15.

Sandberg, T. E. et al. Evolution of Escherichia coli to 42 °C and subsequent genetic engineering reveals adaptive mechanisms and novel mutations. Mol. Biol. Evol. 31, 2647–2662 (2014).

16.

LaCroix, R. A. et al. Use of adaptive laboratory evolution to discover key mutations enabling rapid growth of Escherichia coli K-12 MG1655 on glucose minimal medium. Appl. Environ. Microbiol. 81, 17–30 (2015).

17.

Sandberg, T. E. et al. Evolution of E. coli on [U-13C]glucose reveals a negligible isotopic influence on metabolism and physiology. PLoS ONE 11, e0151130 (2016).

18.

de Avila e Silva, S.,& Notari, D. L., Neis, F. A., Ribeiro, H. G. & Echeverrigaray, S. BacPP: a web-based tool for Gram-negative bacterial promoter prediction. Genet. Mol. Res. 15, gmr7973 (2016).

19.

Kershner, J. P. et al. A synonymous mutation upstream of the gene encoding a weak-link enzyme causes an ultrasensitive response in growth rate. J. Bacteriol. 198, 2853–2863 (2016).

20.

Peil, L. et al. Distinct XPPX sequence motifs induce ribosome stalling, which is rescued by the translation elongation factor EF-P. Proc. Natl Acad. Sci. USA 110, 15265–15270 (2013).

21.

Bailey, S. F., Hinz, A. & Kassen, R. Adaptive synonymous mutations in an experimentally evolved Pseudomonas fluorescens population. Nat. Commun. 5, 4076 (2014).

22.

Agashe, D. et al. Large-effect beneficial synonymous mutations mediate rapid and parallel adaptation in a bacterium. Mol. Biol. Evol. 33, 1542–1553 (2016).

23.

Kristofich, J. et al. Synonymous mutations make dramatic contributions to fitness when growth is limited by a weak-link enzyme. PLoS Genet. 14, e1007615 (2018).

24.

Matsumoto, T., John, A., Baeza-Centurion, P., Li, B. & Akashi, H. Codon usage selection can bias estimation of the fraction of adaptive amino acid fixations. Mol. Biol. Evol. 33, 1580–1589 (2016).

25.

Leon, D., D'Alton, S., Quandt, E. M. & Barrick, J. E. Innovation in an E. coli evolution experiment is contingent on maintaining adaptive potential until competition subsides. PLoS Genet. 14, e1007348 (2018).

26.

Concha, C. et al. Interplay between developmental flexibility and determinism in the evolution of mimetic Heliconius wing patterns. Curr. Biol. 29, 3996–4009.e4 (2019).

27.

Conrad, T. M. et al. RNA polymerase mutants found through adaptive evolution reprogram Escherichia coli for optimal growth in minimal media. Proc. Natl Acad. Sci. USA 107, 20500–20505 (2010).

28.

Wytock, T. P. et al. Experimental evolution of diverse Escherichia coli metabolic mutants identifies genetic loci for convergent adaptation of growth rate. PLoS Genet. 14, e1007284 (2018).

29.

Sastry, A. V. et al. The Escherichia coli transcriptome mostly consists of independently regulated modules. Nat. Commun. 10, 5536 (2019).

30.

Herring, C. D., Glasner, J. D. & Blattner, F. R. Gene replacement without selection: regulated suppression of amber mutations in Escherichia coli. Gene 311, 153–163 (2003).

31.

Thomason, L. C., Costantino, N. & Court, D. L. E. coli genome manipulation by P1 transduction. Curr. Protoc. Mol. Biol. 79, 1.17.1–1.17.8 (2007).

32.

Li, W. et al. The EMBL-EBI bioinformatics web and programmatic tools framework. Nucleic Acids Res. 43, W580–W584 (2015).

33.

Sandberg, T. E., Lloyd, C. J., Palsson, B. O. & Feist, A. M. Laboratory evolution to alternating substrate environments yields distinct phenotypic and genetic adaptive strategies. Appl. Environ. Microbiol. 83, e00410-17 (2017).

34.

Lenski, R. E. Experimental evolution and the dynamics of adaptation and genome evolution in microbial populations. ISME J. 11, 2181–2194 (2017).

35.

Marotz, C. et al. DNA extraction for streamlined metagenomics of diverse environmental samples. Biotechniques 62, 290–293 (2017).

36.

Chen, S. et al. AfterQC: automatic filtering, trimming, error removing and quality control for fastq data. BMC Bioinform. 18, 80 (2017).

37.

Deatherage, D. E. & Barrick, J. E. Identification of mutations in laboratory-evolved microbes from next-generation sequencing data using breseq. Methods Mol. Biol. 1151, 165–188 (2014).

38.

Zadeh, J. N. et al. NUPACK: analysis and design of nucleic acid systems. J. Comput. Chem. 32, 170–173 (2011).
Acknowledgements
This work was supported by the Novo Nordisk Foundation (grant no. NNF10CC1016517) and in part by the National Institutes of Health (grant no. R01GM057089). T.E.S. was supported in part by the National Science Foundation Graduate Research Fellowship grant no. DGE-1144086. We thank E. Brunk, E. Catoiu, M. Omar Din, C. Olson, M. Wu and Y. Hutchison for useful advice and discussions. We thank A. Feist for making automated evolution machines available for the experiments performed in this study.
Ethics declarations
Competing interests
The authors declare no competing interests.
Additional information
Publisher's note Springer Nature remains neutral with regard to jurisdictional claims in published maps and institutional affiliations.
Supplementary information
Supplementary Tables 1 and 2.
About this article
Cite this article
Sandberg, T.E., Szubin, R., Phaneuf, P.V. et al. Synthetic cross-phyla gene replacement and evolutionary assimilation of major enzymes. Nat Ecol Evol 4, 1402–1409 (2020). https://doi.org/10.1038/s41559-020-1271-x
Received:

Accepted:

Published:

Issue Date:
Further reading
Betul Kacar

,

Amanda K. Garcia

&

Ariel D. Anbar

ChemBioChem (2021)

Katrin Bartke

,

Linnéa Garoff

,

Douglas L Huseby

,

Gerrit Brandis

,

Diarmaid Hughes

&

Deepa Agashe

Molecular Biology and Evolution (2021)