Abstract
To understand ecosystem responses to anthropogenic global change, a prevailing framework is the definition of threshold levels of pressure, above which response magnitudes and their variances increase disproportionately. However, we lack systematic quantitative evidence as to whether empirical data allow definition of such thresholds. Here, we summarize 36 meta-analyses measuring more than 4,600 global change impacts on natural communities. We find that threshold transgressions were rarely detectable, either within or across meta-analyses. Instead, ecological responses were characterized mostly by progressively increasing magnitude and variance when pressure increased. Sensitivity analyses with modelled data revealed that minor variances in the response are sufficient to preclude the detection of thresholds from data, even if they are present. The simulations reinforced our contention that global change biology needs to abandon the general expectation that system properties allow defining thresholds as a way to manage nature under global change. Rather, highly variable responses, even under weak pressures, suggest that 'safe-operating spaces' are unlikely to be quantifiable.
Relevant articles
Open Access articles citing this article.
Violeta Martínez-Amigo

&

Juan C. Benavides

Plant Ecology Open Access 03 November 2023

Charlotte Carrier-Belleau

,

Ludovic Pascal

…

Philippe Archambault

Scientific Reports Open Access 05 October 2023

Liam Lachs

,

Simon D. Donner

…

James R. Guest

Nature Communications Open Access 22 August 2023
Access options
Access Nature and 54 other Nature Portfolio journals
Get Nature+, our best-value online-access subscription
$29.99 / 30 days
cancel any time
Subscribe to this journal
Receive 12 digital issues and online access to articles
$119.00 per year
only $9.92 per issue
Rent or buy this article
Prices vary by article type
from$1.95
to$39.95
Prices may be subject to local taxes which are calculated during checkout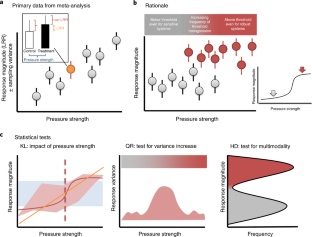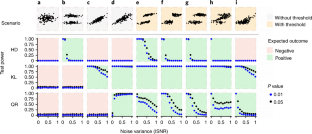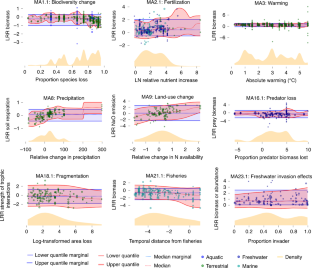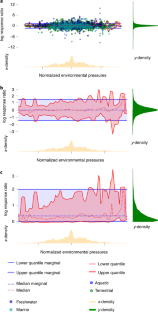 References
Scheffer, M., Carpenter, S., Foley, J. A., Folke, C. & Walker, B. Catastrophic shifts in ecosystems. Nature 413, 591–596 (2001).

Scheffer, M. Critical Transitions in Nature and Society (Princeton Univ. Press, 2009).

Rockström, J. et al. A safe operating space for humanity. Nature 461, 472–475 (2009).

Folke, C. et al. Regime shifts, resilience and biodiversity in ecosystem management. Annu. Rev. Ecol. Evol. Syst. 35, 557–581 (2004).

Donohue, I. et al. Navigating the complexity of ecological stability. Ecol. Lett. 19, 1172–1185 (2016).

Aichi Biodiversity Targets (UN, 2010); https://www.cbd.int/sp/targets/

Carpenter, S. R. & Brock, W. A. Rising variance: a leading indicator of ecological transition. Ecol. Lett. 9, 308–315 (2006).

Scheffer, M. et al. Early-warning signals for critical transitions. Nature 461, 53–59 (2009).

Hartigan, J. A. & Hartigan, P. M. The dip test of unimodality. Ann. Stat. 13, 70–84 (1985).

Montoya, J. M., Donohue, I. & Pimm, S. L. Planetary boundaries for biodiversity: implausible science, pernicious policies. Trends Ecol. Evol. 33, 71–73 (2018).

Pimm, S. L., Donohue, I., Montoya, J. M. & Loreau, M. Measuring resilience is essential to understand it. Nat. Sustain. 2, 895–897 (2019).

Clark, C. M. & Tilman, D. Loss of plant species after chronic low-level nitrogen deposition to prairie grasslands. Nature 451, 712–715 (2008).

Korell, L., Auge, H., Chase, J. M., Harpole, W. S. & Knight, T. M. We need more realistic climate change experiments for understanding ecosystems of the future. Glob. Change Biol. 26, 325–327 (2020).

Hillebrand, H. et al. Decomposing multiple dimensions of stability in global change experiments. Ecol. Lett. 21, 21–30 (2018).

Connell, S. D. & Ghedini, G. Resisting regime-shifts: the stabilising effect of compensatory processes. Trends Ecol. Evol. 30, 513–515 (2015).

Bruno, J. F., Sweatman, H., Precht, W. F., Selig, E. R. & Schutte, V. G. W. Assessing evidence of phase shifts from coral to macroalgal dominance on coral reefs. Ecology 90, 1478–1484 (2009).

Diaz-Pulido, G. et al. Doom and boom on a resilient reef: climate change, algal overgrowth and coral recovery. PLoS ONE 4, e5239 (2009).

Carpenter, S. R. et al. Early warnings of regime shifts: a whole-ecosystem experiment. Science 332, 1079–1082 (2011).

Suding, K. N. & Hobbs, R. J. Threshold models in restoration and conservation: a developing framework. Trends Ecol. Evol. 24, 271–279 (2009).

Vaquer-Sunyer, R. & Duarte, C. M. Thresholds of hypoxia for marine biodiversity. Proc. Natl Acad. Sci. USA 105, 15452–15457 (2008).

Groffman, P. M. et al. Ecological thresholds: the key to successful environmental management or an important concept with no practical application? Ecosystems 9, 1–13 (2006).

Hughes, T. P., Carpenter, S., Rockstrom, J., Scheffer, M. & Walker, B. Multiscale regime shifts and planetary boundaries. Trends Ecol. Evol. 28, 389–395 (2013).

Papworth, S. K., Rist, J., Coad, L. & Milner-Gulland, E. J. Evidence for shifting baseline syndrome in conservation. Conserv. Lett. 2, 93–100 (2009).

Schlesinger, W. H. Planetary boundaries: thresholds risk prolonged degradation. Nat. Clim. Change 1, 112–113 (2009).

Duarte, C. M. et al. Reconsidering ocean calamities. BioScience 65, 130–139 (2015).

Chase, J. M. & Knight, T. M. Scale-dependent effect sizes of ecological drivers on biodiversity: why standardised sampling is not enough. Ecol. Lett. 16, 17–26 (2013).

Cardinale, B. J. et al. Effects of biodiversity on the functioning of trophic groups and ecosystems. Nature 443, 989–992 (2006).

Gruner, D. S. et al. A cross-system synthesis of consumer and nutrient resource control on producer biomass. Ecol. Lett. 11, 740–755 (2008).

Elser, J. J. et al. Global analysis of nitrogen and phosphorus limitation of primary producers in freshwater, marine and terrestrial ecosystems. Ecol. Lett. 10, 1135–1142 (2007).

Lin, D., Xia, J. & Wan, S. Climate warming and biomass accumulation of terrestrial plants: a meta-analysis. New Phytol. 188, 187–198 (2010).

Treseder, K. K. Nitrogen additions and microbial biomass: a meta-analysis of ecosystem studies. Ecol. Lett. 11, 1111–1120 (2008).

Akiyama, H., Yan, X. & Yagi, K. Evaluation of effectiveness of enhanced-efficiency fertilizers as mitigation options for N2O and NO emissions from agricultural soils: meta-analysis. Glob. Change Biol. 16, 1837–1846 (2010).

Gibson, L. et al. Primary forests are irreplaceable for sustaining tropical biodiversity. Nature 478, 378–381 (2011).

Liang, J. Y., Qi, X., Souza, L. & Luo, Y. Q. Processes regulating progressive nitrogen limitation under elevated carbon dioxide: a meta-analysis. Biogeosciences 13, 2689–2699 (2016).

Liu, L. L. et al. A cross-biome synthesis of soil respiration and its determinants under simulated precipitation changes. Glob. Change Biol. 22, 1394–1405 (2016).

van Lent, J., Hergoualc'h, K. & Verchot, L. V. Reviews and syntheses: soil N2O and NO emissions from land use and land-use change in the tropics and subtropics: a meta-analysis. Biogeosciences 12, 7299–7313 (2015).

Ateweberhan, M. & McClanahan, T. R. Relationship between historical sea-surface temperature variability and climate change-induced coral mortality in the western Indian Ocean. Mar. Pollut. Bull. 60, 964–970 (2010).

Gärtner, M. et al. Invasive plants as drivers of regime shifts: identifying high-priority invaders that alter feedback relationships. Divers. Distrib. 20, 733–744 (2014).

Dooley, S. R. & Treseder, K. K. The effect of fire on microbial biomass: a meta-analysis of field studies. Biogeochemistry 109, 49–61 (2012).

Dijkstra, F. A. & Adams, M. A. Fire eases imbalances of nitrogen and phosphorus in woody plants. Ecosystems 18, 769–779 (2015).

Lu, M. et al. Responses of ecosystem carbon cycle to experimental warming: a meta-analysis. Ecology 94, 726–738 (2013).

Griffin, J. N., Byrnes, J. E. K. & Cardinale, B. J. Effects of predator richness on prey suppression: a meta-analysis. Ecology 94, 2180–2187 (2013).

Srivastava, D. S. et al. Diversity has stronger top-down than bottom-up effects on decomposition. Ecology 90, 1073–1083 (2009).

Östman, Ö. et al. Top-down control as important as nutrient enrichment for eutrophication effects in North Atlantic coastal ecosystems. J. Appl. Ecol. 53, 1138–1147 (2016).

Katano, I., Doi, H., Eriksson, B. K. & Hillebrand, H. A cross-system meta-analysis reveals coupled predation effects on prey biomass and diversity. Oikos 124, 1427–1435 (2015).

Borer, E. T. et al. What determines the strength of a trophic cascade? Ecology 86, 528–537 (2005).

Hodapp, D. & Hillebrand, H. Effect of consumer loss on resource removal depends on species-specific traits. Ecosphere 8, e01742 (2017).

Liu, L. L. & Greaver, T. L. A global perspective on belowground carbon dynamics under nitrogen enrichment. Ecol. Lett. 13, 819–828 (2010).

Martinson, H. M. & Fagan, W. F. Trophic disruption: a meta-analysis of how habitat fragmentation affects resource consumption in terrestrial arthropod systems. Ecol. Lett. 17, 1178–1189 (2014).

Holden, S. & Treseder, K. A meta-analysis of soil microbial biomass responses to forest disturbances. Front. Microbiol. 4, 163 (2013).

Nagelkerken, I. & Connell, S. D. Global alteration of ocean ecosystem functioning due to increasing human CO2 emissions. Proc. Natl Acad. Sci. USA 112, 13272–13277 (2015).

Kaiser, M. J. et al. Global analysis of response and recovery of benthic biota to fishing. Mar. Ecol. Prog. Ser. 311, 1–14 (2006).

Gill, D. A. et al. Capacity shortfalls hinder the performance of marine protected areas globally. Nature 534, 665–669 (2017).

Gallardo, B., Clavero, M., Sánchez, M. I. & Vilà, M. Global ecological impacts of invasive species in aquatic ecosystems. Glob. Change Biol. 22, 151–163 (2016).

Vila, M. et al. Ecological impacts of invasive alien plants: a meta-analysis of their effects on species, communities and ecosystems. Ecol. Lett. 14, 702–708 (2011).

Scheffer, M. & Carpenter, S. R. Catastrophic regime shifts in ecosystems: linking theory to observation. Trends Ecol. Evol. 18, 648–656 (2003).

Andersen, T., Carstensen, J., Hernandez-Garcia, E. & Duarte, C. M. Ecological thresholds and regime shifts: approaches to identification. Trends Ecol. Evol. 24, 49–57 (2009).

Fasiolo, M., Goude, Y., Nedellec, R. & Wood, S. N. Fast calibrated additive quantile regression. J. Am. Stat. Assoc. https://doi.org/10.1080/01621459.2020.1725521 (2020).

Sheather, S. J. & Jones, M. C. A reliable data-based bandwidth selection method for kernel density estimation. J. Royal Stat. Soc. B 53, 683–690 (1991).
Acknowledgements
The data reported in this paper are presented and derived from 36 different meta-analyses; they are archived and available from each of these as indicated in the Supplementary Text. The concept of this paper emerged during scientific discussions with T. Blenckner at Stockholm University, at the UK NERC/BESS Tansley Working Group on ecological stability and the TippingPond EU Biodiversa project. The actual work was funded by the Lower Saxony Ministry of Science and Culture through the MARBAS project to H.H. and the HIFMB, a collaboration between the Alfred-Wegener-Institute, Helmholtz-Center for Polar and Marine Research and the Carl von Ossietzky University Oldenburg, initially funded by the Ministry for Science and Culture of Lower Saxony and the Volkswagen Foundation through the 'Niedersächsisches Vorab' grant programme (grant no. ZN3285). The work was finalized with support by Deutsche Forschungsgemeinschaft grant no. HI848/26–1. L. Toaspern helped with gathering data from invasion meta-analyses. P. Ruckdeschel helped with the statistical approach. M. Vilà provided additional information on their published meta-analyses. We acknowledge the comments by U. Feudel, G. Gerlach and the members of the Plankton Ecology Lab at the Carl von Ossietzky University Oldenburg on the manuscript which helped with our argumentation.
Ethics declarations
Competing interests
The authors declare no competing interests.
Additional information
Peer review information Peer reviewer reports are available.
Publisher's note Springer Nature remains neutral with regard to jurisdictional claims in published maps and institutional affiliations.
Supplementary information
Supplementary text and Table 1.
About this article
Cite this article
Hillebrand, H., Donohue, I., Harpole, W.S. et al. Thresholds for ecological responses to global change do not emerge from empirical data. Nat Ecol Evol 4, 1502–1509 (2020). https://doi.org/10.1038/s41559-020-1256-9
Received:

Accepted:

Published:

Issue Date:

DOI: https://doi.org/10.1038/s41559-020-1256-9