Abstract
Multidrug resistance (MDR) of pathogens is an ongoing public health crisis exacerbated by the horizontal transfer of antibiotic resistance genes via conjugative plasmids. Factors that stabilize these plasmids in bacterial communities contribute to an even higher incidence of MDR, given the increased likelihood that a host will already contain a plasmid when it acquires another through conjugation. Here, we show one such stabilizing factor is host–plasmid coevolution under antibiotic selection, which facilitated the emergence of MDR via two distinct plasmids in communities consisting of Escherichia coli and Klebsiella pneumoniae once antibiotics were removed. In our system, evolution promoted greater stability of a plasmid in its coevolved host. Further, pleiotropic effects resulted in greater plasmid persistence in both novel host–plasmid combinations and, in some cases, multi-plasmid hosts. This evolved stability favoured the generation of MDR cells and thwarted their loss within communities with multiple plasmids. By selecting for plasmid persistence, the application of antibiotics may promote MDR well after their original period of use.
Relevant articles
Open Access articles citing this article.
Tim Downing

&

Alexander Rahm

Scientific Reports Open Access 10 November 2022

Jane Hawkey

,

Kelly L. Wyres

…

Kathryn E. Holt

Genome Medicine Open Access 23 August 2022

Aida Alonso-del Valle

,

Ricardo León-Sampedro

…

Alvaro San Millán

Nature Communications Open Access 11 May 2021
Access options
Subscribe to Nature+
Get immediate online access to Nature and 55 other Nature journal
Subscribe to Journal
Get full journal access for 1 year
$119.00
only $9.92 per issue
All prices are NET prices.
VAT will be added later in the checkout.
Tax calculation will be finalised during checkout.
Buy article
Get time limited or full article access on ReadCube.
$32.00
All prices are NET prices.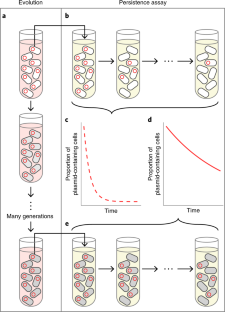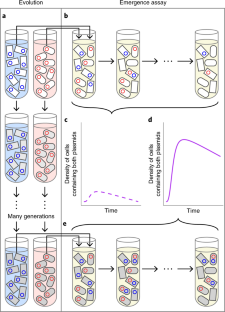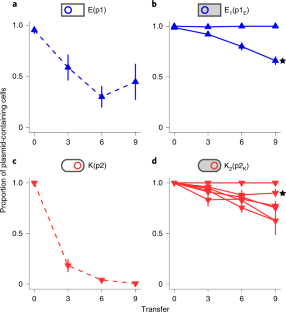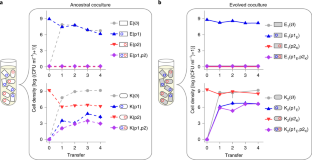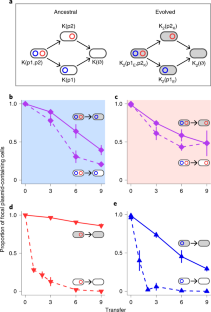 References
Norman, A., Hansen, L. H. & Sørensen, S. J. Conjugative plasmids: vessels of the communal gene pool. Phil. Trans. R. Soc. Lond. B 364, 2275–2289 (2009).

San Millan, A. & MacLean, R. C. Fitness costs of plasmids: a limit to plasmid transmission. Microbiol. Spectr. 5, MTBP-0016-2017 (2017).

Yano, H. et al. Evolved plasmid–host interactions reduce plasmid interference cost. Mol. Microbiol. 101, 743–756 (2016).

Vogwill, T. & MacLean, R. C. The genetic basis of the fitness costs of antimicrobial resistance: a meta-analysis approach. Evol. Appl. 8, 284–295 (2015).

Bergstrom, C. T., Lipsitch, M. & Levin, B. R. Natural selection, infectious transfer and the existence conditions for bacterial plasmids. Genetics 155, 1505–1519 (2000).

Harrison, E. & Brockhurst, M. A. Plasmid-mediated horizontal gene transfer is a coevolutionary process. Trends Microbiol. 20, 262–267 (2012).

Lopatkin, A. J. et al. Persistence and reversal of plasmid-mediated antibiotic resistance. Nat. Commun. 8, 1689 (2017).

Turner, P. E., Cooper, V. S. & Lenski, R. E. Tradeoff between horizontal and vertical modes of transmission in bacterial plasmids. Evolution 52, 315 (1998).

Li, Y. et al. A post-segregational killing mechanism for maintaining plasmid PMF1 in its Myxococcus fulvus host. Front. Cell. Infect. Microbiol. 8, 274 (2018).

Dahlberg, C. & Chao, L. Amelioration of the cost of conjugative plasmid carriage in Eschericha coli K12. Genetics 165, 1641–1649 (2003).

Bouma, J. E. & Lenski, R. E. Evolution of a bacteria/plasmid association. Nature 335, 351–352 (1988).

Starikova, I. et al. Fitness costs of various mobile genetic elements in Enterococcus faecium and Enterococcus faecalis. J. Antimicrob. Chemother. 68, 2755–2765 (2013).

Dionisio, F., Conceição, I. C., Marques, A. C. R., Fernandes, L. & Gordo, I. The evolution of a conjugative plasmid and its ability to increase bacterial fitness. Biol. Lett. 1, 250–252 (2005).

Loftie-Eaton, W. et al. Compensatory mutations improve general permissiveness to antibiotic resistance plasmids. Nat. Ecol. Evol. 1, 1354 (2017).

Ridenhour, B. J. et al. Persistence of antibiotic resistance plasmids in bacterial biofilms. Evol. Appl. 10, 640–647 (2017).

Harrison, E., Guymer, D., Spiers, A. J., Paterson, S. & Brockhurst, M. A. Parallel compensatory evolution stabilizes plasmids across the parasitism–mutualism continuum. Curr. Biol. 25, 2034–2039 (2015).

Stalder, T. et al. Emerging patterns of plasmid–host coevolution that stabilize antibiotic resistance. Sci. Rep. 7, 4853 (2017).

San Millan, A. et al. Positive selection and compensatory adaptation interact to stabilize non-transmissible plasmids. Nat. Commun. 5, 5208 (2014).

Porse, A., Schønning, K., Munck, C. & Sommer, M. O. A. Survival and evolution of a large multidrug resistance plasmid in new clinical bacterial hosts. Mol. Biol. Evol. 33, 2860–2873 (2016).

Santos-Lopez, A. et al. Compensatory evolution facilitates the acquisition of multiple plasmids in bacteria. Preprint at bioRxiv https://doi.org/10.1101/187070 (2017).

Wein, T., Hülter, N. F., Mizrahi, I. & Dagan, T. Emergence of plasmid stability under non-selective conditions maintains antibiotic resistance. Nat. Commun. 10, 2595 (2019).

Exner, M. et al. Antibiotic resistance: what is so special about multidrug-resistant Gram-negative bacteria? GMS Hyg. Infect. Control 12, https://doi.org/10.3205/dgkh000290 (2017).

Oliphant, C. M. & Eroschenko, K. Antibiotic resistance, part 2: Gram-negative pathogens. J. Nurse Pract. 11, 79–86 (2015).

Prioritization of Pathogens to Guide Discovery, Research and Development of New Antibiotics for Drug Resistant Bacterial Infections, Including Tuberculosis (WHO, 2017); https://go.nature.com/2Jcr0cF

McGann, P. et al. Escherichia coli harboring mcr-1 and bla CTX-M on a novel IncF plasmid: first report of mcr-1 in the United States. Antimicrob. Agents Chemother. 60, 4420–4421 (2016).

de Man, T. J. B. et al. Genomic analysis of a pan-resistant isolate of Klebsiella pneumoniae, United States 2016. mBio 9, e00440–18 (2018).

Navon-Venezia, S., Kondratyeva, K. & Carattoli, A. Klebsiella pneumoniae: a major worldwide source and shuttle for antibiotic resistance. FEMS Microbiol. Rev. 41, 252–275 (2017).

Wyres, K. L. & Holt, K. E. Klebsiella pneumoniae as a key trafficker of drug resistance genes from environmental to clinically important bacteria. Curr. Opin. Microbiol. 45, 131–139 (2018).

Wyres, K. L. & Holt, K. E. Klebsiella pneumoniae population genomics and antimicrobial-resistant clones. Trends Microbiol. 24, 944–956 (2016).

Sota, M. et al. Shifts in host range of a promiscuous plasmid through parallel evolution of its replication initiation protein. ISME J. 4, 1568–1580 (2010).

Gelder, L. D. et al. Combining mathematical models and statistical methods to understand and predict the dynamics of antibiotic-sensitive mutants in a population of resistant bacteria during experimental evolution. Genetics 168, 1131–1144 (2004).

Ponciano, J. M., Gelder, L. D., Top, E. M. & Joyce, P. The population biology of bacterial plasmids: a hidden Markov model approach. Genetics 176, 957–968 (2007).

Loftie-Eaton, W. et al. Evolutionary paths that expand plasmid host-range: implications for spread of antibiotic resistance. Mol. Biol. Evol. 33, 885–897 (2016).

De Gelder, L., Williams, J. J., Ponciano, J. M., Sota, M. & Top, E. M. Adaptive plasmid evolution results in host-range expansion of a broad-host-range plasmid. Genetics 178, 2179–2190 (2008).

Tängdén, T. Combination antibiotic therapy for multidrug-resistant Gram-negative bacteria. Ups. J. Med. Sci. 119, 149–153 (2014).

Manyi-Loh, C., Mamphweli, S., Meyer, E. & Okoh, A. Antibiotic use in agriculture and its consequential resistance in environmental sources: potential public health implications. Molecules 23, 795 (2018).

Vaz‐Moreira, I., Ferreira, C., Nunes, O. C. & Manaia, C. M. in Antibiotic Drug Resistance (eds Capelo‐Martínez, J.-L. & Igrejas, G.) 211–238 (John Wiley & Sons, 2019).

Van Boeckel, T. P. et al. Global trends in antimicrobial use in food animals. Proc. Natl Acad. Sci. USA 112, 5649–5654 (2015).

Crofts, T. S., Gasparrini, A. J. & Dantas, G. Next-generation approaches to understand and combat the antibiotic resistome. Nat. Rev. Microbiol. 15, 422–434 (2017).

Kaye, K. S., Pogue, J. M., Tran, T. B., Nation, R. L. & Li, J. Agents of last resort: polymyxin resistance. Infect. Dis. Clin. N. Am. 30, 391–414 (2016).

Schwarz, S. & Johnson, A. P. Transferable resistance to colistin: a new but old threat. J. Antimicrob. Chemother. 71, 2066–2070 (2016).

Novick, R. P. Plasmid incompatibility. Microbiol. Mol. Biol. Rev. 51, 381–395 (1987).

Bottery, M. J., Wood, A. J. & Brockhurst, M. A. Adaptive modulation of antibiotic resistance through intragenomic coevolution. Nat. Ecol. Evol. 1, 1364–1369 (2017).

Lam, M. M. C. et al. Convergence of virulence and MDR in a single plasmid vector in MDR Klebsiella pneumoniae ST15. J. Antimicrob. Chemother. 74, 1218–1222 (2019).

Harrison, E., Hall, J. P. J. & Brockhurst, M. A. Migration promotes plasmid stability under spatially heterogeneous positive selection. Proc. R. Soc. B 285, 20180324 (2018).
Acknowledgements
This work is supported by the National Institute of Allergy and Infectious Diseases Extramural Activities grant no. R01 AI084918 of the National Institutes of Health and through the National Science Foundation (NSF) under Cooperative Agreement no. DBI-0939454. H.J. was supported in part by Public Health Service, National Research Service Award grant no. T32GM007270, from the National Institute of General Medical Sciences. O.K. was supported in part by the NSF Graduate Research Fellowship grant no. DGE-1762114. B.K. was supported in part by the NSF Career Award grant no. DEB-0952825. We thank W. Loftie-Eaton for aiding in initial training of experimental techniques and the Kerr and Top laboratories for useful suggestions on the manuscript.
Ethics declarations
Competing interests
The authors declare no competing interests.
Additional information
Publisher's note Springer Nature remains neutral with regard to jurisdictional claims in published maps and institutional affiliations.
Supplementary information
Supplementary text, Figs. 1–12, Tables 1–8, discussion and refs. 1–25.
Supplementary Data 1 and 2.
About this article
Cite this article
Jordt, H., Stalder, T., Kosterlitz, O. et al. Coevolution of host–plasmid pairs facilitates the emergence of novel multidrug resistance. Nat Ecol Evol 4, 863–869 (2020). https://doi.org/10.1038/s41559-020-1170-1
Received:

Accepted:

Published:

Issue Date:

DOI: https://doi.org/10.1038/s41559-020-1170-1