Abstract
The transient larva-bearing biphasic life cycle is the hallmark of many metazoan phyla, but how metazoan larvae originated remains a major enigma in animal evolution. There are two hypotheses for larval origin. The 'larva-first' hypothesis suggests that the first metazoans were similar to extant larvae, with later evolution of the adult-added biphasic life cycle; the 'adult-first' hypothesis suggests that the first metazoans were adult forms, with the biphasic life cycle arising later via larval intercalation. Here, we investigate the evolutionary origin of primary larvae by conducting ontogenetic transcriptome profiling for Mollusca—the largest marine phylum characterized by a trochophore larval stage and highly variable adult forms. We reveal that trochophore larvae exhibit rapid transcriptome evolution with extraordinary incorporation of novel genes (potentially contributing to adult shell evolution), and that cell signalling/communication genes (for example, caveolin and innexin) are probably crucial for larval evolution. Transcriptome age analysis of eight metazoan species reveals the wide presence of young larval transcriptomes in both trochozoans and other major metazoan lineages, therefore arguing against the prevailing larva-first hypothesis. Our findings support an adult-first evolutionary scenario with a single metazoan larval intercalation, and suggest that the first appearance of proto-larva probably occurred after the divergence of direct-developing Ctenophora from a metazoan ancestor.
Relevant articles
Open Access articles citing this article.
Jiao Chen

,

Yunjian Wang

…

Yubin Ma

BMC Genomics Open Access 10 May 2023

Francisco M. Martín-Zamora

,

Yan Liang

…

José M. Martín-Durán

Nature Open Access 25 January 2023

Zhen Zeng

,

Chongyi Jiang

…

Zixia Huang

Marine Biology Open Access 01 September 2022
Access options
Access Nature and 54 other Nature Portfolio journals
Get Nature+, our best-value online-access subscription
$29.99 / 30 days
cancel any time
Subscribe to this journal
Receive 12 digital issues and online access to articles
$119.00 per year
only $9.92 per issue
Rent or buy this article
Prices vary by article type
from$1.95
to$39.95
Prices may be subject to local taxes which are calculated during checkout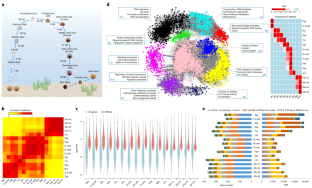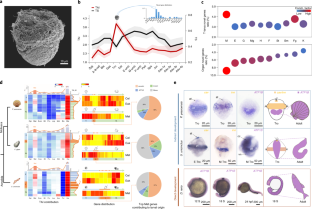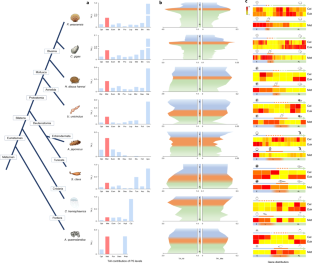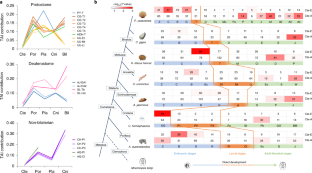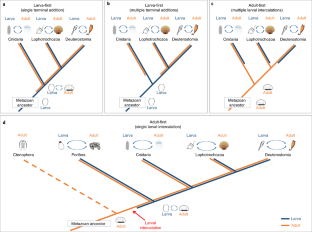 Data availability
All sequencing data have been deposited at the NCBI's SRA database under bioproject no. PRJNA562987.
Code availability
The software and codes used in this study are publicly available, with corresponding versions indicated in Methods.
References
Morris, S. C. The fossil record and the early evolution of the Metazoa. Nature 361, 219–225 (1993).

Sebe-Pedros, A., Degnan, B. M. & Ruiz-Trillo, I. The origin of Metazoa: a unicellular perspective. Nat. Rev. Genet. 18, 498–512 (2017).

Rieger, R. M. The biphasic life cycle – a central theme of metazoan evolution. Am. Zool. 34, 484–491 (1994).

Strathmann, R. R. Hypotheses on the origins of marine larvae. Ann. Rev. Ecol. Syst. 24, 89–117 (1993).

Arenas-Mena, C. Indirect development, transdifferentiation and the macroregulatory evolution of metazoans. Philos. Trans. R. Soc. B 365, 653–669 (2010).

Haeckel, E. Die Gastrea-Theorie, der phylogenetische clasification des thierreichs und die homologie der keimblätter. Jena. Z. Med. Naturwiss. 8, 1–55 (1874).

Nielsen, C. Life cycle evolution: was the eumetazoan ancestor a holopelagic, planktotrophic gastraea? BMC Evol. Biol. 13, 171 (2013).

Nielsen, C. Animal Evolution: Interrelationships of the Living Phyla (Oxford Univ. Press, 2012).

Marlow, H. et al. Larval body patterning and apical organs are conserved in animal evolution. BMC Biol. 12, 7 (2014).

Raff, R. A. Origins of the other metazoan body plans: the evolution of larval forms. Philos. Trans. R. Soc. B 363, 1473–1479 (2008).

Arendt, D., Technau, U. & Wittbrodt, J. Evolution of the bilaterian larval foregut. Nature 409, 81–85 (2001).

Dunn, E. F. et al. Molecular paleoecology: using gene regulatory analysis to address the origins of complex life cycles in the late Precambrian. Evol. Dev. 9, 10–24 (2007).

Love, A. C., Lee, A. E., Andrews, M. E. & Raff, R. A. Co‐option and dissociation in larval origins and evolution: the sea urchin larval gut. Evol. Dev. 10, 74–88 (2008).

Xu, F. et al. High expression of new genes in trochophore enlightening the ontogeny and evolution of trochozoans. Sci. Rep. 6, 34664 (2016).

Haszprunar, G. & Wanninger, A. Molluscs. Curr. Biol. 22, 510–514 (2012).

Sigwart, J. D. Zoology: molluscs all beneath the sun, one shell, two shells, more, or none. Curr. Biol. 27, 708–710 (2017).

Wanninger, A. & Wollesen, T. The evolution of molluscs. Biol. Rev. 94, 102–115 (2018).

Simakov, O. et al. Insights into bilaterian evolution from three spiralian genomes. Nature 493, 526–531 (2013).

Page, L. R. Molluscan larvae: pelagic juveniles or slowly metamorphosing larvae? Biol. Bull. 216, 216–225 (2009).

Nielsen, C. Origin of the trochophora larva. R. Soc. Open Sci. 5, 180042 (2018).

Rouse, G. W. Trochophore concepts: ciliary bands and the evolution of larvae in spiralian Metazoa. Biol. J. Linn. Soc. 66, 411–464 (1999).

Takeuchi, T. Molluscan genomics: implications for biology and aquaculture. Curr. Mol. Biol. Rep. 3, 297–305 (2017).

De Oliveira, A. L. et al. Comparative transcriptomics enlarges the toolkit of known developmental genes in mollusks. BMC Genomics 17, 905 (2016).

Liu, T., Yu, L., Liu, L., Li, H. & Li, Y. Comparative transcriptomes and EVO-DEVO studies depending on next generation sequencing. Comput. Math. Methods Med. 2015, e896176 (2015).

Roux, J., Rosikiewicz, M. & Robinson-Rechavi, M. What to compare and how: comparative transcriptomics for Evo-Devo. J. Exp. Zool. 324, 372–382 (2015).

Wang, S. et al. Scallop genome provides insights into evolution of bilaterian karyotype and development. Nat. Ecol. Evol. 1, 0120 (2017).

Zhang, B. & Horvath, S. A general framework for weighted gene co-expression network analysis. Stat. Appl. Genet. Mol. Biol. 4, e17 (2005).

Levin, M. et al. The mid-developmental transition and the evolution of animal body plans. Nature 531, 637–641 (2016).

Paps, J., Xu, F., Zhang, G. & Holland, P. W. H. Reinforcing the egg-timer: recruitment of novel Lophotrochozoa homeobox genes to early and late development in the Pacific oyster. Genome Biol. Evol. 7, 677–688 (2015).

Babonis, L. S., Martindale, M. Q. & Ryan, J. F. Do novel genes drive morphological novelty? An investigation of the nematosomes in the sea anemone Nematostella vectensis. BMC Evol. Biol. 16, 114 (2016).

Chen, S., Krinsky, B. H. & Long, M. New genes as drivers of phenotypic evolution. Nat. Rev. Genet. 14, 645 (2013).

McDougall, C. & Degnan, B. M. The evolution of mollusc shells. Wiley Interdiscip. Rev. Dev. Biol. 7, e313 (2018).

Domazet-Lošo, T. & Tautz, D. A phylogenetically based transcriptome age index mirrors ontogenetic divergence patterns. Nature 468, 815–818 (2010).

Quint, M. et al. A transcriptomic hourglass in plant embryogenesis. Nature 490, 98–101 (2012).

Cheng, X., Hui, J. H. L., Lee, Y. Y., Wan Law, P. T. & Kwan, H. S. A "developmental hourglass" in fungi. Mol. Biol. Evol. 32, 1556–1566 (2015).

Drost, H. G., Gabel, A., Grosse, I. & Quint, M. Evidence for active maintenance of phylotranscriptomic hourglass patterns in animal and plant embryogenesis. Mol. Biol. Evol. 32, 1221–1231 (2015).

Mchugh, D. Molecular evidence that echiurans and pogonophorans are derived annelids. Proc. Natl Acad. Sci. USA 94, 8006–8009 (1997).

Struck, T. H. et al. Annelid phylogeny and the status of Sipuncula and Echiura. BMC Evol. Biol. 7, 57 (2007).

Goto, R. A comprehensive molecular phylogeny of spoon worms (Echiura, Annelida): implications for morphological evolution, the origin of dwarf males, and habitat shifts. Mol. Phylogenet. Evol. 99, 247–260 (2016).

Phelan, P. Innexins: members of an evolutionarily conserved family of gap-junction proteins. Biochim. Biophys. Acta 1711, 225–245 (2005).

Shoshani, L. et al. The polarized expression of Na+, K+-ATPase in epithelia depends on the association between β-subunits located in neighboring cells. Mol. Biol. Cell 16, 1071–1081 (2005).

Nielsen, C. Six major steps in animal evolution: are we derived sponge larvae? Evol. Dev. 10, 241–257 (2008).

Krupinski, T. & Beitel, G. J. Unexpected roles of the Na-K-ATPase and other ion transporters in cell junctions and tubulogenesis. Physiology 24, 192–201 (2009).

Arenas-Mena, C., Wong, K. S. & Arandi-Forosani, N. Ciliary band gene expression patterns in the embryo and trochophore larva of an indirectly developing polychaete. Gene Expr. Patterns 7, 544–549 (2007).

Jacobs, D. K. et al. Molluscan engrailed expression, serial organization, and shell evolution. Evol. Dev. 2, 340–347 (2000).

Shimizu, K., Luo, Y.-J., Satoh, N. & Endo, K. Possible co-option of engrailed during brachiopod and mollusc shell development. Biol. Lett. 13, 20170254 (2017).

Nielsen, C. Trochophora larvae: cell‐lineages, ciliary bands, and body regions. 1. Annelida and Mollusca. J. Exp. Zool. B 302, 35–68 (2004).

Phelan, P., Bacon, J. P., Davies, J. A., Stebbings, L. A. & Todman, M. G. Innexins: a family of invertebrate gap-junction proteins. Trends Genet. 14, 348–349 (1998).

Simion, P. et al. A large and consistent phylogenomic dataset supports sponges as the sister group to all other animals. Curr. Biol. 27, 958–967 (2017).

Dunn, C. W. et al. Broad phylogenomic sampling improves resolution of the animal tree of life. Nature 452, 745–749 (2008).

Ryan, J. F. et al. The genome of the ctenophore Mnemiopsis leidyi and its implications for cell type evolution. Science 342, 1242592 (2013).

Moroz, L. L. et al. The ctenophore genome and the evolutionary origins of neural systems. Nature 510, 109–114 (2014).

Whelan, N. V., Kocot, K. M., Moroz, L. L. & Halanych, K. M. Error, signal, and the placement of Ctenophora sister to all other animals. Proc. Natl Acad. Sci. USA 112, 5773–5778 (2015).

Laumer, C. E. et al. Revisiting metazoan phylogeny with genomic sampling of all phyla. Proc. R. Soc. B 286, 20190831 (2019).

Pang, K. & Martindale, M. Q. Ctenophores. Curr. Biol. 18, R1119–R1120 (2008).

Nielsen, C. in Evolutionary Ecology of Marine Invertebrate Larvae (eds Carrier, T. J., Reitzel, A. M. & Heyland, A.) Ch. 1, 3–15 (Oxford Univ. Press, 2018).

Jägersten, G. Evolution of the Metazoan Life Cycle (Academic Press, 1972).

Henry, J. J., Hejnol, A., Perry, K. J. & Martindale, M. Q. Homology of ciliary bands in spiralian trochophores. Integr. Comp. Biol. 47, 865–871 (2007).

Kean-Howie, J. C., O'Dor, R. K. & Scarratt, D. J. Evolution of feeding strategies throughout the life histories of bivalve molluscs, with emphasis on ontogeny and phylogeny. ICES Mar. Sci. Symp. 199, 5–12 (1995).

Christodoulou, F. et al. Ancient animal microRNAs and the evolution of tissue identity. Nature 463, 1084–1088 (2010).

Strathmann, R. R. The evolution and loss of feeding larval stages of marine invertebrates. Evolution 32, 894–906 (1978).

Bhattachan, P. et al. Ascidian caveolin induces membrane curvature and protects tissue integrity and morphology during embryogenesis. FASEB J. 34, 1345–1361 (2020).

Karaiskou, A., Swalla, B. J., Sasakura, Y. & Chambon, J. P. Metamorphosis in solitary ascidians. Genesis 53, 34–47 (2015).

Domazet-Lošo, T., Brajković, J. & Tautz, D. A phylostratigraphy approach to uncover the genomic history of major adaptations in metazoan lineages. Trends Genet. 23, 533–539 (2007).

Tautz, D. & Domazet-Lošo, T. The evolutionary origin of orphan genes. Nat. Rev. Genet. 12, 692–702 (2011).

Wissler, L., Gadau, J., Simola, D. F., Helmkampf, M. & Bornberg-Bauer, E. Mechanisms and dynamics of orphan gene emergence in insect genomes. Genome Biol. Evol. 5, 439–455 (2013).

Palmieri, N., Kosiol, C. & Schlötterer, C. The life cycle of Drosophila orphan genes. eLife 3, e01311 (2014).

Wang, R. & Wang, Z. Science of Marine Shellfsh Culture (China Ocean Univ. Press, 2008).

Hu, X. et al. Cloning and characterization of tryptophan 2, 3‐dioxygenase gene of Zhikong scallop Chlamys farreri (Jones and Preston 1904). Aquac. Res. 37, 1187–1194 (2006).

Dobin, A. et al. STAR: ultrafast universal RNA-seq aligner. Bioinformatics 29, 15–21 (2013).

Anders, S., Pyl, P. T. & Huber, W. HTSeq – a Python framework to work with high-throughput sequencing data. Bioinformatics 31, 166–169 (2015).

Li, B. & Dewey, C. N. RSEM: accurate transcript quantification from RNA-Seq data with or without a reference genome. BMC Bioinformatics 12, 323 (2011).

Zambelli, F. et al. RNentropy: an entropy-based tool for the detection of significant variation of gene expression across multiple RNA-Seq experiments. Nucleic Acids Res. 46, e46 (2018).

Chen, S. et al. De novo analysis of transcriptome dynamics in the migratory locust during the development of phase traits. PLoS ONE 5, e15633 (2010).

Dutilh, B. E., Huynen, M. A. & Snel, B. A global definition of expression context is conserved between orthologs, but does not correlate with sequence conservation. BMC Genomics 7, 10 (2006).

Langfelder, P. & Horvath, S. WGCNA: an R package for weighted correlation network analysis. BMC Bioinformatics 9, 559 (2008).

Shannon, P. et al. Cytoscape: a software environment for integrated models of biomolecular interaction networks. Genome Res. 13, 2498–2504 (2003).

Benjamini, Y. & Hochberg, Y. Controlling the false discovery rate: a practical and powerful approach to multiple testing. J. R. Stat. Soc. B 57, 289–300 (1995).

Wang, J. et al. Genome-wide identification and characterization of TRAF genes in the Yesso scallop (Patinopecten yessoensis) and their distinct expression patterns in response to bacterial challenge. Fish Shellfish Immunol. 47, 545–555 (2015).

Li, Y. et al. Systematic identification and validation of the reference genes from 60 RNA-Seq libraries in the scallop Mizuhopecten yessoensis. BMC Genomics 20, 288 (2019).

Lalitha, S. Primer premier 5. Biotech. Softw. Internet Rep. 1, 270–272 (2000).

Grabherr, M. G. et al. Full-length transcriptome assembly from RNA-Seq data without a reference genome. Nat. Biotechnol. 29, 644–652 (2011).

Aguilera, F., McDougall, C. & Degnan, B. M. Co-option and de novo gene evolution underlie molluscan shell diversity. Mol. Biol. Evol. 34, 779–792 (2017).

Domazet-Lošo, T. et al. No evidence for phylostratigraphic bias impacting inferences on patterns of gene emergence and evolution. Mol. Biol. Evol. 34, 843–856 (2017).

Domazet-Lošo, T. & Tautz, D. An ancient evolutionary origin of genes associated with human genetic diseases. Mol. Biol. Evol. 25, 2699–2707 (2008).

Drost, H.-G., Gabel, A., Liu, J., Quint, M. & Grosse, I. J. B. myTAI: evolutionary transcriptomics with R. Bioinformatics 34, 1589–1590 (2017).

Efron, B. & Tibshirani, R. Bootstrap methods for standard errors, confidence intervals, and other measures of statistical accuracy. Stat. Sci. 1, 54–75 (1986).

Zhang, G. et al. The oyster genome reveals stress adaptation and complexity of shell formation. Nature 490, 49–54 (2012).

Park, C. et al. The developmental transcriptome atlas of the spoon worm Urechis unicinctus (Echiurida: Annelida). Gigascience 7, giy007 (2018).

Hou, X. et al. Transcriptome analysis of larval segment formation and secondary loss in the echiuran worm Urechis unicinctus. Int. J. Mol. Sci. 20, 1806 (2019).

Li, Y. et al. Sea cucumber genome provides insights into saponin biosynthesis and aestivation regulation. Cell Discov. 4, 29 (2018).

Leclère, L. et al. The genome of the jellyfish Clytia hemisphaerica and the evolution of the cnidarian life-cycle. Nat. Ecol. Evol. 3, 801–810 (2019).

Gaiti, F. et al. Dynamic and widespread lncRNA expression in a sponge and the origin of animal complexity. Mol. Biol. Evol. 32, 2367–2382 (2015).

Sebé-Pedrós, A. et al. Early metazoan cell type diversity and the evolution of multicellular gene regulation. Nat. Ecol. Evol. 2, 1176–1188 (2018).

Marlow, H. in Evolutionary Ecology of Marine Invertebrate Larvae (eds Carrier, T. J., Reitzel, A. M. & Heyland, A.) Ch. 2, 16–33 (Oxford Univ. Press, 2018).
Acknowledgements
We thank W. Liu and Y. Sun for help with SEM analysis of trochophore larvae and C. Cui for help with transcriptomic data analyses. We thank C. Zhao for providing zebrafish embryos and D. Chourrout for helpful discussions. We acknowledge support from the National Natural Science Foundation of China (grant no. U1706203), National Key Research and Development Project (grant no. 2018YFD0900206), National Natural Science Foundation of China (grant no. 31871499), Marine S&T Fund of Shandong Province for Pilot National Laboratory for Marine Science and Technology (Qingdao) (grant no. 2018SDKJ0302-1), major basic research projects of the Shandong Natural Science Foundation (grant no. ZR2018ZA0748), Fundamental Research Funds for the Central Universities (grant nos. 201762001 and 201841001), China Postdoctoral Science Foundation Funded Project (grant no. 2018M642702) and the Taishan Scholar Project Fund of Shandong Province of China.
Ethics declarations
Competing interests
The authors declare no competing interests.
Additional information
Publisher's note Springer Nature remains neutral with regard to jurisdictional claims in published maps and institutional affiliations.
Supplementary information
Supplementary Figs. 1–10 and Tables 1, 2, 9, 10, 13, 18–21 and 25–27.
Supplementary Tables 3–8, 11, 12, 14–17, 22–24 and 28–31.
About this article
Cite this article
Wang, J., Zhang, L., Lian, S. et al. Evolutionary transcriptomics of metazoan biphasic life cycle supports a single intercalation origin of metazoan larvae. Nat Ecol Evol 4, 725–736 (2020). https://doi.org/10.1038/s41559-020-1138-1
Received:

Accepted:

Published:

Issue Date:

DOI: https://doi.org/10.1038/s41559-020-1138-1