Abstract
Unprecedented species loss in diverse forests indicates the urgent need to test its consequences for ecosystem functioning. However, experimental evaluation based on realistic extinction scenarios is lacking. Using species interaction networks we introduce an approach to separate effects of node loss (reduced species number) from effects of link loss or compensation (reduced or increased interspecific interactions) on ecosystem functioning along directed extinction scenarios. By simulating random and non-random extinction scenarios in an experimental subtropical Chinese forest, we find that species loss is detrimental for stand volume in all scenarios, and that these effects strengthen with age. However, the magnitude of these effects depends on the type of attribute on which the directed species loss is based, with preferential loss of evolutionarily distinct species and those from small families having stronger effects than those that are regionally rare or have high specific leaf area. These impacts were due to both node loss and link loss or compensation. At high species richness (reductions from 16 to 8 species), strong stand-volume reduction only occurred in directed but not random extinction. Our results imply that directed species loss can severely hamper productivity in already diverse young forests.
Relevant articles
Open Access articles citing this article.
Anvar Sanaei

,

Hartmut Herrmann

…

Alexandra Weigelt

Communications Earth & Environment Open Access 28 November 2023

Yuxin Chen

,

Anja Vogel

…

Bernhard Schmid

Nature Communications Open Access 09 June 2022
Access options
Access Nature and 54 other Nature Portfolio journals
Get Nature+, our best-value online-access subscription
$29.99 / 30 days
cancel any time
Subscribe to this journal
Receive 12 digital issues and online access to articles
$119.00 per year
only $9.92 per issue
Rent or buy this article
Prices vary by article type
from$1.95
to$39.95
Prices may be subject to local taxes which are calculated during checkout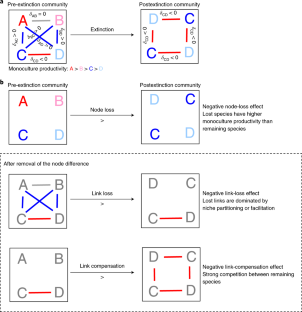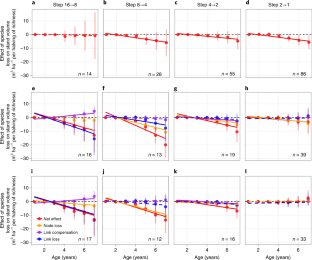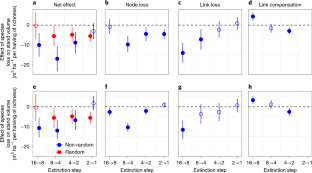 References
Pimm, S. L. et al. The biodiversity of species and their rates of extinction, distribution, and protection. Science 344, 1246752–1246752 (2014).

Betts, M. G. et al. Global forest loss disproportionately erodes biodiversity in intact landscapes. Nature 547, 441–444 (2017).

Gibson, L. et al. Near-complete extinction of native small mammal fauna 25 years after forest fragmentation. Science 341, 1508–1510 (2013).

Cardinale, B. J. et al. Biodiversity loss and its impact on humanity. Nature 486, 59–67 (2012).

McKinney, M. L. Extinction vulnerability and selectivity: combining ecological and paleontological views. Annu. Rev. Ecol. Syst. 28, 495–516 (1997).

Vamosi, J. C. & Wilson, J. R. U. Non-random extinction leads to elevated loss of angiosperm evolutionary history. Ecology Letters 11, 1047–1053 (2008).

Purvis, A., Agapow, P. M., Gittleman, J. L. & Mace, G. M. Non-random extinction and the loss of evolutionary history. Science 288, 328–330 (2000).

Pimm, S. L., Russell, G. J., Gittleman, J. L. & Brooks, T. M. The future of biodiversity. Science 269, 347–350 (1995).

Pan, Y., Birdsey, R. A., Phillips, O. L. & Jackson, R. B. The structure, distribution, and biomass of the world's forests. Annu. Rev. Ecol. Evol. Syst. 44, 593–622 (2013).

Hansen, M. C. et al. High-resolution global maps of 21st-century forest cover change. Science 342, 850–853 (2013).

García-Valdés, R., Bugmann, H. & Morin, X. Climate change-driven extinctions of tree species affect forest functioning more than random extinctions. Divers. Distrib. 24, 906–918 (2018).

Bunker, D. E. et al. Species loss and aboveground carbon storage in a tropical forest. Science 310, 1029–1031 (2005).

Suding, K. N. et al. Scaling environmental change through the community-level: a trait-based response-and-effect framework for plants. Glob. Change Biol. 14, 1125–1140 (2008).

Larsen, T. H., Williams, N. M. & Kremen, C. Extinction order and altered community structure rapidly disrupt ecosystem functioning. Ecol. Lett. 8, 538–547 (2005).

Greenwood, S. et al. Tree mortality across biomes is promoted by drought intensity, lower wood density and higher specific leaf area. Ecol. Lett. 20, 539–553 (2017).

Wright, I. J. et al. The worldwide leaf economics spectrum. Nature 428, 821–827 (2004).

Chen, Y. et al. Positive effects of neighborhood complementarity on tree growth in a neotropical forest. Ecology 97, 776–785 (2016).

Laliberte, E. & Legendre, P. A distance-based framework for measuring functional diversity from multiple traits. Ecology 91, 299–305 (2010).

Solan, M. et al. Extinction and ecosystem function in the marine benthos. Science 306, 1177–1180 (2004).

Bruelheide, H. et al. Designing forest biodiversity experiments: general considerations illustrated by a new large experiment in subtropical China. Methods Ecol. Evol. 5, 74–89 (2014).

Huang, Y. et al. Impacts of species richness on productivity in a large-scale subtropical forest experiment. Science 362, 80–83 (2018).

Muller-Landau, H. C. et al. Testing metabolic ecology theory for allometric scaling of tree size, growth and mortality in tropical forests. Ecol. Lett. 9, 575–588 (2006).

McIntyre, P. B., Jones, L. E., Flecker, A. S. & Vanni, M. J. Fish extinctions alter nutrient recycling in tropical freshwaters. Proc. Natl Acad. Sci. USA 104, 4461–4466 (2007).

Lyons, K. G. & Schwartz, M. W. Rare species loss alters ecosystem function – invasion resistance. Ecol. Lett. 4, 358–365 (2001).

Bracken, M. E. S., Friberg, S. E., Gonzalez-Dorantes, C. A. & Williams, S. L. Functional consequences of realistic biodiversity changes in a marine ecosystem. Proc. Natl Acad. Sci. USA 105, 924–928 (2008).

Smith, M. D. & Knapp, A. K. Dominant species maintain ecosystem function with non-random species loss. Ecol. Lett. 6, 509–517 (2003).

Hubbell, S. P. Neutral theory and the evolution of ecological equivalence. Ecology 87, 1387–1398 (2006).

Uriarte, M. et al. Trait similarity, shared ancestry and the structure of neighbourhood interactions in a subtropical wet forest: implications for community assembly. Ecol. Lett. 13, 1503–1514 (2010).

Cardinale, B. J. et al. The functional role of producer diversity in ecosystems. Am. J. Bot. 98, 572–592 (2011).

Lasky, J. R. et al. The relationship between tree biodiversity and biomass dynamics changes with tropical forest succession. Ecol. Lett. 17, 1158–1167 (2014).

Barrufol, M. et al. Biodiversity promotes tree growth during succession in subtropical forest. PLoS ONE 8, e81246 (2013).

Yang, X. et al. Establishment success in a forest biodiversity and ecosystem functioning experiment in subtropical China (BEF-China). Eur. J. For. Res. 132, 593–606 (2013).

Balvanera, P. et al. Quantifying the evidence for biodiversity effects on ecosystem functioning and services. Ecol. Lett. 9, 1146–1156 (2006).

Chen, Y. et al. Data from: directed species loss reduces community productivity in a subtropical forest biodiversity experiment. Figshare digital repository https://doi.org/10.6084/m9.figshare.9192629 (2020).

Huang, Y. et al. Data from: impacts of species richness on productivity in a large-scale subtropical forest experiment. Dryad https://doi.org/10.5061/dryad.t86145r (2018).

Stan Development Team. RStan: the R interface to Stan. R package v.2.14.1 (2019).

Plummer, M. rjags: Bayesian graphical models using MCMC. R package v.4-6 (2016).

Webb, C. O., Ackerly, D. D., McPeek, M. A. & Donoghue, M. J. Phylogenies and community ecology. Annu. Rev. Ecol. Syst. 33, 475–505 (2002).

Mouchet, M. A., Villéger, S., Mason, N. W. H. & Mouillot, D. Functional diversity measures: an overview of their redundancy and their ability to discriminate community assembly rules. Funct. Ecol. 24, 867–876 (2010).

Butler, D. asreml: asreml() fits the linear mixed model. R package v.3.0 (2009).

Loreau, M. & Hector, A. Partitioning selection and complementarity in biodiversity experiments. Nature 412, 72–76 (2001).

Kirwan, L. et al. Diversity-interaction modeling: estimating contributions of species identities and interactions to ecosystem function. Ecology 90, 2032–2038 (2009).

R Core Team. R: A Language and Environment for Statistical Computing v.3.5.1. (R Foundation for Statistical Computing, Vienna, Austria, 2018).

Gelman, A. & Rubin, D. B. Inference from iterative simulation using multiple sequences. Stat. Sci. 7, 457–472 (1992).

Chen, Y. et al. Code from: directed species loss reduces community productivity in a subtropical forest biodiversity experiment. Figshare digital repository https://doi.org/10.6084/m9.figshare.9194555 (2020).

Poorter, H., Niinemets, Ü., Poorter, L., Wright, I. J. & Villar, R. Causes and consequences of variation in leaf mass per area (LMA): a meta-analysis. New Phytol. 182, 565–588 (2009).

Kröber, W., Heklau, H. & Bruelheide, H. Leaf morphology of 40 evergreen and deciduous broadleaved subtropical tree species and relationships to functional ecophysiological traits. Plant Biol. 17, 373–383 (2015).

Losos, J. B. Phylogenetic niche conservatism, phylogenetic signal and the relationship between phylogenetic relatedness and ecological similarity among species. Ecol. Lett. 11, 995–1003 (2008).

Isaac, N. J. B., Turvey, S. T., Collen, B., Waterman, C. & Baillie, J. E. M. Mammals on the EDGE: conservation priorities based on threat and phylogeny. PLoS ONE 2, e296 (2007).

Cadotte, M. W. et al. Phylogenetic diversity metrics for ecological communities: integrating species richness, abundance and evolutionary history. Ecol. Lett. 13, 96–105 (2010).

China National Specimen Information Infrastructure, Metadata Dataset (NSII, 2017); https://doi.org/10.15468/kmob80/
Acknowledgements
This study was funded by the EU 7th FP Project IDP-BRIDGES (grant number 608422 to B.S., K.M. and P.A.N.), by the Swiss National Science Foundation (grant number 31003A_166457 to B.S.) and by the BEF-China project, which is supported by the German Science Foundation (grant DFG FOR-891/1-3) and the Institute of Botany of the Chinese Academy of Sciences. B.S. and P.A.N. were additionally funded by the University of Zürich Research Priority Program on Global Change and Biodiversity. We thank C. Lin, Y. Bo and a large number of farmers for help with maintenance of the field experiment. We thank X. Sui for providing the data of species regional rarity.
Ethics declarations
Competing interests
The authors declare no competing interests.
Additional information
Publisher's note Springer Nature remains neutral with regard to jurisdictional claims in published maps and institutional affiliations.
Supplementary information
Supplementary methods and Tables 1–5.
About this article
Cite this article
Chen, Y., Huang, Y., Niklaus, P.A. et al. Directed species loss reduces community productivity in a subtropical forest biodiversity experiment. Nat Ecol Evol 4, 550–559 (2020). https://doi.org/10.1038/s41559-020-1127-4
Received:

Accepted:

Published:

Issue Date:

DOI: https://doi.org/10.1038/s41559-020-1127-4
This article is cited by
Anvar Sanaei
Hartmut Herrmann
Alexandra Weigelt

Communications Earth & Environment (2023)

Yuxin Chen
Anja Vogel
Bernhard Schmid

Nature Communications (2022)

Franca J. Bongers
Bernhard Schmid
Xiaojuan Liu

Nature Ecology & Evolution (2021)