Abstract
Hydrogen gas, H2, is generated by alkaline hydrothermal vents through an ancient geochemical process called serpentinization, in which water reacts with iron-containing minerals deep within the Earth's crust. H2 is the electron donor for the most ancient and the only energy-releasing route of biological CO2 fixation, the acetyl-CoA pathway. At the origin of metabolism, CO2 fixation by hydrothermal H2 within serpentinizing systems could have preceded and patterned biotic pathways. Here we show that three hydrothermal minerals—greigite (Fe3S4), magnetite (Fe3O4) and awaruite (Ni3Fe)—catalyse the fixation of CO2 with H2 at 100 °C under alkaline aqueous conditions. The product spectrum includes formate (up to 200 mM), acetate (up to 100 µM), pyruvate (up to 10 µM), methanol (up to 100 µM) and methane. The results shed light on both the geochemical origin of microbial metabolism and the nature of abiotic formate and methane synthesis in modern hydrothermal vents.
Relevant articles
Open Access articles citing this article.
Tuğçe Beyazay

,

Kendra S. Belthle

…

Harun Tüysüz

Nature Communications Open Access 02 February 2023

Weishu Zhao

,

Bozitao Zhong

…

Xiang Xiao

Nature Communications Open Access 21 December 2022

Masaru Konishi Nobu

,

Ryosuke Nakai

…

Hideyuki Tamaki

The ISME Journal Open Access 07 October 2022
Access options
Access Nature and 54 other Nature Portfolio journals
Get Nature+, our best-value online-access subscription
$29.99 / 30 days
cancel any time
Subscribe to this journal
Receive 12 digital issues and online access to articles
$119.00 per year
only $9.92 per issue
Rent or buy this article
Prices vary by article type
from$1.95
to$39.95
Prices may be subject to local taxes which are calculated during checkout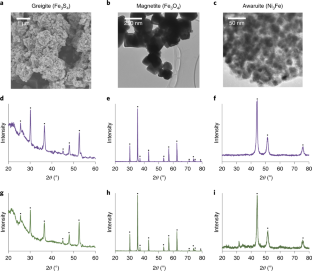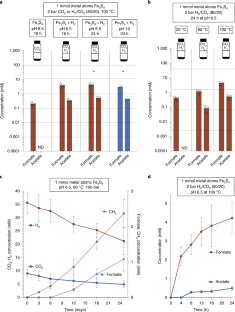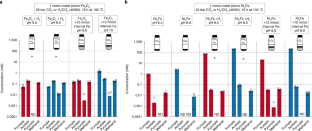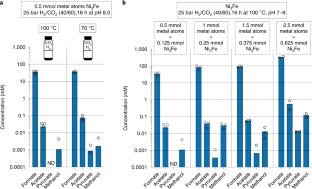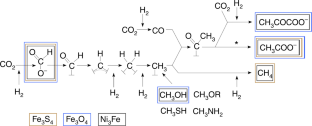 References
Baross, J. A. & Hoffman, S. E. Submarine hydrothermal vents and associated gradient environments as sites for the origin and evolution of life. Orig. Life Evol. Biosph. 15, 327–345 (1985).

McCollom, T. M. Abiotic methane formation during experimental serpentinization of olivine. Proc. Natl Acad. Sci. USA 113, 13965–13970 (2016).

McDermott, J. M., Seewald, J. S., German, C. R. & Sylva, S. P. Pathways for abiotic organic synthesis at submarine hydrothermal fields. Proc. Natl Acad. Sci. USA 112, 7668–7672 (2015).

Ménez, B. et al. Abiotic synthesis of amino acids in the recesses of the oceanic lithosphere. Nature 564, 59–63 (2018).

Klein, F. & Bach, W. Fe-Ni-Co-O-S phase relations in peridotite–seawater interactions. J. Petrol. 50, 37–59 (2009).

Martin, W. F. & Russell, M. J. On the origin of biochemistry at an alkaline hydrothermal vent. Philos. Trans. R. Soc. B 362, 1887–1925 (2007).

Preiner, M. et al. Serpentinization: connecting geochemistry, ancient metabolism and industrial hydrogenation. Life 8, 41 (2018).

Sleep, N. H., Bird, D. K. & Pope, E. C. Serpentinite and the dawn of life. Philos. Trans. R. Soc. B 366, 2857–2869 (2011).

Schrenk, M. O., Brazelton, W. J. & Lang, S. Q. Serpentinization, carbon, and deep life. Rev. Miner. Geochem. 75, 575–606 (2013).

Arndt, N. T. & Nisbet, E. G. Processes on the young Earth and the habitats of early life. Annu. Rev. Earth Planet. Sci. 40, 521–549 (2012).

Fuchs, G. Alternative pathways of carbon dioxide fixation: insights into the early evolution of life? Annu. Rev. Microbiol. 65, 631–658 (2011).

Müller, V., Chowdhury, N. P. & Basen, M. Electron bifurcation: a long-hidden energy-coupling mechanism. Annu. Rev. Microbiol. 72, 331–353 (2018).

Ragsdale, S. W. & Pierce, E. Acetogenesis and the Wood–Ljungdahl pathway of CO2 fixation. Biochim. Biophys. Acta 1784, 1873–1898 (2008).

Sousa, F. L. & Martin, W. F. Biochemical fossils of the ancient transition from geoenergetics to bioenergetics in prokaryotic one carbon compound metabolism. Biochim. Biophys. Acta 1837, 964–981 (2014).

Weiss, M. C. et al. The physiology and habitat of the last universal common ancestor. Nat. Microbiol. 1, 16116 (2016).

Huber, C. & Wächtershäuser, G. Activated acetic acid by carbon fixation on (Fe,Ni)S under primordial conditions. Science 276, 245–248 (1997).

He, C., Tian, G., Liu, Z. & Feng, S. A mild hydrothermal route to fix carbon dioxide to simple carboxylic acids. Org. Lett. 12, 649–651 (2010).

Varma, S. J., Muchowska, K. B., Chatelain, P. & Moran, J. Native iron reduces CO2 to intermediates and endproducts of the acetyl-CoA pathway. Nat. Ecol. Evol. 2, 1019–1024 (2018).

Roldan, A. et al. Bio-inspired CO2 conversion by iron sulfide catalysts under sustainable conditions. Chem. Commun. 51, 7501–7504 (2015).

Rajendran, S. & Nasir, S. Hydrothermal altered serpentinized zone and a study of Ni-magnesioferrite–magnetite–awaruite occurrences in Wadi Hibi, Northern Oman Mountain: discrimination through ASTER mapping. Ore Geol. Rev. 62, 211–226 (2014).

Russell, M. J. & Hall, A. J. The emergence of life from iron monosulphide bubbles at a submarine hydrothermal redox and pH front. J. Geol. Soc. London 154, 377–402 (1997).

Rickard, D. & Luther, G. W. Chemistry of iron sulfides. Chem. Rev. 107, 514–562 (2007).

McCollom, T. M. & Seewald, J. S. Serpentinites, hydrogen, and life. Elements 9, 129–134 (2013).

Hunger, S. & Benning, L. G. Greigite: a true intermediate on the polysulfide pathway to pyrite. Geochem. Trans. 8, 1 (2007).

Findlay, A. J. et al. Iron and sulfide nanoparticle formation and transport in nascent hydrothermal vent plumes. Nat. Commun. 10, 1597 (2019).

Schmitt-Kopplin, P. et al. High molecular diversity of extraterrestrial organic matter in Murchison meteorite revealed 40 years after its fall. Proc. Natl Acad. Sci. USA 107, 2763–2768 (2010).

Dayhoff, M. O. & Eck, R. V. Evolution of the structure of ferredoxin based on surviving relics of primitive amino acid sequences. Science 152, 363–366 (1966).

White, L. M., Bhartia, R., Stucky, G. D., Kanik, I. & Russell, M. J. Mackinawite and greigite in ancient alkaline hydrothermal chimneys: identifying potential key catalysts for emergent life. Earth Planet. Sci. Lett. 430, 105–114 (2015).

Kelley, D. S. et al. An off-axis hydrothermal vent field near the Mid-Atlantic Ridge at 30° N. Nature 412, 145–149 (2001).

Kelley, D. S., Baross, J. A. & Delaney, J. R. Volcanoes, fluids, and life at mid-ocean ridge spreading centers. Annu. Rev. Earth Planet. Sci. 30, 385–491 (2002).

Lang, S. Q., Butterfield, D. A., Schulte, M., Kelley, D. S. & Lilley, M. D. Elevated concentrations of formate, acetate and dissolved organic carbon found at the Lost City hydrothermal field. Geochim. Cosmochim. Acta 74, 941–952 (2010).

Lang, S. Q. et al. Deeply-sourced formate fuels sulfate reducers but not methanogens at Lost City hydrothermal field. Sci. Rep. 8, 755 (2018).

Etiope, G. & Sherwood Lollar, B. Abiotic methane on Earth. Rev. Geophys. 51, 276–299 (2013).

Horita, J. & Berndt, M. E. Abiogenic methane formation and isotopic fractionation under hydrothermal conditions. Sci. Rep. 285, 1055–1057 (1999).

Schuchmann, K. & Müller, V. Direct and reversible hydrogenation of CO2 to formate by a bacterial carbon dioxide reductase. Science 342, 1382–1385 (2013).

Eickenbusch, P. et al. Origin of short-chain organic acids in serpentinite mud volcanoes of the Mariana convergent margin. Front. Microbiol. 10, 1729 (2019).

Etiope, G. & Schoell, M. Abiotic gas: atypical, but not rare. Elements. 10, 291–296 (2014).

McCollom, T. M. & Seewald, J. S. Experimental constraints on the hydrothermal reactivity of organic acids and acid anions: I. Formic acid and formate. Geochim. Cosmochim. Acta 67, 3625–3644 (2003).

McCollom, T. M. & Seewald, J. S. Carbon isotope composition of organic compounds produced by abiotic synthesis under hydrothermal conditions. Earth Planet. Sci. Lett. 243, 74–84 (2006).

McCollom, T. M. & Seewald, J. S. A reassessment of the potential for reduction of dissolved CO2 to hydrocarbons during serpentinization of olivine. Geochim. Cosmochim. Acta 65, 3769–3778 (2001).

Menon, S. & Ragsdale, S. W. Unleashing hydrogenase activity in carbon monoxide dehydrogenase/acetyl-CoA synthase and pyruvate:ferredoxin oxidoreductase. Biochemistry 35, 15814–15821 (1996).

Jeoung, J.-H. & Dobbek, H. Carbon dioxide activation at the Ni,Fe-cluster of anaerobic carbon monoxide dehydrogenase. Conserv. Exhib. 318, 1461–1464 (2007).

Dobbek, H., Svetlitchnyi, V., Gremer, L., Huber, R. & Meyer, O. Crystal structure of a carbon monoxide dehydrogenase reveals a [Ni-4Fe-5S] cluster. Science 293, 1281–1285 (2001).

Chabrière, E. et al. Crystal structures of the key anaerobic enzyme pyruvate ferredoxin oxidoreductase free and in complex with pyruvate. Nat. Struct. Biol. 6, 182–190 (1999).

Volbeda, A. et al. Crystal structure of the nickel-iron hydrogenase from Desulfovibrio gigas. Nature 373, 580–587 (1995).

Martin, W. F. Carbon-metal bonds: rare and primordial in metabolism. Trends Biochem. Sci. 44, 807–818 (2019).

Buckel, W. & Thauer, R. K. Flavin-based electron bifurcation, ferredoxin, flavodoxin, and anaerobic respiration with protons (Ech) or NAD+(Rnf) as electron acceptors: a historical review. Front. Microbiol. 9, 401 (2018).

Vasiliadou, R., Dimov, N., Szita, N., Jordan, S. & Lane, N. Possible mechanisms of CO2 reduction by H2 via prebiotic vectorial electrochemistry. Interface Focus 9, 20190073 (2018).

Kaufmann, M. On the free energy that drove primordial anabolism. Int. J. Mol. Sci. 10, 1853–1871 (2009).

Patel, B. H., Percivalle, C., Ritson, D. J., Duffy, C. D. & Sutherland, J. D. Common origins of RNA, protein and lipid precursors in a cyanosulfidic protometabolism. Nat. Chem. 7, 301–307 (2015).

Lane, N. & Martin, W. F. The origin of membrane bioenergetics. Cell 151, 1406–1416 (2012).

Jordan, S. F., Nee, E. & Lane, N. Isoprenoids enhance the stability of fatty acid membranes at the emergence of life potentially leading to an early lipid divide. Interface Focus 9, 20100067 (2019).

Jordan, S. F. et al. Promotion of protocell self-assembly from mixed amphiphiles at the origin of life. Nat. Ecol. Evol. 3, 1705–1714 (2019).

Kitadai, N. et al. Metals likely promoted protometabolism in early ocean alkaline hydrothermal systems. Sci. Adv. 5, eaav7848 (2019).

Muchowska, K. B. et al. Metals promote sequences of the reverse Krebs cycle. Nat. Ecol. Evol. 1, 1716–1721 (2017).

Lovley, D. R. & Phillips, E. J. Organic matter mineralization with reduction of ferric iron in anaerobic sediments. Appl. Environ. Microbiol. 51, 683–689 (1986).

Igarashi, K., Yamamura, Y. & Kuwabara, T. Natural synthesis of bioactive greigite by solid–gas reactions. Geochim. Cosmochim. Acta 191, 47–57 (2016).

Kato, S., Yumoto, I. & Kamagata, Y. Isolation of acetogenic bacteria that induce biocorrosion by utilizing metallic iron as the sole electron donor. Appl. Environ. Microbiol. 81, 67–73 (2015).

Mayumi, D. et al. Carbon dioxide concentration dictates alternative methanogenic pathways in oil reservoirs. Nat. Commun. 4, 1998 (2013).

Deng, X., Chan, C. K. & Tüysüz, H. Spent tea leaf templating of cobalt-based mixed oxide nanocrystals for water oxidation. ACS Appl. Mater. Interfaces 8, 32488–32495 (2016).

Yu, M., Moon, G., Bill, E. & Tüysüz, H. Optimizing Ni−Fe oxide electrocatalysts for oxygen evolution reaction by using hard templating as a toolbox. ACS Appl. Energy Mater. 2, 1199–1209 (2019).

Hanselmann, K. W. Microbial energetics applied to waste repositories. Experientia 47, 645–687 (1991).

Amend, J. P. & Shock, E. L. Energetics of overall metabolic reactions of thermophilic and hyperthermophilic archaea and bacteria. FEMS Microbiol. Rev. 25, 175–243 (2001).

Wang, G., Spivack, A. J. & Hondt, S. D. Gibbs energies of reaction and microbial mutualism in anaerobic deep subseafloor sediments of ODP Site 1226. Geochim. Cosmochim. Acta 74, 3938–3947 (2010).

Wagner, T., Ermler, U. & Shima, S. The methanogenic CO2 reducing-and-fixing enzyme is bifunctional and contains 46 [4Fe-4S] clusters. Science 354, 114–117 (2015).

Mayumi, D. et al. Methane production from coal by a single methanogen. Science 354, 222–225 (2016).

Hoffman, B. M. et al. Mechanism of nitrogen fixation by nitrogenase: the next stage. Chem. Rev. 114, 4041–4062 (2014).
Acknowledgements
We thank Y. Dai for setting up gas analysis for the awaruite experiments, A. do Nascimento Vieira for performing parts of the revision experiments, A. Bähr and P. Lim for scientific support and J. C. Xavier for discussions. For funding, J.M., W.F.M. and H.T. thank the VW foundation (no. 96_742). W.F.M. and H.T. thank Deutsche Forschungsgemeinschaft (no. MA-1426/21-1/TU 315/8-1) and W.F.M. thanks the European Research Council (no. ERC 666053). This work is partly supported by IMPRS-RECHARGE and MAXNET Energy consortium of the Max Planck Society. K.I. and Y.K. thank JSPS KAKENHI Grant-in-Aid for Scientific Research on Innovative Areas (K.I., no. JP17H05240; Y.K., no. 26106004). K.I. is also supported by Grant-in-Aid for Young Scientists B (no. JP17K15255). J.M. thanks the European Research Council (no. ERC 639170) and ANR LabEX (no. ANR-10-LABX-0026 CSC). This work was also partly supported by Nanotechnology Platform Program (Molecule and Material Synthesis) of the Ministry of Education, Culture, Sports, Science and Technology, Japan.
Ethics declarations
Competing interests
The authors declare no competing interests.
Additional information
Publisher's note Springer Nature remains neutral with regard to jurisdictional claims in published maps and institutional affiliations.
Supplementary information
Supplementary Tables 1–6, discussion, equations and Figs. 1–29.
About this article
Cite this article
Preiner, M., Igarashi, K., Muchowska, K.B. et al. A hydrogen-dependent geochemical analogue of primordial carbon and energy metabolism. Nat Ecol Evol 4, 534–542 (2020). https://doi.org/10.1038/s41559-020-1125-6
Received:

Accepted:

Published:

Issue Date:

DOI: https://doi.org/10.1038/s41559-020-1125-6