Abstract
The importance of positive selection in molecular evolution is debated. Evolution experiments under invariant laboratory conditions typically show a higher rate of nonsynonymous nucleotide changes than the rate of synonymous changes, demonstrating prevalent molecular adaptations. Natural evolution inferred from genomic comparisons, however, almost always exhibits the opposite pattern even among closely related conspecifics, which is indicative of a paucity of positive selection. Here we hypothesize that this apparent contradiction is at least in part attributable to ubiquitous and frequent environmental changes in nature, causing nonsynonymous mutations that are beneficial at one time to become deleterious soon after because of antagonistic pleiotropy and hindering their fixations relative to synonymous mutations despite continued population adaptations. To test this hypothesis, we performed yeast evolution experiments in changing and corresponding constant environments, followed by genome sequencing of the evolving populations. We observed a lower nonsynonymous to synonymous rate ratio in antagonistic changing environments than in the corresponding constant environments, and the population dynamics of mutations supports our hypothesis. These findings and the accompanying population genetic simulations suggest that molecular adaptation is consistently underestimated in nature due to the antagonistic fitness effects of mutations in changing environments.
Relevant articles
Open Access articles citing this article.
Marco La Fortezza

,

Olaya Rendueles

…

Gregory J. Velicer

Communications Biology Open Access 16 September 2022

Reid S. Brennan

,

James A. deMayo

…

Melissa H. Pespeni

Nature Communications Open Access 03 March 2022

Anik Dutta

,

Fanny E. Hartmann

…

Daniel Croll

The ISME Journal Open Access 15 January 2021
Access options
Subscribe to Nature+
Get immediate online access to the entire Nature family of 50+ journals
Subscribe to Journal
Get full journal access for 1 year
$119.00
only $9.92 per issue
All prices are NET prices.
VAT will be added later in the checkout.
Tax calculation will be finalised during checkout.
Buy article
Get time limited or full article access on ReadCube.
$32.00
All prices are NET prices.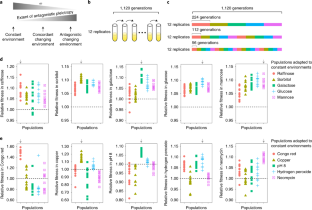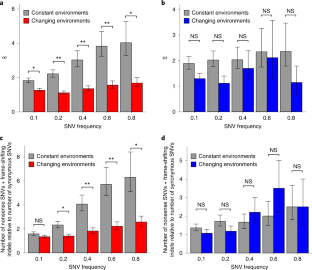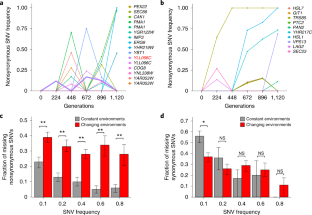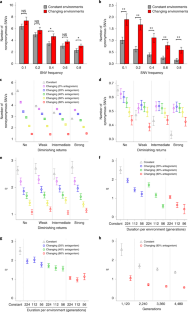 Data availability
The raw sequencing data are available from NCBI BioProject (PRJNA597653).
References
Kimura, M. Evolutionary rate at the molecular level. Nature 217, 624–626 (1968).

King, J. L. & Jukes, T. H. Non-Darwinian evolution. Science 164, 788–798 (1969).

Kimura, M. The Neutral Theory of Molecular Evolution (Cambridge Univ. Press, 1983).

Kreitman, M. The neutral theory is dead. Long live the neutral theory. BioEssays 18, 678–683 (1996).

Ohta, T. The neutral theory is dead. The current significance and standing of neutral and nearly neutral theories. BioEssays 18, 673–677 (1996).

Eyre-Walker, A. The genomic rate of adaptive evolution. Trends Ecol. Evol. 21, 569–575 (2006).

Lynch, M. The frailty of adaptive hypotheses for the origins of organismal complexity. Proc. Natl Acad. Sci. USA 104, 8597–8604 (2007).

Nei, M., Suzuki, Y. & Nozawa, M. The neutral theory of molecular evolution in the genomic era. Annu. Rev. Genomics Hum. Genet. 11, 265–289 (2010).

Kern, A. D. & Hahn, M. W. The neutral theory in light of natural selection. Mol. Biol. Evol. 35, 1366–1371 (2018).

Tenaillon, O. et al. Tempo and mode of genome evolution in a 50,000-generation experiment. Nature 536, 165–170 (2016).

Tenaillon, O. et al. The molecular diversity of adaptive convergence. Science 335, 457–461 (2012).

Lang, G. I. et al. Pervasive genetic hitchhiking and clonal interference in forty evolving yeast populations. Nature 500, 571–574 (2013).

Kryazhimskiy, S., Rice, D. P., Jerison, E. R. & Desai, M. M. Global epistasis makes adaptation predictable despite sequence-level stochasticity. Science 344, 1519–1522 (2014).

Rocha, E. P. et al. Comparisons of dN/dS are time dependent for closely related bacterial genomes. J. Theor. Biol. 239, 226–235 (2006).

Wolf, J. B., Kunstner, A., Nam, K., Jakobsson, M. & Ellegren, H. Nonlinear dynamics of nonsynonymous (dN) and synonymous (dS) substitution rates affects inference of selection. Genome Biol. Evol. 1, 308–319 (2009).

Maclean, C. J. et al. Deciphering the genic basis of yeast fitness variation by simultaneous forward and reverse genetics. Mol. Biol. Evol. 34, 2486–2502 (2017).

Wagner, G. P. & Zhang, J. The pleiotropic structure of the genotype–phenotype map: the evolvability of complex organisms. Nat. Rev. Genet. 12, 204–213 (2011).

Qian, W., Ma, D., Xiao, C., Wang, Z. & Zhang, J. The genomic landscape and evolutionary resolution of antagonistic pleiotropy in yeast. Cell Rep. 2, 1399–1410 (2012).

Wang, Z., Liao, B. Y. & Zhang, J. Genomic patterns of pleiotropy and the evolution of complexity. Proc. Natl Acad. Sci. USA 107, 18034–18039 (2010).

Dudley, A. M., Janse, D. M., Tanay, A., Shamir, R. & Church, G. M. A global view of pleiotropy and phenotypically derived gene function in yeast. Mol. Syst. Biol. 1, 2005.0001 (2005).

Ostrowski, E. A., Rozen, D. E. & Lenski, R. E. Pleiotropic effects of beneficial mutations in Escherichia coli. Evolution 59, 2343–2352 (2005).

He, X. & Zhang, J. Toward a molecular understanding of pleiotropy. Genetics 173, 1885–1891 (2006).

Bloom, J. S., Ehrenreich, I. M., Loo, W. T., Lite, T. L. & Kruglyak, L. Finding the sources of missing heritability in a yeast cross. Nature 494, 234–237 (2013).

Harari, Y., Ram, Y., Rappoport, N., Hadany, L. & Kupiec, M. Spontaneous changes in ploidy are common in yeast. Curr. Biol. 28, 825–835 (2018).

Lang, G. I. & Desai, M. M. The spectrum of adaptive mutations in experimental evolution. Genomics 104, 412–416 (2014).

Mustonen, V. & Lässig, M. Fitness flux and ubiquity of adaptive evolution. Proc. Natl Acad. Sci. USA 107, 4248–4253 (2010).

Collins, S. Many possible worlds: expanding the ecological scenarios in experimental evolution. Evol. Biol. 38, 3–14 (2011).

Wünsche, A. et al. Diminishing-returns epistasis decreases adaptability along an evolutionary trajectory. Nat. Ecol. Evol. 1, 0061 (2017).

Wei, X. & Zhang, J. Patterns and mechanisms of diminishing returns from beneficial mutations. Mol. Biol. Evol. 36, 1008–1021 (2019).

Wei, X. & Zhang, J. The genomic architecture of interactions between natural genetic polymorphisms and environments in yeast growth. Genetics 205, 925–937 (2017).

Sane, M., Miranda, J. J. & Agashe, D. Antagonistic pleiotropy for carbon use is rare in new mutations. Evolution 72, 2202–2213 (2018).

Good, B. H., McDonald, M. J., Barrick, J. E., Lenski, R. E. & Desai, M. M. The dynamics of molecular evolution over 60,000 generations. Nature 551, 45–50 (2017).

Liu, H. & Zhang, J. Yeast spontaneous mutation rate and spectrum vary with environment. Curr. Biol. 29, 1584–1591 (2019).

Kassen, R. The experimental evolution of specialists, generalists, and the maintenance of diversity. J. Evol. Biol. 15, 173–190 (2002).

Bono, L. M., Smith, L. B. Jr, Pfennig, D. W. & Burch, C. L. The emergence of performance trade‐offs during local adaptation: insights from experimental evolution. Mol. Ecol. 26, 1720–1733 (2017).

Warringer, J., Ericson, E., Fernandez, L., Nerman, O. & Blomberg, A. High-resolution yeast phenomics resolves different physiological features in the saline response. Proc. Natl Acad. Sci. USA 100, 15724–15729 (2003).

Li, H. & Durbin, R. Fast and accurate short read alignment with Burrows–Wheeler transform. Bioinformatics 25, 1754–1760 (2009).

McKenna, A. et al. The Genome Analysis Toolkit: a MapReduce framework for analyzing next-generation DNA sequencing data. Genome Res. 20, 1297–1303 (2010).

Zhang, J., Rosenberg, H. F. & Nei, M. Positive Darwinian selection after gene duplication in primate ribonuclease genes. Proc. Natl Acad. Sci. USA 95, 3708–3713 (1998).

Kryazhimskiy, S. & Plotkin, J. B. The population genetics of dN/dS. PLoS Genet 4, e1000304 (2008).

Mugal, C. F., Wolf, J. B. & Kaj, I. Why time matters: codon evolution and the temporal dynamics of dN/dS. Mol. Biol. Evol. 31, 212–231 (2014).

Castillo-Ramirez, S. et al. The impact of recombination on dN/dS within recently emerged bacterial clones. PLoS Pathog. 7, e1002129 (2011).

Sharp, N. P., Sandell, L., James, C. G. & Otto, S. P. The genome-wide rate and spectrum of spontaneous mutations differ between haploid and diploid yeast. Proc. Natl Acad. Sci. USA 115, E5046–E5055 (2018).

Levy, S. F. et al. Quantitative evolutionary dynamics using high-resolution lineage tracking. Nature 519, 181–186 (2015).
Acknowledgements
We thank W.-C. Ho, X. Wei and members of the Zhang laboratory for comments. This work was supported by a research grant (2R01GM103232) from the US National Institutes of Health to J.Z.
Ethics declarations
Competing interests
The authors declare no competing interests.
Additional information
Publisher's note Springer Nature remains neutral with regard to jurisdictional claims in published maps and institutional affiliations.
Supplementary information
Supplementary Figs. 1–10 and Supplementary Table 1.
SNVs in the end populations.
About this article
Cite this article
Chen, P., Zhang, J. Antagonistic pleiotropy conceals molecular adaptations in changing environments. Nat Ecol Evol 4, 461–469 (2020). https://doi.org/10.1038/s41559-020-1107-8
Received:

Accepted:

Published:

Issue Date:

DOI: https://doi.org/10.1038/s41559-020-1107-8