Abstract
Evolutionary dynamics in large asexual populations is strongly influenced by multiple competing beneficial lineages, most of which segregate at very low frequencies. However, technical barriers to tracking a large number of these rare lineages in bacterial populations have so far prevented a detailed elucidation of evolutionary dynamics. Here, we overcome this hurdle by developing a chromosomal-barcoding technique that allows simultaneous tracking of approximately 450,000 distinct lineages in Escherichia coli, which we use to test the effect of sub-inhibitory concentrations of common antibiotics on the evolutionary dynamics of low-frequency lineages. We find that populations lose lineage diversity at distinct rates that correspond to their antibiotic regimen. We also determine that some lineages have similar fates across independent experiments. By analysing the trajectory dynamics, we attribute the reproducible fates of these lineages to the presence of pre-existing beneficial mutations, and we demonstrate how the relative contribution of pre-existing and de novo mutations varies across drug regimens. Finally, we reproduce the observed lineage dynamics by simulations. Altogether, our results provide a valuable methodology for studying bacterial evolution as well as insights into evolution under sub-inhibitory antibiotic levels.
Your institute does not have access to this article
Access options
Subscribe to Nature+
Get immediate online access to the entire Nature family of 50+ journals
Subscribe to Journal
Get full journal access for 1 year
$119.00
only $9.92 per issue
All prices are NET prices.
VAT will be added later in the checkout.
Tax calculation will be finalised during checkout.
Buy article
Get time limited or full article access on ReadCube.
$32.00
All prices are NET prices.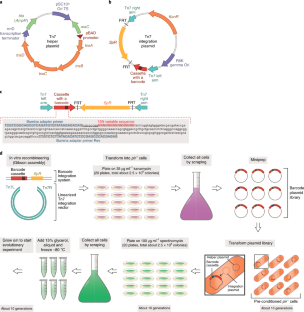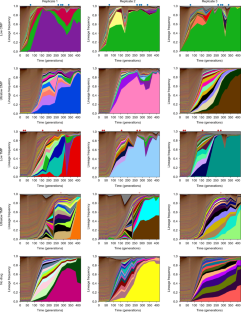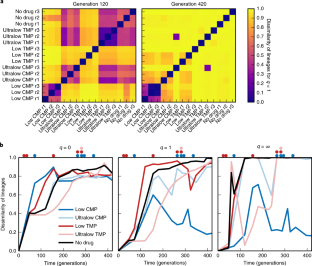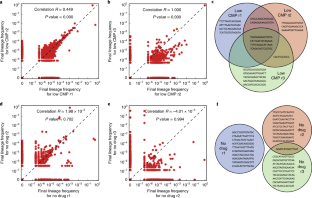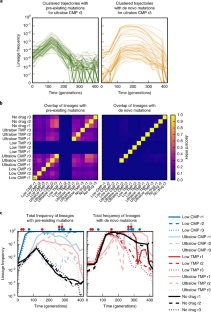 Data availability
All raw barcode sequencing data used in this study is deposited in the National Center for Biotechnology Information Sequence Read Archive under BioProject accession numbers PRJNA592527 (initial barcode libraries), PRJNA592371 (time points from evolution experiment under increasing drug concentrations), and PRJNA592529 (time points from evolution experiment under constant drug concentrations). All other raw data is included in Supplementary Tables 1–4.
Code availability
All custom scripts used to analyse the data are available on request.
References
Lazar, V. et al. Genome-wide analysis captures the determinants of the antibiotic cross-resistance interaction network. Nat Commun. 5, 4352 (2014).

Deatherage, D. E. & Barrick, J. E. Identification of mutations in laboratory-evolved microbes from next-generation sequencing data using breseq. Methods Mol. Biol. 1151, 165–188 (2014).

Otto, M. Next-generation sequencing to monitor the spread of antimicrobial resistance. Genome Med. 9, 68 (2017).

Xue, Y. & Wilcox, W. R. Changing paradigm of cancer therapy: precision medicine by next-generation sequencing. Cancer Biol. Med. 13, 12–18 (2016).

Blundell, J. R. et al. The dynamics of adaptive genetic diversity during the early stages of clonal evolution. Nat. Ecol. Evol. 3, 293–301 (2018).

Desai, M. M., Walczak, A. M. & Fisher, D. S. Genetic diversity and the structure of genealogies in rapidly adapting populations. Genetics 193, 565–585 (2013).

Lang, G. I., Botstein, D. & Desai, M. M. Genetic variation and the fate of beneficial mutations in asexual populations. Genetics 188, 647–661 (2011).

Neher, R. A. & Hallatschek, O. Genealogies of rapidly adapting populations. Proc. Natl Acad. Sci. USA 110, 437–442 (2013).

Fox, E. J., Reid-Bayliss, K. S., Emond, M. J. & Loeb, L. A. Accuracy of next generation sequencing platforms. Next Gener. Seq. Appl. 1, 1000106 (2014).

Pfeiffer, F. et al. Systematic evaluation of error rates and causes in short samples in next-generation sequencing. Sci. Rep. 8, 10950 (2018).

Hegreness, M., Shoresh, N., Hartl, D. & Kishony, R. An equivalence principle for the incorporation of favorable mutations in asexual populations. Science 311, 1615–1617 (2006).

Stannek, L., Egelkamp, R., Gunka, K. & Commichau, F. M. Monitoring intraspecies competition in a bacterial cell population by cocultivation of fluorescently labelled strains. J. Vis. Exp. 83, e51196 (2014).

Wetmore, K. M. et al. Rapid quantification of mutant fitness in diverse bacteria by sequencing randomly bar-coded transposons. MBio 6, e00306–e00315 (2015).

Blundell, J. R. & Levy, S. F. Beyond genome sequencing: lineage tracking with barcodes to study the dynamics of evolution, infection, and cancer. Genomics 104, 417–430 (2014).

Jaffe, M., Sherlock, G. & Levy, S. F. iSeq: a new double-barcode method for detecting dynamic genetic interactions in yeast. G3 7, 143–153 (2017).

Levy, S. F. et al. Quantitative evolutionary dynamics using high-resolution lineage tracking. Nature 519, 181–186 (2015).

Peikon, I. D., Gizatullina, D. I. & Zador, A. M. In vivo generation of DNA sequence diversity for cellular barcoding. Nucleic Acids Res. 42, e127 (2014).

Jahn, L. J. et al. Chromosomal barcoding as a tool for multiplexed phenotypic characterization of laboratory evolved lineages. Sci. Rep. 8, 6961 (2018).

Cira, N. J., Pearce, M. T. & Quake, S. R. Neutral and selective dynamics in a synthetic microbial community. Proc. Natl Acad. Sci. USA 115, E9842–E9848 (2018).

Andersson, D. I. & Hughes, D. Microbiological effects of sublethal levels of antibiotics. Nat. Rev. Microbiol. 12, 465–478 (2014).

Davies, J., Spiegelman, G. B. & Yim, G. The world of subinhibitory antibiotic concentrations. Curr. Opin. Microbiol. 9, 445–453 (2006).

Fajardo, A. & Martinez, J. L. Antibiotics as signals that trigger specific bacterial responses. Curr. Opin. Microbiol. 11, 161–167 (2008).

Thomason, L. C., Sawitzke, J. A., Li, X., Costantino, N. & Court, D. L. Recombineering: genetic engineering in bacteria using homologous recombination. Curr. Protoc. Mol. Biol. 106, 11–39 (2014).

Choi, K. H. & Schweizer, H. P. mini-Tn7 insertion in bacteria with single attTn7 sites: example Pseudomonas aeruginosa. Nat. Protoc. 1, 153–161 (2006).

McKenzie, G. J. & Craig, N. L. Fast, easy and efficient: site-specific insertion of transgenes into enterobacterial chromosomes using Tn7 without need for selection of the insertion event. BMC Microbiol. 6, 39 (2006).

Baquero, F., Alvarez-Ortega, C. & Martinez, J. L. Ecology and evolution of antibiotic resistance. Environ. Microbiol. Rep. 1, 469–476 (2009).

Baquero, F. & Negri, M. C. Selective compartments for resistant microorganisms in antibiotic gradients. Bioessays 19, 731–736 (1997).

Wolfe, A. D. & Hahn, F. E. Mode of action of chloramphenicol. IX. Effects of chloramphenicol upon a ribosomal amino acid polymerization system and its binding to bacterial ribosome. Biochim. Biophys. Acta 95, 146–155 (1965).

Brogden, R. N., Carmine, A. A., Heel, R. C., Speight, T. M. & Avery, G. S. Trimethoprim: a review of its antibacterial activity, pharmacokinetics and therapeutic use in urinary tract infections. Drugs 23, 405–430 (1982).

Gullberg, E. et al. Selection of resistant bacteria at very low antibiotic concentrations. PLoS Pathog. 7, e1002158 (2011).

Andersson, D. I. & Hughes, D. Evolution of antibiotic resistance at non-lethal drug concentrations. Drug Resist. Upd. 15, 162–172 (2012).

Bjorkman, J. & Andersson, D. I. The cost of antibiotic resistance from a bacterial perspective. Drug Resist. Upd. 3, 237–245 (2000).

Crow, J. F. & Kimura, M. An Introduction To Population Genetics Theory (Harper & Row, 1970).

Jost, L. Entropy and diversity. Oikos 113, 363–375 (2006).

Tuomisto, H. A diversity of beta diversities: straightening up a concept gone awry. Part 1. Defining beta diversity as a function of alpha and gamma diversity. Ecography 33, 2–22 (2010).

Chevereau, G. et al. Quantifying the determinants of evolutionary dynamics leading to drug resistance. PLoS Biol. 13, e1002299 (2015).

Bershtein, S., Choi, J. M., Bhattacharyya, S., Budnik, B. & Shakhnovich, E. Systems-level response to point mutations in a core metabolic enzyme modulates genotype-phenotype relationship. Cell Rep. 11, 645–656 (2015).

de Visser, J. A. & Krug, J. Empirical fitness landscapes and the predictability of evolution. Nat. Rev. Genet. 15, 480–490 (2014).

Lobkovsky, A. E. & Koonin, E. V. Replaying the tape of life: quantification of the predictability of evolution. Front. Genet. 3, 246 (2012).

Toprak, E. et al. Evolutionary paths to antibiotic resistance under dynamically sustained drug selection. Nat. Genet. 44, 101–105 (2011).

Barrett, R. D. & Schluter, D. Adaptation from standing genetic variation. Trends Ecol. Evol. 23, 38–44 (2008).

Liu, A. et al. Selective advantage of resistant strains at trace levels of antibiotics: a simple and ultrasensitive color test for detection of antibiotics and genotoxic agents. Antimicrob. Agents Chemother. 55, 1204–1210 (2011).

Westhoff, S. et al. The evolution of no-cost resistance at sub-MIC concentrations of streptomycin in Streptomyces coelicolor. ISME J 11, 1168–1178 (2017).

McKown, R. L., Orle, K. A., Chen, T. & Craig, N. L. Sequence requirements of Escherichia coli attTn7, a specific site of transposon Tn7 insertion. J. Bacteriol. 170, 352–358 (1988).

Peters, J. E. & Craig, N. L. Tn7: smarter than we thought. Nat. Rev. Mol. Cell Biol. 2, 806–814 (2001).

Mashimo, K., Nagata, Y., Kawata, M., Iwasaki, H. & Yamamoto, K. Role of the RuvAB protein in avoiding spontaneous formation of deletion mutations in the Escherichia coli K-12 endogenous tonB gene. Biochem. Biophys. Res. Commun. 323, 197–203 (2004).

Bershtein, S., Segal, M., Bekerman, R., Tokuriki, N. & Tawfik, D. S. Robustness-epistasis link shapes the fitness landscape of a randomly drifting protein. Nature 444, 929–932 (2006).

Palmer, A. C. et al. Delayed commitment to evolutionary fate in antibiotic resistance fitness landscapes. Nat. Commun. 6, 7385 (2015).

Zhao, L., Liu, Z., Levy, S. F. & Wu, S. Bartender: a fast and accurate clustering algorithm to count barcode reads. Bioinformatics 34, 739–747 (2018).

Rényi, A. On measures of information and entropy. Proc. Fourth Berkeley Symp. Mathematics, Statistics and Probability 547–561 (Univ. California Press, 1960).

Virtanen, P. et al. SciPy 1.0--Fundamental algorithms for scientific computing in Python. Preprint at https://arxiv.org/abs/1907.10121 (2019).

Gauthier, L., Di Franco, R. & Serohijos, A. W. R. SodaPop: a forward simulation suite for the evolutionary dynamics of asexual populations on protein fitness landscapes. Bioinformatics 35, 4053–4062 (2019).

Fogle, C. A., Nagle, J. L. & Desai, M. M. Clonal interference, multiple mutations and adaptation in large asexual populations. Genetics 180, 2163–2173 (2008).

Perfeito, L., Fernandes, L., Mota, C. & Gordo, I. Adaptive mutations in bacteria: high rate and small effects. Science 317, 813–815 (2007).

Gibson, D. G. et al. Enzymatic assembly of DNA molecules up to several hundred kilobases. Nat. Methods 6, 343–345 (2009).

Gibson, D. G. et al. Creation of a bacterial cell controlled by a chemically synthesized genome. Science 329, 52–56 (2010).

Datsenko, K. A. & Wanner, B. L. One-step inactivation of chromosomal genes in Escherichia coli K-12 using PCR products. Proc. Natl Acad. Sci. USA 97, 6640–6645 (2000).
Acknowledgements
We thank L. Zhao, J. Rojas Echenique, S. Levy and A. Pascual Garcia for advice on analysing the data, and D. Tawfik and A. Aharoni for comments and help with preparation of the manuscript. This work was supported by an F32 fellowship from the US National Institutes of Health (GM116217) and an Ambizione grant from the Swiss National Science Foundation (PZ00P3_180147) to M.M.; a grant from the Canadian Natural Sciences and Engineering Research Council (NSERC RN000524) to A.W.R.S.; and a personal Israel Science Foundation grant 1630/15 to S.B. We also acknowledge support from the FAS Division of Science, Research Computing Group at Harvard University for the computations performed on the Odyssey cluster.
Ethics declarations
Competing interests
The authors declare no competing interests.
Additional information
Publisher's note Springer Nature remains neutral with regard to jurisdictional claims in published maps and institutional affiliations.
Supplementary information
Supplementary Figs. 1–21.
Supplementary Tables 1–4.
About this article
Cite this article
Jasinska, W., Manhart, M., Lerner, J. et al. Chromosomal barcoding of E. coli populations reveals lineage diversity dynamics at high resolution. Nat Ecol Evol 4, 437–452 (2020). https://doi.org/10.1038/s41559-020-1103-z
Received:

Accepted:

Published:

Issue Date:

DOI: https://doi.org/10.1038/s41559-020-1103-z
Further reading
J. Z. Chen
D. M. Fowler
N. Tokuriki

Nature Ecology & Evolution (2022)

Shimon Bershtein
Daniel Kleiner
Dan Mishmar

Nature Ecology & Evolution (2021)

Johannes Cairns
Roosa Jokela
Teppo Hiltunen

Nature Ecology & Evolution (2020)