Abstract
Resource competition and metabolic cross-feeding are among the main drivers of microbial community assembly. Yet the degree to which these two conflicting forces are reflected in the composition of natural communities has not been systematically investigated. Here, we use genome-scale metabolic modelling to assess the potential for resource competition and metabolic cooperation in large co-occurring groups (up to 40 members) across thousands of habitats. Our analysis reveals two distinct community types, which are clustered at opposite ends of a spectrum in a trade-off between competition and cooperation. At one end are highly cooperative communities, characterized by smaller genomes and multiple auxotrophies. At the other end are highly competitive communities, which feature larger genomes and overlapping nutritional requirements, and harbour more genes related to antimicrobial activity. The latter are mainly present in soils, whereas the former are found in both free-living and host-associated habitats. Community-scale flux simulations show that, whereas competitive communities can better resist species invasion but not nutrient shift, cooperative communities are susceptible to species invasion but resilient to nutrient change. We also show, by analysing an additional data set, that colonization by probiotic species is positively associated with the presence of cooperative species in the recipient microbiome. Together, our results highlight the bifurcation between competitive and cooperative metabolism in the assembly of natural communities and its implications for community modulation.
Relevant articles
Open Access articles citing this article.
Ying Su

,

Ming-ying Xu

…

Tao Ding

Microbiome Open Access 06 November 2023

Yichao Wu

,

Chengxia Fu

…

Peng Cai

Nature Communications Open Access 15 July 2023

Axel Theorell

&

Jörg Stelling

BMC Bioinformatics Open Access 22 June 2023
Access options
Access Nature and 54 other Nature Portfolio journals
Get Nature+, our best-value online-access subscription
$29.99 / 30 days
cancel any time
Subscribe to this journal
Receive 12 digital issues and online access to articles
$119.00 per year
only $9.92 per issue
Rent or buy this article
Prices vary by article type
from$1.95
to$39.95
Prices may be subject to local taxes which are calculated during checkout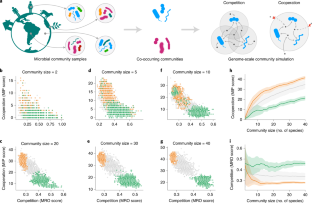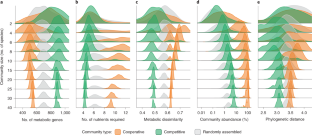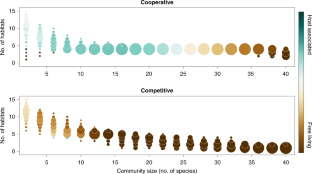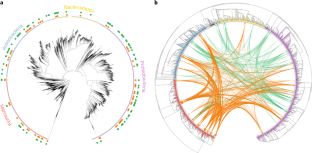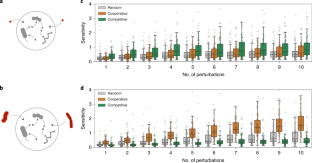 References
Fierer, N. Embracing the unknown: disentangling the complexities of the soil microbiome. Nat. Rev. Microbiol. 15, 579–590 (2017).

Raaijmakers, J. M. & Mazzola, M. Soil immune responses. Science 352, 1392–1393 (2016).

Sunagawa, S. et al. Structure and function of the global ocean microbiome. Science 348, 1261359 (2015).

Louca, S., Parfrey, L. W. & Doebeli, M. Decoupling function and taxonomy in the global ocean microbiome. Science 353, 1272–1277 (2016).

Gilbert, J. A. et al. Current understanding of the human microbiome. Nat. Med. 24, 392–400 (2018).

Arumugam, M. et al. Enterotypes of the human gut microbiome. Nature 473, 174–180 (2011).

Cavicchioli, R. et al. Scientists' warning to humanity: microorganisms and climate change. Nat. Rev. Microbiol. 17, 569–586 (2019).

Cho, I. & Blaser, M. J. The human microbiome: at the interface of health and disease. Nat. Rev. Genet. 13, 260–270 (2012).

Lawson, C. E. et al. Common principles and best practices for engineering microbiomes. Nat. Rev. Microbiol. 17, 725–741 (2019).

Armstrong, R. A. & McGehee, R. Competitive exclusion. Am. Nat. 115, 151–170 (1980).

Tan, J., Zuniga, C. & Zengler, K. Unraveling interactions in microbial communities - from co-cultures to microbiomes. J. Microbiol. 53, 295–305 (2015).

Zengler, K. & Zaramela, L. S. The social network of microorganisms—how auxotrophies shape complex communities. Nat. Rev. Microbiol. 16, 383–390 (2018).

Freilich, S. et al. Competitive and cooperative metabolic interactions in bacterial communities. Nat. Commun. 2, 589 (2011).

Levy, R. & Borenstein, E. Metabolic modeling of species interaction in the human microbiome elucidates community-level assembly rules. Proc. Natl Acad. Sci. USA 110, 12804–12809 (2013).

Zelezniak, A. et al. Metabolic dependencies drive species co-occurrence in diverse microbial communities. Proc. Natl Acad. Sci. USA 112, 6449–6454 (2015).

Billick, I. & Case, T. J. Higher order interactions in ecological communities: what are they and how can they be detected? Ecology 75, 1529–1543 (1994).

Friedman, J., Higgins, L. M. & Gore, J. Community structure follows simple assembly rules in microbial microcosms. Nat. Ecol. Evol. 1, 0109 (2017).

Morin, M., Pierce, E. C. & Dutton, R. J. Changes in the genetic requirements for microbial interactions with increasing community complexity. eLife 7, e37072 (2018).

Thompson, L. R. et al. A communal catalogue reveals Earth's multiscale microbial diversity. Nature 551, 457–463 (2017).

O'Leary, N. A. et al. Reference sequence (RefSeq) database at NCBI: current status, taxonomic expansion, and functional annotation. Nucleic Acids Res. 44, D733–D745 (2015).

Machado, D., Andrejev, S., Tramontano, M. & Patil, K. R. Fast automated reconstruction of genome-scale metabolic models for microbial species and communities. Nucleic Acids Res. 46, 7542–7553 (2018).

Freilich, S. et al. The large-scale organization of the bacterial network of ecological co-occurrence interactions. Nucleic Acids Res. 38, 3857–3868 (2010).

Barberán, A., Bates, S. T., Casamayor, E. O. & Fierer, N. Using network analysis to explore co-occurrence patterns in soil microbial communities. ISME J. 6, 343–351 (2011).

Faust, K. et al. Microbial co-occurrence relationships in the human microbiome. PLoS Comput. Biol. 8, e1002606 (2012).

Zomorrodi, A. R. & Maranas, C. D. OptCom: a multi-level optimization framework for the metabolic modeling and analysis of microbial communities. PLoS Comput. Biol. 8, e1002363 (2012).

Khandelwal, R. A., Olivier, B. G., Röling, W. F. M., Teusink, B. & Bruggeman, F. J. Community flux balance analysis for microbial consortia at balanced growth. PLoS ONE 8, e64567 (2013).

Chan, S. H. J., Simons, M. N. & Maranas, C. D. SteadyCom: predicting microbial abundances while ensuring community stability. PLoS Comput. Biol. 13, e1005539 (2017).

Mee, M. T., Collins, J. J., Church, G. M. & Wang, H. H. Syntrophic exchange in synthetic microbial communities. Proc. Natl Acad. Sci. USA 111, E2149–E2156 (2014).

Ponomarova, O. et al. Yeast creates a niche for symbiotic lactic acid bacteria through nitrogen overflow. Cell Syst. 5, 345–357 (2017).

Chaffron, S., Rehrauer, H., Pernthaler, J. & Mering, C. V. A global network of coexisting microbes from environmental and whole-genome sequence data. Genome Res. 20, 947–959 (2010).

Amarasekare, P. Interference competition and species coexistence. Proc. R. Soc. Lond. B 269, 2541–2550 (2002).

Blin, K. et al. antiSMASH 5.0: updates to the secondary metabolite genome mining pipeline. Nucleic Acids Res. 47, W81–W87 (2019).

Crump, B. C., Amaral-Zettler, L. A. & Kling, G. W. Microbial diversity in arctic freshwaters is structured by inoculation of microbes from soils. ISME J. 6, 1629–1639 (2012).

O'Brien, S. L. et al. Spatial scale drives patterns in soil bacterial diversity. Environ. Microbiol. 18, 2039–2051 (2016).

Zarraonaindia, I. et al. The soil microbiome influences grapevine-associated microbiota. mBio 6, e02527-14 (2015).

Lax, S. et al. Longitudinal analysis of microbial interaction between humans and the indoor environment. Science 345, 1048–1052 (2014).

Nolan, M. J. et al. Molecular-based investigation of Cryptosporidium and Giardia from animals in water catchments in southeastern Australia. Water Res. 47, 1726–1740 (2013).

Haig, S.-J., Quince, C., Davies, R. L., Dorea, C. C. & Collins, G. Replicating the microbial community and water quality performance of full-scale slow sand filters in laboratory-scale filters. Water Res. 61, 141–151 (2014).

Koehler, A. V., Haydon, S. R., Jex, A. R. & Gasser, R. B. Cryptosporidium and Giardia taxa in faecal samples from animals in catchments supplying the city of Melbourne with drinking water (2011 to 2015). Parasit. Vectors 9, 315 (2016).

Coyte, K. Z., Schluter, J. & Foster, K. R. The ecology of the microbiome: networks, competition, and stability. Science 350, 663–666 (2015).

Rivière, A., Gagnon, M., Weckx, S., Roy, D. & Vuyst, L. D. Mutual cross-feeding interactions between Bifidobacterium longum subsp. longum NCC2705 and Eubacterium rectale ATCC 33656 explain the bifidogenic and butyrogenic effects of arabinoxylan oligosaccharides. Appl. Environ. Microbiol. 81, 7767–7781 (2015).

D'Souza, G. et al. Ecology and evolution of metabolic cross-feeding interactions in bacteria. Nat. Prod. Rep. 35, 455–488 (2018).

Pacheco, A. R. & Segrè, D. A multidimensional perspective on microbial interactions. FEMS Microbiol. Lett. 366, fnz125 (2019).

Pacheco, A. R., Moel, M. & Segrè, D. Costless metabolic secretions as drivers of interspecies interactions in microbial ecosystems. Nat. Commun. 10, 103 (2019).

Barton, M. D., Delneri, D., Oliver, S. G., Rattray, M. & Bergman, C. M. Evolutionary systems biology of amino acid biosynthetic cost in yeast. PLoS ONE 5, e11935 (2010).

Campbell, K. et al. Self-establishing communities enable cooperative metabolite exchange in a eukaryote. eLife 4, e09943 (2015).

D'Souza, G. & Kost, C. Experimental evolution of metabolic dependency in bacteria. PLoS Genet. 12, e1006364 (2016).

Harcombe, W. Novel cooperation experimentally evolved between species. Evolution 64, 2166–2172 (2010).

Goldford, J. E. et al. Emergent simplicity in microbial community assembly. Science 361, 469–474 (2018).

Zmora, N. et al. Personalized gut mucosal colonization resistance to empiric probiotics is associated with unique host and microbiome features. Cell 174, 1388–1405.e21 (2018).

Valen, L. V. A new evolutionary law. Evol. Theory 1, 1–30 (1973).

Morris, J. J., Lenski, R. E. & Zinser, E. R. The black queen hypothesis: evolution of dependencies through adaptive gene loss. mBio 3, e00036-12 (2012).

Pasolli, E. et al. Extensive unexplored human microbiome diversity revealed by over 150,000 genomes from metagenomes spanning age, geography, and lifestyle. Cell 176, 649–662 (2019).

Bosch, A. A. T. M., Biesbroek, G., Trzcinski, K., Sanders, E. A. M. & Bogaert, D. Viral and bacterial interactions in the upper respiratory tract. PLoS Pathog. 9, e1003057 (2013).

Peleg, A. Y., Hogan, D. A. & Mylonakis, E. Medically important bacterial–fungal interactions. Nat. Rev. Microbiol. 8, 340–349 (2010).

Huerta-Cepas, J., Serra, F. & Bork, P. ETE 3: reconstruction analysis, and visualization of phylogenomic data. Mol. Biol. Evol. 33, 1635–1638 (2016).

Jones, D. T., Taylor, W. R. & Thornton, J. M. The rapid generation of mutation data matrices from protein sequences. Bioinformatics 8, 275–282 (1992).

Ciccarelli, F. D. Toward automatic reconstruction of a highly resolved tree of life. Science 311, 1283–1287 (2006).

Mende, D. R., Sunagawa, S., Zeller, G. & Bork, P. Accurate and universal delineation of prokaryotic species. Nat. Methods 10, 881–884 (2013).

Sievers, F. et al. Fast scalable generation of high-quality protein multiple sequence alignments using Clustal Omega. Mol. Syst. Biol. 7, 539–539 (2014).

Price, M. N., Dehal, P. S. & Arkin, A. P. FastTree 2—approximately maximum-likelihood trees for large alignments. PLoS ONE 5, e9490 (2010).

Paradis, E. & Schliep, K. ape 5.0: an environment for modern phylogenetics and evolutionary analyses in R. Bioinformatics 35, 526–528 (2018).

Letunic, I. & Bork, P. Interactive tree of life (iTOL) v3: an online tool for the display and annotation of phylogenetic and other trees. Nucleic Acids Res. 44, W242–W245 (2016).

Revell, L. J. phytools: an R package for phylogenetic comparative biology (and other things). Methods Ecol. Evol. 3, 217–223 (2012).

Bollback, J. P. SIMMAP: stochastic character mapping of discrete traits on phylogenies. BMC Bioinformatics 7, 88 (2006).
Acknowledgements
We acknowledge N. Zmora and E. Elinav for providing data and feedback on the probiotics study, K. Blin for assistance with the antiSMASH database, and S. Schmidt for fruitful discussions. This project has received funding from the Horizon 2020 research and innovation programme of the European Union under grant agreement no. 686070. This work was supported by the UK Medical Research Council (project no. MC_UU_00025/11).
Ethics declarations
Competing interests
The authors declare no competing interests.
Additional information
Peer review information Nature Ecology & Evolution thanks Joshua Goldford and the other, anonymous, reviewer(s) for their contribution to the peer review of this work. Peer reviewer reports are available.
Publisher's note Springer Nature remains neutral with regard to jurisdictional claims in published maps and institutional affiliations.
Supplementary information
Rights and permissions
Springer Nature or its licensor (e.g. a society or other partner) holds exclusive rights to this article under a publishing agreement with the author(s) or other rightsholder(s); author self-archiving of the accepted manuscript version of this article is solely governed by the terms of such publishing agreement and applicable law.
About this article
Cite this article
Machado, D., Maistrenko, O.M., Andrejev, S. et al. Polarization of microbial communities between competitive and cooperative metabolism. Nat Ecol Evol 5, 195–203 (2021). https://doi.org/10.1038/s41559-020-01353-4
Received:

Accepted:

Published:

Issue Date:

DOI: https://doi.org/10.1038/s41559-020-01353-4