Abstract
Host life history and demography play important roles in host–pathogen dynamics, by influencing the ability of hosts and their pathogens to coexist. We introduce the concept of demographic competence to describe the ability of host populations to sustain endemic infectious disease. Hosts with high demographic competence are more likely to act as keystone hosts and constitute reservoirs of infection that can spill over into other species. We propose that the pace of host life history will interact with pathogen life history to influence demographic competence. Our models demonstrate that slow-living hosts (with high survival and low recruitment rates) have greater demographic competence than fast-living hosts (with low survival and high recruitment rates) for susceptible–infected disease dynamics, although this difference is reduced when populations of slow hosts are age structured. Demographic competence is generally greater among hosts with populations regulated by survival compared to reproduction, but this difference is smallest among slow life histories and reversed for some pathogens with frequency-dependent transmission. An association between pathogen life history traits and the demographic competence of faster-living hosts also has implications for trade-offs between pathogen virulence and transmissibility. Overall, we demonstrate how host life history traits can help predict wildlife reservoirs of zoonoses and the vulnerability of populations to disease-induced extinction.
Access options
Access Nature and 54 other Nature Portfolio journals
Get Nature+, our best-value online-access subscription
$29.99 per month
cancel any time
Subscribe to this journal
Receive 12 digital issues and online access to articles
$119.00 per year
only $9.92 per issue
Rent or buy this article
Get just this article for as long as you need it
$39.95
Prices may be subject to local taxes which are calculated during checkout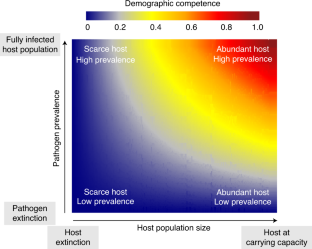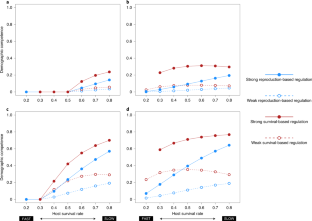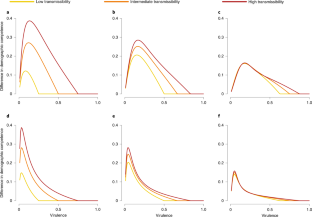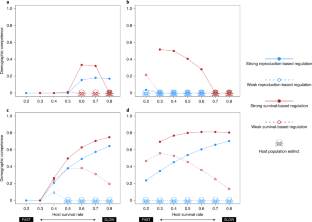 Data availability
No empirical data were used in this study. All data and plots can be generated using the computer code provided.
References
Daszak, P., Cunningham, A. A. & Hyatt, A. D. Emerging infectious diseases of wildlife—threats to biodiversity and human health. Science 287, 443–449 (2000).

Wiethoelter, A. K., Beltrán-Alcrudo, D., Kock, R. & Mor, S. M. Global trends in infectious diseases at the wildlife–livestock interface. Proc. Natl Acad. Sci. USA 112, 9662–9667 (2015).

Jones, K. E. et al. Global trends in emerging infectious diseases. Nature 451, 990–993 (2008).

Narrod, C., Zinsstag, J. & Tiongco, M. A One Health framework for estimating the economic costs of zoonotic diseases on society. Ecohealth 9, 150–162 (2012).

Cunningham, A. A., Daszak, P. & Wood, J. L. N. One Health, emerging infectious diseases and wildlife: two decades of progress? Phil. Trans. R. Soc. B 372, 20160167 (2017).

Park, A. W. Phylogenetic aggregation increases zoonotic potential of mammalian viruses. Biol. Lett. 15, 20190668 (2019).

Davies, T. J. & Pedersen, A. B. Phylogeny and geography predict pathogen community similarity in wild primates and humans. Proc. R. Soc. B 275, 1695–1701 (2008).

Dallas, T., Park, A. W. & Drake, J. M. Predictability of helminth parasite host range using information on geography, host traits and parasite community structure. Parasitology 144, 200–205 (2017).

Martin, L. B., Burgan, S. C., Adelman, J. S. & Gervasi, S. S. Host competence: an organismal trait to integrate immunology and epidemiology. Integr. Comp. Biol. 56, 1225–1237 (2016).

Olival, K. J. et al. Host and viral traits predict zoonotic spillover from mammals. Nature 546, 646–650 (2017).

Faust, C. L. et al. Pathogen spillover during land conversion. Ecol. Lett. 21, 471–483 (2018).

Martin, G. et al. Climate change could increase the geographic extent of Hendra virus spillover risk. Ecohealth 15, 509–525 (2018).

Plowright, R. K. et al. Pathways to zoonotic spillover. Nat. Rev. Microbiol. 15, 502–510 (2017).

Viana, M. et al. Assembling evidence for identifying reservoirs of infection. Trends Ecol. Evol. 29, 270–279 (2014).

Thrall, P. H., Antonovics, J. & Hall, D. W. Host and pathogen coexistence in sexually transmitted and vector-borne diseases characterized by frequency-dependent disease transmission. Am. Nat. 142, 543–552 (1993).

Anderson, R. M. & May, R. M. The population dynamics of microparasites and their invertebrate hosts. Phil. Trans. R. Soc. Lond. B 291, 451–524 (1981).

Stearns, S. C. Life-history tactics: a review of the ideas. Q. Rev. Biol. 51, 3–47 (1976).

Solomon, M. E. The natural control of animal populations. J. Anim. Ecol. 18, 1–35 (1949).

McDonald, J. L. et al. Demographic buffering and compensatory recruitment promotes the persistence of disease in a wildlife population. Ecol. Lett. 19, 443–449 (2016).

Promislow, D. E. L. & Harvey, P. H. Living fast and dying young: a comparative analysis of life-history variation among mammals. J. Zool. 220, 417–437 (1990).

Pfister, C. A. Patterns of variance in stage-structured populations: evolutionary predictions and ecological implications. Proc. Natl Acad. Sci. USA 95, 213–218 (1998).

Johnson, P. T. J. et al. Living fast and dying of infection: host life history drives interspecific variation in infection and disease risk. Ecol. Lett. 15, 235–242 (2012).

Cronin, J. P., Rúa, M. A. & Mitchell, C. E. Why is living fast dangerous? Disentangling the roles of resistance and tolerance of disease. Am. Nat. 184, 172–187 (2014).

Lachish, S., McCallum, H. & Jones, M. Demography, disease and the devil: life-history changes in a disease-affected population of Tasmanian devils (Sarcophilus harrisii). J. Anim. Ecol. 78, 427–436 (2009).

Muths, E., Scherer, R. D. & Pilliod, D. S. Compensatory effects of recruitment and survival when amphibian populations are perturbed by disease. J. Appl. Ecol. 48, 873–879 (2011).

Arthur, A., Ramsey, D. & Efford, M. Impact of bovine tuberculosis on a population of brushtail possums (Trichosurus vulpecula Kerr) in the Orongorongo Valley, New Zealand. Wildl. Res. 31, 389–395 (2004).

Gaillard, J.-M. & Yoccoz, N. G. Temporal variation in survival of mammals: a case of environmental canalization? Ecology 84, 3294–3306 (2003).

Korpimäki, E., Brown, P. R., Jacob, J. & Pech, R. P. The puzzles of population cycles and outbreaks of small mammals solved? BioScience 54, 1071–1079 (2004).

Gaillard, J.-M., Festa-Bianchet, M. & Yoccoz, N. G. Population dynamics of large herbivores: variable recruitment with constant adult survival. Trends Ecol. Evol. 13, 58–63 (1998).

McCallum, H., Barlow, N. & Hone, J. How should pathogen transmission be modelled? Trends Ecol. Evol. 16, 295–300 (2001).

De Castro, F. & Bolker, B. Mechanisms of disease‐induced extinction. Ecol. Lett. 8, 117–126 (2005).

McCallum, H. Disease and the dynamics of extinction. Phil. Trans. R. Soc. B 367, 2828–2839 (2012).

Anderson, R. M. & May, R. M. Coevolution of hosts and parasites. Parasitology 85, 411–426 (1982).

Alizon, S., Hurford, A., Mideo, N. & Van Baalen, M. Virulence evolution and the trade-off hypothesis: history, current state of affairs and the future. J. Evol. Biol. 22, 245–259 (2009).

De Roode, J. C., Yates, A. J. & Altizer, S. Virulence-transmission trade-offs and population divergence in virulence in a naturally occurring butterfly parasite. Proc. Natl Acad. Sci. USA 105, 7489–7494 (2008).

Anderson, R. M. Parasite pathogenicity and the depression of host population equilibria. Nature 279, 150 (1979).

Anderson, R. M. & May, R. M. Infectious Diseases of Humans: Dynamics and Control (Oxford Univ. Press, 1991).

Lloyd-Smith, J. O. et al. Should we expect population thresholds for wildlife disease? Trends Ecol. Evol. 20, 511–519 (2005).

Calvete, C. Modeling the effect of population dynamics on the impact of rabbit hemorrhagic disease. Conserv. Biol. 20, 1232–1241 (2006).

Gutiérrez, J. S., Piersma, T. & Thieltges, D. W. Micro- and macroparasite species richness in birds: the role of host life history and ecology. J. Anim. Ecol. 88, 1226–1239 (2019).

Calisher, C. H. et al. Do unusual site-specific population dynamics of rodent reservoirs provide clues to the natural history of hantaviruses? J. Wildl. Dis. 37, 280–288 (2001).

Rickman, S. J., Dulvy, N. K., Jennings, S. & Reynolds, J. D. Recruitment variation related to fecundity in marine fishes. Can. J. Fish. Aquat. Sci. 57, 116–124 (2000).

Sæther, B.-E. & Bakke, Ø. Avian life history variation and contribution of demographic traits to the population growth rate. Ecology 81, 642–653 (2000).

Bielby, J. et al. The fast–slow continuum in mammalian life history: an empirical reevaluation. Am. Nat. 169, 748–757 (2007).

Godfray, H. C. J. et al. A restatement of the natural science evidence base relevant to the control of bovine tuberculosis in Great Britain. Proc. R. Soc. Lond. B 280, 20131634 (2013).

Gaillard, J.-M. et al. Generation time: a reliable metric to measure life-history variation among mammalian populations. Am. Nat. 166, 119–123 (2005).

Earn, D. J. D., Rohani, P. & Grenfell, B. T. Persistence, chaos and synchrony in ecology and epidemiology. Proc. R. Soc. Lond. B 265, 7–10 (1998).

Rohani, P., Earn, D. J. D. & Grenfell, B. T. Opposite patterns of synchrony in sympatric disease metapopulations. Science 286, 968–971 (1999).

Salathé, M. & Jones, J. H. Dynamics and control of diseases in networks with community structure. PLoS Comput. Biol. 6, e1000736 (2010).

Sah, P., Leu, S. T., Cross, P. C., Hudson, P. J. & Bansal, S. Unraveling the disease consequences and mechanisms of modular structure in animal social networks. Proc. Natl Acad. Sci. USA 114, 4165–4170 (2017).

Silk, M. J. et al. Integrating social behaviour, demography and disease dynamics in network models: applications to disease management in declining wildlife populations. Phil. Trans. R. Soc. B 374, 20180211 (2019).

Hopkins, S. R., Fleming‐Davies, A. E., Belden, L. K. & Wojdak, J. M. Systematic review of modelling assumptions and empirical evidence: does parasite transmission increase nonlinearly with host density? Methods Ecol. Evol. 11, 476–486 (2020).

Froissart, R., Doumayrou, J., Vuillaume, F., Alizon, S. & Michalakis, Y. The virulence–transmission trade-off in vector-borne plant viruses: a review of (non-) existing studies. Phil. Trans. R. Soc. B 365, 1907–1918 (2010).

Wickham, M. E., Brown, N. F., Boyle, E. C., Coombes, B. K. & Finlay, B. B. Virulence is positively selected by transmission success between mammalian hosts. Curr. Biol. 17, 783–788 (2007).

Paul, R. E. L. et al. Experimental evaluation of the relationship between lethal or non-lethal virulence and transmission success in malaria parasite infections. BMC Evol. Biol. 4, 30 (2004).

Agnew, P. & Koella, J. C. Virulence, parasite mode of transmission, and host fluctuating asymmetry. Proc. R. Soc. Lond. B 264, 9–15 (1997).

Medica, D. L. & Sukhdeo, M. V. K. Estimating transmission potential in gastrointestinal nematodes (Order: Strongylida). J. Parasitol. 87, 442–446 (2001).

Jäkel, T. et al. Reduction of transmission stages concomitant with increased host immune responses to hypervirulent Sarcocystis singaporensis, and natural selection for intermediate virulence. Int. J. Parasitol. 31, 1639–1647 (2001).

Stott, I., Hodgson, D. J. & Townley, S. popdemo: an R package for population demography using projection matrix analysis. Methods Ecol. Evol. 3, 797–802 (2012).

R Core Team R: A Language and Environment for Statistical Computing (R Foundation for Statistical Computing, 2019).
Acknowledgements
M.J.S. is funded by the University of Exeter.
Ethics declarations
Competing interests
The authors declare no competing interests.
Additional information
Peer review information Peer reviewer reports are available.
Publisher's note Springer Nature remains neutral with regard to jurisdictional claims in published maps and institutional affiliations.
Supplementary information
About this article
Cite this article
Silk, M.J., Hodgson, D.J. Life history and population regulation shape demographic competence and influence the maintenance of endemic disease. Nat Ecol Evol 5, 82–91 (2021). https://doi.org/10.1038/s41559-020-01333-8
Received:

Accepted:

Published:

Issue Date:

DOI: https://doi.org/10.1038/s41559-020-01333-8
This article is cited by
Candelaria Estavillo
Federico Weyland
Lorena Herrera

EcoHealth (2022)

Margaret W. Simon
Michael Barfield
Robert D. Holt

Theoretical Ecology (2022)

Matthew J. Silk
Nina H. Fefferman

Behavioral Ecology and Sociobiology (2021)