As a result of identity prejudice, certain individuals are more vulnerable to conflict and violence when they are in the field. It is paramount that all fieldworkers be informed of the risks some colleagues may face, so that they can define best practice together: here we recommend strategies to minimize risk for all individuals conducting fieldwork.
Access options
Subscribe to Journal
Get full journal access for 1 year
$99.00
only $8.25 per issue
All prices are NET prices.
VAT will be added later in the checkout.
Tax calculation will be finalised during checkout.
Rent or Buy article
Get time limited or full article access on ReadCube.
from$8.99
All prices are NET prices.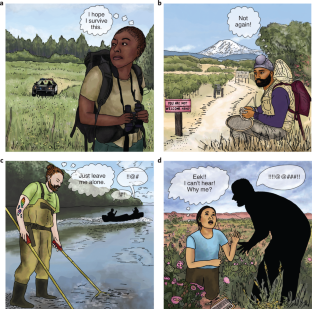 References
1.

Beltran, R. S. et al. Ecol. Evol. 10, 5184–5196 (2020).

2.

Gibbs Jr, K. Diversity in STEM: What it is and why it matters. Scientific American (10 September 2014).

3.

Plaut, V. C. Psychol. Inq. 21, 77–99 (2010).

4.

Nature 558, 5 (2018).

5.

AlShebli, B. K., Rahwan, T. & Woon, W. L. Nat. Commun. 9, 5163 (2018).

6.

Campbell, L. G., Mehtani, S., Dozier, M. E. & Rinehart, J. PLoS ONE 8, e79147 (2013).

7.

Nielsen, M. W. et al. Proc. Natl Acad. Sci. USA 114, 1740–1742 (2017).

8.

O'Brien, L. T., Bart, H. L. & Garcia, D. M. Soc. Psychol. Educ. 23, 449–477 (2020).

9.

Clancy, K. B. H., Nelson, R. G., Rutherford, J. N. & Hinde, K. PLoS ONE 9, e102172 (2014).

10.

McGuire, K. L., Primack, R. B. & Losos, E. C. BioScience 62, 189–196 (2012).

11.

Nelson, R. G., Rutherford, J. N., Hinde, K. & Clancy, K. B. H. Am. Anthropol. 119, 710–722 (2017).

12.

Pickrell, J. Scientists push against barriers to diversity in the field sciences. Science (11 March 2020).

13.

Barker, M. J. Innov. Educ. Teach. Int. 48, 387–400 (2011).

14.

Thomas, K. M., Willis, L. A. & Davis, J. Equal Opport. Int. 26, 178–192 (2007).

15.

Mehta, D. Nature 559, 153–154 (2018).

16.

Figueroa, J. L. & Rodriguez, G. M. N. Dir. High. Educ. 2015, 23–32 (2015).

17.

Loewen, J. W. Sundown Towns: A Hidden Dimension of American Racism (The New Press, 2005).
Acknowledgements
The universality of this document was accomplished with the help of numerous professionals of varying backgrounds and perspectives. We thank the faculty, students and professionals who have provided deeply considered feedback. Specifically, we thank the following individuals: S. Aguillon, L. Arcila Hernandez, K. Barker, S. Barve, A. Belasen, C. S. Buckler, D. Chang van Oordt, C. Chappell, M. Chatterjee, N. Chen, K. Covino, A. Darby, K. Eisen, D. Esparza, A. Flecker, M. Geber, S. Hejmadi, N. Hofmeister, K. Holmes, M. Howard, S. Kariuki, E. Lombardi, I. Lovette, A. K. Logan, H. Malik, C. McDonald, C. Miller, C. Mittan, C. Moreau, T. Ngyuen, K. Poveda, V. Ruiz, C. Specht, Y. H. Suh, S. Taylor, J. Uehling, J. Vanden Heuvel, E. Williams, M. Vitousek and S. Xayarath Hernandez. We also thank the following organizations: American Ornithological Society Diversity and Inclusion Committee, Black AF in STEM, Cornell Agricultural and Life Science Diversity and Inclusion Committee, and Cornell University Department of Ecology and Evolutionary Biology.
Ethics declarations
Competing interests
The authors declare no competing interests.
About this article
Cite this article
Demery, AJ.C., Pipkin, M.A. Safe fieldwork strategies for at-risk individuals, their supervisors and institutions. Nat Ecol Evol 5, 5–9 (2021). https://doi.org/10.1038/s41559-020-01328-5