Abstract
As a heritable sequence-specific adaptive immune system, CRISPR–Cas is a powerful force shaping strain diversity in host–virus systems. While the diversity of CRISPR alleles has been explored, the associated structure and dynamics of host–virus interactions have not. We explore the role of CRISPR in mediating the interplay between host–virus interaction structure and eco-evolutionary dynamics in a computational model and compare the results with three empirical datasets from natural systems. We show that the structure of the networks describing who infects whom and the degree to which strains are immune, are respectively modular (containing groups of hosts and viruses that interact strongly) and weighted-nested (specialist hosts are more susceptible to subsets of viruses that in turn also infect the more generalist hosts with many spacers matching many viruses). The dynamic interplay between these networks influences transitions between dynamical regimes of virus diversification and host control. The three empirical systems exhibit weighted-nested immunity networks, a pattern our theory shows is indicative of hosts able to suppress virus diversification. Previously missing from studies of microbial host–pathogen systems, the immunity network plays a key role in the coevolutionary dynamics.
Access options
Subscribe to Journal
Get full journal access for 1 year
$99.00
only $8.25 per issue
All prices are NET prices.
VAT will be added later in the checkout.
Tax calculation will be finalised during checkout.
Rent or Buy article
Get time limited or full article access on ReadCube.
from$8.99
All prices are NET prices.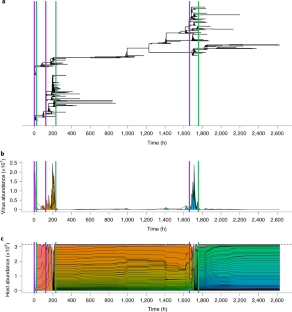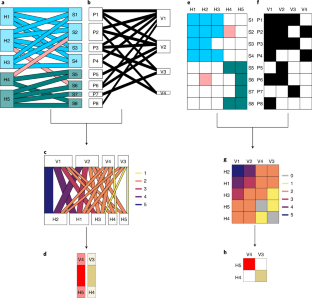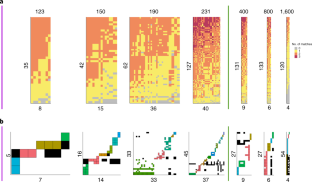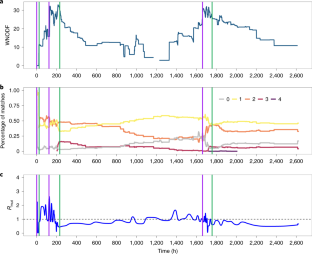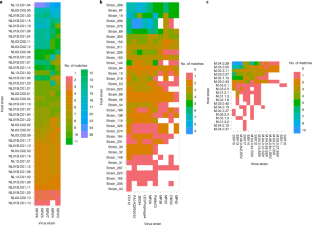 References
1.

Labrie, S. J., Samson, J. E. & Moineau, S. Bacteriophage resistance mechanisms. Nat. Rev. Microbiol. 8, 317–327 (2010).

2.

van Houte, S., Buckling, A. & Westra, E. R. Evolutionary ecology of prokaryotic immune mechanisms. Microbiol. Mol. Biol. Rev. 80, 745–763 (2016).

3.

Mayer, A., Mora, T., Rivoire, O. & Walczak, A. M. Diversity of immune strategies explained by adaptation to pathogen statistics. Proc. Natl Acad. Sci. USA 113, 8630–8635 (2016).

4.

Chevallereau, A., Meaden, S., van Houte, S., Westra, E. R. & Rollie, C. The effect of bacterial mutation rate on the evolution of CRISPR–Cas adaptive immunity. Philos. Trans. R. Soc. Lond. B 374, 20180094 (2019).

5.

Gurney, J., Pleška, M. & Levin, B. R. Why put up with immunity when there is resistance: an excursion into the population and evolutionary dynamics of restriction–modification and CRISPR–Cas. Philos. Trans. R. Soc. Lond. B 374, 20180096 (2019).

6.

Weitz, J. S. et al. Phage–bacteria infection networks. Trends Microbiol. 21, 82–91 (2013).

7.

Gurney, J. et al. Network structure and local adaptation in co-evolving bacteria-phage interactions. Mol. Ecol. 26, 1764–1777 (2017).

8.

Fortuna, M. A. et al. Coevolutionary dynamics shape the structure of bacteria-phage infection networks. Evolution 73, 1001–1011 (2019).

9.

Krasnov, B. R. et al. Phylogenetic signal in module composition and species connectivity in compartmentalized host-parasite networks. Am. Nat. 179, 501–511 (2012).

10.

Pilosof, S. et al. Host–parasite network structure is associated with community-level immunogenetic diversity. Nat. Commun. 5, 5172 (2014).

11.

Dallas, T. & Cornelius, E. Co-extinction in a host-parasite network: identifying key hosts for network stability. Sci. Rep. 5, 13185 (2015).

12.

Pilosof, S., Morand, S., Krasnov, B. R. & Nunn, C. L. Potential parasite transmission in multi-host networks based on parasite sharing. PLoS ONE 10, e0117909 (2015).

13.

Vázquez, D. P., Poulin, R., Krasnov, B. R. & Shenbrot, G. I. Species abundance and the distribution of specialization in host–parasite interaction networks. J. Anim. Ecol. 74, 946–955 (2005).

14.

Fortuna, M. A. et al. Nestedness versus modularity in ecological networks: two sides of the same coin? J. Anim. Ecol. 79, 811–817 (2010).

15.

Flores, C. O., Meyer, J. R., Valverde, S., Farr, L. & Weitz, J. S. Statistical structure of host–phage interactions. Proc. Natl Acad. Sci. USA 108, E288–E297 (2011).

16.

Beckett, S. J. & Williams, H. T. P. Coevolutionary diversification creates nested-modular structure in phage–bacteria interaction networks. Interface Focus 3, 20130033 (2013).

17.

He, Q. et al. Networks of genetic similarity reveal non-neutral processes shape strain structure in Plasmodium falciparum. Nat. Commun. 9, 1817 (2018).

18.

Pilosof, S. et al. Competition for hosts modulates vast antigenic diversity to generate persistent strain structure in plasmodium falciparum. PLoS Biol. 17, e3000336 (2019).

19.

van der Oost, J., Westra, E. R., Jackson, R. N. & Wiedenheft, B. Unravelling the structural and mechanistic basis of CRISPR–Cas systems. Nat. Rev. Microbiol. 12, 479–492 (2014).

20.

Childs, L. M., Held, N. L., Young, M. J., Whitaker, R. J. & Weitz, J. S. Multiscale model of CRISPR-induced coevolutionary dynamics: diversification at the interface of Lamarck and Darwin. Evolution 66, 2015–2029 (2012).

21.

Paez-Espino, D. et al. CRISPR immunity drives rapid phage genome evolution in Streptococcus thermophilus. mBio 6, e00262-15 (2015).

22.

van Houte, S. et al. The diversity-generating benefits of a prokaryotic adaptive immune system. Nature 532, 385–388 (2016).

23.

Daly, R. A. et al. Viruses control dominant bacteria colonizing the terrestrial deep biosphere after hydraulic fracturing. Nat. Microbiol. 4, 352–361 (2019).

24.

Pauly, M. D., Bautista, M. A., Black, J. A. & Whitaker, R. J. Diversified local CRISPR–Cas immunity to viruses of Sulfolobus islandicus. Philos. Trans. R. Soc. Lond. B 374, 20180093 (2019).

25.

Childs, L. M., England, W. E., Young, M. J., Weitz, J. S. & Whitaker, R. J. CRISPR-induced distributed immunity in microbial populations. PLoS ONE 9, e101710 (2014).

26.

Almeida-Neto, M. & Ulrich, W. A straightforward computational approach for measuring nestedness using quantitative matrices. Environ. Model. Softw. 26, 173–178 (2011).

27.

Held, N. L., Herrera, A., Cadillo-Quiroz, H. & Whitaker, R. J. CRISPR associated diversity within a population of Sulfolobus islandicus. PLoS ONE 5, e12988 (2010).

28.

England, W. E., Kim, T. & Whitaker, R. J. Metapopulation structure of CRISPR–Cas immunity in Pseudomonas aeruginosa and its viruses. mSystems 3, e00075-18 (2018).

29.

Marvig, R. L., Sommer, L. M., Molin, S. & Johansen, H. K. Convergent evolution and adaptation of Pseudomonas aeruginosa within patients with cystic fibrosis. Nat. Genet. 47, 57–64 (2015).

30.

Pirnay, J.-P. et al. Pseudomonas aeruginosa population structure revisited. PLoS ONE 4, e7740 (2009).

31.

Hall, A. R., Scanlan, P. D., Morgan, A. D. & Buckling, A. Host–parasite coevolutionary arms races give way to fluctuating selection. Ecol. Lett. 14, 635–642 (2011).

32.

Levin, B. R., Moineau, S., Bushman, M. & Barrangou, R. The population and evolutionary dynamics of phage and bacteria with CRISPR-mediated immunity. PLoS Genet. 9, e1003312 (2013).

33.

Koskella, B. & Brockhurst, M. A. Bacteria–phage coevolution as a driver of ecological and evolutionary processes in microbial communities. FEMS Microbiol. Rev. 38, 916–931 (2014).

34.

Weissman, J. L. et al. Immune loss as a driver of coexistence during host-phage coevolution. ISME J. 12, 585–597 (2018).

35.

Braga, L. P. P., Soucy, S. M., Amgarten, D. E., da Silva, A. M. & Setubal, J. C. Bacterial diversification in the light of the interactions with phages: the genetic symbionts and their role in ecological speciation. Front. Ecol. Evol. 6, 6 (2018).

36.

Fontaine, C. et al. The ecological and evolutionary implications of merging different types of networks. Ecol. Lett. 14, 1170–1181 (2011).

37.

Gupta, S. & Day, K. P. A strain theory of malaria transmission. Parasitol. Today 10, 476–481 (1994).

38.

Buckee, C. O., Recker, M., Watkins, E. R. & Gupta, S. Role of stochastic processes in maintaining discrete strain structure in antigenically diverse pathogen populations. Proc. Natl Acad. Sci. USA 108, 15504–15509 (2011).

39.

Artzy-Randrup, Y. et al. Population structuring of multi-copy, antigen-encoding genes in Plasmodium falciparum. eLife 1, e00093 (2012).

40.

Zinder, D., Bedford, T., Gupta, S. & Pascual, M. The roles of competition and mutation in shaping antigenic and genetic diversity in influenza. PLoS Pathog. 9, e1003104 (2013).

41.

Song, C., Rohr, R. P. & Saavedra, S. Why are some plant–pollinator networks more nested than others? J. Anim. Ecol. 86, 1417–1424 (2017).

42.

Chabas, H. et al. Evolutionary emergence of infectious diseases in heterogeneous host populations. PLoS Biol. 16, e2006738 (2018).

43.

Iranzo, J., Lobkovsky, A. E., Wolf, Y. I. & Koonin, E. V. Evolutionary dynamics of the prokaryotic adaptive immunity system CRISPR–Cas in an explicit ecological context. J. Bacteriol. 195, 3834–3844 (2013).

44.

Staniczenko, P. P. A., Kopp, J. C. & Allesina, S. The ghost of nestedness in ecological networks. Nat. Commun. 4, 1391 (2013).

45.

Rosvall, M. & Bergstrom, C. T. Maps of random walks on complex networks reveal community structure. Proc. Natl Acad. Sci. USA 105, 1118–1123 (2008).

46.

Rosvall, M., Axelsson, D. & Bergstrom, C. T. The map equation. Eur. Phys. J. Spec. Top. 178, 13–23 (2010).

47.

Farage, C., Edler, D., Eklöf, A., Rosvall, M. & Pilosof, S. A dynamical perspective to community detection in ecological networks. Preprint at bioRxiv https://www.biorxiv.org/content/10.1101/2020.04.14.040519v1 (2020).

48.

Newman, M. E. J. & Girvan, M. Finding and evaluating community structure in networks. Phys. Rev. E 69, 026113 (2004).

49.

Lancichinetti, A. & Fortunato, S. Community detection algorithms: a comparative analysis. Phys. Rev. E 80, 056117 (2009).

50.

Campbell, K. M. et al. Sulfolobus islandicus meta-populations in Yellowstone National Park hot springs. Environ. Microbiol. 19, 2334–2347 (2017).

51.

Bautista, M. A., Black, J. A., Youngblut, N. D. & Whitaker, R. J. Differentiation and structure in Sulfolobus islandicus rod-shaped virus populations. Viruses 9, 120 (2017).
Acknowledgements
We thank W. England and M. Pauly for data processing and collection and Q. He for guidance on the construction of the phylogenetic trees from the model outputs. R.W. acknowledges the support of the Cystic Fibrosis Foundation (no. CFF C2480) and an Allen Distinguished Investigator Award from the Allen Frontiers Institute. M.P. acknowledges the support of the University of Chicago. We are grateful for the access to the computer cluster of the Research Computing Center of the University of Chicago.
Ethics declarations
Competing interests
The authors declare no competing interests.
Additional information
Peer review information Peer reviewer reports are available.
Publisher's note Springer Nature remains neutral with regard to jurisdictional claims in published maps and institutional affiliations.
Supplementary information
Supplementary Tables 1–4, Methods and Notes.
About this article
Cite this article
Pilosof, S., Alcalá-Corona, S.A., Wang, T. et al. The network structure and eco-evolutionary dynamics of CRISPR-induced immune diversification. Nat Ecol Evol 4, 1650–1660 (2020). https://doi.org/10.1038/s41559-020-01312-z
Received:

Accepted:

Published:

Issue Date: