Abstract
Global biodiversity is undergoing rapid declines, driven in large part by changes to land use and climate. Global models help us to understand the consequences of environmental changes for biodiversity, but tend to neglect important geographical variation in the sensitivity of biodiversity to these changes. Here we test whether biodiversity responses to climate change and land-use change differ among biomes (geographical units that have marked differences in environment and species composition). We find the strongest negative responses to both pressures in tropical biomes and in the Mediterranean. A further analysis points towards similar underlying drivers for the sensitivity to each pressure: we find both greater reductions in species richness in the types of land use most disturbed by humans and more negative predicted responses to climate change in areas of lower climatic seasonality, and in areas where a greater proportion of species are near their upper temperature limit. Within the land most modified by humans, reductions in biodiversity were particularly large in regions where humans have come to dominate the land more recently. Our results will help to improve predictions of how biodiversity is likely to change with ongoing climatic and land-use changes, pointing toward particularly large declines in the tropics where much future agricultural expansion is expected to occur. This finding could help to inform the development of the post-2020 biodiversity framework, by highlighting the under-studied regions where biodiversity losses are likely to be greatest.
Relevant articles
Open Access articles citing this article.
W. C. Tan

,

A. Herrel

&

D. Rödder

Biodiversity and Conservation Open Access 08 January 2023

Maya M. Juman

,

Virginie Millien

…

Eric J. Sargis

Scientific Reports Open Access 29 November 2022

Britta Uhl

,

Mirko Wölfling

&

Claus Bässler

Scientific Reports Open Access 25 August 2022
Access options
Subscribe to Nature+
Get immediate online access to Nature and 55 other Nature journal
Subscribe to Journal
Get full journal access for 1 year
$119.00
only $9.92 per issue
All prices are NET prices.
VAT will be added later in the checkout.
Tax calculation will be finalised during checkout.
Buy article
Get time limited or full article access on ReadCube.
$32.00
All prices are NET prices.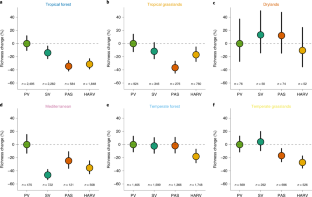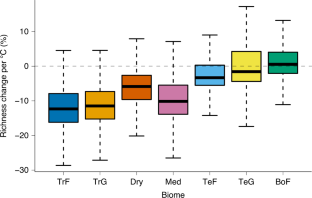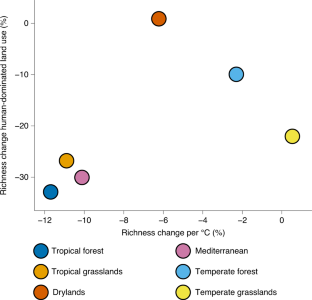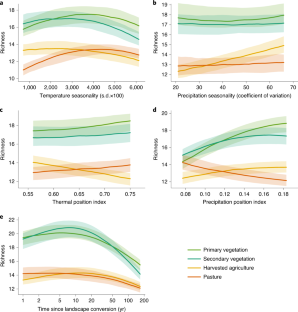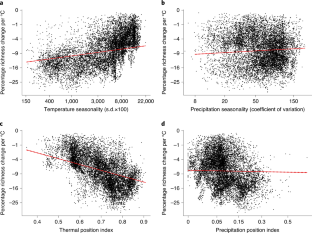 References
Newbold, T. et al. Global effects of land use on local terrestrial biodiversity. Nature 520, 45–50 (2015).

Grooten, M. & Almond, R. E. A. (eds) Living Planet Report ‒ 2018: Aiming Higher (WWF, 2018).

Hallmann, C. A. et al. More than 75 percent decline over 27 years in total flying insect biomass in protected areas. PLoS ONE 12, e0185809 (2017).

Soroye, P., Newbold, T. & Kerr, J. Climate change contributes to widespread declines among bumble bees across continents. Science 367, 685–688 (2020).

Tittensor, D. P. et al. A mid-term analysis of progress toward international biodiversity targets. Science 346, 241–244 (2014).

Newbold, T. et al. Climate and land-use change homogenise terrestrial biodiversity, with consequences for ecosystem functioning and human well-being. Emerg. Top. Life Sci. 3, 207–219 (2019).

Nicholson, E. et al. Scenarios and models to support global conservation targets. Trends Ecol. Evol. 34, 57–68 (2019).

Ferrier, S. et al. (eds) The Methodological Assessment Report on Scenarios and Models of Biodiversity and Ecosystem Services (Secretariat of the Intergovernmental Science-Policy Platform on Biodiversity and Ecosystem Services, 2016).

Newbold, T. Future effects of climate and land-use change on terrestrial vertebrate community diversity under different scenarios. Proc. R. Soc. B Biol. Sci. 285, 20180792 (2018).

Marshall, L. et al. The interplay of climate and land use change affects the distribution of EU bumblebees. Glob. Change Biol. 24, 101–116 (2018).

Meyer, C., Kreft, H., Guralnick, R. & Jetz, W. Global priorities for an effective information basis of biodiversity distributions. Nat. Commun. 6, 8221 (2015).

Visconti, P. et al. Projecting global biodiversity indicators under future development scenarios. Conserv. Lett. 9, 5–13 (2016).

Mace, G. M. et al. Aiming higher to bend the curve of biodiversity loss. Nat. Sustain. 1, 448–451 (2018).

Araújo, M. B., Alagador, D., Cabeza, M., Nogués-Bravo, D. & Thuiller, W. Climate change threatens European conservation areas. Ecol. Lett. 14, 484–492 (2011).

Pinsky, M. L., Eikeset, A. M., McCauley, D. J., Payne, J. L. & Sunday, J. M. Greater vulnerability to warming of marine versus terrestrial ectotherms. Nature 569, 108–111 (2019).

Alkemade, R. et al. GLOBIO3: a framework to investigate options for reducing global terrestrial biodiversity loss. Ecosystems 12, 374–390 (2009).

Martins, I. S. & Pereira, H. M. Improving extinction projections across scales and habitats using the countryside species-area relationship. Sci. Rep. 7, 12899 (2017).

Newbold, T. et al. Widespread winners and narrow-ranged losers: land use homogenizes biodiversity in local assemblages worldwide. PLoS Biol. 16, e2006841 (2018).

Blowes, S. A. et al. The geography of biodiversity change in marine and terrestrial assemblages. Science 366, 339–345 (2019).

Klein Goldewijk, K., Beusen, A., Van Drecht, G. & De Vos, M. The HYDE 3.1 spatially explicit database of human-induced global land-use change over the past 12,000 years. Glob. Ecol. Biogeogr. 20, 73–86 (2011).

Balmford, A. Extinction filters and current resilience: the significance of past selection pressures for conservation biology. Trends Ecol. Evol. 11, 193–196 (1996).

Stevens, G. C. The latitudinal gradient in geographic range: how so many species coexist in the tropics. Am. Nat. 133, 240–256 (1989).

Thuiller, W., Lavorel, S. & Araújo, M. B. Niche properties and geographical extent as predictors of species sensitivity to climate change. Glob. Ecol. Biogeogr. 14, 347–357 (2005).

Forister, M. L. et al. The global distribution of diet breadth in insect herbivores. Proc. Natl Acad. Sci. USA 112, 442–447 (2015).

Newbold, T. et al. Ecological traits affect the response of tropical forest bird species to land-use intensity. Proc. R. Soc. Lond. B Biol. Sci. 280, 20122131 (2013).

Rader, R., Bartomeus, I., Tylianakis, J. M. & Laliberté, E. The winners and losers of land use intensification: pollinator community disassembly is non-random and alters functional diversity. Divers. Distrib. 20, 908–917 (2014).

Pacifici, M. et al. Species' traits influenced their response to recent climate change. Nat. Clim. Change 7, 205–208 (2017).

Wiersma, P., Munoz-Garcia, A., Walker, A. & Williams, J. B. Tropical birds have a slow pace of life. Proc. Natl Acad. Sci. USA 104, 9340–9345 (2007).

Sunday, J. M. et al. Thermal-safety margins and the necessity of thermoregulatory behavior across latitude and elevation. Proc. Natl Acad. Sci. USA 111, 5610–5615 (2014).

Orme, C. D. L. et al. Distance to range edge determines sensitivity to deforestation. Nat. Ecol. Evol. 3, 886–891 (2019).

Frishkoff, L. O., Hadly, E. A. & Daily, G. C. Thermal niche predicts tolerance to habitat conversion in tropical amphibians and reptiles. Glob. Change Biol. 21, 3901–3916 (2015).

Frishkoff, L. O. et al. Climate change and habitat conversion favour the same species. Ecol. Lett. 19, 1081–1090 (2016).

Williams, J. J. & Newbold, T. Local climatic changes affect biodiversity responses to land use: a review. Divers. Distrib. 26, 76–92 (2020).

De Frenne, P. et al. Global buffering of temperatures under forest canopies. Nat. Ecol. Evol. 3, 744–749 (2019).

Williams, J. J., Bates, A. E. & Newbold, T. Human‐dominated land uses favour species affiliated with more extreme climates, especially in the tropics. Ecography 43, 391–405 (2020).

Janzen, D. H. Why mountain passes are higher in the tropics. Am. Nat. 101, 233–249 (1967).

Srinivasan, U., Elsen, P. R. & Wilcove, D. S. Annual temperature variation influences the vulnerability of montane bird communities to land‐use change. Ecography 42, 2084–2094 (2019).

Newbold, T. et al. Global patterns of terrestrial assemblage turnover within and among land uses. Ecography 39, 1151–1163 (2016).

Hillebrand, H. et al. Biodiversity change is uncoupled from species richness trends: consequences for conservation and monitoring. J. Appl. Ecol. 55, 169–184 (2018).

Hudson, L. N. et al. The database of the PREDICTS (Projecting Responses of Ecological Diversity In Changing Terrestrial Systems) project. Ecol. Evol. 7, 145–188 (2017).

Chen, I.-C., Hill, J. K., Ohlemuller, R., Roy, D. B. & Thomas, C. D. Rapid range shifts of species associated with high levels of climate warming. Science 333, 1024–1026 (2011).

Senior, R. A., Hill, J. K., González del Pliego, P., Goode, L. K. & Edwards, D. P. A. Pantropical analysis of the impacts of forest degradation and conversion on local temperature. Ecol. Evol. 7, 7897–7908 (2017).

Trenberth, K. E. Changes in precipitation with climate change. Clim. Res. 47, 123–138 (2011).

Fu, B., Wang, J., Chen, L. & Qiu, Y. The effects of land use on soil moisture variation in the Danangou catchment of the Loess Plateau, China. Catena 54, 197–213 (2003).

Hurtt, G. C. et al. Harmonization of land-use scenarios for the period 1500–2100: 600 years of global gridded annual land-use transitions, wood harvest, and resulting secondary lands. Clim. Change 109, 117–161 (2011).

Mora, C. et al. The projected timing of climate departure from recent variability. Nature 502, 183–187 (2013).

García-Vega, D. & Newbold, T. Assessing the effects of land use on biodiversity in the world's drylands and Mediterranean environments. Biodivers. Conserv. 29, 393–408 (2020).

Jenkins, C. N., Pimm, S. L. & Joppa, L. N. Global patterns of terrestrial vertebrate diversity and conservation. Proc. Natl Acad. Sci. USA 110, E2602–E2610 (2013).

Myers, N., Mittermeier, R. A., Mittermeier, C. G., Da Fonseca, G. A. B. & Kent, J. Biodiversity hotspots for conservation priorities. Nature 403, 853–858 (2000).

Dornelas, M. et al. BioTIME: A database of biodiversity time series for the Anthropocene. Glob. Ecol. Biogeogr. 27, 760–786 (2018).

Pearson, R. G. & Dawson, T. P. Predicting the impacts of climate change on the distribution of species: are bioclimate envelope models useful? Glob. Ecol. Biogeogr. 12, 361–371 (2003).

Newbold, T., Sanchez-Ortiz, K., De Palma, A., Hill, S. L. L. & Purvis, A. Reply to 'The biodiversity intactness index may underestimate losses'. Nat. Ecol. Evol. 3, 864–865 (2019).

Roslin, T. et al. Higher predation risk for insect prey at low latitudes and elevations. Science 356, 742–744 (2017).

The IUCN Red List of Threatened Species Version 2013.7 (IUCN, 2013); http://www.iucnredlist.org/

Bird Species Distribution Maps of the World Version 2.0 (BirdLife International & NatureServe, 2012); http://www.birdlife.org/datazone/info/spcdownload

Hudson, L. N. et al. The PREDICTS database: a global database of how local terrestrial biodiversity responds to human impacts. Ecol. Evol. 4, 4701–4735 (2014).

Zero Draft of the Post-2020 Global Biodiversity Framework Resolution CBD/WG2020/2/3 (Convention on Biological Diversity, 2020).

Holt, B. G. et al. An update of Wallace's zoogeographic regions of the world. Science 339, 74–78 (2013).

Kissling, W. D., Sekercioglu, C. H. & Jetz, W. Bird dietary guild richness across latitudes, environments and biogeographic regions. Glob. Ecol. Biogeogr. 21, 328–340 (2012).

Smith, J. R. et al. A global test of ecoregions. Nat. Ecol. Evol. 2, 1889–1896 (2018).

Dinerstein, E. et al. An ecoregion-based approach to protecting half the terrestrial realm. BioScience 67, 534–545 (2017).

Terrestrial Ecoregions of the World (The Nature Conservancy, 2009); http://maps.tnc.org/gis_data.html

Hudson, L. N. et al. Dataset: The 2016 Release of the PREDICTS Database (Natural History Museum Data Portal, 2016); https://doi.org/10.5519/0066354

Powers, R. P. & Jetz, W. Global habitat loss and extinction risk of terrestrial vertebrates under future land-use-change scenarios. Nat. Clim. Change 9, 323–329 (2019).

Bolker, B. M. et al. Generalized linear mixed models: a practical guide for ecology and evolution. Trends Ecol. Evol. 24, 127–135 (2008).

Rigby, R. A., Stasinopoulos, D. M. & Akantziliotou, C. A framework for modelling overdispersed count data, including the Poisson-shifted generalized inverse Gaussian distribution. Comput. Stat. Data Anal. 53, 381–393 (2008).

Herkt, K. M. B., Skidmore, A. K. & Fahr, J. Macroecological conclusions based on IUCN expert maps: a call for caution. Glob. Ecol. Biogeogr. 26, 930–941 (2017).

Van Vuuren, D. P. et al. The representative concentration pathways: an overview. Clim. Change 109, 5–31 (2011).

Hijmans, R. J., Cameron, S. E., Parra, J. L., Jones, P. G. & Jarvis, A. Very high resolution interpolated climate surfaces for global land areas. Int. J. Climatol. 25, 1965–1978 (2005).

Andrén, H. Effects of habitat fragmentation on birds and mammals in landscapes with different proportions of suitable habitat: a review. Oikos 71, 355–366 (1994).

Bivand, R. & Wong, D. W. S. Comparing implementations of global and local indicators of spatial association. TEST 27, 716–748 (2018).
Acknowledgements
This work was supported by a Royal Society University Research Fellowship to T.N. J.J.W. and A.E. were supported by research grants from the Royal Society, awarded to T.N.
Ethics declarations
Competing interests
The authors declare no competing interests.
Additional information
Peer review information Peer reviewer reports are available.
Publisher's note Springer Nature remains neutral with regard to jurisdictional claims in published maps and institutional affiliations.
Supplementary information
About this article
Cite this article
Newbold, T., Oppenheimer, P., Etard, A. et al. Tropical and Mediterranean biodiversity is disproportionately sensitive to land-use and climate change. Nat Ecol Evol 4, 1630–1638 (2020). https://doi.org/10.1038/s41559-020-01303-0
Received:

Accepted:

Published:

Issue Date:

DOI: https://doi.org/10.1038/s41559-020-01303-0