Abstract
The Green Revolution is credited with alleviating famine, mitigating poverty and driving aggregate economic growth since the 1960s. In Asia, high-input technology packages secured a tripling of rice output, with germplasm improvements providing benefits beyond US$4.3 billion yr–1. Here, we unveil the magnitude and macro-economic relevance of parallel nature-based contributions to productivity growth in non-rice crops over the period 1918–2018 (across 23 different Asia–Pacific geopolitical entities). We empirically demonstrate how biological control resolved invasive pest threats in multiple agricultural commodities, ensuring annually accruing (on-farm) benefits of US$14.6–19.5 billion yr–1. Scientifically guided biological control of 43 exotic invertebrate pests permitted 73–100% yield-loss recovery in critical food, feed and fibre crops including banana, breadfruit, cassava and coconut. Biological control thereby promoted rural growth and prosperity even in marginal, poorly endowed, non-rice environments. By placing agro-ecological innovations on equal footing with input-intensive measures, our work provides lessons for future efforts to mitigate invasive species, restore ecological resilience and sustainably raise output of global agrifood systems.
Relevant articles
Open Access articles citing this article.
Kris A. G. Wyckhuys

,

Fiona H. M. Tang

&

Buyung A. R. Hadi

Communications Earth & Environment Open Access 22 June 2023

Boddupalli M. Prasanna

,

Monica Carvajal-Yepes

…

Xenina Ibabao

Food Security Open Access 22 June 2022

Jean-Philippe Deguine

,

Jean-Noël Aubertot

…

Alain Ratnadass

Agronomy for Sustainable Development Open Access 11 May 2021
Access options
Access Nature and 54 other Nature Portfolio journals
Get Nature+, our best-value online-access subscription
$29.99 / 30 days
cancel any time
Subscribe to this journal
Receive 12 digital issues and online access to articles
$119.00 per year
only $9.92 per issue
Rent or buy this article
Prices vary by article type
from$1.95
to$39.95
Prices may be subject to local taxes which are calculated during checkout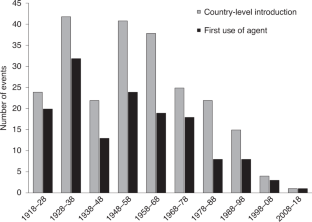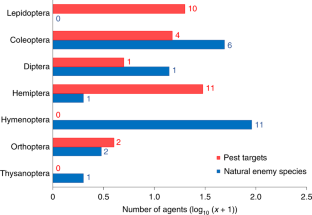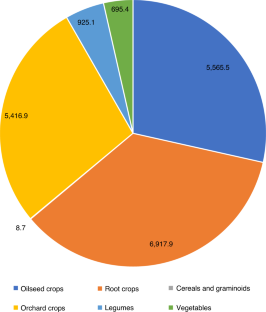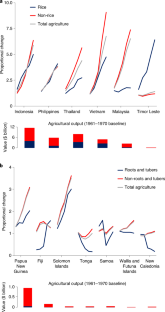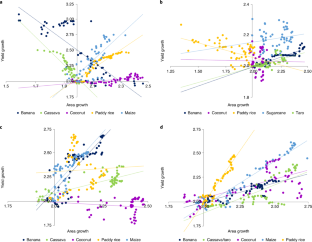 References
Griggs, D. et al. Policy: sustainable development goals for people and planet. Nature 495, 305–307 (2013).

Bernhardt, E. S., Rosi, E. J. & Gessner, M. O. Synthetic chemicals as agents of global change. Front. Ecol. Environ. 15, 84–90 (2017).

Springmann, M. et al. Options for keeping the food system within environmental limits. Nature 562, 519–525 (2018).

Pretty, J. et al. Global assessment of agricultural system redesign for sustainable intensification. Nat. Sustain. 1, 441–446 (2018).

Rockström, J. et al. A safe operating space for humanity. Nature 461, 472–475 (2009).

Alston, J. M. & Pardey, P. G. Agriculture in the global economy. J. Econ. Perspect. 28, 121–146 (2014).

Johnston, B. F. & Mellor, J. W. The role of agriculture in economic development. Am. Econ. Rev. 51, 566–593 (1961).

de Janvry, A. Agriculture for development: new paradigm and options for success. Agric. Econ. 41, 17–36 (2010).

Pingali, P. L. Green revolution: impacts, limits, and the path ahead. Proc. Natl. Acad. Sci. USA 109, 12302–12308 (2012).

Sayer, J. & Cassman, K. G. Agricultural innovation to protect the environment. Proc. Natl Acad. Sci. USA 110, 8345–8348 (2013).

Bale, J. S., Van Lenteren, J. C. & Bigler, F. Biological control and sustainable food production. Phil. Trans. R. Soc. B 363, 761–776 (2008).

Naranjo, S. E., Ellsworth, P. C. & Frisvold, G. B. Economic value of biological control in integrated pest management of managed plant systems. Annu. Rev. Entomol. 60, 621–645 (2015).

Heimpel, G. E. & Cock, M. J. W. Shifting paradigms in the history of classical biological control. BioControl 63, 27–37 (2018).

Simmonds, F. J., Franz, J. M., & Sailer, R. I. in Theory and Practice of Biological Control (eds Huffaker, C. B. & Messenger, P. S.) 17–39 (Academic Press, 1976).

Maredia, M. K. & Raitzer, D. A. Estimating overall returns to international agricultural research in Africa through benefit–cost analysis: a "best‐evidence" approach. Agric. Econ. 41, 81–100 (2010).

Nghiem, L. T. et al. Economic and environmental impacts of harmful non-indigenous species in Southeast Asia. PLoS ONE 8, e71255 (2013).

Bradshaw, C. J. et al. Massive yet grossly underestimated global costs of invasive insects. Nat. Commun. 7, 12986 (2016).

Huffaker, C. B. & Caltagirone, L. E. The impact of biological control on the development of the Pacific. Agric. Ecosyst. Environ. 15, 95–107 (1986).

Waterhouse, D. F., Dillon, B. & Vincent, D. P. Economic Benefits to Papua New Guinea and Australia from the Biological Control of Banana Skipper (Erionota thrax) No. 434-2016-33658 (ACIAR, 1998).

DeBach, P. & Rosen, D. Biological Control by Natural Enemies (Cambridge Univ. Press, 1991).

Heimpel, G. E. & Mills, N. J. Biological Control (Cambridge Univ. Press, 2017).

Spennemann, D. H. Introduction of coccinellid beetles to control the coconut scale insect Aspidiotus destructor Signoret in Micronesia 1901–1914. Oriental Insects 54, 197–215 (2019).

Zalucki, M. P. et al. Estimating the economic cost of one of the world's major insect pests, Plutella xylostella (Lepidoptera: Plutellidae): just how long is a piece of string? J. Econ. Entomol. 105, 1115–1129 (2012).

Hoddle, M. S. Restoring balance: using exotic species to control invasive exotic species. Conserv. Biol. 18, 38–49 (2004).

Van Driesche, R. G. et al. Classical biological control for the protection of natural ecosystems. Biol. Control 54, S2–S33 (2010).

Ricciardi, A., Palmer, M. E. & Yan, N. D. Should biological invasions be managed as natural disasters? BioScience 61, 312–317 (2011).

Bellard, C. et al. A global picture of biological invasion threat on islands. Nat. Ecol. Evol. 1, 1862–1869 (2017).

Naranjo, S. E., Frisvold, G. B. & Ellsworth, P. C. in The Economics of Integrated Pest Management of Insects (eds Onstad, D. W. & Crain, P. R.) 49–85 (CAB International, 2019).

Liu, J. et al. Systems integration for global sustainability. Science 347, 1258832 (2015).

Gordon, L. J. et al. Rewiring food systems to enhance human health and biosphere stewardship. Environ. Res. Lett. 12, 100201 (2017).

Ruttan, V. W. Productivity growth in world agriculture: sources and constraints. J. Econ. Perspect. 16, 161–184 (2002).

Ruttan, V. W. & Hayami, Y. in International Agricultural Development (eds Eicher, C. K. & Staatz, J. M.) Ch. 10 (Johns Hopkins Univ. Press, 1998).

Dainese, M. et al. A global synthesis reveals biodiversity-mediated benefits for crop production. Sci. Adv. 5, eaax012 (2019).

Keane, R. M. & Crawley, M. J. Exotic plant invasions and the enemy release hypothesis. Trends Ecol. Evol. 17, 164–170 (2002).

Thancharoen, A. et al. Effective biological control of an invasive mealybug pest enhances root yield in cassava. J. Pest Sci. 91, 1199–1211 (2018).

Raitzer, D. A. & Kelley, T. G. Benefit–cost meta-analysis of investment in the International Agricultural Research Centers of the CGIAR. Agric. Syst. 96, 108–123 (2008).

van der Ploeg, J. D. et al. The economic potential of agroecology: empirical evidence from Europe. J. Rural Stud. 71, 46–61 (2019).

Haggblade, S., Hazell, P. B. & Dorosh, P. A. in Transforming the Rural Nonfarm Economy: Opportunities and Threats in the Developing World (eds Haggblade, S. et al.) Ch. 7 (IFPRI, 2007).

Wiggins, S., Kirsten, J. & Llambí, L. The future of small farms. World Dev. 38, 1341–1348 (2010).

Timmer, P. C. in International Agricultural Development (eds Eicher, C. K. & Staatz, J. M.) Ch. 32 (Johns Hopkins Univ. Press, 1998).

Folke, C. et al. Transnational corporations and the challenge of biosphere stewardship. Nat. Ecol. Evol. 3, 1396–1403 (2019).

Yletyinen, J. et al. Understanding and managing social-ecological tipping points in primary industries. BioScience 69, 335–347 (2019).

Bottrell, D. G. & Schoenly, K. G. Resurrecting the ghost of green revolutions past: the brown planthopper as a recurring threat to high-yielding rice production in tropical Asia. J. Asia-Pacific Entomol. 15, 122–140 (2012).

Cock, M. J. W. et al. Trends in the classical biological control of insect pests by insects: an update of the BIOCAT database. Biocontrol 61, 349–363 (2016).

Reardon, T. The hidden middle: the quiet revolution in the midstream of agrifood value chains in developing countries. Oxford Rev. Econ. Policy 31, 45–63 (2015).

Wyckhuys, K. A. G. Biological control of an invasive pest eases pressures on global commodity markets. Environ. Res. Lett. 13, 094005 (2018).

Martin, E. A. et al. Assessing the resilience of 2 biodiversity-driven functions in agroecosystems under environmental change. Adv. Ecol. Res. 60, 59–123 (2019).

Warner, K. D. et al. The decline of public interest agricultural science and the dubious future of crop biological control in California. Agric. Human Values 28, 483–496 (2011).

Benelli, G., Jeffries, C. L. & Walker, T. Biological control of mosquito vectors: past, present, and future. Insects 7, 52 (2016).

Dangour, A. D., Mace, G. & Shankar, B. Food systems, nutrition, health and the environment. Lancet Planet. Health 1, e8–e9 (2017).

Rasmussen, L. V. et al. Social-ecological outcomes of agricultural intensification. Nat. Sustain. 1, 275–282 (2018).

Henneman, M. L. & Memmott, J. Infiltration of a Hawaiian community by introduced biological control agents. Science 293, 1314–1316 (2001).

Stiling, P. & Cornelissen, T. What makes a successful biocontrol agent? A meta-analysis of biological control agent performance. Biol. Control 34, 236–246 (2005).

Sparger, J. A. et al. Is the share of agricultural maintenance research rising in the United States? Food Policy 38, 126–135 (2013).

Trewavas, A. Malthus foiled again and again. Nature 418, 668–670 (2002).

Greathead, D. J. & Greathead, A. H. Biological control of insect pests by insect parasitoids and predators: the BIOCAT database. Biocontrol News Inf. 13, 61N–68N (1992).

Wyckhuys, K. A. G. et al. Data from: Ecological pest control fortifies agricultural growth in Asia-Pacific economies (Dryad Digital Repository, 2020); https://doi.org/10.5061/dryad.547d7wm45

Zeddies, J., Schaab, R. P., Neuenschwander, P. & Herren, H. R. Economics of biological control of cassava mealybug in Africa. Agric. Econ. 24, 209–219 (2001).

Hayami, Y. & Ruttan, V. W. Agricultural Development: An International Perspective (Johns Hopkins Univ. Press, 1971).
Acknowledgements
The development of this manuscript and its underlying research were partially funded through the Australian Centre for International Agricultural Research (ACIAR) HORT/2016/185. This work also received funding through the National Natural Science Foundation of China (grant no. 31701798) and the Key R&D plan of Zhejiang Province (grant no. 2018C04G2011264). The maintenance of BIOCAT, FEW and MC inputs were supported by the CABI Development Fund (comprising contributions from ACIAR, the UK Department for International Development, the Swiss Agency for Development and Cooperation and others). CABI is an international intergovernmental organization and gratefully acknowledges the core financial support from its member countries; see https://www.cabi.org for details.
Ethics declarations
Competing interests
K.A.G.W. is chief executive officer of Chrysalis Consulting, a firm that provides tailored support to biological control and biodiversity-friendly agriculture initiatives. The other authors declare no competing interests.
Additional information
Peer review information Peer reviewer reports are available.
Publisher's note Springer Nature remains neutral with regard to jurisdictional claims in published maps and institutional affiliations.
Supplementary information
Supplementary Fig. 1 and references.
About this article
Cite this article
Wyckhuys, K.A.G., Lu, Y., Zhou, W. et al. Ecological pest control fortifies agricultural growth in Asia–Pacific economies. Nat Ecol Evol 4, 1522–1530 (2020). https://doi.org/10.1038/s41559-020-01294-y
Received:

Accepted:

Published:

Issue Date:

DOI: https://doi.org/10.1038/s41559-020-01294-y