Abstract
Endochondral bone is the main internal skeletal tissue of nearly all osteichthyans—the group comprising more than 60,000 living species of bony fishes and tetrapods. Chondrichthyans (sharks and their kin) are the living sister group of osteichthyans and have primarily cartilaginous endoskeletons, long considered the ancestral condition for all jawed vertebrates (gnathostomes). The absence of bone in modern jawless fishes and the absence of endochondral ossification in early fossil gnathostomes appear to lend support to this conclusion. Here we report the discovery of extensive endochondral bone in Minjinia turgenensis, a new genus and species of 'placoderm'-like fish from the Early Devonian (Pragian) of western Mongolia described using X-ray computed microtomography. The fossil consists of a partial skull roof and braincase with anatomical details providing strong evidence of placement in the gnathostome stem group. However, its endochondral space is filled with an extensive network of fine trabeculae resembling the endochondral bone of osteichthyans. Phylogenetic analyses place this new taxon as a proximate sister group of the gnathostome crown. These results provide direct support for theories of generalized bone loss in chondrichthyans. Furthermore, they revive theories of a phylogenetically deeper origin of endochondral bone and its absence in chondrichthyans as a secondary condition.
Relevant articles
Open Access articles citing this article.
Melina Jobbins

,

Martin Rücklin

…

Christian Klug

Swiss Journal of Palaeontology Open Access 14 January 2021
Access options
Subscribe to Nature+
Get immediate online access to Nature and 55 other Nature journal
Subscribe to Journal
Get full journal access for 1 year
$119.00
only $9.92 per issue
All prices are NET prices.
VAT will be added later in the checkout.
Tax calculation will be finalised during checkout.
Buy article
Get time limited or full article access on ReadCube.
$32.00
All prices are NET prices.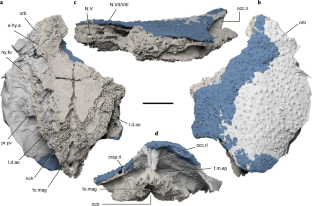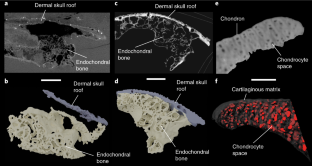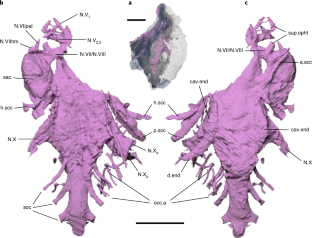 References
Hall, B. K. Bones and Cartilage (Academic, 2005).

Janvier, P. Early Vertebrates (Oxford Univ. Press, 1996).

Donoghue, P. C. J., Sansom, I. & Downs, J. P. Early evolution of vertebrate skeletal tissues and cellular interactions, and the canalization of skeletal development. J. Exp. Zool. 306B, 278–294 (2006).

Rosen, D. E., Forey, P. L., Gardiner, B. G. & Patterson, C. Lungfishes, tetrapods, paleontology, and plesiomorphy. Bull. Am. Mus. Nat. Hist. 167, 159–276 (1981).

Gardiner, B. G. The relationships of the palaeoniscid fishes, a review based on new specimens of Mimia and Moythomasia from Upper Devonian of Western Australia. Bull. Br. Mus. Nat. Hist. Geol. 37, 173–428 (1984).

Maisey, J. G. Heads and tails: a chordate phylogeny. Cladistics 2, 201–256 (1986).

Friedman, M. & Brazeau, M. A reappraisal of the origin and basal radiation of the Osteichthyes. J. Vertebr. Paleontol. 30, 36–56 (2010).

Maisey, J. G., Denton, J. S. S., Burrow, C. & Pradel, A. Architectural and ultrastructural features of tessellated calcified cartilage in modern and extinct chondrichthyan fishes. J. Fish Biol. https://doi.org/10.1111/jfb.14376 (2020).

Wang, N.-Z., Donoghue, P. C. J., Smith, M. M. & Sansom, I. Histology of the galeaspid dermoskeleton and endoskeleton, and the origin and early evolution of the vertebrate cranial endoskeleton. J. Vertebr. Paleontol. 25, 745–756 (2005).

Karatajūtė-Talimaa, V. & Novitskaya, L. Sodolepis—a new representative of Mongolepidida (Chondrichthyes?) from the lower Silurian of Mongolia. Paleontol. Zh. 5, 96–103 (1997).

Karatajūtė-Talimaa, V. & Novitskaya, L. Teslepis—a new representative of mongolepid elasmobranchs from the Lower Silurian of Mongolia. Paleontol. Zh. 4, 36–43 (1992).

Karatajūtė-Talimaa, V., Novitskaya, L. & Rozman, K. S. Mongolepis—a new lower Silurian genus of elasmobranchs from Mongolia. Paleontol. Zh. 1, 76–86 (1990).

Andreev, P. et al. The systematics of the Mongolepidida (Chondrichthyes) and the Ordovician origins of the clade. PeerJ 4, e1850 (2016).

Vorobjeva, E. I. & Janvier, P. Observations to the note by E Vorobjeva: 'First discovery of Palaeozoic fishes on the territory of the Mongolian Republic'. Geobios 17, 379–380 (1984).

Gegenbaur, C. Grundriss der vergleichenden Anatomie (Wilhelm Engelmann, 1874).

Alekseeva, R. E., Mendbayar, B. & Erlanger, O. A. Brachiopods and Biostratigraphy of the Lower Devonian of Mongolia (Nauka, 1981).

Alekseeva, R. E. Devonian Biostratigraphy of Mongolia (Nauka, 1993).

Mark-Kurik, E. in Morphology, Phylogeny and Paleobiogeography of Fossil Fishes (eds Elliott, D. K. et al.) 101–106 (Verlag Dr. Friedrich Pfeil, 2010).

Ørvig, T. Description, with special reference to the dermal skeleton, of a new radotinid arthrodire from the Gedinnian of Arctic Canada. Colloq. Int. Cent. Natl Rech. Sci. 218, 43–71 (1975).

Olive, S., Goujet, D., Lelièvre, H. & Janjou, D. A new Placoderm fish (Acanthothoraci) from the Early Devonian Jauf Formation (Saudi Arabia). Geodiversitas 33, 393–409 (2011).

Wängsjö, G. The Downtonian and Devonian vertebrates of Spitsbergen. IX. Norsk Polarinstitutt Skrifter 97, 1–611 (1952).

Charest, F., Johanson, Z. & Cloutier, R. Loss in the making: absence of pelvic fins and presence of paedomorphic pelvic girdles in a Late Devonian antiarch placoderm (jawed stem-gnathostome). Biol. Lett. 14, 20180199 (2018).

Dupret, V., Sanchez, S., Goujet, D. & Ahlberg, P. E. The internal cranial anatomy of Romundina stellina Ørvig, 1975 (Vertebrata, Placodermi, Acanthothoraci) and the origin of jawed vertebrates—anatomical atlas of a primitive gnathostome. PLoS ONE 12, e0171241 (2017).

Stensiö, E. A. La cavité labyrinthique, l'ossification sclérotique et l'orbite de Jagorina. Colloq. Int. Cent. Natl Rech. Sci. 21, 9–43 (1950).

Stensiö, E. A. Anatomical studies on the arthrodiran head. K. Sven. Vetenskapsakad. Handl. 9, 1–419 (1963).

Goujet, D. Les Poissons Placodermes du Spitsberg (Cahiers de Paléontologie, Editions du CNRS, 1984).

Davis, S. P., Finarelli, J. A. & Coates, M. I. Acanthodes and shark-like conditions in the last common ancestor of modern gnathostomes. Nature 486, 247–250 (2012).

Castiello, M. & Brazeau, M. D. Neurocranial anatomy of the petalichthyid placoderm Shearsbyaspis oepiki Young revealed by X‐ray computed microtomography. Palaeontology 61, 369–389 (2018).

Rosa, B. B., Melo, G. A. R. & Barbeitos, M. S. Homoplasy-based partitioning outperforms alternatives in Bayesian analysis of discrete morphological data. Syst. Biol. 54, 373 (2019).

Brazeau, M. D. & Friedman, M. The characters of Palaeozoic jawed vertebrates. Zool. J. Linn. Soc. 170, 779–821 (2014).

Zhu, M. et al. A Silurian placoderm with osteichthyan-like marginal jaw bones. Nature 502, 188–193 (2013).

Giles, S., Friedman, M. & Brazeau, M. D. Osteichthyan-like cranial conditions in an Early Devonian stem gnathostome. Nature 520, 82–85 (2015).

Miles, R. S. in Interrelationships of Fishes (eds Greenwood, P. H. et al.) 63–103 (Academic, 1973).

Zhu, M. Bone gain and loss: insights from genomes and fossils. Natl Sci. Rev. 1, 490–492 (2014).

Janvier, P. Les Céphalaspides du Spitsberg (Éditions du CNRS, 1985).

Ørvig, T. Histologic studies of placoderms and fossil elasmobranchs. Arkiv för Zoologi 2, 321–454 (1951).

Young, G. C. New information on the structure and relationships of Buchanosteus (Placodermi: Euarthrodira) from the Early Devonian of New South Wales. Zool. J. Linn. Soc. 66, 309–352 (1979).

Miles, R. S. & Young, G. C. in Problems in Vertebrate Evolution (eds Andrews, S. M. et al.) 123–198 (Academic, 1977).

Stensiö, E. A. On the head of the macropetalichthyids. Field Mus. Nat. Hist. Publ. Geol. Ser. 4, 87–197 (1925).

Ørvig, T. Notes on some paleozoic lower vertebrates from Spitsbergen and North America. Nor. Geol. Tidsskr. 37, 285–353 (1957).

Sansom, R. Phylogeny, classification and character polarity of the Osteostraci (Vertebrata). J. Syst. Palaeontol. 7, 95–115 (2009).

Schaeffer, B. The braincase of the holostean fish Macrepistius, with comments on neurocranial ossification in the Actinopterygii. American Museum Novitates 2459, 1–34 (1971).

Watson, D. M. S. The acanthodian fishes. Phil. Trans. R. Soc. Lond. B 228, 49–146 (1937).

Burrow, C. J., Davidson, R. G., Blaauwen, den, J. L. & Newman, M. J. Revision of Climatius reticulatus Agassiz, 1844 (Acanthodii, Climatiidae), from the Lower Devonian of Scotland, based on new histological and morphological data. J. Vertebr. Paleontol. 35, e913421 (2015).

Dean, M. N., Socha, J. J., Hall, B. K. & Summers, A. P. Canaliculi in the tessellated skeleton of cartilaginous fishes. J. Appl. Ichthyol. 26, 263–267 (2010).

Atake, O. J., Cooper, D. M. L. & Eames, B. F. Bone-like features in skate suggest a novel elasmobranch synapomorphy and deep homology of trabecular mineralization patterns. Acta Biomater. 84, 424–436 (2019).

Pearson, D. M. & Westoll, T. S. The Devonian actinopterygian Cheirolepis Agassiz. Earth Environ. Sci. Trans. R. Soc. Edinb. 70, 337–399 (1979).

Giles, S. et al. Endoskeletal structure in Cheirolepis (Osteichthyes, Actinopterygii), an early ray‐finned fish. Palaeontology 58, 849–870 (2015).

Cloutier, R. in Devonian Fishes and Plants (eds Schultze, H.-P. & Cloutier, R.) 227–247 (Verlag Dr. Friedrich Pfeil, 1996).

Grande, L. & Bemis, W. E. Osteology and phylogenetic relationships of fossil and recent paddlefishes (Polyodontidae) with comments on the interrelationships of Acipenseriformes. J. Vertebr. Paleontol. Suppl. 11 (Suppl. 1), 1–121 (1991).

Eames, B. F. et al. Skeletogenesis in the swell shark Cephaloscyllium ventriosum. J. Anat. 210, 542–554 (2007).

Venkatesh, B. et al. Elephant shark genome provides unique insights into gnathostome evolution. Nature 505, 174–179 (2014).

Ryll, B., Sanchez, S., Haitina, T., Tafforeau, P. & Ahlberg, P. E. The genome of Callorhinchus and the fossil record: a new perspective on SCPP gene evolution in gnathostomes. Evol. Dev. 16, 123–124 (2014).

Marconi, A., Hancock-Ronemus, A. & Gillis, J. A. Adult chondrogenesis and spontaneous cartilage repair in the skate, Leucoraja erinacea. eLife Sci. 9, 2813 (2020).

King, B., Qiao, T., Lee, M. S. Y., Zhu, M. & Long, J. A. Bayesian morphological clock methods resurrect placoderm monophyly and reveal rapid early evolution in jawed vertebrates. Syst. Biol. 66, 499–516 (2016).

Clement, A. M. et al. Neurocranial anatomy of an enigmatic Early Devonian fish sheds light on early osteichthyan evolution. eLife Sci. 7, e34349 (2018).

Goloboff, P. A. & Catalano, S. A. TNT version 1.5, including a full implementation of phylogenetic morphometrics. Cladistics 32, 221–238 (2016).

Ronquist, F. & Huelsenbeck, J. P. MrBayes 3: Bayesian phylogenetic inference under mixed models. Bioinformatics 19, 1572–1574 (2003).

Lewis, P. O. A likelihood approach to estimating phylogeny from discrete morphological character data. Syst. Biol. 50, 913–925 (2001).

Rambaut, A., Drummond, A. J., Xie, D., Baele, G. & Suchard, M. A. Posterior summarization in Bayesian phylogenetics using Tracer 1.7. Syst. Biol. 67, 901–904 (2018).

R: A Language and Environment for Statistical Computing (R Foundation for Statistical Computing, 2019).

Maddison, W. P. and Maddison, D. R. Mesquite: a modular system for evolutionary analysis. Version 3.61 http://www.mesquiteproject.org (2019)

Louca, S. & Doebeli, M. Efficient comparative phylogenetics on large trees. Bioinformatics 34, 1053–1055 (2017).

Swofford, D. L. PAUP*. Phylogenetic Analysis Using Parsimony (*and Other Methods) Version 4.0a166 (Sinauer Associates, 2003).
Acknowledgements
M. Bolortsetseg generously assisted M.D.B. with contacts and field experience in Mongolia. Fieldwork was supported by National Geographic Society grants CRE 8769-10 and GEFNE35-12 to M.D.B. The field contributions of A.J. were supported by funds from the Anna Maria Lundin's stipend from Smålands Nation, Uppsala University. The field contributions of R.S. were supported by a Royal Society Research Grant and the University of Manchester. The majority of this work was supported by the European Research Council (ERC) under the European Union's Seventh Framework Programme (FP/2007-2013)/ERC Grant Agreement number 311092 to M.D.B. R.P.D. was also supported by the Île-de-France DIM (Domaine d'Intérêt Majeur) Matériaux Anciens et Patrimoniaux grant PHARE. S. Walsh is thanked for access to and loan of a specimen at the National Museums of Scotland. Synchrotron tomography was performed at the European Synchrotron Radiation Facility (application LS 2451) with the assistance of P. Tafforeau. S.G. was supported by a Royal Society Dorothy Hodgkin Research Fellowship. M. Friedman is thanked for undertaking the X-ray computed microtomography analysis. This study includes data produced in the CTEES facility at University of Michigan, supported by the Department of Earth and Environmental Sciences and College of Literature, Science, and the Arts. TNT was made available with the support of the Willi Hennig Society.
Ethics declarations
Competing interests
The authors declare no competing interests.
Additional information
Peer review information Peer reviewer reports are available.
Publisher's note Springer Nature remains neutral with regard to jurisdictional claims in published maps and institutional affiliations.
Supplementary information
About this article
Cite this article
Brazeau, M.D., Giles, S., Dearden, R.P. et al. Endochondral bone in an Early Devonian 'placoderm' from Mongolia. Nat Ecol Evol 4, 1477–1484 (2020). https://doi.org/10.1038/s41559-020-01290-2
Received:

Accepted:

Published:

Issue Date:

DOI: https://doi.org/10.1038/s41559-020-01290-2