Abstract
Pollinators play an important role in terrestrial ecosystems by providing key ecosystem functions and services to wild plants and crops, respectively. The sustainable provision of such ecosystem functions and services requires diverse pollinator communities over the seasons. Despite evidence that climate warming shifts pollinator phenology, a general assessment of these shifts and their consequences on pollinator assemblages is still lacking. By analysing phenological shifts of over 2,000 species, we show that, on average, the mean flight date of European pollinators shifted to be 6 d earlier over the last 60 yr, while their flight period length decreased by 2 d. Our analysis further reveals that these shifts have probably altered the seasonal distribution of pollination function and services by decreasing the overlap among pollinators' phenologies within European assemblages, except in the most northeastern part of Europe. Such changes are expected to decrease the functional redundancy and complementarity of pollinator assemblages and, therefore, might alter the performance of pollination function and services and their robustness to ongoing pollinator extinctions.
Access options
Access Nature and 54 other Nature Portfolio journals
Get Nature+, our best-value online-access subscription
$29.99 / 30 days
cancel any time
Subscribe to this journal
Receive 12 digital issues and online access to articles
$119.00 per year
only $9.92 per issue
Rent or buy this article
Prices vary by article type
from$1.95
to$39.95
Prices may be subject to local taxes which are calculated during checkout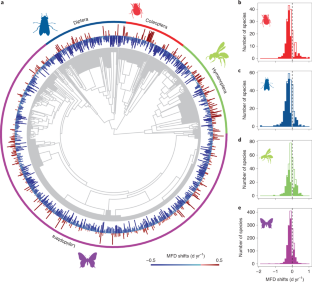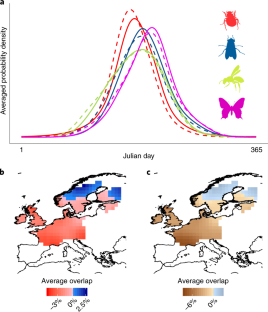 Similar content being viewed by others
References
Parmesan, C. Influences of species, latitudes and methodologies on estimates of phenological response to global warming. Glob. Change Biol. 13, 1860–1872 (2007).

Menzel, A. et al. European phenological response to climate change matches the warming pattern. Glob. Change Biol. 12, 1969–1976 (2006).

Bartomeus, I. et al. Climate-associated phenological advances in bee pollinators and bee-pollinated plants. Proc. Natl Acad. Sci. USA 108, 20645–20649 (2011).

Theobald, E. J., Breckheimer, I. & HilleRisLambers, J. Climate drives phenological reassembly of a mountain wildflower meadow community. Ecology 98, 2799–2812 (2017).

Parmesan, C. Ecological and evolutionary responses to recent climate change. Annu. Rev. Ecol. Evol. Syst. 37, 637–669 (2006).

Diez, J. M. et al. Forecasting phenology: from species variability to community patterns. Ecol. Lett. 15, 545–553 (2012).

Carter, S. K., Saenz, D. & Rudolf, V. H. W. Shifts in phenological distributions reshape interaction potential in natural communities. Ecol. Lett. 21, 1143–1151 (2018).

Ashman, T.-L. et al. Pollen limitation of plant reproduction: ecological and evolutionary causes and consequences. Ecology 85, 2408–2421 (2004).

Klein, A.-M. et al. Importance of pollinators in changing landscapes for world crops. Proc. R. Soc. B 274, 303–313 (2007).

Willemstein, S. C. An Evolutionary Basis for Pollination Ecology (Brill Archive, 1987).

Garibaldi, L. A. et al. Wild pollinators enhance fruit set of crops regardless of honey bee abundance. Science 339, 1608–1611 (2013).

Memmott, J., Craze, P. G., Waser, N. M. & Price, M. V. Global warming and the disruption of plant–pollinator interactions. Ecol. Lett. 10, 710–717 (2007).

Roy, D. B. & Sparks, T. H. Phenology of British butterflies and climate change. Glob. Change Biol. 6, 407–416 (2000).

Altermatt, F. Tell me what you eat and I'll tell you when you fly: diet can predict phenological changes in response to climate change. Ecol. Lett. 13, 1475–1484 (2010).

Hassall, C., Owen, J. & Gilbert, F. Phenological shifts in hoverflies (Diptera: Syrphidae): linking measurement and mechanism. Ecography 40, 853–863 (2017).

Robbirt, K. M., Davy, A. J., Hutchings, M. J. & Roberts, D. L. Validation of biological collections as a source of phenological data for use in climate change studies: a case study with the orchid Ophrys sphegodes. J. Ecol. 99, 235–241 (2010).

Walsh, B. & Blows, M. W. Abundant genetic variation + strong selection = multivariate genetic constraints: a geometric view of adaptation. Annu. Rev. Ecol. Evol. Syst. 40, 41–59 (2009).

Fründ, J., Zieger, S. L. & Tscharntke, T. Response diversity of wild bees to overwintering temperatures. Oecologia 173, 1639–1648 (2013).

Stefanescu, C., Peñuelas, J. & Filella, I. Effects of climatic change on the phenology of butterflies in the northwest Mediterranean Basin. Glob. Change Biol. 9, 1494–1506 (2003).

Miquel, J., Lundgren, P. R., Bensch, K. G. & Atlan, H. Effects of temperature on the life span, vitality and fine structure of Drosophila melanogaster. Mech. Ageing Dev. 5, 347–370 (1976).

Bale, J. S. & Hayward, S. Insect overwintering in a climate change. J. Exp. Biol. 213, 980–994 (2010).

Way, D. A. & Montgomery, R. A. Photoperiod constraints on tree phenology, performance and migration in a warming world. Plant Cell Environ. 38, 1725–1736 (2015).

Saikkonen, K. et al. Climate change-driven species' range shifts filtered by photoperiodism. Nat. Clim. Change 2, 239–242 (2012).

Rezende, E. L., Lavabre, J. E., Guimarães, P. R., Jordano, P. & Bascompte, J. Non-random coextinctions in phylogenetically structured mutualistic networks. Nature 448, 925–928 (2007).

Ibanez, S., Arène, F. & Lavergne, S. How phylogeny shapes the taxonomic and functional structure of plant–insect networks. Oecologia 180, 989–1000 (2016).

Memmott, J., Waser, N. M. & Price, M. V. Tolerance of pollination networks to species extinctions. Proc. R. Soc. Lond. B 271, 2605–2611 (2004).

Fontaine, C., Collin, C. L. & Dajoz, I. Generalist foraging of pollinators: diet expansion at high density. J. Ecol. 96, 1002–1010 (2008).

Fontaine, C., Dajoz, I., Meriguet, J. & Loreau, M. Functional diversity of plant–pollinator interaction webs enhances the persistence of plant communities. PLoS Biol. 4, e1 (2005).

Encinas-Viso, F., Revilla, T. A. & Etienne, R. S. Phenology drives mutualistic network structure and diversity: effects on the dynamics of mutualistic networks. Ecol. Lett. 15, 198–208 (2012).

Potts, S. G. et al. Global pollinator declines: trends, impacts and drivers. Trends Ecol. Evol. 25, 345–353 (2010).

González-Varo, J. P. et al. Combined effects of global change pressures on animal-mediated pollination. Trends Ecol. Evol. 28, 524–530 (2013).

Devictor, V. et al. Differences in the climatic debts of birds and butterflies at a continental scale. Nat. Clim. Change 2, 121–124 (2012).

De Jong, Y. et al. Fauna Europaea—all European animal species on the webs. Biodivers. Data J. 2, e4034 (2014).

Scrucca, L., Fop, M., Murphy, T. B. & Raftery, A. E. mclust 5: clustering, classification and density estimation using Gaussian finite mixture models. R J. 8, 205–233 (2016).

dispmod: Modelling dispersion in GLM v.1.2 (CRAN, 2018).

Rainford, J. L., Hofreiter, M., Nicholson, D. B. & Mayhew, P. J. Phylogenetic distribution of extant richness suggests metamorphosis is a key innovation driving diversification in insects. PLoS ONE 9, e109085 (2014).

Chazot, N. et al. The trials and tribulations of priors and posteriors in Bayesian timing of divergence analyses: the age of butterflies revisited. Syst. Biol. 68, 797–813 (2019).

Bank, S. et al. Transcriptome and target DNA enrichment sequence data provide new insights into the phylogeny of vespid wasps (Hymenoptera: Aculeata: Vespidae). Mol. Phylogenet. Evol. 116, 213–226 (2017).

Hedtke, S. M., Patiny, S. & Danforth, B. N. The bee tree of life: a supermatrix approach to apoid phylogeny and biogeography. BMC Evol. Biol. 13, 138 (2013).

Pagel, M. Inferring the historical patterns of biological evolution. Nature 401, 877–884 (1999).

Keck, F., Rimet, F., Bouchez, A. & Franc, A. phylosignal: an R package to measure test, and explore the phylogenetic signal. Ecol. Evol. 6, 2774–2780 (2016).

Molina-Venegas, R. & Rodríguez, M. Á. Revisiting phylogenetic signal; strong or negligible impacts of polytomies and branch length information? BMC Evol. Biol. 17, 53 (2017).

caper: Comparative analyses of phylogenetics and evolution in R v.0.5.2 (CRAN, 2013).
Acknowledgements
We especially thank N. Loeuille and T. Van Dooren for their comments on this work, and E. Porcher, A. Perrard, E. Teulière, E. Faure, E. Kerdoncuff, B. Perez and T. Olivier for fruitful discussions. We also thank all naturalists who provided data to complete our database, especially L. Casset, F. Chevaillot, L. Guilbaud (INRA), J.-L. Hentz (Nature du Gard) and G. Lemoine, as well as C. Daugeron, R. Rougerie, C. Villemant, E. Delfosse, J. Barbut and O. Montreuil who helped us to access insect collections of the French National Natural History Museum. This project was funded by the Ministère de la Transition Ecologique et Solidaire as part of the project 'What is the sensitivity of pollinators to global warming in France?' (convention no. SJ 3–17) led by C. Daugeron and C. Fontaine, and by the Institut de la Transition Ecologique, Sorbonne Université, as part of the project Yapludsaison.
Ethics declarations
Competing interests
The authors declare no competing interests.
Additional information
Publisher's note Springer Nature remains neutral with regard to jurisdictional claims in published maps and institutional affiliations.
Supplementary information
Supplementary Tables 1, 3 and 4 and Supplementary Methods.
Estimates of MFD shifts, FPL changes, interaction effects among the year and the spatial variables on the MFD for each phenology mode of each species. The interaction coefficient shows the spatial intraspecific variation in MFD shifts.
About this article
Cite this article
Duchenne, F., Thébault, E., Michez, D. et al. Phenological shifts alter the seasonal structure of pollinator assemblages in Europe. Nat Ecol Evol 4, 115–121 (2020). https://doi.org/10.1038/s41559-019-1062-4
Received:

Accepted:

Published:

Issue Date:

DOI: https://doi.org/10.1038/s41559-019-1062-4