Abstract
The study of experimental communities is fundamental to the development of ecology. Yet, for most ecological systems, the number of experiments required to build, model or analyse the community vastly exceeds what is feasible using current methods. Here, we address this challenge by presenting a statistical approach that uses the results of a limited number of experiments to predict the outcomes (coexistence and species abundances) of all possible assemblages that can be formed from a given pool of species. Using three well-studied experimental systems—encompassing plants, protists, and algae with grazers—we show that this method predicts the results of unobserved experiments with high accuracy, while making no assumptions about the dynamics of the systems. These results demonstrate a fundamentally different way of building and quantifying experimental systems, requiring far fewer experiments than traditional study designs. By developing a scalable method for navigating large systems, this work provides an efficient approach to studying highly diverse experimental communities.
Access options
Subscribe to Journal
Get full journal access for 1 year
$99.00
only $8.25 per issue
All prices are NET prices.
VAT will be added later in the checkout.
Tax calculation will be finalised during checkout.
Rent or Buy article
Get time limited or full article access on ReadCube.
from$8.99
All prices are NET prices.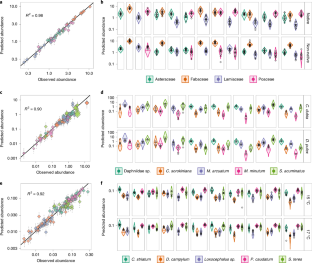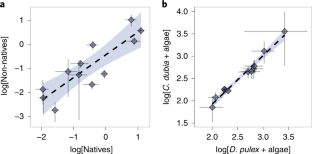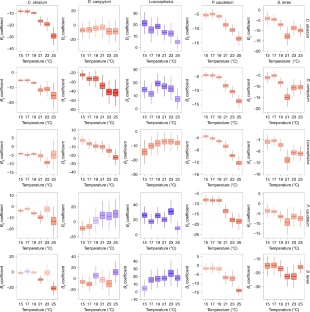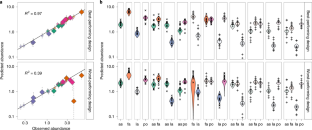 Data availability
The data and code needed to replicate the central findings of this work are available at https://git.io/fjvON
References
1.

Gause, G. F. The Struggle for Existence (Williams & Wilkins Company, 1934).

2.

Yoshida, T., Jones, L. E., Ellner, S. P., Fussmann, G. F. & Hairston, N. G. Jr. Rapid evolution drives ecological dynamics in a predator–prey system. Nature 424, 303–306 (2003).

3.

Costantino, R. F., Desharnais, R., Cushing, J. M. & Dennis, B. Chaotic dynamics in an insect population. Science 275, 389–391 (1997).

4.

Dai, L., Vorselen, D., Korolev, K. S. & Gore, J. Generic indicators for loss of resilience before a tipping point leading to population collapse. Science 336, 1175–1177 (2012).

5.

Cadotte, M. W. Experimental evidence that evolutionarily diverse assemblages result in higher productivity. Proc. Natl Acad. Sci. USA 110, 8996–9000 (2013).

6.

Heemsbergen, D. A. et al. Biodiversity effects on soil processes explained by interspecific functional dissimilarity. Science 306, 1019–1020 (2004).

7.

Friedman, J., Higgins, L. M. & Gore, J. Community structure follows simple assembly rules in microbial microcosms. Nat. Ecol. Evol. 1, 0109 (2017).

8.

Dormann, C. F. & Roxburgh, S. H. Experimental evidence rejects pairwise modelling approach to coexistence in plant communities. Proc. R. Soc. B 272, 1279–1285 (2005).

9.

Bell, T., Newman, J. A., Silverman, B. W., Turner, S. L. & Lilley, A. K. The contribution of species richness and composition to bacterial services. Nature 436, 1157–1160 (2005).

10.

Tilman, D. et al. Diversity and productivity in a long-term grassland experiment. Science 294, 843–845 (2001).

11.

Kuebbing, S. E., Classen, A. T., Sanders, N. J. & Simberloff, D. Above- and below-ground effects of plant diversity depend on species origin: an experimental test with multiple invaders. New Phytol. 208, 727–735 (2015).

12.

Rakowski, C. & Cardinale, B. J. Herbivores control effects of algal species richness on community biomass and stability in a laboratory microcosm experiment. Oikos 125, 1627–1635 (2016).

13.

Pennekamp, F. et al. Biodiversity increases and decreases ecosystem stability. Nature 563, 109–112 (2018).

14.

Pennekamp, F. et al. Dynamic species classification of microorganisms across time, abiotic and biotic environments—a sliding window approach. PLoS ONE 12, e0176682 (2017).

15.

Sun, G. Q. Mathematical modeling of population dynamics with Allee effect. Nonlinear Dyn. 85, 1–12 (2016).

16.

Holland, J. N., Okuyama, T. & DeAngelis, D. L. Comment on 'Asymmetric coevolutionary networks facilitate biodiversity maintenance'. Science 313, 1887–1887 (2006).

17.

Fussmann, G. F. & Heber, G. Food web complexity and chaotic population dynamics. Ecol. Lett. 5, 394–401 (2002).

18.

Bairey, E., Kelsic, E. D. & Kishony, R. High-order species interactions shape ecosystem diversity. Nat. Commun. 7, 12285 (2016).

19.

Mayfield, M. M. & Stouffer, D. B. Higher-order interactions capture unexplained complexity in diverse communities. Nat. Ecol. Evol. 1, 0062 (2017).

20.

Levine, J. M., Bascompte, J., Adler, P. B. & Allesina, S. Beyond pairwise mechanisms of species coexistence in complex communities. Nature 546, 56–64 (2017).

21.

Carrara, F., Giometto, A., Seymour, M., Rinaldo, A. & Altermatt, F. Inferring species interactions in ecological communities: a comparison of methods at different levels of complexity. Methods Ecol. Evol. 6, 895–906 (2015).

22.

Maynard, D. S. et al. Diversity begets diversity in competition for space. Nat. Ecol. Evol. 1, 0156 (2017).

23.

Kraft, N. J. B., Godoy, O. & Levine, J. M. Plant functional traits and the multidimensional nature of species coexistence. Proc. Natl Acad. Sci. USA 112, 797–802 (2015).

24.

Fox, J. W. The dynamics of top-down and bottom-up effects in food webs of varying prey diversity, composition, and productivity. Oikos 116, 189–200 (2007).

25.

Crawford, K. M. & Knight, T. M. Competition overwhelms the positive plant–soil feedback generated by an invasive plant. Oecologia 183, 211–220 (2017).

26.

Beveridge, O. S., Petchey, O. L. & Humphries, S. Direct and indirect effects of temperature on the population dynamics and ecosystem functioning of aquatic microbial ecosystems. J. Anim. Ecol. 79, 1324–1331 (2010).

27.

Golberg, D. E. Neighborhood competition in an old-field plant community. Ecology 68, 1211–1223 (1987).

28.

Sarnelle, O. & Wilson, A. E. Type III functional response in Daphnia. Ecology 89, 1723–1732 (2008).

29.

Xiao, Y. et al. Mapping the ecological networks of microbial communities. Nat. Commun. 8, 2042 (2017).

30.

Beisner, B., Haydon, D. & Cuddington, K. Alternative stable states in ecology. Front. Ecol. Environ. 1, 376–382 (2003).

31.

Scheffer, M. & Carpenter, S. R. Catastrophic regime shifts in ecosystems: linking theory to observation. Trends Ecol. Evol. 18, 648–656 (2003).

32.

Seekell, D. A., Cline, T. J., Carpenter, S. R. & Pace, M. L. Evidence of alternate attractors from a whole-ecosystem regime shift experiment. Theor. Ecol. 6, 385–394 (2013).

33.

Steffen, T. Control Reconfiguration of Dynamical Systems: Linear Approaches and Structural Tests (Springer Science & Business Media, 2005).

34.

Hoffman, M. D. & Gelman, A. The No-U-Turn sampler: adaptively setting path lengths in Hamiltonian Monte Carlo. J. Mach. Learn. Res. 15, 1593–1623 (2014).

35.

Carpenter, B. et al. Stan: a probabilistic programming language. J. Stat. Softw. 76, 1–32 (2017).
Acknowledgements
We thank S. Kuebbing, C. Rakowski, F. Pennekamp and O. Petchey for making their data available and for comments on earlier drafts of this manuscript. We thank C. Serván, M. Pascual, J. Bergelson, E. Baskerville, G. Barabás and E. Friedlander for assistance and suggestions throughout this study.
Ethics declarations
Competing interests
The authors declare no competing interests.
Additional information
Publisher's note Springer Nature remains neutral with regard to jurisdictional claims in published maps and institutional affiliations.
Supplementary information
Supplementary Figs. 1–26, methods and data analysis.
About this article
Cite this article
Maynard, D.S., Miller, Z.R. & Allesina, S. Predicting coexistence in experimental ecological communities. Nat Ecol Evol 4, 91–100 (2020). https://doi.org/10.1038/s41559-019-1059-z
Received:

Accepted:

Published:

Issue Date: