Analysis of the world's longest-running insect monitoring programme finds little evidence to support steep declines in biomass across the United Kingdom over the past 50 years. Moth biomass showed a net increase, but a gradual post-1982 decline was found in certain land uses and for some moth families.
Access options
Subscribe to Journal
Get full journal access for 1 year
$99.00
only $8.25 per issue
All prices are NET prices.
VAT will be added later in the checkout.
Tax calculation will be finalised during checkout.
Rent or Buy article
Get time limited or full article access on ReadCube.
from$8.99
All prices are NET prices.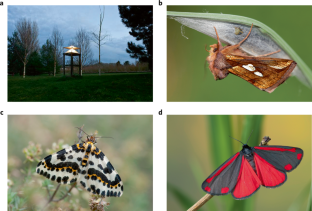 References
1.

Fox, R. Insect Conserv. Div. 6, 5–19 (2013).

2.

Colla, S. R., Gadallah, F., Richardson, L., Wagner, D. & Gall, L. Biodivers. Conserv. 21, 3585–3595 (2012).

3.

Herrerra, C. Ecol. Monogr. 89, e01338 (2018).

4.

Macgregor, C. J., Williams, J. H., Bell, J. R. & Thomas, C. D. Nat. Ecol. Evol. https://doi.org/10.1038/s41559-019-1028-6 (2019).

5.

Tscharntke, T. et al. Biol. Rev. 87, 661–685 (2012).

6.

Macgregor, C. J., Pocock, M. J. O., Fox, R. & Evans, D. M. Ecol. Entomol. 40, 187–198 (2015).

7.

Bell, J. R. et al. J. Anim. Ecol. 84, 21–34 (2015).

8.

Sanders, C. J. et al. J. Appl. Ecol. 56, 1649–1660 (2019).
Ethics declarations
Competing interests
The author declares no competing interests.
About this article
Cite this article
Saunders, M.E. Ups and downs of insect populations. Nat Ecol Evol 3, 1616–1617 (2019). https://doi.org/10.1038/s41559-019-1038-4