Abstract
Steep insect biomass declines ('insectageddon') have been widely reported, despite a lack of continuously collected biomass data from replicated long-term monitoring sites. Such severe declines are not supported by the world's longest running insect population database: annual moth biomass estimates from British fixed monitoring sites revealed substantial between-year biomass change but no difference in mean biomass between the first (1967–1976) and last decades (2008–2017) of monitoring. High between-year variability and multi-year periodicity in biomass emphasize the need for long-term data to detect trends and identify their causes robustly.
This is a preview of subscription content
Access options
Subscribe to Journal
Get full journal access for 1 year
$119.00
only $9.92 per issue
All prices are NET prices.
VAT will be added later in the checkout.
Tax calculation will be finalised during checkout.
Rent or Buy article
Get time limited or full article access on ReadCube.
from$8.99
All prices are NET prices.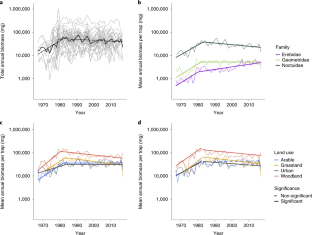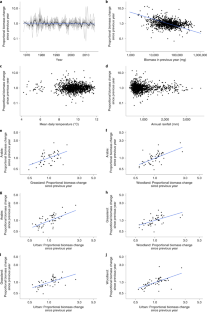 Data availability
Derived annual biomass data per site analysed in this study are included as Supplementary Dataset 1. Raw data on species-by-night trap catch abundances are retained by RIS and may be obtained by request from https://www.rothamsted.ac.uk/insect-survey.
References
1.

Hallmann, C. A. et al. PLoS ONE 12, e0185809 (2017).

2.

Lister, B. C. & Garcia, A. Proc. Natl Acad. Sci. USA 115, E10397–E10406 (2018).

3.

Hallmann, C. A. et al. Insect Conserv. Divers. 6, 24451 (2019).

4.

Monbiot, G. Insectageddon: farming is more catastrophic than climate breakdown. The Guardian (20 October 2017).

5.

McGrath, M. Global insect decline may see 'plague of pests'. BBC Science & Environment (11 February 2019).

6.

Sánchez-Bayo, F. & Wyckhuys, K. A. G. Biol. Conserv. 232, 8–27 (2019).

7.

Komonen, A., Halme, P. & Kotiaho, J. S. ReEco 4, 17–19 (2019).

8.

Thomas, C. D., Jones, T. H. & Hartley, S. E. Glob. Change Biol. 25, 1891–1892 (2019).

9.

Wagner, D. L. Biol. Conserv. 233, 332–333 (2019).

10.

Thomas, J. A. et al. Science 303, 1879–1881 (2004).

11.

Conrad, K. F., Warren, M. S., Fox, R., Parsons, M. S. & Woiwod, I. P. Biol. Conserv. 132, 279–291 (2006).

12.

Fox, R. et al. J. Appl. Ecol. 51, 949–957 (2014).

13.

Wepprich, T., Adrion, J. R., Ries, L., Wiedmann, J. & Haddad, N. M. PLoS ONE 14, e0216270 (2019).

14.

Shortall, C. R. et al. Insect Conserv. Divers. 2, 251–260 (2009).

15.

Kinsella, R. S. et al. Preprint at bioRxiv https://doi.org/10.1101/695635 (2019).

16.

Grubisic, M., van Grunsven, R. H. A., Kyba, C. C. M., Manfrin, A. & Hölker, F. Ann. Appl. Biol. 8, e67798 (2018).

17.

van Langevelde, F. et al. Glob. Change Biol. 24, 925–932 (2018).

18.

Stamp, L. D. Geogr. J. 78, 40–47 (1931).

19.

Fuller, R. M., Groom, G. B., Jones, A. R. & Thomson, A. G. Land Cover Map 1990 (25m raster, GB) (NERC Environmental Information Data Centre, 1993); https://doi.org/10.5285/3d974cbe-743d-41da-a2e1-f28753f13d1e

20.

Morton, D. et al. Countryside Survey Technical Report No. 11/07 (NERC/Centre for Ecology & Hydrology, 2011).

21.

Ditchburn, B., Correia, V., Brewer, A. & Halsall, L. Preliminary Estimates of Change in Woodland Canopy Cover and Woodland Area in Britain Between 2006 and 2015 (National Forest Inventory, 2016).

22.

Sheppard, L. W., Bell, J. R., Harrington, R. & Reuman, D. C. Nat. Clim. Change 6, 610 (2015).

23.

Palmer, G. et al. Phil. Trans. R. Soc. Lond. B 372, 20160144 (2017).

24.

Pescott, O. L. et al. Biol. J. Linn. Soc. Lond. 115, 611–635 (2015).

25.

Andrewartha, H. G. & Birch, L. C. The Distribution and Abundance of Animals (Univ. Chicago Press, 1954).

26.

Taylor, L. R. & Taylor, R. A. Nature 265, 415–421 (1977).

27.

Woiwod, I. P. & Hanski, I. J. Anim. Ecol. 61, 619–629 (1992).

28.

Dirzo, R. et al. Science 345, 401–406 (2014).

29.

Basset, Y. & Lamarre, G. P. A. Science 364, 1230–1231 (2019).

30.

Williams, C. B. Proc. R. Ent. Soc. Lond. A 23, 80–85 (1948).

31.

Storkey, J. et al. Adv. Ecol. Res. 55, 3–42 (2016).

32.

Auffret, A. G. et al. Methods Ecol. Evol. 8, 1453–1457 (2017).

33.

Hollis, D. & McCarthy, M. UKCP09: Met Office Gridded and Regional Land Surface Climate Observation Datasets (Centre for Environmental Data Analysis, 2017).

34.

Gorelick, N. et al. Remote Sens. Environ. 202, 18–27 (2017).

35.

R Core Team R: A Language and Environment for Statistical Computing (R Foundation for Statistical Computing, 2018).

36.

Wickham, H. ggplot2: Elegant Graphics for Data Analysis (Springer, 2009).

37.

Venables, W. N. & Ripley, B. D. Modern Applied Statistics with S (Springer, 2002).

38.

Muggeo, V. M. R. R News 8, 20–25 (2008).

39.

Schwarz, G. Ann. Stat. 6, 461–464 (1978).

40.

Granqvist, E., Hartley, M. & Morris, R. J. Biosystems 110, 60–63 (2012).
Acknowledgements
The RIS, a UK National Capability, is funded by the Biotechnology and Biological Sciences Research Council (BBSRC) under the core capability grant (no. BBS/E/C/000J0200). J.R.B. is also supported by the Smart Crop Protection strategic programme (grant no. BBS/OS/CP/000001) funded through BBSRC's Industrial Strategy Challenge Fund. We thank P. Verrier and C. Shortall for extracting the data and the RIS team and volunteer network for their unswerving contributions. C.J.M. and C.D.T. were supported by the Natural Environment Research Council (grant no. NE/N015797/1). We thank R. Critchlow and P. Platts for advice on data sources and statistics. We thank C. Harrower, M. Pocock, D. Blumgart and C. Shortall for their help in bringing the data error in the originally published version of this Brief Communication to our attention and investigating its cause.
Ethics declarations
Competing interests
The authors declare no competing interests.
Additional information
Publisher's note Springer Nature remains neutral with regard to jurisdictional claims in published maps and institutional affiliations.
Supplementary information
Supplementary Tables 1–6.
Supplementary Dataset 1 . For each trap, in each year, the total estimated biomass of moths sampled (adjusted for the number of inoperative days) is provided, along with the total estimated biomass of each of the three families that collectively comprised >93 % of all moth biomass (Erebidae, Geometridae and Noctuidae).
About this article
Cite this article
Macgregor, C.J., Williams, J.H., Bell, J.R. et al. Moth biomass has fluctuated over 50 years in Britain but lacks a clear trend. Nat Ecol Evol 3, 1645–1649 (2019). https://doi.org/10.1038/s41559-019-1028-6
Received:

Accepted:

Published:

Issue Date: