The existence of trade-offs between traits under selection is a fundamental concept in evolutionary biology. Analysis of a densely sampled collection of adaptive mutations in yeast reveals that no single mutation can allow it to overcome detected trade-offs between key traits under selection.
Access options
Subscribe to Journal
Get full journal access for 1 year
$99.00
only $8.25 per issue
All prices are NET prices.
VAT will be added later in the checkout.
Tax calculation will be finalised during checkout.
Rent or Buy article
Get time limited or full article access on ReadCube.
from$8.99
All prices are NET prices.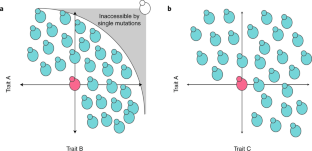 References
1.

MacArthur, R. H. & Wilson, E. O. The Theory of Island Biogeography Vol. 1 (Princeton Univ. Press, 2001).

2.

Li, Y., Petrov, D. A. & Sherlock, G. Nat. Ecol. Evol. https://doi.org/10.1038/s41559-019-0993-0 (2019).

3.

Rolland, F., Winderickx, J. & Thevelein, J. M. FEMS Yeast Res. 2, 183–201 (2002).

4.

Shoval, O. et al. Science 336, 1157–1160 (2012).

5.

Fitzsimmons, J. M., Schoustra, S. E., Kerr, J. T. & Kassen, R. Evol. Ecol. 24, 227–236 (2010).

6.

Reding-Roman, C. et al. Nat. Ecol. Evol. 1, 0050 (2017).

7.

Gibson, B. et al. FEMS Yeast Res. 17, fox038 (2017).

8.

Brennan, G. L., Colegrave, N. & Collins, S. Proc. Natl Acad. Sci. USA 114, 9930–9935 (2017).

9.

Palmer, A. C. et al. Nat. Commun. 6, 7385 (2015).

10.

Eberlein, C. et al. Nat. Commun. 10, 923 (2019).

11.

Mori, M., Marinari, E. & De Martino, A. npj Syst. Biol. Appl. 5, 16 (2019).
Ethics declarations
Competing interests
The author declares no competing interests.
About this article
Cite this article
Gifford, D.R. Life on the frontline reveals constraints. Nat Ecol Evol 3, 1501–1502 (2019). https://doi.org/10.1038/s41559-019-1010-3