An assessment of how social spider populations respond to tropical cyclones sheds light on the role that extreme climatic events play in driving trait evolution contributing to local adaptation.
Access options
Subscribe to Journal
Get full journal access for 1 year
$119.00
only $9.92 per issue
All prices are NET prices.
VAT will be added later in the checkout.
Tax calculation will be finalised during checkout.
Rent or Buy article
Get time limited or full article access on ReadCube.
from$8.99
All prices are NET prices.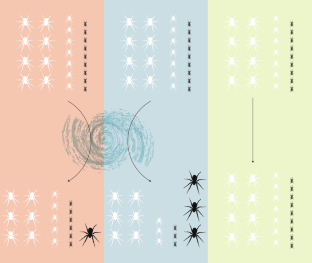 References
1.

Easterling, D. R. et al. Science 289, 2068–2074 (2000).

2.

Little, A. G., Fisher, D. N., Schoener, T. W. & Pruitt, J. N. Nat. Ecol. Evol. https://doi.org/10.1038/s41559-019-0951-x (2019).

3.

Grant, P. R. et al. Philos. Trans. R. Soc. B 372, 20160146 (2017).

4.

Altwegg, R., Visser, V., Bailey, L. D. & Erni, B. Philos. Trans. R. Soc. B 372, 20160141 (2017).

5.

Lande, R., Engen, S. & Saether, B. E. Stochastic Population Dynamics in Ecology and Conservation (Oxford Univ. Press, 2003).

6.

Knapp, K. R., Kruk, M. C., Levinson, D. H., Diamond, H. J. & Neumann, C. J. Bull. Am. Meteorol. Soc. 91, 363–376 (2010).

7.

Ameca y Juárez, E. I. A., Mace, G. M., Cowlishaw, G. & Pettorelli, N. Trends Ecol. Evol. 27, 272–277 (2012).

8.

Emanuel, K. Nature 436, 686–688 (2005).
About this article
Cite this article
Ameca, E.I. Adapting for extremes. Nat Ecol Evol 3, 1279–1280 (2019). https://doi.org/10.1038/s41559-019-0971-6