Genomic gigantism in amphibians originated through a single extraordinary jump overlying otherwise gradual change; genome size variation is related to both the external environment and life history in frogs, but may not be in salamanders.
Access options
Subscribe to Journal
Get full journal access for 1 year
$99.00
only $8.25 per issue
All prices are NET prices.
VAT will be added later in the checkout.
Tax calculation will be finalised during checkout.
Rent or Buy article
Get time limited or full article access on ReadCube.
from$8.99
All prices are NET prices.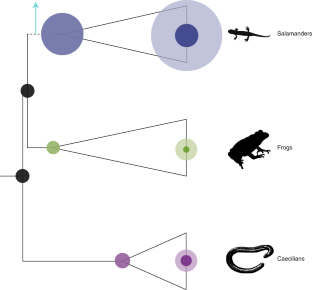 References
1.

Elliott, T. A. & Gregory, T. R. Phil. Trans. R. Soc. B 370, 20140331 (2015).

2.

Petrov, D. A. Theor. Popul. Biol. 61, 531–544 (2002).

3.

Gregory, T. R. Biol. Rev. Camb. Phil. Soc. 76, 65–101 (2001).

4.

Liedtke, H. C., Gower, D. J., Wilkinson, M. & Gomez-Mestre, I. Nat. Ecol. Evol. https://doi.org/10.1038/s41559-018-0674-4 (2018).

5.

Organ, C. L., Canoville, A., Reisz, R. R. & Laurin, M. J. Evol. Biol. 24, 372–380 (2011).

6.

Grime, J. P. & Mowforth, M. A. Nature 299, 151–153 (1982).

7.

Bilinski, P. et al. PLoS Genet. 14, e1007162 (2018).

8.

Sessions, S. K. & Larson, A. Evolution 41, 1239–1251 (1987).

9.

Jockusch, E. L. Proc. R. Soc. B 264, 597–604 (1997).

10.

Mueller, R. L. J. Mol. Evol. 85, 169–171 (2017).
Ethics declarations
Competing interests
The authors declare no competing interests.
About this article
Cite this article
Mueller, R.L., Jockusch, E.L. Jumping genomic gigantism. Nat Ecol Evol 2, 1687–1688 (2018). https://doi.org/10.1038/s41559-018-0703-3