Predicting and steering the fate of antibiotic resistance requires developing ecology- and evolution-aware strategies.
Access options
Subscribe to Journal
Get full journal access for 1 year
$119.00
only $9.92 per issue
All prices are NET prices.
VAT will be added later in the checkout.
Tax calculation will be finalised during checkout.
Rent or Buy article
Get time limited or full article access on ReadCube.
from$8.99
All prices are NET prices.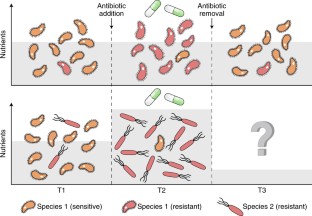 References
1.

Cook, P. P., Catrou, P. G., Christie, J. D., Young, P. D. & Polk, R. E. J. Antimicrob. Chemother. 53, 853–859 (2004).

2.

Nijssen, S. et al. Intens. Care Med. 36, 512–519 (2010).

3.

Beardmore, R. E. et al. Nat. Ecol. Evol. https://doi.org/10.1038/s41559-018-0582-7 (2018).

4.

Thompson, J. A., Oliveira, R. A., Djukovic, A., Ubeda, C. & Xavier, K. B. Cell Rep. 10, 1861–1871 (2015).

5.

Manley, K. J., Fraenkel, M. B., Mayall, B. C. & Power, D. A. Med. J. Aust. 186, 454–457 (2007).

6.

De Regt, M. J. A. et al. Antimicrob. Agents Chemother. 54, 2801–2805 (2010).

7.

Khoruts, A. & Sadowsky, M. J. Nat. Rev. Gastroenterol. Hepatol. 13, 508–516 (2016).

8.

Coyte, K. Z., Schluter, J. & Foster, K. R. Science 350, 663–666 (2015).

9.

Faust, K. & Raes, J. Nat. Rev. Microbiol. 10, 538–550 (2012).

10.

Stein, R. R. et al. PLoS Comput. Biol. 9, e1003388 (2013).
Ethics declarations
Competing interests
The authors declare no competing interests.
About this article
Cite this article
Niehus, R., Mitri, S. Handling unpredictable ecosystems. Nat Ecol Evol 2, 1207–1208 (2018). https://doi.org/10.1038/s41559-018-0619-y