Abstract
Recent large-scale analyses suggest that local management actions may not protect coral reefs from climate change, yet most local threat-reduction strategies have not been tested experimentally. We show that removing coral predators is a common local action used by managers across the world, and that removing the corallivorous snail Coralliophila abbreviata from Caribbean brain corals (Pseudodiploria and Diploria species) before a major warming event increased coral resilience by reducing bleaching severity (resistance) and post-bleaching tissue mortality (recovery). Our results highlight the need for increased evaluation and identification of local interventions that improve coral reef resilience.
Relevant articles
Open Access articles citing this article.
Jacob G. D. Rogers

&

Éva E. Plagányi

Nature Communications Open Access 09 May 2022

Denise P. Silva

,

Helena D. M. Villela

…

Raquel S. Peixoto

Microbiome Open Access 21 May 2021

L. Saponari

,

I. Dehnert

…

S. Montano

Hydrobiologia Open Access 04 March 2021
Access options
Subscribe to Nature+
Get immediate online access to Nature and 55 other Nature journal
Subscribe to Journal
Get full journal access for 1 year
$119.00
only $9.92 per issue
All prices are NET prices.
VAT will be added later in the checkout.
Tax calculation will be finalised during checkout.
Buy article
Get time limited or full article access on ReadCube.
$32.00
All prices are NET prices.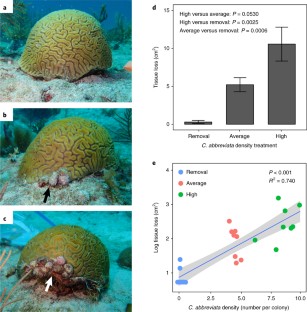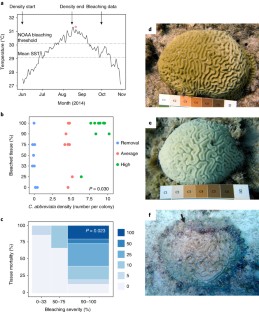 References
Hughes, T. P. et al. Nature 546, 82–90 (2017).

Jackson, J. et al. Status and Trends of Caribbean Coral Reefs: 1970–2012 (Global Coral Reef Monitoring Network, IUCN, Gland, 2014).

De'ath, G. et al. Proc. Natl Acad. Sci. USA 109, 17995–17999 (2012).

Gunderson, L. H. Annu. Rev. Ecol. Evol. Syst. 31, 425–439 (2000).

Vega Thurber, R. L. et al. Glob. Change Biol. 20, 544–554 (2014).

Carilli, J. E. et al. PLoS ONE 4, e6324 (2009).

Zaneveld, J. R. et al. Nat. Commun. 7, 11833 (2016).

Hughes, T. P. et al. Nature 543, 373–377 (2017).

Bruno, J. F. & Valdivia, A. Sci. Rep. 6, 29778 (2016).

Levin, S. A.. & Lubchenco, J. BioScience 58, 27–32 (2008).

Normile, D. Science 352, 15–16 (2016).

van Oppen, M. J. H. et al. Glob. Change Biol. 23, 3437–3448 (2017).

Knowlton, N. & Jackson, J. B. C. PLoS Biol. 6, e54 (2008).

Williams, D. E. & Miller, M. W. Coral Reefs 31, 369–382 (2012).

Miller, M. W. Coral Reefs 19, 293–295 (2001).

Silliman, B. R. et al. Annu. Rev. Ecol. Evol. Syst. 44, 503–538 (2013).

Rotjan, R. D. & Lewis, S. M. Mar. Ecol. Prog. Ser. 367, 73–91 (2008).

Miller, A. C. Bull. Mar. Sci. 31, 932–934 (1981).

Baums, I. B., Miller, M. W. & Szmant, A. M. Mar. Biol. 142, 1083–1091 (2003).

Oren, U., Brickner, I. & Loya, Y. Proc. R. Soc. B 265, 2043–2050 (1998).

National Data Buoy Center Station MLRF1—Molasses Reef, FL (NOAA, 2014); http://www.ndbc.noaa.gov/station_page.php?station=mlrf1

Manzello, D. P. Sci. Rep. 5, 16762 (2015).

Loya, Y. et al. Ecol. Lett. 4, 122–131 (2001).

Edmunds, P. J. Mar. Biol. 121, 137–142 (1994).

Mooney, C. The Great Barrier Reef is bleaching yet again, and scientists say only swift climate action can save it. Washington Post (15 March 2017).

Anthony, K. R. N. et al. Funct. Ecol. 23, 539–550 (2009).

Shaver, E. C. et al. Ecology 98, 830–839 (2017).

Recovery Plan: Elkhorn Coral (Acropora palmata) and Staghorn Coral (A. cervicornis) (National Marine Fisheries Service, Silver Spring, 2015).

McClanahan, T. R. Mar. Ecol. Prog. Ser. 115, 131–138 (1994).

Sweatman, H. Curr. Biol. 18, 598–599 (2008).

He, Q. et al. Ecol. Lett. 20, 194–201 (2017).

Ivlev, V. S. Experimental Ecology of the Feeding of Fishes (Yale Univ. Press, New Haven, 1961).

Christensen, R. H. B. ordinal—Regression Models for Ordinal Data. R package version 6–28 (2015).

R Development Core Team R: A Language and Environment for Statistical Computing (R Foundation for Statistical Computing, Vienna, 2016).
Acknowledgements
We thank S. Csik and C. Fuchs for fieldwork assistance and M. Hay for reviewing this manuscript. The National Science Foundation supported E.C.S. (GRFP DGE 1106401), D.E.B. (BIO-OCE 1130786) and B.R.S. (BIO-OCE 1056980). Duke University supported E.C.S. and B.R.S., and Florida International University and the University of California, Santa Barbara supported D.E.B. We thank The Nature Conservancy's Reef Resilience Program (P. MacGowan, K. Maize, C. Wagner, E. Mcleod), S. Wear, and the Lenfest Ocean Program for helping to inspire and conduct our manager survey work. Permits FKNMS-2014-081 and 2014-099 were obtained from the Florida Keys National Marine Sanctuary to conduct this research.
Ethics declarations
Competing interests
The authors declare no competing interests.
Additional information
Publisher's note: Springer Nature remains neutral with regard to jurisdictional claims in published maps and institutional affiliations.
Supplementary information
Supplementary Tables 1–3; Supplementary Figures 1–3; Supplementary References
About this article
Cite this article
Shaver, E.C., Burkepile, D.E. & Silliman, B.R. Local management actions can increase coral resilience to thermally-induced bleaching. Nat Ecol Evol 2, 1075–1079 (2018). https://doi.org/10.1038/s41559-018-0589-0
Received:

Accepted:

Published:

Issue Date:

DOI: https://doi.org/10.1038/s41559-018-0589-0