A focus on the sharp edge of manufactured stone flakes reveals increasing control and efficiency over a 2-million-year dataset, and fosters replicable, standardized methods in lithic analysis. But scaling this method up to more complex stone tools may require further thought.
Access options
Access options
Subscribe to Journal
Get full journal access for 1 year
$104.00
only $8.67 per issue
All prices are NET prices.
VAT will be added later in the checkout.
Rent or Buy article
Get time limited or full article access on ReadCube.
from$8.99
All prices are NET prices.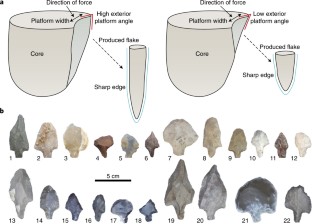 References
1.

Režek, Ž., Dibble, H. L., McPherron, S. P., Braun, D. R. & Lin, S. C. Nat. Ecol. Evol. https://doi.org/10.1038/s41559-018-0488-4 (2018).

2.

Muller, A. & Clarkson, C. PLoS ONE 11, e0167244 (2016).

3.

Lin, S., Režek, Ž., Braun, D. & Dibble, H. Am. Antiquity 78, 724–745 (2013).

4.

Bar-Yosef, O. & Kuhn, S. L. Am. Anthropol. 101, 322–338 (1999).

5.

Eren, M. I., Greenspan, A. & Sampson, C. G. J. Hum. Evol. 55, 952–961 (2008).

6.

Hérisson, D. et al. Quatern. Int. 411, 233–283 (2016).

7.

Scerri, E. M. L., Drake, N. A., Jennings, R. & Groucutt, H. S. Quatern. Sci. Rev. 101, 207–216 (2014).

8.

Hiscock, P. Archeol. Pap. Am. Anthropol. Assoc. 12, 163–177 (2002).

9.

Chiotti, L. Gallia Préhistoire 45, 113–156 (2003).

10.

Iovita, R. PLoS ONE 6, e29029 (2011).
Ethics declarations
Competing interests
The author declares no competing interests.