Access options
Subscribe to Journal
Get full journal access for 1 year
$104.00
only $8.67 per issue
All prices are NET prices.
VAT will be added later in the checkout.
Rent or Buy article
Get time limited or full article access on ReadCube.
from$8.99
All prices are NET prices.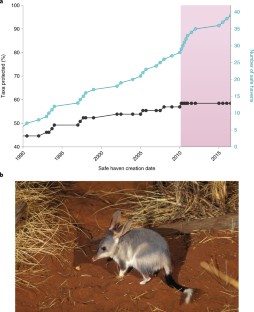 References
1.

Woinarksi, J. The Action Plan for Australian Mammals (CSIRO, Collingwood, 2012).

2.

Haywards, M. & Somers, M. (eds) Fencing for Conservation: Restriction of Evolutionary Potential or a Riposte to Threatening Processes? (Springer, New York, 2012).

3.

Pressey, R. & Madeleine, B. Conserv. Biol. 22, 1340–1345 (2008).

4.

Ringma, J. et al. Conserv. Biol. 31, 1029–1038 (2017).

5.

Margules, C. & Pressey, R. Nature 405, 243–253 (2000).

6.

Iacona, G., Bode, M. & Armsworth, P. Conserv. Biol. 30, 1245–1254 (2016).
Acknowledgements
This research was supported by the Australian government's National Environmental Science Program, through the Threatened Species Recovery Hub.
Ethics declarations
Competing interests
The authors declare no competing financial interests.
About this article
Cite this article
Ringma, J., Legge, S., Woinarski, J. et al. Australia's mammal fauna requires a strategic and enhanced network of predator-free havens. Nat Ecol Evol 2, 410–411 (2018). https://doi.org/10.1038/s41559-017-0456-4