Access options
Subscribe to Journal
Get full journal access for 1 year
$99.00
only $8.25 per issue
All prices are NET prices.
VAT will be added later in the checkout.
Rent or Buy article
Get time limited or full article access on ReadCube.
from$8.99
All prices are NET prices.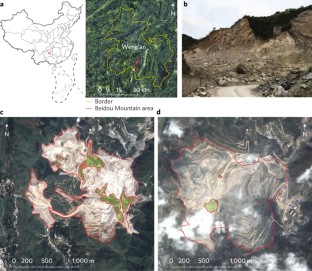 References
1.

Xiao, S. et al. Natl Sci. Rev. 1, 498–520 (2014).

2.

Xiao, S., Zhang, Y. & Knoll, A. H. Nature 391, 553–558 (1998).

3.

Xiao, S. & Knoll, A. H. J. Paleontol. 74, 767–788 (2000).

4.

Li, C.-W., Chen, J.-Y. & Hua, T.-E. Science 279, 879–882 (1998).

5.

Per Capita Disposable Income of Rural Households by County (City, District, Special Region) (Guizhou Statistical Bureau, 2017); http://go.nature.com/2sls0jW

6.

Yang, H. Nature 509, 535–535 (2014).

7.

Cheng, X., Shi, Z., Zhang, C. & Ni, S. Environ. Monitor. China 31, 78–83 (2015).

8.

Xu, Y. & Zhang, Y. Weng'an, Guizhou: mining is destroying the 600 million year history of Earth Science and Technology Daily http://go.nature.com/2s9f3uc (2017).

9.

Noubhani, A. in From Geoheritage to Geoparks: Case Studies from Africa and Beyond (ed. Eder, W.) 125–133 (Springer, Cham, 2015).

10.

Lipps, J. H. in PaleoParks: The Protection and Conservation of Fossil Sites Worldwide (eds Lipps, J. H. & Granier, B. R. C.) 1–10 (Univ. California, California, 2009).
Acknowledgements
This work was supported by the National Key Technology R&D Program of China (grant no. 2016YFC0500106) and Fundamental Research Funds for the Central Universities (grant no. XDJK2015B021 and SWU114108).
Ethics declarations
Competing interests
The authors declare no competing financial interests.
About this article
Cite this article
Yang, H., Ma, M., Flower, R.J. et al. Preserve Precambrian fossil heritage from mining. Nat Ecol Evol 1, 1048–1049 (2017). https://doi.org/10.1038/s41559-017-0266-8
Further reading
Nature Ecology & Evolution (2017)