New palaeoecological data from New Guinea reveal that climatic change at the Holocene boundary is unlikely to have driven early agriculture in the region. More nuanced understanding of how humans responded to past climate change could better inform our responses in the future.
Access options
Subscribe to Journal
Get full journal access for 1 year
$119.00
only $9.92 per issue
All prices are NET prices.
VAT will be added later in the checkout.
Tax calculation will be finalised during checkout.
Rent or Buy article
Get time limited or full article access on ReadCube.
from$8.99
All prices are NET prices.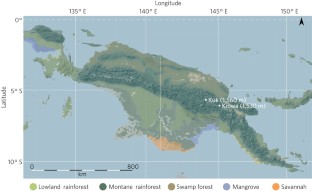 References
1

Roberts, P. et al. Nat. Ecol. Evol. 1, 0044 (2017).

2

d'Alpoim Guedes, J. et al. Proc. Natl Acad. Sci. USA 113, 14483–14491 (2016).

3

Denham, T. et al. Science 301, 189–193 (2003).

4

Summerhayes, G. et al. Science 330, 78–81 (2010).

5

Childe, G. New Light on the Most Ancient East: The Oriental Prelude to European Prehistory (Kegan Paul, 1935).

6

Baldwin, M. & Lammers, J. Proc. Natl Acad. Sci. USA 113, 14953–14957 (2016).

7

von Kaenel, C. Trump picks a climate skeptic to enforce environmental laws. Scientific American (21 November 2016); http://go.nature.com/2j0KOUe
Ethics declarations
Competing interests
The author declares no competing financial interests.
About this article
Cite this article
Lilley, I. Palaeoecology: Agriculture emerges from the calm. Nat Ecol Evol 1, 0085 (2017). https://doi.org/10.1038/s41559-017-0085