New microfossils suggest that a rich meiofauna was already present in the early Cambrian, offering a solution to the problem that the Cambrian explosion appears to have sprung out of nothing.
Access options
Subscribe to Journal
Get full journal access for 1 year
$99.00
only $8.25 per issue
All prices are NET prices.
VAT will be added later in the checkout.
Tax calculation will be finalised during checkout.
Rent or Buy article
Get time limited or full article access on ReadCube.
from$8.99
All prices are NET prices.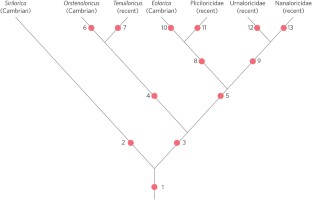 References
1

Conway Morris, S. Phil. Trans. R. Soc. B 362 1069–1083 (2006).

2

Han, J., Conway Morris, S., Ou, Q., Shu, D. & Huang, H. Nature http://dx.doi.org/10.1038/nature21072 (2017).

3

Maas, A., Waloszek, D., Haug, J. T. & Müller, K. J. Mem. Assoc. Australas. Palaeontol. 37, 281–302 (2009).

4

Harvey, T. H. P. & Butterfield, N. J. Nat. Ecol. Evol. 1, 0022 (2017).

5

Kristensen, R. M. J. Zool. Syst. Evol. Res. 21, 163–180 (1983).

6

Peel, J. S. J. Paleontol. 84, 332–340 (2010).

7

Yamasaki, H. Fujimoto, S. & Miyazaki, K. Zool. Lett. 1, 18 (2015).

8

Sø rensen, M. V. et al. J. Zool. Syst. Evol. Res. 46, 231–239 (2008).

9

Zhang, H. et al. Sci. Rep. 5, 16521 (2015).

10

Maas, A., Huang, D., Chen, J., Waloszek, D. & Braun, A. Palaeogr. Palaeclimatol. Paleoecol. 254, 288–306 (2007).
Ethics declarations
Competing interests
The author declares no competing financial interests.
About this article
Cite this article
Kristensen, R. Palaeontology: Darwin's dilemma dissolved. Nat Ecol Evol 1, 0076 (2017). https://doi.org/10.1038/s41559-017-0076