The founding members of the Cultural Evolution Society were surveyed to identify the major scientific questions and 'grand challenges' currently facing the study of cultural evolution. We present the results and discuss the implications for an emergent synthesis in the study of culture based on Darwinian principles.
Access options
Subscribe to Journal
Get full journal access for 1 year
$99.00
only $8.25 per issue
All prices are NET prices.
VAT will be added later in the checkout.
Tax calculation will be finalised during checkout.
Rent or Buy article
Get time limited or full article access on ReadCube.
from$8.99
All prices are NET prices.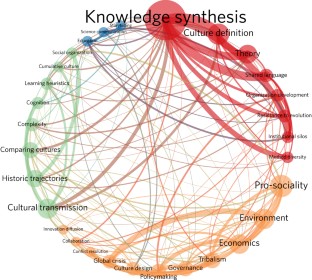 References
1

Gintis, H. Individuality and Entanglement: The Moral and Material Bases of Social Life (Princeton Univ. Press, 2015).

2

Richerson, P. J. & Christiansen, M. H. Cultural Evolution: Society, Technology, Language, and Religion (MIT Press, 2013).

3

Laland, K. N., Odling-Smee, J. & Myles, S. Nat. Rev. Gen. 11, 137–148 (2010).

4

Darwin, C. The Descent of Man, and Selection in Relation to Sex (John Murray, 1871).

5

Wilson, E. O. Sociobiology: The New Synthesis (Belknap Press of Harvard Univ., 1975).

6

Segerstråle, U. Defenders of the Truth: The Battle for Science in the Sociobiology Debate and Beyond (Oxford Univ. Press, 2000).

7

Lewens, T. Cultural Evolution (Oxford Univ. Press, 2015).

8

Mesoudi, A. Evol. Biol. 43, 481–497 (2015).

9

Haas, E. & Fischman, G. Am. Ed. Res. J. 47, 532–562 (2010).

10

Bastian, M., Heymann, S. & Jacomy, M. Gephi: An open source software for exploring and manipulating networks. In Proc. 4th Int. ICWSM Conf. (2009); http://go.nature.com/2iVc6eI

11

Wilson, D. S. & Whitehouse, H. Developing the field site concept for the study of cultural evolution. Social Evolution Forum (16 October 2016); http://go.nature.com/2k6p0Iu

12

McElreath, R. A Long-Form Research Program in Human Behavior, Ecology, and Culture (2016); http://go.nature.com/2iVefqp
Acknowledgements
The authors wish to thank the Evolution Institute and the University of Maryland for assisting with arrangements and providing space for the meetings in which the Cultural Evolution Society was organized and the grand challenges survey was developed. These organizational meetings and the analysis of the grand challenges survey results were funded through a grant to the Evolution Institute from the John Templeton Foundation.
Ethics declarations
Competing interests
The authors declare no competing financial interests.
About this article
Cite this article
Brewer, J., Gelfand, M., Jackson, J. et al. Grand challenges for the study of cultural evolution. Nat Ecol Evol 1, 0070 (2017). https://doi.org/10.1038/s41559-017-0070