Abstract
Predators are instrumental in structuring natural communities and ecosystem processes. The strong effects of predators are often attributed to their high trophic position in the food web. However, most predators have to grow and move up the food chain before reaching their final trophic position, and during this developmental process their traits, interactions and abundances change. Here, we show that this process of 'moving up' the food chain during development strongly determines the ecological role of a predator. By experimentally manipulating the succession of developmental stages of a predatory salamander in a seasonal aquatic ecosystem, we found that the effects of this apex predator on the ecosystem typically declined with age and size. Furthermore, younger, smaller predator stages had long-lasting effects on community structure and ecosystem function that determined the effects of subsequent older, larger stages. Consequently, the legacy effects of early stages largely shaped the impact of the predator on the ecosystem, which could not simply be inferred from its final trophic position. Our results highlight that accounting for all life stages when managing natural populations is crucial to preserve the functioning of natural ecosystems, especially given that early life stages of species are often particularly vulnerable to natural and anthropogenic disturbances.
This is a preview of subscription content
Access options
Subscribe to Nature+
Get immediate online access to the entire Nature family of 50+ journals
Subscribe to Journal
Get full journal access for 1 year
$119.00
only $9.92 per issue
All prices are NET prices.
VAT will be added later in the checkout.
Tax calculation will be finalised during checkout.
Buy article
Get time limited or full article access on ReadCube.
$32.00
All prices are NET prices.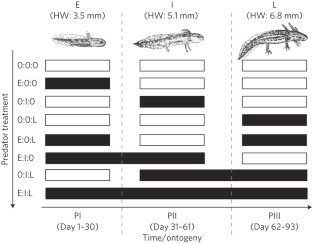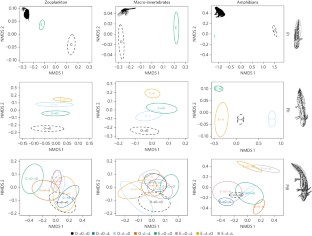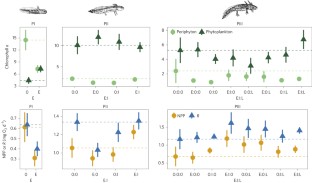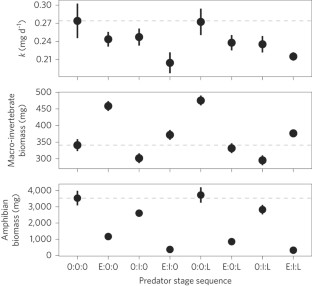 References
Estes, J. A. et al. Trophic downgrading of planet Earth. Science 333, 301–306 (2011).

Hooper, D. U. et al. A global synthesis reveals biodiversity loss as a major driver of ecosystem change. Nature 486, 105–108 (2012).

Dirzo, R. et al. Defaunation in the Anthropocene. Science 345, 401–406 (2014).

Cardinale, B. J. et al. Biodiversity loss and its impact on humanity. Nature 486, 59–67 (2012).

Paine, R. T. The Pisaster–Tegula interaction: prey patches, predator food preference, and intertidal community structure. Ecology, 50, 950–961 (1969).

Power, M. E. et al. Challenges in the quest for keystones. Bioscience 46, 609–620 (1996).

Rudolf, V. H. W. & Rasmussen, N. L. Ontogenetic functional diversity: size-structure of a keystone predator drives functioning of a complex ecosystem. Ecology 94, 1046–1056 (2013).

Rudolf, V. H. W., Rasmussen, N. L., Dibble, C. J. & Van Allen, B. G. Resolving the roles of body size and species identity in driving functional diversity. Proc. R. Soc. B 281, 20133203 (2014).

Werner, E. E. & Gilliam, J. F. The ontogenetic niche and species interactions in size structured populations. Annu. Rev. Ecol. Syst. 15, 393–425 (1984).

De Roos, A. M., Persson, L. & McCauley, E. The influence of size-dependent life-history traits on the structure and dynamics of populations and communities. Ecol. Lett. 6, 473–487 (2003).

Polis, G. A. Age structure component of niche width and intraspecific resource partitioning: can age groups function as ecological species? Am. Nat. 123, 541–564 (1984).

Rudolf, V. H. W. & Rasmussen, N. L. Population structure determines functional differences among species and ecosystem processes. Nat. Commun. 4, 2318 (2013).

Connell, J. H. Diversity and the coevolution of competitors, or the ghost of competition past. Oikos 35, 131–138 (1980).

Miller, T. E., terHorst, C. P. & Burns, J. H. The ghost of competition present. Am. Nat. 173, 347–353 (2009).

Woodward, G. et al. Body size in ecological networks. Trends Ecol. Evol. 20, 402–409 (2005).

Rudolf, V. H. W. & Lafferty, K. D. Stage structure alters how complexity affects stability of ecological networks. Ecol. Lett. 14, 75–79 (2011).

Persson, L. Trophic cascades: abiding heterogeneity and the trophic level concept at the end of the road. Oikos 85, 385–397 (1999).

Persson, L., Bystrom, P., Wahlstrom, E. & Westman, E. Trophic dynamics in a whole lake experiment: size-structured interactions and recruitment variation. Oikos 106, 263–274 (2004).

Hjelm, J. & Persson, L. Size-dependent attack rate and handling capacity: inter-cohort competition in a zooplanktivorous fish. Oikos 95, 520–532 (2001).

Woodward, G., Speirs, D. C., Hildrew, A. G. & Hal, C. Quantification and resolution of a complex, size-structured food web. Adv. Ecol. Res. 36, 85–135 (2005).

Fukami, T. & Nakajima, M. Community assembly: alternative stable states or alternative transient states? Ecol. Lett. 14, 973–984 (2011).

Drake, J. A. Community-assembly mechanics and the structure of an experimental species ensemble. Am. Nat. 137, 1–26 (1991).

Fukami, T. & Morin, P. J. Productivity–biodiversity relationships depend on the history of community assembly. Nature 424, 423–426 (2003).

Fukami, T. Historical contingency in community assembly: integrating niches, species pools, and priority effects. Annu. Rev. Ecol. Evol. Syst. 46, 1–23 (2015).

Persson, L., Bystrom, P. & Wahlstrom, E. Cannibalism and competition in Eurasian perch: population dynamics of an ontogenetic omnivore. Ecology 81, 1058–1071 (2000).

Miller, T. E. X. & Rudolf, V. H. W. Thinking inside the box: community-level consequences of stage-structured populations. Trends Ecol. Evol. 26, 457–466 (2011).

Chase, J. M. Stochastic community assembly causes higher biodiversity in more productive environments. Science 328, 1388–1391 (2010).

Chase, J. M. Drought mediates the importance of stochastic community assembly. Proc. Natl Acad. Sci. USA 104, 17430–17434 (2007).

Van Allen, B. G. & Rudolf, V. H. W. Carry-over effects drive competitive dominance in spatially structured environments. Proc. Natl Acad. Sci. USA 113, 6939–6944 (2016).

Van Allen, B. G. & Rudolf, V. H. W. Habitat-mediated carry-over effects lead to context dependent outcomes of species interactions. J. Anim. Ecol. 84, 1646–1656 (2015).

Persson, L. et al. Gigantic cannibals driving a whole-lake trophic cascade. Proc. Natl Acad. Sci. USA 100, 4035–4039 (2003).

Reichstein, B., Persson, L. & De Roos, A. M. Ontogenetic asymmetry modulates population biomass production and response to harvest. Nat. Commun. 6, 6441 (2015).

Jackson, J. B. C. et al. Historical overfishing and the recent collapse of coastal ecosystems. Science 293, 629–637 (2001).

Garcia, S. M. et al. Reconsidering the consequences of selective fisheries. Science 335, 1045–1047 (2012).

Berrill, M., Coulson, D., McGillivray, L. & Pauli, B. Toxicity of endosulfan to aquatic stages of anuran amphibians. Environ. Toxicol. Chem. 17, 1738–1744 (1998).

Fauth, J. E. Identifying potential keystone species from field data – an example from temporary ponds. Ecol. Lett. 2, 36–43 (1999).

Morin, P. J. Predation, competition, and the composition of larval anuran guilds. Ecol. Monogr. 53, 119–138 (1983).

Morin, P. J. Functional redundancy, nonadditive interactions, and supply-side dynamics in experimental pond communities. Ecology 76, 133–149 (1995).

Chalcraft, D. R. & Resetarits, W. J. Predator identity and ecological impacts: functional redundancy or functional diversity? Ecology 84, 2407–2418 (2003).

Davic, R. D. & Welsh, H. H. On the ecological roles of salamanders. Annu. Rev. Ecol. Evol. Syst. 35, 405–434 (2004).

Caldwell, J. P., Thorp, J. H. & Jervey, T. O. Predator–prey relationships among larval dragonflies, salamanders, and frogs. Oecologia 46, 285–289 (1980).

Urban, M. C. Salamander evolution across a latitudinal cline in gape-limited predation risk. Oikos 117, 1037–1049 (2008).

Leff, L. G. & Bachmann, M. D. Ontogenetic changes in predatory behavior of larval tiger salamanders (Ambystoma tigrinum). Can. J. Zool. 64, 1337–1344 (1986).

McWilliams, S. R. & Bachmann, M. Foraging ecology and prey preference of pond-form larval small-mouthed salamanders, Ambystoma texanum . Copeia 1989, 948–961 (1989).

Wetzel, R. G. & Likens, G. E. Limnological Analyses 3rd edn (Springer, 2000).

Eaton, A. D., Clesceri, L. S., Rice, E. W., Greenberg, A. E. & Franson, M. A. H. Standard Methods for Examination of Water and Wastewater (American Public Health Association, American Water Works Association and Water Environment Federation, 2005).

Benke, A. C., Huryn, A. D., Smock, L. A. & Wallace, J. B. Length–mass relationships for freshwater macroinvertebrates in North America with particular reference to the southeastern United States. J. North. Am. Benthol. Soc. 18, 308–343 (1999).

Bates, D., Mächler, M., Bolker, B. M. & Walker, S. Fitting linear mixed-effects models using lme4. J. Stat. Softw. 67, 1–48 (2015).

Vegan: Community Ecology Package. R package version 2.0-4 (R Foundation for Statistical Computing, 2012); https://cran.r-project.org/web/packages/vegan/index.html
Acknowledgements
We thank A. Roman, C. Dibble, M. Braun, E. Matson, J. Ohm and G. Ross for help with field work and sample processing, and C. Dibble, B. Toscano and N. Rasmussen for helpful comments on the manuscripts. This work was supported by NSF DEB-1256860 and NSF DEB-0841686 to V.H.W.R.
Ethics declarations
Competing interests
The authors declare no competing financial interests.
Supplementary information
About this article
Cite this article
Rudolf, V., Van Allen, B. Legacy effects of developmental stages determine the functional role of predators. Nat Ecol Evol 1, 0038 (2017). https://doi.org/10.1038/s41559-016-0038
Received:

Accepted:

Published:

DOI: https://doi.org/10.1038/s41559-016-0038
Further reading
Tian Zhao
Xiaoyi Wang
Jianping Jiang

Aquatic Ecology (2019)

T. Zhao
S. Villéger
J. Cucherousset

Oecologia (2019)

Laura Turnbull
Marc-Thorsten Hütt
Anthony J. Parsons

Applied Network Science (2018)