Abstract
Population genetics is essential for understanding and managing marine ecosystems, but sampling remains challenging. We demonstrate that high-throughput sequencing of seawater environmental DNA can provide useful estimates of genetic diversity in a whale shark (Rhincodon typus) aggregation. We recover similar mitochondrial haplotype frequencies in seawater compared to tissue samples, reliably placing the studied aggregation in a global genetic context and expanding the applications of environmental DNA to encompass population genetics of aquatic organisms.
This is a preview of subscription content
Access options
Subscribe to Journal
Get full journal access for 1 year
$119.00
only $9.92 per issue
All prices are NET prices.
VAT will be added later in the checkout.
Tax calculation will be finalised during checkout.
Rent or Buy article
Get time limited or full article access on ReadCube.
from$8.99
All prices are NET prices.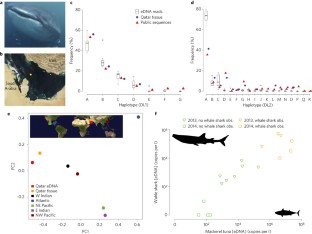 References
1

Pierce, S. J. & Norman, B. Rhincodon typus. http://dx.doi.org/10.2305/IUCN.UK.2016-1.RLTS.T19488A2365291.en (IUCN, 2016).

2

Rowat, D. & Brooks, K. S. J. Fish Biol. 80, 1019–1056 (2012).

3

Robinson, D. P. et al. PLoS ONE 8, e58255 (2013).

4

Dicken, M. L., Booth, A. J. & Smale, M. J. ICES J. Mar. Sci. 63, 1640–1648 (2006).

5

Ficetola, G. F., Miaud, C., Pompanon, F. & Taberlet, P. Biol. Lett. 4, 423–425 (2008).

6

Thomsen, P. F. et al. Mol. Ecol. 21, 2565–2573 (2012).

7

Port, J. A. et al. Mol. Ecol. 25, 527–541 (2016).

8

Thomsen, P. F. et al. PLoS ONE 7, e41732 (2012).

9

Thomsen, P. F. & Willerslev, E. Biol. Conserv. 183, 4–18 (2015).

10

Robinson, D. P. et al. PLoS ONE 11, e0158593 (2016).

11

Castro, A. L. F. et al. Mol. Ecol. 16, 5183–5192 (2007).

12

Schmidt, J. V. et al. PLoS ONE 4, e4988 (2009).

13

Vignaud, T. M. et al. Mol. Ecol. 23, 2590–2601 (2014).

14

Kondrashov, F. A. & Kondrashov, A. S. Phil. Trans. R. Soc. B. 365, 1169–1176 (2010).

15

Valentini, A. et al. Mol. Ecol. 25, 929–942 (2016).

16

Fontes, J., McGinty, N., Machete, M. & Afonso, P. in QScience Proc. (The 4th Int. Whale Shark Conf.) Vol. 2016, iwsc4.17 (2016).

17

Meekan, M., Speed, C., Planes, S., McLean, C. & Bradshaw, C. Population Monitoring for Whale Sharks (Rhincodon typus) (Australian Institute of Marine Science, 2008).

18

Librado, P. & Rozas, J. Bioinform. 25, 1451–1452 (2009).

19

Meyer, M., Stenzel, U. & Hofreiter, M. Nat. Protoc. 3, 267–278 (2008).

20

Boyer, F. et al. Mol. Ecol. Resour. 16, 176–182 (2016).

21

Drummond, A. J., Suchard, M. A., Xie, D., Rambaut, A. Mol. Biol. Evol. 29, 1969–1973 (2012).

22

Watterson, G. A. Theor. Popul. Biol. 7, 256–276 (1975).

23

Tajima, F. Genetics 105, 437–460 (1983).

24

Nei, M. & Li, W.-H. Proc. Natl Acad. Sci. USA 76, 5269–5273 (1979).

25

Alam, M. T., Petit R. A. III, Read, T. D. & Dove, A. D. M. Gene 539, 44–49 (2014).

26

Schmidt, J. V. et al. Endang. Species Res. 12, 117–124 (2010).
Acknowledgements
We thank the Qatar Ministry of Environment for their collaboration and invaluable support. In particular, the crew on board R/V Saqt Al Khaleej is thanked for help with logistics for the water sampling. We thank the Maersk Oil Research and Technology Centre (MO-RTC) in Doha, Qatar, for being the main sponsor of the project. Special thanks to A. S. Al-Emadi (Head of MO-RTC) and J. Al-Khori (Technical Manager of MO-RTC) for supporting the project. The Danish National Research Foundation and the Natural History Museum of Denmark are thanked for additional funding. We thank T. B. Brand and the rest of the staff at the Centre for GeoGenetics, University of Copenhagen, as well as K. Magnussen and the Danish National Sequencing Centre for laboratory support. M. Krag is thanked for help with tissue samples. L. Olsen and P. Gravlund, National Aquarium Denmark (Den Blå Planet), provided a Stegostoma fasciatum tissue sample. J. V. Schmidt, University of Illinois at Chicago; R. W. Jabado, UAE University, Abu Dhabi, United Arab Emirates; and N. S. Blom, Danish Technical University, are thanked for scientific input. E. Vissing is thanked for the custom Python script.
Ethics declarations
Competing interests
The authors declare no competing financial interests.
Supplementary information
About this article
Cite this article
Sigsgaard, E., Nielsen, I., Bach, S. et al. Population characteristics of a large whale shark aggregation inferred from seawater environmental DNA. Nat Ecol Evol 1, 0004 (2017). https://doi.org/10.1038/s41559-016-0004
Received:

Accepted:

Published: