Shifts in phenology can impact organism fitness, ecosystem function, and goods and services from nature. Climate change management must better integrate phenology to optimize conservation outcomes as these impacts increase.
Access options
Subscribe to Nature+
Get immediate online access to the entire Nature family of 50+ journals
Subscribe to Journal
Get full journal access for 1 year
$99.00
only $8.25 per issue
All prices are NET prices.
VAT will be added later in the checkout.
Tax calculation will be finalised during checkout.
Buy article
Get time limited or full article access on ReadCube.
$32.00
All prices are NET prices.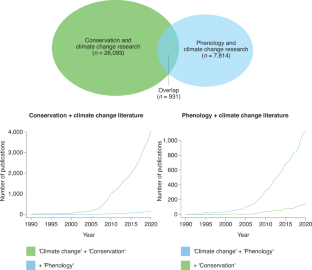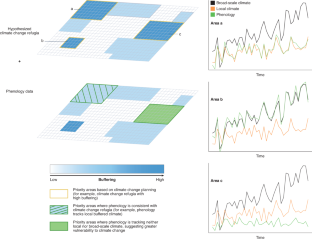 References
Kharouba, H. M. et al. Proc. Natl Acad. Sci. USA 115, 5211–5216 (2018).

Poloczanska, E. S. et al. Nat. Clim. Change 3, 919–925 (2013).

Morin, X. & Chuine, I. Glob. Change Biol. 11, 1493–1503 (2005).

Chuine, I. Phil. Trans. R. Soc. B Biol. Sci. 365, 3149–3160 (2010).

Lane, J. E. et al. Nature 489, 554–557 (2012).

Lambers, J. H. R. et al. Clim. Change Ecol. 2, 100008 (2021).

Fitchett, J. M. & Ebhuoma, E. Int. J. Biometeorol. 62, 1115–1119 (2018).

Furey, N. M., Mackie, I. J. & Racey, P. A. Acta Chiropt. 13, 341–354 (2011).

Samhouri, J. F. et al. Proc. R. Soc. B Biol. Sci. 288, 20211607 (2021).

Rosemartin, A. H. et al. Biol. Conserv. 173, 90–97 (2014).

Foden, W. B. et al. WIREs Clim. Change 10, e551 (2019).

Cleland, E. E. et al. Ecology 93, 1765–1771 (2012).

Aubin, I. et al. Environ. Res. 24, 164–186 (2016).

Schindler, D. E., Armstrong, J. B. & Reed, T. E. Front. Ecol. Evol. 13, 257–263 (2015).

Fonner, R., Bellanger, M. & Warlick, A. Ocean Coast Manag. 194, 105222 (2020).

Birch, J. C. et al. Proc. Natl Acad. Sci. USA 107, 21925–21930 (2010).

Griscom, B. W. et al. Proc. Natl Acad. Sci. USA 114, 11645–11650 (2017).

Lawler, J. J. et al. Conserv. Biol. 29, 618–629 (2015).

Anderegg, W. R. et al. Science 349, 528–532 (2015).

Duveneck, M. J. & Thompson, J. R. J. Geophys. Res. Biogeosci. 122, 2298–2313 (2017).

Buchholz, T. et al. Mitig. Adapt. Strateg. Glob. Chang. 27, 4 (2022).

Morelli, T. L. et al. PLoS ONE 11, e0159909 (2016).

Stralberg, D., Carroll, C. & Nielsen, S. E. Conserv. Lett. 13, e12712 (2020).
Acknowledgements
Conversations with P. Levin and K. Pradhan improved this manuscript.
Ethics declarations
Competing interests
The authors declare no competing interests.
About this article
Cite this article
Ettinger, A.K., Chamberlain, C.J. & Wolkovich, E.M. The increasing relevance of phenology to conservation. Nat. Clim. Chang. 12, 305–307 (2022). https://doi.org/10.1038/s41558-022-01330-8
Published:

Issue Date:

DOI: https://doi.org/10.1038/s41558-022-01330-8