Climate change poses a threat to heritage globally. Decolonial approaches to climate change–heritage research and practice can begin to address systemic inequities, recognize the breadth of heritage and strengthen adaptation action globally.
This is a preview of subscription content
Access options
Subscribe to Nature+
Get immediate online access to the entire Nature family of 50+ journals
Subscribe to Journal
Get full journal access for 1 year
$99.00
only $8.25 per issue
All prices are NET prices.
VAT will be added later in the checkout.
Tax calculation will be finalised during checkout.
Buy article
Get time limited or full article access on ReadCube.
$32.00
All prices are NET prices.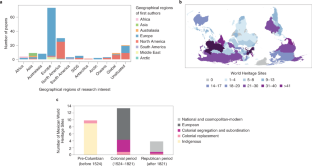 References
Fatorić, S. & Biesbroek, R. Climatic Change 162, 301–320 (2020).

Reimann, L., Vafeidis, A. T., Brown, S., Hinkel, J. & Tol, R. S. J. Nat. Commun. 9, 4161 (2018).

Overland, I. et al. Clim. Dev. https://doi.org/10.1080/17565529.2021.1976609 (2021).

North, M. A., Hastie, W. W., Craig, M. H. & Slotow, R. Environ. Sci. Policy 127, 196–208 (2022).

Orr, S. A., Richards, J. & Fatoric, S. Hist. Environ. Policy Pract. 12, 1–43 (2021).

Fatorić, S. & Seekamp, E. Climatic Change 142, 227–254 (2017).

Brooks, N., Clarke, J., Ngaruiya, G. W. & Wangui, E. E. Azania Archaeol. Res. Africa 55, 297–328 (2020).

Birkmann, J. et al. Environ. Res. Lett. 16, 094052 (2021).

Oppenheimer, M. et al. in Special Report on the Ocean and Cryosphere in a Changing Climate (eds Pörtner, H. O. et al.) 321–445 (IPCC, WMO, 2019).

Ley, D. et al. in Special Report on Global Warming of 1.5°C (eds Masson-Delmotte, V. et al.) 338–348 (IPCC, WMO, 2018).

Boyd, E. et al. One Earth 4, 1365–1370 (2021).

Cundill, G. et al. Glob. Environ. Change 69, 102315 (2021).

Carmichael, B. et al. Mitig. Adapt. Strateg. Glob. Change 23, 231–255 (2018).

Joy, C. J. Mater. Cult. 16, 389–400 (2011).

Simpson, N. P. et al. Nat. Clim. Change 11, 937–944 (2021).

Bordner, A. S., Ferguson, C. E. & Ortolano, L. Glob. Environ. Change 61, 102054 (2020).

NOAH's ARK Project: Global Climate Change Impact on Built Heritage and Cultural Landscapes (University College London, 2021); https://www.ucl.ac.uk/bartlett/heritage/research/projects/project-archive/noahs-ark-project

Sabbioni, C., Brimblecombe, P. & Cassar, M. The Atlas of Climate Change Impact on European Cultural Heritage: Scientific Analysis and Management Strategies (Anthem Press, 2010).

Decolonizing Heritage: ICCROM 31st General Assembly 2019 (International Centre for the Study of the Preservation and Restoration of Cultural Property, 2019); https://www.iccrom.org/resources/thematic-discussion-decolonizing-heritage

Liboiron, M. Nat. Geosci. 14, 876–877 (2021).

Tucker, H. & Carnegie, E. Ann. Tour. Res. 47, 63–76 (2014).

Breunlin, R. Genealogy 4, 95 (2020).

Wijsman, K. & Feagan, M. Environ. Sci. Policy 98, 70–76 (2019).

Trisos, C. H., Auerbach, J. & Katti, M. Nat. Ecol. Evol. 5, 1205–1212 (2021).

Ndlovu-Gatsheni, S. J. Epistemic Freedom in Africa: Deprovincialization and Decolonization (Routledge, 2018).

Schipper, E. L. F., Dubash, N. K. & Mulugetta, Y. Climatic Change 168, 18 (2021).

Chirikure, S., Ndoro, W. & Deacon, J. in Managing Heritage in Africa 1st edn (eds Ndoro, W. et al.) 1–21 (Routledge, 2017).

Rewriting World Archaeology: Dialogues on the Archaeology of the Global South (The British Academy, 2021); https://www.thebritishacademy.ac.uk/projects/rewriting-world-archaeology-dialogues-on-the-archaeology-of-the-global-south/

Gahman, L., Penados, F. & Greenidge, A. Soc. Mov. Stud. 19, 241–248 (2020).

Krauß, W. & Bremer, S. Clim. Risk Manage. 28, 100221 (2020).

International Co-Sponsored Meeting on Culture, Heritage and Climate Change (IPCC, ICOMOS & UNESCO, 2021).

World Heritage List (UNESCO, accessed September 2021); https://whc.unesco.org/en/list/

Nursey-Bray, M., Palmer, R., Smith, T. F. & Rist, P. Local Environ. 24, 473–486 (2019).

Pocock, C., Collett, D. & Baulch, L. Int. J. Herit. Stud. 21, 962–982 (2015).

Zavaleta-Cortijo, C. et al. Lancet Planet. Health 4, e381–e382 (2020).

Parry, L. et al. Soc. Sci. Med. 241, 112448 (2019).

Zavaleta-Cortijo, C. et al. PLoS ONE 13, e0205714 (2018).

Rodrigues, M. Nature 598, 7881 (2021).

Fernández-Llamazares, Á. et al. Reg. Environ. Change 17, 1673–1685 (2017).

Walker, R. T. Environment 63, 15–25 (2021).
Acknowledgements
N.P.S. received financial support from the UK government's Foreign, Commonwealth & Development Office and the International Development Research Centre, Ottawa, Canada (grant number 109419-001). C.H.T. is supported by the FLAIR Fellowship Programme: a partnership between the African Academy of Sciences and the Royal Society funded by the UK government's Global Challenges Research Fund. N.K. is supported by the Mapping Africa's Endangered Archaeological Sites and Monuments project funded by Arcadia — a charitable fund of Lisbet Rausing and Peter Baldwin. S.S. is funded by the Leverhulme Trust Doctoral Training Scheme, hosted by Southampton Marine and Maritime Institute at the University of Southampton.
Ethics declarations
Competing interests
The authors declare no competing interests.
About this article
Cite this article
Simpson, N.P., Clarke, J., Orr, S.A. et al. Decolonizing climate change–heritage research. Nat. Clim. Chang. 12, 210–213 (2022). https://doi.org/10.1038/s41558-022-01279-8
Published:

Issue Date:

DOI: https://doi.org/10.1038/s41558-022-01279-8