Changes in river discharge due to climate change are highly uncertain, and a recent study used a global streamflow dataset to assess whether such trends are detectable. Streamflow changes occurred more often in basins impacted by human disturbances than in pristine ones, and there was no clear signal from climate change alone.
Access options
Subscribe to Journal
Get full journal access for 1 year
$99.00
only $8.25 per issue
All prices are NET prices.
VAT will be added later in the checkout.
Tax calculation will be finalised during checkout.
Rent or Buy article
Get time limited or full article access on ReadCube.
from$8.99
All prices are NET prices.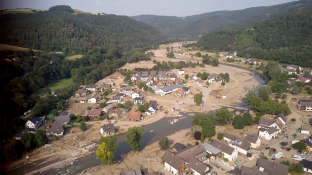 References
1.

Yang, Y. et al. Environ. Res. Lett. 16, 064096 (2021).

2.

Milly, P. C. D. et al. Science 319, 573–574 (2008).

3.

Villarini, G., Serinaldi, F., Smith, J. A. & Krajewski, W. F. Water Resour. Res. 45, W08417 (2009).

4.

Wasko, C., Sharma, A. & Lettenmaier, D. P. Nat. Commun. 10, 5676 (2019).

5.

Allan, R. P. et al. Ann. NY Acad. Sci. 1472, 49–75 (2020).

6.

Serinaldi, F. & Kilsby, C. G. Adv. Water Resour. 77, 17–36 (2015).

7.

Wasko, C. et al. Phil. Trans. R. Soc. A 379, 20190548 (2021).
Ethics declarations
Competing interests
The authors declare no competing interests.
About this article
Cite this article
Villarini, G., Wasko, C. Humans, climate and streamflow. Nat. Clim. Chang. 11, 725–726 (2021). https://doi.org/10.1038/s41558-021-01137-z