Increasing Republicans' belief in climate change is challenging yet needed for broader support of policy. Targeted advertisements featuring Republican voices may be a solution to increase their understanding of climate change.
Access options
Subscribe to Journal
Get full journal access for 1 year
$99.00
only $8.25 per issue
All prices are NET prices.
VAT will be added later in the checkout.
Tax calculation will be finalised during checkout.
Rent or Buy article
Get time limited or full article access on ReadCube.
from$8.99
All prices are NET prices.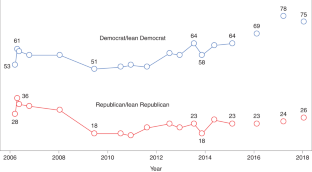 References
1.

Funk, C., Kennedy, B., Hefferon, M. & Strauss, M. Majorities See Government Efforts to Protect the Environment as Insufficient (Pew Research Center, 2018).

2.

Stern, P. C. J. Soc. Issues 56, 407–424 (2000).

3.

Wolsko, C. J. Environ. Psychol. 51, 284–294 (2017).

4.

Goldberg, M. H., Gustafson, A., Rosenthal, S. & Leiserowitz, A. Nat. Clim. Change https://doi.org/10.1038/s41558-021-01070-1 (2021).

5.

McCright, A. M. & Dunlap, R. E. Sociol Q. 52, 155–194 (2011).

6.

Leiserowitz, A., Maibach, E., Roser-Renouf, C., Feinberg, G. & Rosenthal, S. Politics & Global Warming, Spring 2014 (Yale Project on Climate Change, Center for Climate Change Communication, 2014).

7.

Andrews, R. N. L. American environmental policy since 1964. In Oxford Research Encyclopedia (Oxford Univ. Press, 2018).

8.

Benegal, S. D. & Scruggs, L. A. Climatic Change 148, 61–80 (2018).
Ethics declarations
Competing interests
The author declares no competing interests.
About this article
Cite this article
Ehret, P. Reaching Republicans on climate change. Nat. Clim. Chang. 11, 560–561 (2021). https://doi.org/10.1038/s41558-021-01071-0