Recent changes to how clouds are represented in global models, especially over the Southern Ocean, resulted in increased climate warming. Correcting rain processes in a model shows improved cloud representation but leads to a greatly enhanced negative feedback, offsetting documented increases in model climate sensitivity.
This is a preview of subscription content
Access options
Subscribe to Journal
Get full journal access for 1 year
$99.00
only $8.25 per issue
All prices are NET prices.
VAT will be added later in the checkout.
Tax calculation will be finalised during checkout.
Rent or Buy article
Get time limited or full article access on ReadCube.
from$8.99
All prices are NET prices.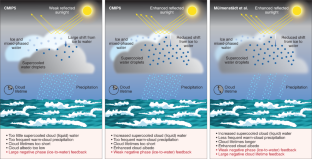 References
1.

Boucher, O. et al. In IPCC Climate Change 2013: The Physical Science Basis (eds Stocker, T. F. et al.) Ch. 7 (Cambridge Univ. Press, 2013).

2.

Mülmenstadt, J. et al. Nat. Clim. Change https://doi.org/10.1038/s41558-021-01038-1 (2021).

3.

Bodas-Salcedo, A. et al. J. Adv. Model. Earth Sy. 11, 1735–1758 (2019).

4.

Zelinka, M. D. et al. Geophys. Res. Lett. 47, e2019GL085782 (2020).

5.

Stephens, G. et al. Bull. Amer. Meteorol. Soc. 99, 569–581 (2018).

6.

Stephens, G. L. et al. J. Geophys. Res. 115, D24211 (2010).

7.

Kay, J. E. et al. J. Geophys. Res. 123, 4294–4309 (2018).

8.

Golaz, J.-C., Horowitz, L. W. & Levy, H. II Geophys. Res. Lett. 40, 2246–2251 (2013).

9.

Jing, X. W. & Suzuki, K. Geophys. Res. Lett. 45, 10729–10737 (2018).

10.

Betts, A. K. & Harshvardhan J. Geophys. Res. 92, 8483–8485 (1987).

11.

Wood, R. & Bretherton, C. S. J. Climate 19, 6425–6432 (2006).

12.

Fowler, H. J. et al. Phil. Trans. R. Soc. A (in the press).

13.

Stephens, G. L. J. Clim. 18, 237–273 (2005).

14.

National Academies of Sciences, Engineering and Medicine. Thriving on Our Changing Planet: A Decadal Strategy for Earth Observation from Space (The National Academies Press, 2018).
Acknowledgements
This research was carried out at the Jet Propulsion Laboratory, California Institute of Technology, under a contract with the National Aeronautics and Space Administration (80NM0018D0004).
Ethics declarations
Competing interests
The author declares no competing interests.
About this article
Cite this article
Stephens, G.L. The cooling of light rains in a warming world. Nat. Clim. Chang. 11, 468–470 (2021). https://doi.org/10.1038/s41558-021-01056-z