Abstract
Attempts to link physiological thermal tolerance to global species distributions have relied on lethal temperature limits, yet many organisms lose fertility at sublethal temperatures. Here we show that, across 43 Drosophila species, global distributions better match male-sterilizing temperatures than lethal temperatures. This suggests that species distributions may be determined by thermal limits to reproduction, not survival, meaning we may be underestimating the impacts of climate change for many organisms.
Access options
Subscribe to Nature+
Get immediate online access to Nature and 55 other Nature journal
Subscribe to Journal
Get full journal access for 1 year
$99.00
only $8.25 per issue
All prices are NET prices.
VAT will be added later in the checkout.
Tax calculation will be finalised during checkout.
Buy article
Get time limited or full article access on ReadCube.
$32.00
All prices are NET prices.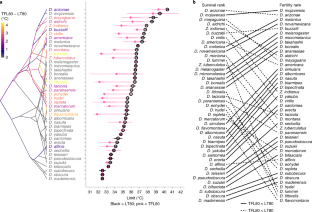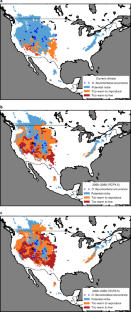 Code availability
Analysis R codes are available upon request from the corresponding authors.
References
Pecl, G. T. et al. Biodiversity redistribution under climate change: impacts on ecosystems and human well-being. Science 355, eaai9214 (2017).

Kearney, M. & Porter, W. Mechanistic niche modelling: combining physiological and spatial data to predict species' ranges. Ecol. Lett. 12, 334–350 (2009).

Nowakowski, A. J. et al. Thermal biology mediates responses of amphibians and reptiles to habitat modification. Ecol. Lett. 21, 345–355 (2018).

Metelmann, S. et al. The UK's suitability for Aedes albopictus in current and future climates. J. R. Soc. Interface 16, 20180761 (2019).

Kellermann, V. et al. Upper thermal limits of Drosophila are linked to species distributions and strongly constrained phylogenetically. Proc. Natl Acad. Sci. USA 109, 16228–16233 (2012).

Lancaster, L. T. & Humphreys, A. M. Global variation in the thermal tolerances of plants. Proc. Natl Acad. Sci. USA 117, 13580–13587 (2020).

Sunday, J. M. et al. Thermal-safety margins and the necessity of thermoregulatory behavior across latitude and elevation. Proc. Natl Acad. Sci. USA 111, 5610–5615 (2014).

Rezende, E. L., Bozinovic, F., Szilàgyi, A. & Santos, M. Predicting temperature mortality and selection in natural Drosophila populations. Science 369, 1242–1245 (2020).

Jørgensen, L. B., Malte, H. & Overgaard, J. How to assess Drosophila heat tolerance: unifying static and dynamic tolerance assays to predict heat distribution limits. Funct. Ecol. 33, 629–642 (2019).

Rezende, E. L., Castañeda, L. E. & Santos, M. Tolerance landscapes in thermal ecology. Funct. Ecol. 28, 799–809 (2014).

Terblanche, J. S. & Hoffmann, A. A. Validating measurements of acclimation for climate change adaptation. Curr. Opin. Insect Sci. 41, 7–16 (2020).

Walsh, B. S. et al. The impact of climate change on fertility. Trends Ecol. Evol. 34, 249–259 (2019).

Sage, T. L. et al. The effect of high temperature stress on male and female reproduction in plants. Field Crops Res. 182, 30–42 (2015).

Sales, K. et al. Experimental heatwaves compromise sperm function and cause transgenerational damage in a model insect. Nat. Commun. 9, 4771 (2018).

Porcelli, D., Gaston, K. J., Butlin, R. K. & Snook, R. R. Local adaptation of reproductive performance during thermal stress. J. Evol. Biol. 30, 422–429 (2016).

Saxon, A. D., O'Brien, E. K. & Bridle, J. R. Temperature fluctuations during development reduce male fitness and may limit adaptive potential in tropical rainforest Drosophila. J. Evol. Biol. 31, 405–415 (2018).

Breckels, R. D. & Neff, B. D. The effects of elevated temperature on the sexual traits, immunology and survivorship of a tropical ectotherm. J. Exp. Biol. 216, 2658–2664 (2013).

Paxton, C. W., Baria, M. V. B., Weis, V. M. & Harii, S. Effect of elevated temperature on fecundity and reproductive timing in the coral Acropora digitifera. Zygote 24, 511–516 (2016).

Hurley, L. L., McDiarmid, C. S., Friesen, C. R., Griffith, S. C. & Rowe, M. Experimental heatwaves negatively impact sperm quality in the zebra finch. Proc. R. Soc. Lond. B 285, 20172547 (2018).

Yogev, L. et al. Seasonal variations in pre‐ and post‐thaw donor sperm quality. Hum. Reprod. 19, 880–885 (2004).

Terblanche, J. S., Deere, J. A., Clusella Trullas, S., Janion, C. & Chown, S. L. Critical thermal limits depend on methodological context. Proc. R. Soc. Lond. B 274, 2935–2942 (2007).

Ives, A. R. R2s for correlated data: phylogenetic models, LMMs, and GLMMs. Syst. Biol. 68, 234–251 (2019).

Dillon, M. E., Wang, G., Garrity, P. A. & Huey, R. B. Thermal preference in Drosophila. J. Therm. Biol. 34, 109–119 (2009).

Tratter-Kinzner, M. et al. Is temperature preference in the laboratory ecologically relevant for the field? The case of Drosophila nigrosparsa. Glob. Ecol. Conserv. 18, e00638 (2019).

van Heerwaarden, B. & Sgrò, C. M. Male fertility thermal limits predict vulnerability to climate warming. Nat. Commun. 12, 2214 (2021).
Acknowledgements
We acknowledge N. Mannion and A. Sims for assistance with experiments, B. Longdon, K. Roberts and M. Garlovsky for supplying us with flies and R. Connell for designing three-dimensionally printed equipment. We thank P. Rohner and S. Lüpold for sharing their phylogenetic tree file. Funding was provided by Nature and Environment Research Council grant NE/P002692/1 and European Society for Evolutionary Biology Special Topic Network "The evolutionary ecology of thermal fertility limits" to T.A.R.P., A.J.B., A.A.H. and R.R.S, Swiss National Science Foundation P300PA_177830 to A.M. and the National Institute for Health Research: Health Protection Research Unit into Emerging Zoonotic Infections to S.M.
Ethics declarations
Competing interests
The authors declare no competing interests.
Additional information
Peer review information Nature Climate Change thanks Enrico Rezende, Ramakrishnan Vasudeva and the other, anonymous, reviewer(s) for their contribution to the peer review of this work.
Publisher's note Springer Nature remains neutral with regard to jurisdictional claims in published maps and institutional affiliations.
Supplementary information
Supplementary Methods and Tables 1–5.
About this article
Cite this article
Parratt, S.R., Walsh, B.S., Metelmann, S. et al. Temperatures that sterilize males better match global species distributions than lethal temperatures. Nat. Clim. Chang. 11, 481–484 (2021). https://doi.org/10.1038/s41558-021-01047-0
Received:

Accepted:

Published:

Issue Date:

DOI: https://doi.org/10.1038/s41558-021-01047-0
This article is cited by
Lisa Bjerregaard Jørgensen
Michael Ørsted
Johannes Overgaard

Nature (2022)

Aditya Moktan Tamang
Jayapriya Mishra
Padmasana Singh

International Journal of Tropical Insect Science (2022)

Christopher de Tranaltes
Jessie Dunn
J. Chadwick Johnson

Urban Ecosystems (2022)