Energy systems scenarios project a wide range of uncertainty in solar photovoltaic capacity, often thought to stem from techno-economic assumptions. Now research shows that the underlying sources of this uncertainty might be different than expected.
Access options
Subscribe to Journal
Get full journal access for 1 year
$59.00
only $4.92 per issue
All prices are NET prices.
VAT will be added later in the checkout.
Tax calculation will be finalised during checkout.
Rent or Buy article
Get time limited or full article access on ReadCube.
from$8.99
All prices are NET prices.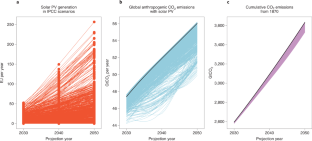 References
1.

Global update: Paris Agreement turning point. Climate Action Tracker https://climateactiontracker.org/publications/global-update-paris-agreement-turning-point/ (2020).

2.

Jaxa-Rozen, M. & Trutnevyte, E. Nat. Clim. Change https://doi.org/10.1038/s41558-021-00998-8 (2021).

3.

How falling costs make renewables a cost-effective investment. International Renewable Energy Agency https://www.irena.org/newsroom/articles/2020/Jun/How-Falling-Costs-Make-Renewables-a-Cost-effective-Investment (2020).

4.

World Energy Outlook 2020 (IEA, 2020); https://www.iea.org/reports/world-energy-outlook-2020

5.

Schweizer, V. Nat. Clim. Change 8, 361–362 (2018).

6.

Kwakkel, J. H., Walker, W. E. & Marchau, V. A. Int. J. Technol. Policy Manag. 10, 299–315 (2010).

7.

Huppmann, D., Rogelj, J., Kriegler, E., Krey, V. & Riahi, K. Nat. Clim. Change 8, 1027–1030 (2018).

8.

Eker, S., Rovenskaya, E., Obersteiner, M. & Langan, S. Nat. Commun. 9, 5359 (2018).

9.

O'Neill, B. C. et al. Nat. Clim. Change 10, 1074–1084 (2020).

10.

En-ROADS climate change solutions simulator. Climate Interactive https://en-roads.climateinteractive.org (2021).
Ethics declarations
Competing interests
The author declares no competing interests.
About this article
Cite this article
Eker, S. Drivers of photovoltaic uncertainty. Nat. Clim. Chang. 11, 184–185 (2021). https://doi.org/10.1038/s41558-021-01002-z