Abstract
Many varieties of short-duration extreme weather pose a threat to global crop production, food security and farmer livelihoods1,2,3,4. Hourly exposure to extreme heat has been identified as detrimental to crop yields1,5; however, the influence of hourly rainfall intensity and extremes on yields remains unknown4,6,7. Here, we show that while maize and soy yields in the United States are severely damaged by the rarest hourly rainfall extremes (≥50 mm hr−1), they benefit from heavy rainfall up to 20 mm hr−1, roughly the heaviest downpour of the year on average. We also find that yields decrease in response to drizzle (0.1–1 mm hr−1), revealing a complex pattern of yield sensitivity across the range of hourly intensities. We project that crop yields will benefit by ~1–3% on average due to projected future rainfall intensification under climate warming8,9, slightly offsetting the larger expected yield declines from excess heat, with the benefits of more heavy rainfall hours outweighing the damages due to additional extremes. Our results challenge the view that an increasing frequency of high-intensity rainfall events poses an unequivocal risk to crop yields2,7,10 and provide insights that may guide adaptive crop management and improve crop models.
Relevant articles
Open Access articles citing this article.
Mingfang Ting

,

Corey Lesk

…

Deepti Singh

Scientific Reports Open Access 13 January 2023

David C. Lafferty

,

Ryan L. Sriver

…

Robert E. Nicholas

Communications Earth & Environment Open Access 20 September 2021
Access options
Subscribe to Nature+
Get immediate online access to Nature and 55 other Nature journal
Subscribe to Journal
Get full journal access for 1 year
$99.00
only $8.25 per issue
All prices are NET prices.
VAT will be added later in the checkout.
Tax calculation will be finalised during checkout.
Buy article
Get time limited or full article access on ReadCube.
$32.00
All prices are NET prices.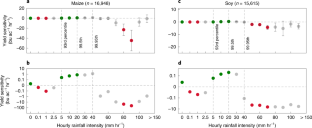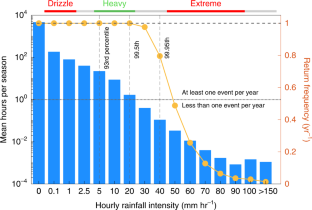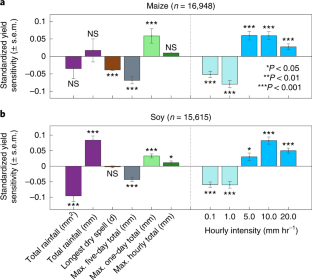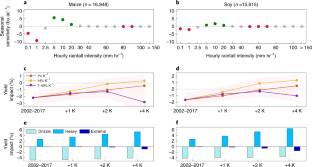 References
Schlenker, W. & Roberts, M. J. Nonlinear temperature effects indicate severe damages to U.S. crop yields under climate change. Proc. Natl Acad. Sci. USA 106, 15594–15598 (2009).

Vogel, E. et al. The effects of climate extremes on global agricultural yields. Environ. Res. Lett. 14, 054010 (2019).

Lesk, C., Rowhani, P. & Ramankutty, N. Influence of extreme weather disasters on global crop production. Nature 529, 84–87 (2016).

Troy, T. J., Kipgen, C. & Pal, I. The impact of climate extremes and irrigation on US crop yields. Environ. Res. Lett. 10, 054013 (2015).

Lobell, D. B. et al. The critical role of extreme heat for maize production in the United States. Nat. Clim. Change 3, 497–501 (2013).

van der Velde, M., Wriedt, G. & Bouraoui, F. Estimating irrigation use and effects on maize yield during the 2003 heatwave in France. Agric. Ecosyst. Environ. 135, 90–97 (2010).

Rosenzweig, C., Tubiello, F. N., Goldberg, R., Mills, E. & Bloomfield, J. Increased crop damage in the US from excess precipitation under climate change. Glob. Environ. Change 12, 197–202 (2002).

O'Gorman, P. & Schneider, T. The physical basis for increases in precipitation extremes in simulations of 21st-century climate change. Proc. Natl Acad. Sci. USA 106, 14773–14777 (2009).

Westra, S. et al. Future changes to the intensity and frequency of short-duration extreme rainfall. Rev. Geophys. 52, 522–555 (2014).

Zhu, X. & Troy, T. J. Agriculturally relevant climate extremes and their trends in the world's major growing regions. Earth's Future 6, 656–672 (2018).

Ray, D. K., Gerber, J. S., Macdonald, G. K. & West, P. C. Climate variation explains a third of global crop yield variability. Nat. Commun. 6, 5989 (2015).

Lobell, D. B. & Field, C. B. Global scale climate–crop yield relationships and the impacts of recent warming. Environ. Res. Lett. 2, 014002 (2007).

Urban, D. W., Roberts, M. J., Schlenker, W. & Lobell, D. B. The effects of extremely wet planting conditions on maize and soybean yields. Clim. Change 130, 247–260 (2015).

Li, Y., Guan, K., Schnitkey, G. D., Delucia, E. & Peng, B. Excessive rainfall leads to maize yield loss of a comparable magnitude to extreme drought in the United States. Glob. Change Biol. 25, 2325–2337 (2019).

Lobell, D. B. & Burke, M. B. Why are agricultural impacts of climate change so uncertain? The importance of temperature relative to precipitation. Environ. Res. Lett. 3, 034007 (2008).

Lobell, D. B. & Gourdji, S. M. The influence of climate change on global crop productivity. Plant Physiol. 160, 1686–1697 (2012).

Palecki, M. A., Angel, J. R. & Hollinger, S. E. Storm precipitation in the United States. Part I: meteorological characteristics. J. Appl. Meteorol. 44, 933–946 (2005).

Thorp, J. M. & Scott, B. C. Preliminary calculations of average storm duration and seasonal precipitation rates for the northeast sector of the United States. Atmos. Environ. 16, 1763–1774 (1982).

Zhang, W., Villarini, G., Scoccimarro, E. & Vecchi, G. A. Stronger influences of increased CO2 on subdaily precipitation extremes than at the daily scale. Geophys. Res. Lett. 44, 7454–7471 (2017).

Lepore, C., Allen, J. T. & Tippett, M. K. Relationships between hourly rainfall intensity and atmospheric variables over the contiguous United States. J. Clim. 29, 3181–3197 (2016).

Ashraf, M. & Habib-ur-Rehman. Interactive effects of nitrate and long-term waterlogging on growth, water relations, and gaseous exchange properties of maize (Zea mays L.). Plant Sci. 144, 35–43 (1999).

Martínez-Casasnovas, J. A., Ramos, M. C. & Ribes-Dasi, M. Soil erosion caused by extreme rainfall events: mapping and quantification in agricultural plots from very detailed digital elevation models. Geoderma 105, 125–140 (2002).

Meisinger, J. J. & Delgado, J. A. Principles for managing nitrogen leaching. J. Soil Water Conserv. 57, 485–498 (2002).

Zahran, H. H. Rhizobium–legume symbiosis and nitrogen fixation under severe conditions and in an arid climate. Microbiol. Mol. Biol. Rev. 63, 968–989 (1999).

Dastane, N. G. Effective Rainfall in Irrigated Agriculture Irrigation and Drainage Paper No. 25 (FAO, 1978).

Van Elewijk, L. Stemflow on maize: a stemflow equation and the influence of rainfall intensity on stemflow amount. Soil Technol. 2, 41–48 (1989).

Munkvold, G. P. Epidemiology of Fusarium diseases and their mycotoxins in maize ears. Eur. J. Plant Pathol. 109, 705–713 (2003).

Harvell, C. D. et al. Climate warming and disease risks for terrestrial and marine biota. Science 296, 2158–2162 (2002).

Lenderink, G. & Van Meijgaard, E. Increase in hourly precipitation extremes beyond expectations from temperature changes. Nat. Geosci. 1, 511–514 (2008).

Berg, P., Moseley, C. & Haerter, J. O. Strong increase in convective precipitation in response to higher temperatures. Nat. Geosci. 6, 181–185 (2013).

Prein, A. F. et al. The future intensification of hourly precipitation extremes. Nat. Clim. Change 7, 48–52 (2017).

Chou, C., Chen, C. A., Tan, P. H. & Chen, K. T. Mechanisms for global warming impacts on precipitation frequency and intensity. J. Clim. 25, 3291–3306 (2012).

Kendon, E. J. et al. Heavier summer downpours with climate change revealed by weather forecast resolution model. Nat. Clim. Change 4, 570–576 (2014).

Zhao, C. et al. Temperature increase reduces global yields of major crops in four independent estimates. Proc. Natl Acad. Sci. USA 114, 9326–9331 (2017).

de Bruyn, L. P. & de Jager, J. M. A meteorological approach to the identification of drought sensitive periods in field crops. Agric. Meteorol. 19, 35–40 (1978).

Lin, Y. GCIP/EOP Surface: Precipitation NCEP/EMC 4KM Gridded Data (GRIB) Stage IV Data (UCAR/NCAR—Earth Obs. Lab., 2011); https://doi.org/10.5065/D6PG1QDD

USDA Quickstats (USDA, 2018); http://quickstats.nass.usda.gov

Thornton, P. E. et al. Daymet: Daily Surface Weather Data on a 1-km Grid for North America Version 2 (ORNL DAAC, 2016).

Butler, E. E. & Huybers, P. Adaptation of US maize to temperature variations. Nat. Clim. Change 3, 68–72 (2013).

Krajewski, W. F. & Smith, J. A. Radar hydrology: rainfall estimation. Adv. Water Resour. 25, 1387–1394 (2002).

Karl, T., Nicholls, N. & Ghazi, A. Workshop on indices and indicators for climate extremes precipitation. Clim. Change 42, 3–7 (1999).

Lau, W. K., Wu, H. & Kim, K. A canonical response of precipitation characteristics to global warming from CMIP5 models. Geophys. Res. Lett. 40, 3163–3169 (2013).
Acknowledgements
This material is based on work supported by the National Science Foundation Graduate Research Fellowship under grant no. DGE–1644869. Additional funding was provided by the Department of Interior Northeast Climate Adaptation Science Center and grant no. G16AC00256 from the United States Geological Survey. We thank N. Lenssen, J. Mankin, D. Singh, W. Anderson, R. DeFries and M. Ting for constructive feedback on the methods and results.
Ethics declarations
Competing interests
The authors declare no competing interests.
Additional information
Peer review information Nature Climate Change thanks Ethan Butler, Yan Li and Deepak Ray for their contribution to the peer review of this work.
Publisher's note Springer Nature remains neutral with regard to jurisdictional claims in published maps and institutional affiliations.
Supplementary information
About this article
Cite this article
Lesk, C., Coffel, E. & Horton, R. Net benefits to US soy and maize yields from intensifying hourly rainfall. Nat. Clim. Chang. 10, 819–822 (2020). https://doi.org/10.1038/s41558-020-0830-0
Received:

Accepted:

Published:

Issue Date:

DOI: https://doi.org/10.1038/s41558-020-0830-0