Abstract
Changing market demand and increasing environmental regulations challenge the refining industry to shift crude slates and reconfigure production processes while reducing emissions. Yet sellers and buyers remain unaware of the carbon footprint of individual marketable networks, and each crude oil has different specifications and is processed in different destination markets. Here we show the global refining carbon intensity at country level and crude level are 13.9–62.1 kg of CO2-equivalent (CO2e) per barrel and 10.1–72.1 kgCO2e per barrel, respectively, with a volume-weighted average of 40.7 kgCO2e per barrel (equivalent to 7.3 gCO2e MJ−1) and energy use of 606 MJ per barrel. We used bottom-up engineering-based refinery modelling on crude oils representing 93% of 2015 global refining throughput. On the basis of projected oil consumption under 2 °C scenarios, the industry could save 56–79 GtCO2e to 2100 by targeting primary emission sources. These results provide guidance on climate-sensitive refining choices and future investment in emissions mitigation technologies.
Access options
Subscribe to Journal
Get full journal access for 1 year
$99.00
only $8.25 per issue
All prices are NET prices.
VAT will be added later in the checkout.
Tax calculation will be finalised during checkout.
Rent or Buy article
Get time limited or full article access on ReadCube.
from$8.99
All prices are NET prices.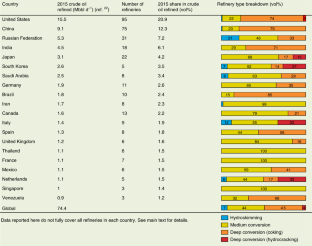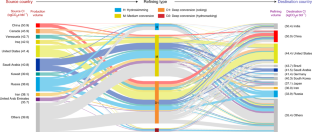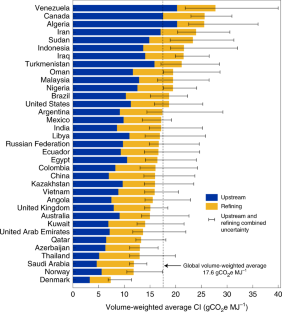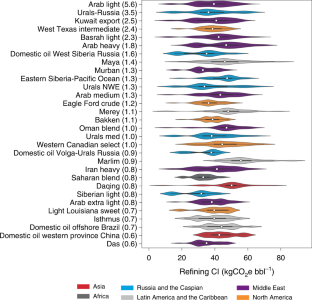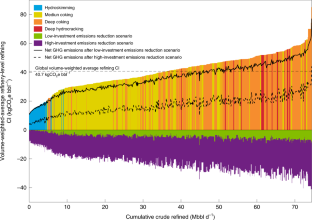 Data availability
The data that support the findings of this study are available from Wood Mackenzie, but restrictions apply to the availability of these data, which were used under license for the current study and so are not publicly available. Data are however available from the corresponding author upon reasonable request and with permission of Wood Mackenzie.
References
1.

World Energy Outlook 2018 (IEA, 2018).

2.

Tollefson, J. Global industrial carbon emissions to reach all-time high in 2018. Nature https://doi.org/10.1038/d41586-018-07666-6 (2018).

3.

Andress, D., Dean Nguyen, T. & Das, S. Low-carbon fuel standard—status and analytic issues. Energy Policy 38, 580–591 (2010).

4.

Christensen, A. & Hobbs, B. A model of state and federal biofuel policy: feasibility assessment of the California low carbon fuel standard. Appl. Energy 169, 799–812 (2016).

5.

Masnadi, M. S. et al. Well-to-refinery emissions and net-energy analysis of China's crude-oil supply. Nat. Energy 3, 220–226 (2018).

6.

Oil 2018 (IEA, 2018).

7.

OGCI at Work: Commited to Climate Change (OGCI, 2018).

8.

Moretti, C., Moro, A., Edwards, R., Rocco, M. V. & Colombo, E. Analysis of standard and innovative methods for allocating upstream and refinery GHG emissions to oil products. Appl. Energy 206, 372–381 (2017).

9.

Elgowainy, A. et al. Energy efficiency and greenhouse gas emission intensity of petroleum products at US refineries. Environ. Sci. Technol. 48, 7612–7624 (2014).

10.

Szklo, A. & Schaeffer, R. Fuel specification, energy consumption and CO2 emission in oil refineries. Energy 32, 1075–1092 (2007).

11.

Bredeson, L., Quiceno-Gonzalez, R., Riera-Palou, X. & Harrison, A. Factors driving refinery CO2 intensity, with allocation into products. Int. J. Life Cycle Assess. 15, 817–826 (2010).

12.

Cai, H. et al. Well-to-wheels greenhouse gas emissions of Canadian oil sands products: implications for U.S. petroleum fuels. Environ. Sci. Technol. 49, 8219–8227 (2015).

13.

Cooney, G. et al. Updating the US life cycle GHG petroleum baseline to 2014 with projections to 2040 using open-source engineering-based models. Environ. Sci. Technol. 51, 977–987 (2017).

14.

Nimana, B., Canter, C. & Kumar, A. Energy consumption and greenhouse gas emissions in upgrading and refining of Canada's oil sands products. Energy 83, 65–79 (2015).

15.

Forman, G. S. et al. US refinery efficiency: impacts analysis and implications for fuel carbon policy implementation. Environ. Sci. Technol. 48, 7625–7633 (2014).

16.

Obnamia, J. A., Dias, G. M., MacLean, H. L. & Saville, B. A. Comparison of US Midwest corn stover ethanol greenhouse gas emissions from GREET and GHGenius. Appl. Energy 235, 591–601 (2019).

17.

Brandt, A. R., Masnadi, M. S., Englander, J. G., Koomey, J. & Gordon, D. Climate-wise choices in a world of oil abundance. Environ. Res. Lett. 13, 044027 (2018).

18.

Di Lullo, G., Zhang, H. & Kumar, A. Evaluation of uncertainty in the well-to-tank and combustion greenhouse gas emissions of various transportation fuels. Appl. Energy 184, 413–426 (2016).

19.

Abella, J. P. & Bergerson, J. A. Model to investigate energy and greenhouse gas emissions implications of refining petroleum: impacts of crude quality and refinery configuration. Environ. Sci. Technol. 46, 13037–13047 (2012).

20.

Motazedi, K., Abella, J. P. & Bergerson, J. A. Techno-economic evaluation of technologies to mitigate greenhouse gas emissions at North American refineries. Environ. Sci. Technol. 51, 1918–1928 (2017).

21.

Motazedi, K., Posen, I. D. & Bergerson, J. A. GHG emissions impact of shifts in the ratio of gasoline to diesel production at US refineries: a PADD level analysis. Environ. Sci. Technol. 52, 13609–13618 (2018).

22.

Oil Refining & Marketing Analysis (Wood Mackenzie, 2015).

23.

Refinery Benchmarking Tool (Wood Mackenzie, 2019).

24.

World Energy Outlook 2016 (IEA, 2016).

25.

DataBank: World Development Indicators (World Bank, 2015); https://data.worldbank.org/indicator/NY.GDP.MKTP.CD?end=2015

26.

International Energy Outlook 2016 (EIA, 2016).

27.

The Future of Petrochemicals (IEA, 2018).

28.

Masnadi, M. S. et al. Global carbon intensity of crude oil production. Science 361, 851–853 (2018).

29.

Petroleum & Other Liquids (EIA, 2019); https://www.eia.gov/petroleum/data.php#summary

30.

Crude Oil Facts (Natural Resources Canada, 2019); https://www.nrcan.gc.ca/science-data/data-analysis/energy-data-analysis/energy-facts/crude-oil-facts/20064

31.

IPCC Climate Change 2014: Synthesis Report (eds Core Writing Team, Pachauri, R. K. & Meyer, L. A.) (IPCC, 2014).

32.

Energy Technology Perspectives 2014 (IEA, 2014).

33.

Krabbe, O. et al. Aligning corporate greenhouse-gas emissions targets with climate goals. Nat. Clim. Change 5, 1057–1060 (2015).

34.

IPCC Special Report on Global Warming of 1.5 °C (eds Masson-Delmotte, V. et al.) (WMO, 2018).

35.

Muradov, N. Low to near-zero CO2 production of hydrogen from fossil fuels: status and perspectives. Int. J. Hydrogen Energy 42, 14058–14088 (2017).

36.

World Oil Outlook 2040 (OPEC, 2017).

37.

Lipman, T. An Overview of Hydrogen Production and Storage Systems with Renewable Hydrogen Case Studies (Clean Energy States Alliance, 2011).

38.

Morrow, W. R., Marano, J., Hasanbeigi, A., Masanet, E. & Sathaye, J. Efficiency improvement and CO2 emission reduction potentials in the United States petroleum refining industry. Energy 93, 95–105 (2015).

39.

Supekar, S. D. & Skerlos, S. J. Analysis of costs and time frame for reducing CO2 emissions by 70% in the US auto and energy sectors by 2050. Environ. Sci. Technol. 51, 10932–10942 (2017).

40.

Emissions Factors (IEA, 2019).

41.

Young, B. et al. Expansion of the petroleum refinery life cycle inventory model to support characterization of a full suite of commonly tracked impact potentials. Environ. Sci. Technol. 53, 2238–2248 (2019).

42.

Shakerian, F., Kim, K. H., Szulejko, J. E. & Park, J. W. A comparative review between amines and ammonia as sorptive media for post-combustion CO2 capture. Appl. Energy 148, 10–22 (2015).

43.

Stec, M. et al. Pilot plant results for advanced CO2 capture process using amine scrubbing at the Jaworzno II power plant in Poland. Fuel 151, 50–56 (2015).

44.

de Mello, L. F. et al. A technical and economical evaluation of CO2 capture from FCC units. Energy Procedia 1, 117–124 (2009).

45.

GREET: The Greenhouse Gases, Regulated Emissions, and Energy Use in Transportation Model (Argonne National Laboratory, 2017).

46.

Wang, Z., Fan, W. & Zhang, G. Comparison of the exergy efficiency of four power generation systems from methane using fuel cells. RSC Adv. 7, 39391–39402 (2017).

47.

Louwen, A., Van Sark, W. G. J. H. M., Faaij, A. P. C. & Schropp, R. E. I. Re-assessment of net energy production and greenhouse gas emissions avoidance after 40 years of photovoltaics development. Nat. Commun. 7, 13728 (2016).

48.

Pehl, M. et al. Understanding future emissions from low-carbon power systems by integration of life-cycle assessment and integrated energy modelling. Nat. Energy 2, 939–945 (2017).
Acknowledgements
Aramco Services Company (MI, USA) provided financial support to L.J. Special thanks go to Natural Sciences and Engineering Research Council of Canada (NSERC).
Ethics declarations
Competing interests
The authors declare no competing interests.
Additional information
Publisher's note Springer Nature remains neutral with regard to jurisdictional claims in published maps and institutional affiliations.
Supplementary information
Supplementary Tables 1–11, Figs. 1–16 and Notes 1–4.
About this article
Cite this article
Jing, L., El-Houjeiri, H.M., Monfort, JC. et al. Carbon intensity of global crude oil refining and mitigation potential. Nat. Clim. Chang. 10, 526–532 (2020). https://doi.org/10.1038/s41558-020-0775-3
Received:

Accepted:

Published:

Issue Date:
Further reading
Mohammad S. Masnadi
Giacomo Benini
Adam R. Brandt

Nature (2021)