Abstract
Existing literature on climate change beliefs in the US suggests that partisan polarization begets climate change polarization and that the climate beliefs of those on both sides of the partisan divide are firmly held and invariable. Here, we use data from a large panel survey of Oklahoma residents administered quarterly from 2014 through 2018 to challenge this perspective. Contrary to the expectation of rough symmetry in partisan polarization on climate change, we find that partisans on the political right have much more unstable beliefs about climate change than partisans on the left. An important implication is that if climate beliefs are well anchored on the left, but less so on the right, the latter are more susceptible to change. We interpret this to suggest that, despite polarizing elite rhetoric, public beliefs about climate change maintain the potential to shift towards broader acceptance and a perceived need for action.
Access options
Subscribe to Journal
Get full journal access for 1 year
$99.00
only $8.25 per issue
All prices are NET prices.
VAT will be added later in the checkout.
Tax calculation will be finalised during checkout.
Rent or Buy article
Get time limited or full article access on ReadCube.
from$8.99
All prices are NET prices.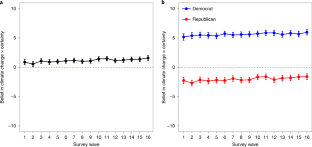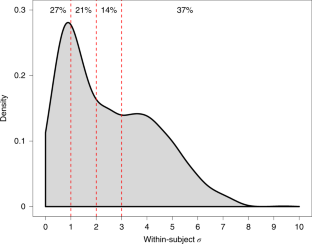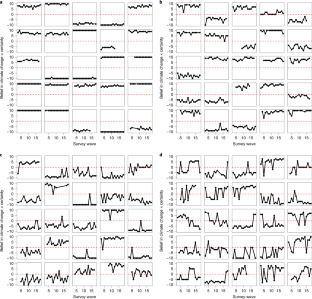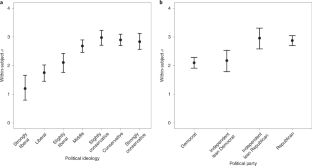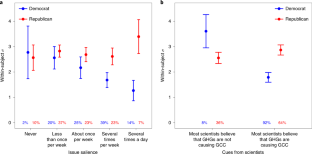 References
1.

IPCC: Summary for Policymakers. In Global warming of 1.5 °C (eds Masson-Delmotte, V. et al.) 32 (Cambridge Univ. Press, 2008).

2.

Saad, L. Americans Concerned as Ever about Climate Change (Gallup, 2019).

3.

Ritchie, E. J. Fact checking the claim of a major shift in climate change opinion. Forbes (30 January 2019).

4.

Hamilton, L. C. Data Snapshot: Public Acceptance of Human-Caused Climate Change is Gradually Rising (Carsey School of Public Policy, University of New Hampshire, 2017).

5.

Hornsey, M. J., Harris, E. A., Bain, P. G. & Fielding, K. S. Meta-analyses of the determinants and outcomes of belief in climate change. Nat. Clim. Change 6, 622–626 (2016).

6.

McCright, A. M., Charters, M., Dentzman, K. & Dietz, T. Examining the effectiveness of climate change frames in the face of a climate change denial counter-frame. Top. Cogn. Sci. 8, 76–97 (2016).

7.

Kahan, D. Why we are poles apart on climate change. Nature News 488, 255 (2012).

8.

Saad, L. Half in U.S. Are Now Concerned Global Warming Believers (Gallup, 2017).

9.

Leiserowitz, A. et al. Climate Change in the American Mind: October 2017 (Yale Program on Climate Change Communication, George Mason University Center for Climate Change Communication, 2017).

10.

Kahn, M. E. & Kotchen, M. J. Business cycle effects on concern about climate change: the chilling effects of recession. Clim. Change Econ. 2, 257–273 (2011).

11.

Mildenberger, M. & Leiserowitz, A. Public opinion on climate change: is there an economy–environment tradeoff? Environ. Pol. 26, 801–824 (2017).

12.

Dunlap, R. E., McCright, A. M. & Yarosh, J. H. The political divide on climate change: partisan polarization widens in the US. Environ. Sci. Pol. Sustain. Dev. 58, 4–23 (2016).

13.

Carmichael, J. T. & Brulle, R. J. Elite cues, media coverage, and public concern: an integrated path analysis of public opinion on climate change, 2001–2013. Environ. Pol. 26, 232–252 (2017).

14.

Tesler, M. Elite domination of public doubts about climate change (not evolution). Pol. Commun. 35, 306–326 (2018).

15.

Howe, P. D., Marlon, J. R., Mildenberger, M. & Shield, B. S. How will climate change shape climate opinion? Environ. Res. Lett. 14, 113001 (2019).

16.

Moore, F. C., Obradovich, N., Lehner, F. & Baylis, P. Rapidly declining remarkability of temperature anomalies may obscure public perception of climate change. Proc. Natl Acad. Sci. USA 116, 4905–4910 (2019).

17.

Ripberger, J. T. et al. Bayesian versus politically motivated reasoning in human perception of climate anomalies. Environ. Res. Lett. 12, 114004 (2017).

18.

McCright, A. M., Marquart-Pyatt, S. T., Shwom, R. L., Brechin, S. R. & Allen, S. Ideology, capitalism, and climate: explaining public views about climate change in the United States. Energy Res. Soc. Sci. 21, 180–189 (2016).

19.

Krehbiel, K. Pivotal Politics: A Theory of US Lawmaking (University of Chicago Press, 1998).

20.

Deeg, K., Lyon, E., Leiserowitz, A., Maibach, E., & Marlon, J. Who is changing their mind about global warming and why? (Yale Program on Climate Change Communication, 2019).

21.

Smith, T. W. Recalling attitudes: an analysis of retrospective questions on the 1982 GSS. Public Opin. Quart. 48, 639–649 (1984).

22.

Dex, S. The reliability of recall data: a literature review. Bull. Sociol. Methodol. 49, 58–89 (1995).

23.

Palm, R., Lewis, G. B. & Feng, B. What causes people to change their opinion about climate change? Ann. Am. Assoc. Geogr. 107, 883–896 (2017).

24.

Jenkins-Smith, H. et al. The Oklahoma meso-scale integrated socio-geographic network: a technical overview. J. Atmos. Oceanic Technol. 34, 2431–2441 (2017).

25.

Howe, P., Mildenberger, M., Marlon, J. & Leiserowitz, A. Geographic variation in opinions on climate change at state and local scales in the USA. Nat. Clim. Change 5, 596–603 (2015).

26.

Burstein, P. The impact of public opinion on public policy: a review and an agenda. Pol. Res. Quart. 56, 29–40 (2003).

27.

Converse, P. E. Changing conceptions of public opinion in the political process. Public Opin. Quart. 51, S12–S24 (1987).

28.

Zaller, J. R. The Nature and Origins of Mass Opinion (Cambridge Univ. Press, 1992).

29.

Bassili, J. N. & Fletcher, J. F. Response-time measurement in survey research a method for CATI and a new look at nonattitudes. Public Opin. Quart. 55, 331–346 (1991).

30.

Yan, T. & Tourangeau, R. Fast times and easy questions: the effects of age, experience and question complexity on web survey response times. Appl. Cogn. Psychol. 22, 51–68 (2008).

31.

Krosnick, J. A. Response strategies for coping with the cognitive demands of attitude measures in surveys. Appl. Cogn. Psychol. 5, 213–236 (1991).

32.

Converse, P. E. in Handbook of Political Science (eds Greenstein, F. I. & Polsby, N. W.) 75–170 (Addison-Wesley, 1975).

33.

Zaller, J. & Feldman, S. A simple theory of the survey response: answering questions versus revealing preferences. Am. J. Pol. Sci. 36, 579–616 (1992).

34.

Tourangeau, R., Rips, L. J. & Rasinski, K. The Psychology of Survey Response (Cambridge Univ. Press, 2000).

35.

Hoffman, A. J. The growing climate divide. Nat. Clim. Change 1, 195–196 (2011).

36.

McCright, A. M. & Dunlap, R. E. The politicization of climate change and polarization in the American public's views of global warming, 2001–2010. Sociol. Quart. 52, 155–194 (2011).

37.

Hamilton, L. C., Hartter, J., Lemcke-Stampone, M., Moore, D. W. & Safford, T. G. Tracking public beliefs about anthropogenic climate change. PLoS ONE 10, e0138208 (2015).

38.

Kahan, D., Jenkins‐Smith, H. & Braman, D. Cultural cognition of scientific consensus. J. Risk Res. 14, 147–174 (2011).

39.

Kahan, D. M. et al. The polarizing impact of science literacy and numeracy on perceived climate change risks. Nat. Clim. Change 2, 732–735 (2012).

40.

Grant, J. On climate change, John Kasich marches to a different beat. The Allegheny Front (11 March 2016).

41.

Gladwell, M. The Tipping Point: How Little Things Can Make A Big Difference (Abacus, 2006).

42.

Centola, D., Becker, J., Brackbill, D. & Baronchelli, A. Experimental evidence for tipping points in social convention. Science 360, 1116–1119 (2018).

43.

Sunstein, C. R. How Change Happens (Michigan Institute of Technology Press, 2019).

44.

Gardina, J. The tipping point: legal epidemics, constitutional doctrine, and the defense of marriage act. Vermont Law Rev. 34, 291 (2009).

45.

Lohmann, S. The dynamics of informational cascades: the Monday demonstrations in Leipzig, East Germany, 1989–91. World Pol. 47, 42–101 (1994).

46.

Gelman, A. Scaling regression inputs by dividing by two standard deviations. Stats Medicine 27, 2865–2873 (2008).

47.

Imai, K., King, G., & Lau, O. Zelig: Everyone's Statistical Software v.3 (2009).
Acknowledgements
This study is based on work supported by the National Science foundation under grant no. OIA-1301789. The authors thank M. Henderson, A. Goodin and the University of Oklahoma Public Opinion Learning Laboratory (OU POLL) for their help with survey implementation and data collection.
Ethics declarations
Competing interests
The authors declare no competing interests.
Additional information
Peer review information Nature Climate Change thanks Lawrence Hamilton and the other, anonymous, reviewers for their contribution to the peer review of this work.
Publisher's note Springer Nature remains neutral with regard to jurisdictional claims in published maps and institutional affiliations.
Supplementary information
Supplementary Fig. 1, Supplementary Tables 1–5 and Supplementary Note 1.
About this article
Cite this article
Jenkins-Smith, H.C., Ripberger, J.T., Silva, C.L. et al. Partisan asymmetry in temporal stability of climate change beliefs. Nat. Clim. Chang. 10, 322–328 (2020). https://doi.org/10.1038/s41558-020-0719-y
Received:

Accepted:

Published:

Issue Date: