Abstract
The climate effects of anthropogenic aerosols have masked some of the warming induced by GHGs1 along with some impacts of that warming2. These temperature effects may be beneficial but are almost certainly overwhelmed by aerosols' negative health impacts3. Recent analyses of economic impacts have concluded that warming harms economies in warm climates, but provides economic benefits in cold climates4. Here we investigate whether aerosol-induced cooling would have a positive effect on less wealthy economies in hotter regions and a negative effect on wealthier economies in colder regions. Climate simulations over the historical period both with and without anthropogenic aerosol emissions, using a fully coupled ocean and atmosphere climate model, indicate that in year 2010 anthropogenic aerosol emissions were cooling the Earth by 0.72 ± 0.02 °C relative to a scenario without such emissions. Due to opposing economic impacts in different regions, the net economic impact of aerosol-induced cooling is likely to be small at the global scale. However, these results suggest that the cooling effects of anthropogenic aerosols benefit developing tropical economies while harming developed high-latitude economies, and thus the temperature effects of past aerosol emissions have probably diminished global economic inequality.
Relevant articles
Open Access articles citing this article.
Shu Liu

,

Yong Wang

…

Le Yu

Nature Communications Open Access 05 May 2022
Access options
Subscribe to Nature+
Get immediate online access to the entire Nature family of 50+ journals
Subscribe to Journal
Get full journal access for 1 year
$99.00
only $8.25 per issue
All prices are NET prices.
VAT will be added later in the checkout.
Tax calculation will be finalised during checkout.
Buy article
Get time limited or full article access on ReadCube.
$32.00
All prices are NET prices.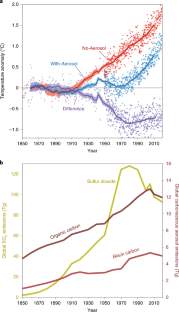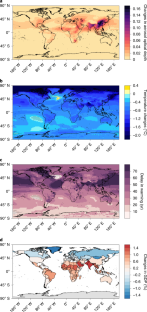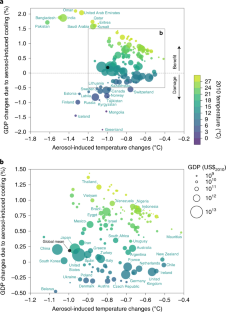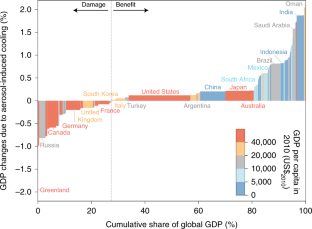 References
Charlson, R. J. et al. Climate forcing by anthropogenic aerosols. Science 255, 423–430 (1992).

Samset, B. H. et al. Climate impacts from a removal of anthropogenic aerosol emissions. Geophys. Res. Lett. 45, 1020–1029 (2018).

Lelieveld, J. et al. Effects of fossil fuel and total anthropogenic emission removal on public health and climate. Proc. Natl Acad. Sci. USA 116, 7192–7197 (2019).

Burke, M., Davis, W. M. & Diffenbaugh, N. S. Large potential reduction in economic damages under UN mitigation targets. Nature 557, 549–553 (2018).

Zhang, Q., He, K. & Huo, H. Cleaning China's air. Nature 484, 161–162 (2012).

Burnett, R. et al. Global estimates of mortality associated with long-term exposure to outdoor fine particulate matter. Proc. Natl Acad. Sci. USA 115, 9592–9597 (2018).

Ebenstein, A., Fan, M., Greenstone, M., He, G. & Zhou, M. New evidence on the impact of sustained exposure to air pollution on life expectancy from China's Huai River Policy. Proc. Natl Acad. Sci. USA 114, 10384–10389 (2017).

Albrecht, B. A. Aerosols, cloud microphysics, and fractional cloudiness. Science 245, 1227–1230 (1989).

Wu, P., Christidis, N. & Stott, P. Anthropogenic impact on Earth's hydrological cycle. Nat. Clim. Change 3, 807–810 (2013).

Myhre, G. et al. in Climate Change 2013: The Physical Science Basis (eds Stocker, T. F. et al.) 659–740 (IPCC, Cambridge Univ. Press, 2013).

Diaz, D. & Moore, F. Quantifying the economic risks of climate change. Nat. Clim. Change 7, 774–782 (2017).

Pretis, F., Schwarz, M., Tang, K., Haustein, K. & Allen, M. R. Uncertain impacts on economic growth when stabilizing global temperatures at 1.5 °C or 2 °C warming. Phil. Trans. R. Soc. A 376, 20160460 (2018).

Ricke, K., Drouet, L., Caldeira, K. & Tavoni, M. Country-level social cost of carbon. Nat. Clim. Change 8, 895–900 (2018).

Moore, F. C. & Diaz, D. B. Temperature impacts on economic growth warrant stringent mitigation policy. Nat. Clim. Change 5, 127–131 (2015).

Newell, R., Prest, B. & Sexton, S. The GDP–Temperature Relationship: Implications for Climate Change Damages (RFF, 2018); https://go.nature.com/2RROmZ8

Larsen, J. N. et al. in Climate Change 2014: Impacts, Adaptation, and Vulnerability (eds Barros, V. R. et al.) 1567–1612 (IPCC, Cambridge Univ. Press, 2014).

Hurrell, J. W. et al. The Community Earth System Model: a framework for collaborative research. Bull. Am. Meteorol. Soc. 94, 1339–1360 (2013).

Lamarque, J. F. et al. Historical (1850–2000) gridded anthropogenic and biomass burning emissions of reactive gases and aerosols: methodology and application. Atmos. Chem. Phys. 10, 7017–7039 (2010).

Riahi, K. et al. RCP 8.5—A scenario of comparatively high greenhouse gas emissions. Climatic Change 109, 33–57 (2011).

Kiehl, J. T. & Briegleb, B. P. The relative roles of sulfate aerosols and greenhouse gases in climate forcing. Science 260, 311–314 (1993).

Ricke, K. L. & Caldeira, K. Maximum warming occurs about one decade after a carbon dioxide emission. Environ. Res. Lett. 9, 124002 (2014).

Baker, L. H. et al. Climate responses to anthropogenic emissions of short-lived climate pollutants. Atmos. Chem. Phys. 15, 8201–8216 (2015).

Xie, S.-P., Lu, B. & Xiang, B. Similar spatial patterns of climate responses to aerosol and greenhouse gas changes. Nat. Geosci. 6, 828–832 (2013).

Cohen, J. et al. Recent Arctic amplification and extreme mid-latitude weather. Nat. Geosci. 7, 627–637 (2014).

Hartmann, D. L. et al. in Climate Change 2013: The Physical Science Basis (eds Stocker, T. F. et al.) 159–254 (IPCC, Cambridge Univ. Press, 2013).

Menary, M. B. et al. Mechanisms of aerosol-forced AMOC variability in a state of the art climate model. J. Geophys. Res. Oceans 118, 2087–2096 (2013).

Persad, G. G. & Caldeira, K. Divergent global-scale temperature effects from identical aerosols emitted in different regions. Nat. Commun. 9, 3289 (2018).

Mastrandrea, M. D. et al. The IPCC AR5 guidance note on consistent treatment of uncertainties: a common approach across the working groups. Climatic Change 108, 675–691 (2011).

Sala-i-Martin, X. The world distribution of income: falling poverty and… convergence, period. Q. J. Econ. 121, 351–397 (2006).

Diffenbaugh, N. S. & Burke, M. Global warming has increased global economic inequality. Proc. Natl Acad. Sci. USA 116, 9808–9813 (2019).

Zhang, Q. et al. Drivers of improved PM2.5 air quality in China from 2013 to 2017. Proc. Natl Acad. Sci. USA 116, 24463–24469 (2019).

Santer, B. D. et al. Statistical significance of trends and trend differences in layer-average atmospheric temperature time series. J. Geophys. Res. Atmos. 105, 7337–7356 (2000).

Liu, X. et al. Toward a minimal representation of aerosols in climate models: description and evaluation in the Community Atmosphere Model CAM5. Geosci. Model Dev 5, 709–739 (2012).

Dee, D. P. et al. The ERA-Interim reanalysis: configuration and performance of the data assimilation system. Q. J. R. Meteorol. Soc. 137, 553–597 (2011).

World Bank Open Data (World Bank, accessed 22 September 2018); https://data.worldbank.org/
Acknowledgements
We thank F. Tong and L. Duan from the Department of Global Ecology, Carnegie Institution for Science, for their helpful comments on this work.
Ethics declarations
Competing interests
The authors declare no competing interests.
Additional information
Peer review information Nature Climate Change thanks Luke Harrington, James Rising and the other, anonymous, reviewer(s) for their contribution to the peer review of this work.
Publisher's note Springer Nature remains neutral with regard to jurisdictional claims in published maps and institutional affiliations.
Supplementary information
About this article
Cite this article
Zheng, Y., Davis, S.J., Persad, G.G. et al. Climate effects of aerosols reduce economic inequality. Nat. Clim. Chang. 10, 220–224 (2020). https://doi.org/10.1038/s41558-020-0699-y
Received:

Accepted:

Published:

Issue Date:

DOI: https://doi.org/10.1038/s41558-020-0699-y
Further reading
Jintai Lin
Chunjiang Zhou
Yongyun Hu

Nature Geoscience (2022)

Nature Communications (2022)

Nature Climate Change (2020)