Abstract
The 1971 Ramsar Convention promotes wetland conservation worldwide, yet climate change impacts on wetland extent and associated biodiversity are unclear. Hydrological modelling and soil moisture estimates are used to quantify climate change-driven shifts in wetland area across 1,250 inland Ramsar sites. We estimate that net global wetland area expanded during 1980–2014, but 47% of sites experienced wetland loss. By 2100, a net area loss of at least 6,000 km2 (about 1%) is projected. The number of sites with area loss over 10% will increase by 19–65% under low emissions, 148–243% under high emissions and ~16% with global mean warming of 2 °C relative to 1.5 °C. Sites most vulnerable to shrinkage are located in the Mediterranean, Mexico, Central America and South Africa—all seasonal waterbird migration hotspots. Our findings highlight that climate mitigation is essential for future Ramsar wetlands conservation, in addition to the minimization of human disturbance.
Relevant articles
Open Access articles citing this article.
Julian R. Thompson

,

Hannah M. Clilverd

…

Jan C. Axmacher

Wetlands Open Access 10 August 2023

Zsuzsanna Márton

,

Beáta Szabó

…

Zsófia Horváth

Scientific Reports Open Access 24 February 2023

Lei Ma

,

Gaofeng Zhu

…

Hongchao Zuo

Communications Earth & Environment Open Access 29 October 2022
Access options
Access Nature and 54 other Nature Portfolio journals
Get Nature+, our best-value online-access subscription
$29.99 / 30 days
cancel any time
Subscribe to this journal
Receive 12 print issues and online access
$209.00 per year
only $17.42 per issue
Rent or buy this article
Prices vary by article type
from$1.95
to$39.95
Prices may be subject to local taxes which are calculated during checkout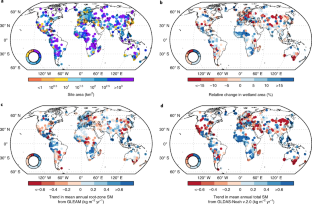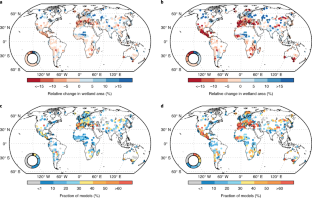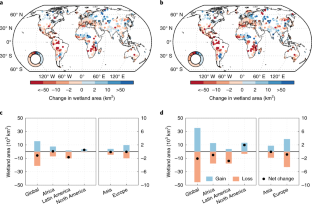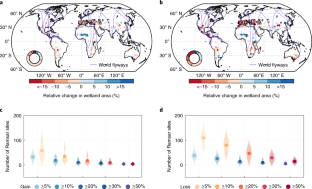 References
Creed, I. F. et al. Enhancing protection for vulnerable waters. Nat. Geosci. 10, 809–815 (2017).

Davidson, N. C. How much wetland has the world lost? Long-term and recent trends in global wetland area. Mar. Freshw. Res. 65, 934–941 (2014).

Gong, P. et al. China's wetland change (1990–2000) determined by remote sensing. Sci. China Earth Sci. 53, 1036–1042 (2010).

Zedler, J. B. & Kercher, S. Wetland resources: status, trends, ecosystem services, and restorability. Annu. Rev. Env. Resour. 30, 39–74 (2005).

Finlayson, M. et al. Millennium Ecosystem Assessment: Ecosystems and Human Well-Being: Wetlands and Water Synthesis (Island Press, 2005).

Keddy, P. A. et al. Wet and wonderful: the world's largest wetlands are conservation priorities. Bioscience 59, 39–51 (2009).

Global Wetland Outlook: State of the World's Wetlands and Their Services to People (Ramsar Convention Secretariat, 2018).

Russi, D. et al. The Economics of Ecosystems and Biodiversity for Water and Wetlands (Ramsar Secretariat, 2013).

Moomaw, W. R. et al. Wetlands in a changing climate: science, policy and management. Wetlands 38, 183–205 (2018).

Tootchi, A., Jost, A. & Ducharne, A. Multi-source global wetland maps combining surface water imagery and groundwater constraints. Earth Syst. Sci. Data 11, 189–220 (2019).

Davidson, N. C., Fluet-Chouinard, E. & Finlayson, C. M. Global extent and distribution of wetlands: trends and issues. Mar. Freshw. Res. 69, 620–627 (2018).

Dixon, M. J. R. et al. Tracking global change in ecosystem area: the wetland extent trends index. Biol. Conserv. 193, 27–35 (2016).

Sievers, M., Hale, R., Parris, K. M. & Swearer, S. E. Impacts of human-induced environmental change in wetlands on aquatic animals. Biol. Rev. 93, 529–554 (2018).

Prigent, C. et al. Changes in land surface water dynamics since the 1990s and relation to population pressure. Geophys. Res. Lett. 39, L08403 (2012).

Schroeder, R. et al. Development and evaluation of a multi-year fractional surface water data set derived from active/passive microwave remote sensing data. Remote Sens. 7, 16688–16732 (2015).

Čížková, H. et al. Actual state of European wetlands and their possible future in the context of global climate change. Aquat. Sci. 75, 3–26 (2013).

Reis, V. et al. A global assessment of inland wetland conservation status. Bioscience 67, 523–533 (2017).

Vörösmarty, C. J. et al. Global threats to human water security and river biodiversity. Nature 467, 555–561 (2010).

Comyn-Platt, E. et al. Carbon budgets for 1.5 and 2 °C targets lowered by natural wetland and permafrost feedbacks. Nat. Geosci. 11, 568–573 (2018).

Gedney, N., Cox, P. M. & Huntingford, C. Climate feedback from wetland methane emissions. Geophys. Res. Lett. https://doi.org/10.1029/2004gl020919 (2004).

Zhang, Z. et al. Emerging role of wetland methane emissions in driving 21st century climate change. Proc. Natl Acad. Sci. USA 114, 9647–9652 (2017).

Dai, A. Increasing drought under global warming in observations and models. Nat. Clim. Change 3, 52–58 (2013).

IPCC Climate Change 2013: The Physical Science Basis (eds Stocker, T. F. et al.) (Cambridge Univ. Press, 2013).

Yang, H. et al. Regional patterns of future runoff changes from Earth system models constrained by observation. Geophys. Res. Lett. 44, 5540–5549 (2017).

Beven, K. J. & Kirkby, M. J. A physically based, variable contributing area model of basin hydrology / Un modèle à base physique de zone d'appel variable de l'hydrologie du bassin versant. Hydrol. Sci. Bull. 24, 43–69 (1979).

Stocker, B. D., Spahni, R. & Joos, F. DYPTOP: a cost-efficient TOPMODEL implementation to simulate sub-grid spatio-temporal dynamics of global wetlands and peatlands. Geosci. Model Dev. 7, 3089–3110 (2014).

Decharme, B. & Douville, H. Introduction of a sub-grid hydrology in the ISBA land surface model. Clim. Dynam. 26, 65–78 (2006).

Habets, F. & Saulnier, G. M. Subgrid runoff parameterization. Phys. Chem. Earth Part B 26, 455–459 (2001).

Ringeval, B. et al. Modelling sub-grid wetland in the ORCHIDEE global land surface model: evaluation against river discharges and remotely sensed data. Geosci. Model Dev. 5, 941–962 (2012).

Zhang, Z., Zimmermann, N. E., Kaplan, J. O. & Poulter, B. Modeling spatiotemporal dynamics of global wetlands: comprehensive evaluation of a new sub-grid TOPMODEL parameterization and uncertainties. Biogeosciences 13, 1387–1408 (2016).

Rodell, M. et al. The global land data assimilation system. Bull. Am. Meteorol. Soc. 85, 381–394 (2004).

Taylor, K. E., Stouffer, R. J. & Meehl, G. A. An overview of CMIP5 and the experiment design. Bull. Am. Meteorol. Soc. 93, 485–498 (2012).

Marthews, T. R., Dadson, S. J., Lehner, B., Abele, S. & Gedney, N. High-resolution global topographic index values for use in large-scale hydrological modelling. Hydrol. Earth Syst. Sci. 19, 91–104 (2015).

Pekel, J. F., Cottam, A., Gorelick, N. & Belward, A. S. High-resolution mapping of global surface water and its long-term changes. Nature 540, 418–422 (2016).

Beck, H. E. et al. MSWEP: 3-hourly 0.25° global gridded precipitation (1979–2015) by merging gauge, satellite, and reanalysis data. Hydrol. Earth Syst. Sci. 21, 589–615 (2017).

Martens, B. et al. GLEAM v3: satellite-based land evaporation and root-zone soil moisture. Geosci. Model Dev. 10, 1903–1925 (2017).

Niu, G., Yang, Z., Dickinson, R. E. & Gulden, L. E. A simple TOPMODEL-based runoff parameterization (SIMTOP) for use in global climate models. J. Geophys. Res. 110, D21106 (2005).

Lomolino, M. V. Ecology's most general, yet protean pattern: the species–area relationship. J. Biogeogr. 27, 17–26 (2000).

Powers, R. P. & Jetz, W. Global habitat loss and extinction risk of terrestrial vertebrates under future land-use-change scenarios. Nat. Clim. Change 9, 323–329 (2019).

New study highlights gaps in protection for migratory birds globally. CMS https://www.cms.int/en/news/new-study-highlights-gaps-protection-migratory-birds-globally (2015).

Lu, X., Zhuang, Q., Liu, Y., Zhou, Y. & Aghakouchak, A. A large-scale methane model by incorporating the surface water transport. J. Geophys. Res. Biogeosci. 121, 1657–1674 (2016).

Tan, Z. & Zhuang, Q. Methane emissions from pan-Arctic lakes during the 21st century: an analysis with process-based models of lake evolution and biogeochemistry. J. Geophys. Res. Biogeosci. 120, 2641–2653 (2015).

Schuur, E. A. G. et al. Climate Change and the permafrost carbon feedback. Nature 520, 171–179 (2015).

Warren, R. et al. Quantifying the benefit of early climate change mitigation in avoiding biodiversity loss. Nat. Clim. Change 3, 678–682 (2013).

Wang, A. & Zeng, X. Evaluation of multireanalysis products with in situ observations over the Tibetan Plateau. J. Geophys. Res. Atmos. 117, D05102 (2012).

Bi, H., Ma, J., Zheng, W. & Zeng, J. Comparison of soil moisture in GLDAS model simulations and in situ observations over the Tibetan Plateau. J. Geophys. Res. Atmos. 121, 2658–2678 (2016).

Model Output from the Coupled Model Intercomparison Project Phase 5 (WCRP, accessed 12 July 2018); https://esgf-node.llnl.gov/search/cmip5/

Jones, P. W. First- and second-order conservative remapping schemes for grids in spherical coordinates. Mon. Weather Rev. 127, 2204–2210 (1999).

Protected Planet: The World Database on Protected Areas (UNEP-WCMC and IUCN, accessed 12 July 2018); https://datasets.wri.org/dataset/64b69c0fb0834351bd6c0ceb3744c5ad

Herold, M., Van Groenestijn, A., Kooistra, L., Kalogirou, V. & Arino, O. Land Cover CCI, Product User Guide Version 2.0 (ESA, 2015); https://maps.elie.ucl.ac.be/CCI/viewer/download/ESACCI-LC-Ph2-PUGv2_2.0.pdf

Fluet-Chouinard, E., Lehner, B., Rebelo, L.-M., Papa, F. & Hamilton, S. K. Development of a global inundation map at high spatial resolution from topographic downscaling of coarse-scale remote sensing data. Remote Sens. Environ. 158, 348–361 (2015).

Portmann, F. T., Siebert, S. & Döll, P. MIRCA2000—global monthly irrigated and rainfed crop areas around the year 2000: a new high-resolution data set for agricultural and hydrological modeling. Glob. Biogeochem. Cycles 24, GB1011 (2010).

Gumbricht, T. et al. An expert system model for mapping tropical wetlands and peatlands reveals South America as the largest contributor. Glob. Change Biol. 23, 3581–3599 (2017).

Xu, J., Morris, P., Liu, J. & Holden, J. PEATMAP: refining estimates of global peatland distribution based on a meta-analysis. Catena 160, 134–140 (2018).

Yu, Z., Loisel, J., Brosseau, D. P., Beilman, D. W. & Hunt, S. J. Global peatland dynamics since the Last Glacial Maximum. Geophys. Res. Lett. 37, L13402 (2010).

Lauerwald, R. et al. ORCHILEAK (revision 3875): a new model branch to simulate carbon transfers along the terrestrial–aquatic continuum of the Amazon basin. Geosci. Model Dev. 10, 3821–3859 (2017).

Lehner, B. & Döll, P. Development and validation of a global database of lakes, reservoirs and wetlands. J. Hydrol. 296, 1–22 (2004).

Xi, Y., Peng, S., Ciais, P. & Chen, Y. Code and data for simulating future impacts of climate change on inland Ramsar wetlands (Version v1.0.0). Zenodo https://doi.org/10.5281/zenodo.4018712 (2020).
Acknowledgements
This study was supported by the National Natural Science Foundation of China (grant numbers 41722101, 41830643 and 41671079). P.C. acknowledges support from the ERC Synergy grant ERC-2013-SyG-610028 IMBALANCE-P and the ANR CLAND convergence institute. Y.C. acknowledges support from the Second Tibetan Plateau Scientific Expedition and Research Program (2019QZKK0303).
Ethics declarations
Competing interests
The authors declare no competing interests.
Additional information
Peer review information Nature Climate Change thanks Etienne Fluet-Chouinard, Zhenguo Niu and the other, anonymous, reviewer(s) for their contribution to the peer review of this work.
Publisher's note Springer Nature remains neutral with regard to jurisdictional claims in published maps and institutional affiliations.
Supplementary information
About this article
Cite this article
Xi, Y., Peng, S., Ciais, P. et al. Future impacts of climate change on inland Ramsar wetlands. Nat. Clim. Chang. 11, 45–51 (2021). https://doi.org/10.1038/s41558-020-00942-2
Received:

Accepted:

Published:

Issue Date:

DOI: https://doi.org/10.1038/s41558-020-00942-2